10 Health Tips For Olympic Fans on Their Way to Rio
The countdown to the Olympic Games has begun. Very soon, thousands of athletes will start travelling to Rio de Janeiro in the hope of giving a record performance to the cheers of tens of thousands of fans. Are you planning to go to Rio? If so, please read these tips. Many illnesses are easy to prevent if you get the right vaccinations or take the necessary precautions.
Are you travelling to Brazil? Here are ten health tips.
# 1: Protect yourself in the sun
Wear good sun protection. You're in a tropical country, so the chance of getting sunburnt or contracting heatstroke is very easy. Avoid the beach during the hottest hours of the day, between 12 noon and 3 pm. Use a good-quality sun cream with a high protection factor, a minimum of SPF 30, even if you're only going out for a short time. It will also protect you better against serious problems such as skin cancer.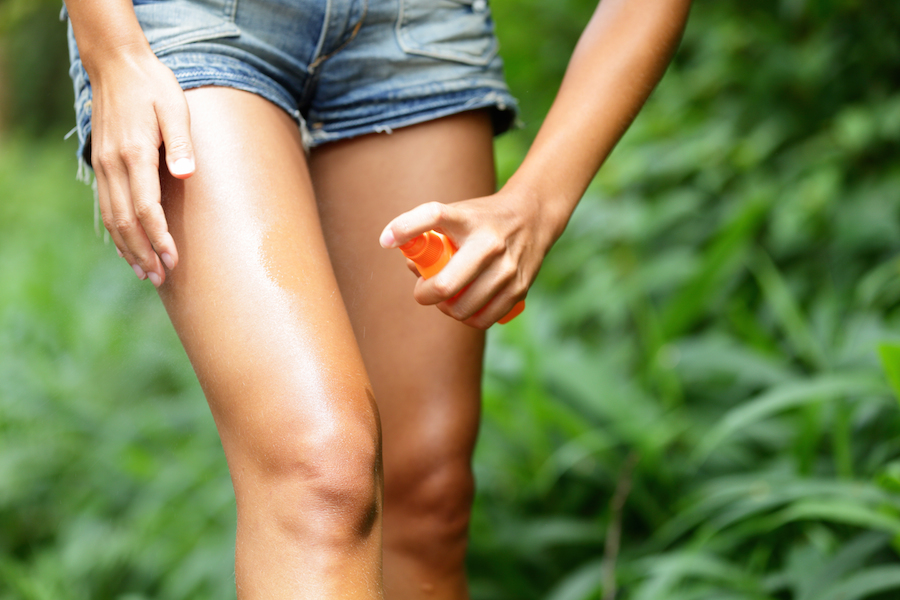 # 2: Drink a sufficient amount, and go easy on the alcohol
The more you perspire, the more liquid you need to stay hydrated. So be sure to drink plenty of water during the day. Drinking alcohol can actually dehydrate you – you'll have to go to the toilet more often and you'll not be drinking as much water as you might think.
# 3: Keep mosquitoes away
Don't underestimate mosquitos! In Brazil, mosquitos can transmit malaria, Zika fever, yellow fever, chikungunya and dengue fever.
Prevent insect bites by taking sufficient insect repellent measures and take malaria prevention drugs if your medical practitioner advises you to do so. Cover yourself with a DEET-based insect repellent spray or roll-on or other proven product – day and night.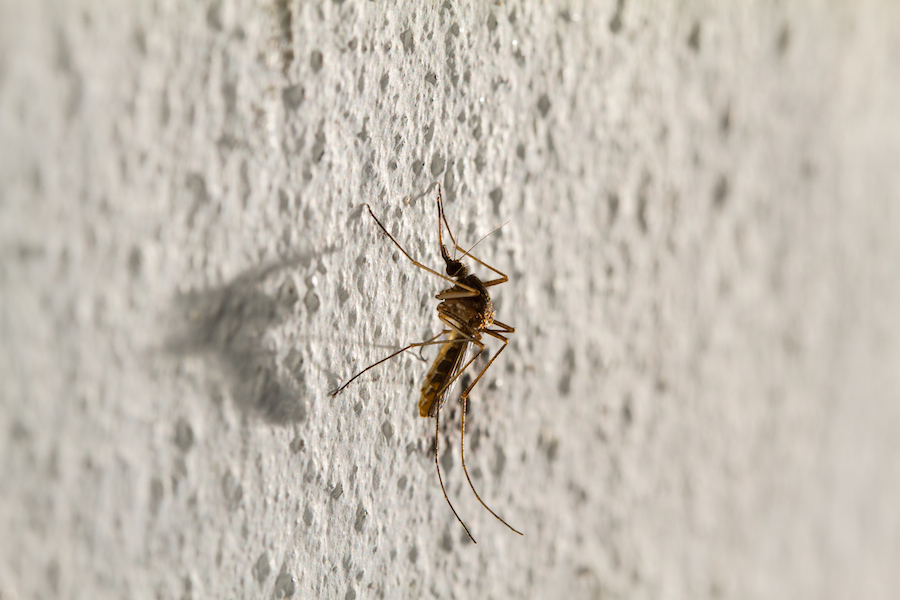 Tip: If you use sun protection and insect repellent at the same time, the insect repellent may make the sun protection less effective. So, be sure to cover yourself with sun protection first, wait an hour, and then apply the insect repellent.
Malaria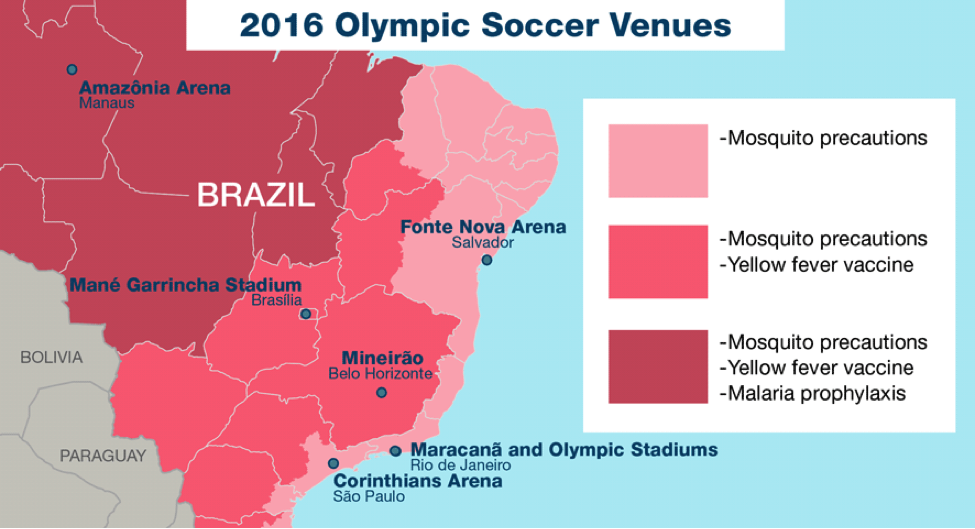 The map here offers a general overview of malaria and yellow fever in Brazil. Always be sure to get personal advice about the measures you can take to prevent malaria because the choice of an antimalarial drug depends largely on your personal circumstances – your health, the length of your stay in Brazil, your exact travel plans, and other factors. Please see my other blog with facts and myths about malaria.
Zikavirus
Brazilian researchers have made a rough estimate of the risk of infection by the Zika virus for visitors to the Olympic Games in Rio de Janeiro. Researchers estimate that the risk for someone who is visiting the Olympics for three weeks works out to 1.8 per one million tourists. In other words, the risk for tourists is extremely small. Pregnant women are advised not to go to areas where Zika poses a risk. This is also the case for the Olympics in Brazil.
You can read more about the Zika virus, what you can do to avoid infection, and how to deal with infection.
# 4: Eating and drinking
Throughout Brazil, the quality of the water from the tap is fair to poor. It is fine to use for washing and showering – even for brushing your teeth – but drinking bottled water is safer. Be careful with food that you buy on the street, especially uncooked food. If you're not certain that you can trust any food, for instance at a buffet, you can check it by using the "Can I Eat This" app provided by the US Centers for Disease Control and Prevention. You can download it from the Google Play Store and the Apple App Store. But the general rule is "cook it, boil it, peel it or forget it."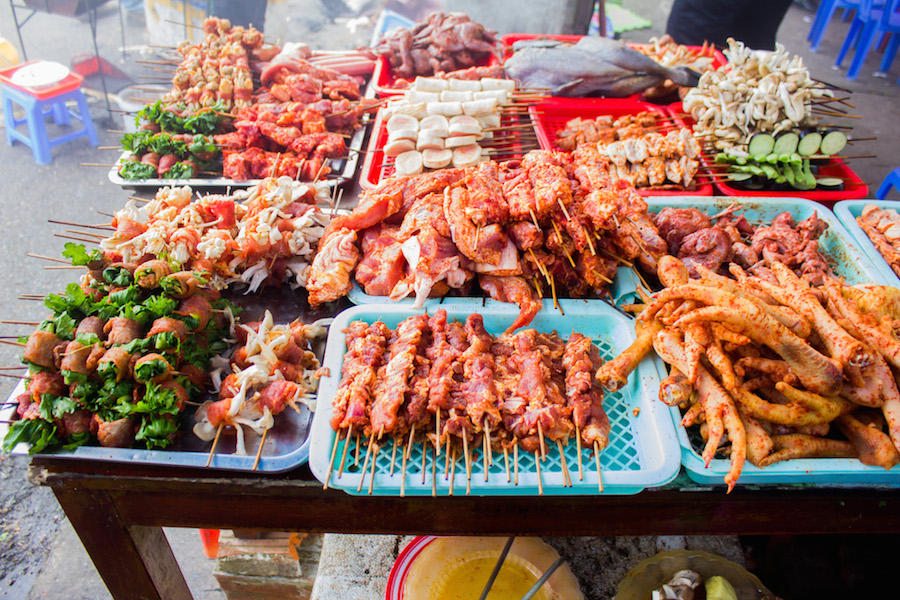 # 5: Practice safe sex – use a condom
Safe sex does more than help to prevent troublesome sexually transmitted diseases like chlamydia or gonorrhoea. It also helps prevent the transmission of illnesses such as the Zika virus, HIV and hepatitis B.
# 6: Watch out where you go swimming
Some recreational swimming areas around Rio may be contaminated with untreated sewage. So pay close attention to government instructions and swim only in publicly approved areas. In other parts of Brazil, you can contract infections by swimming in lakes and rivers.
# 7: Think about your vaccinations
It's important that you get inoculated correctly. And the situation is different if you plan only to go to Rio de Janeiro during the Olympics or if you'll use the opportunity to take a trip into the jungle. Some of the Olympic football matches will be played in cities other than Rio, such as Manaus and Brasilia. Those cities present a risk of yellow fever and malaria. The vaccinations you get depend on the places you plan to go. Take a close look at the map, above.
Every traveller is advised to get a Td/IPV and hepatitis A vaccine as they can come into contact with these infections through food, water or personal contact. So, depending on the length of your stay and your itinerary, you might consider getting inoculated against hepatitis B. For some groups at a higher risk, a flu shot might be a sensible thing to do.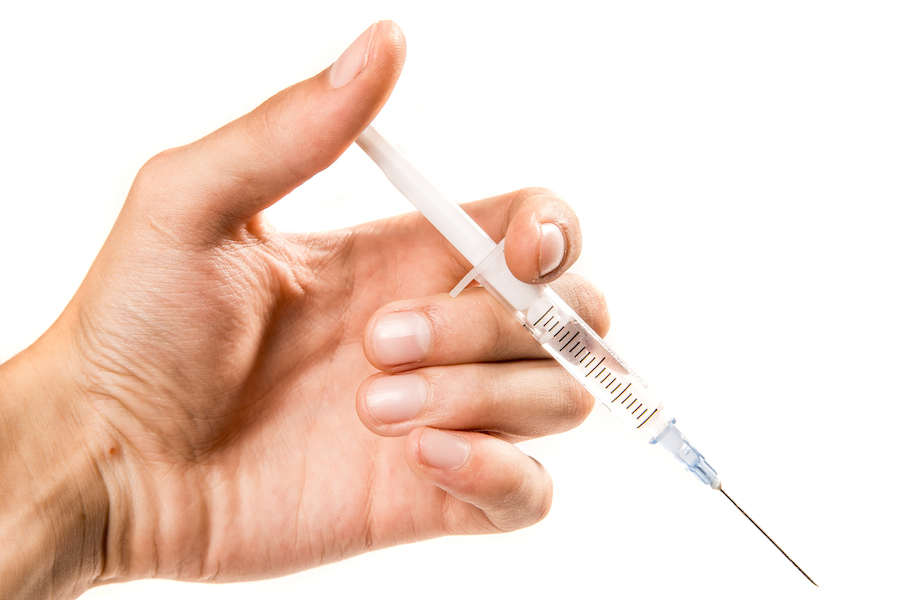 Tip: Prepare well for your trip and make an appointment at one of our Travel Clinics. Generally speaking, it is advisable to get your shots anywhere between four and six weeks before you travel. But a last-minute shot is never superfluous.
Note: It is not compulsory to have yellow fever vaccination to enter Brazil unless you have been in Angola or the Democratic Republic of Congo (DRC) in the previous ten days. This temporary measure was implemented following an outbreak of yellow fever reported in those countries.
# 8: Don't pet dogs, cats or other mammals
Rabies is still prevalent among mammals in Brazil. The risk is lower in the football cities. But, as soon as you venture outside the cities, the risk of contracting the disease becomes much greater. KLM Health Services' Travel Clinic regularly receives reports from travellers who have been scratched or bitten. If this happens to you, contact a from your home country as soon as possible for advice. You can by subscribing to KLM Health Services' "Doctor Connect".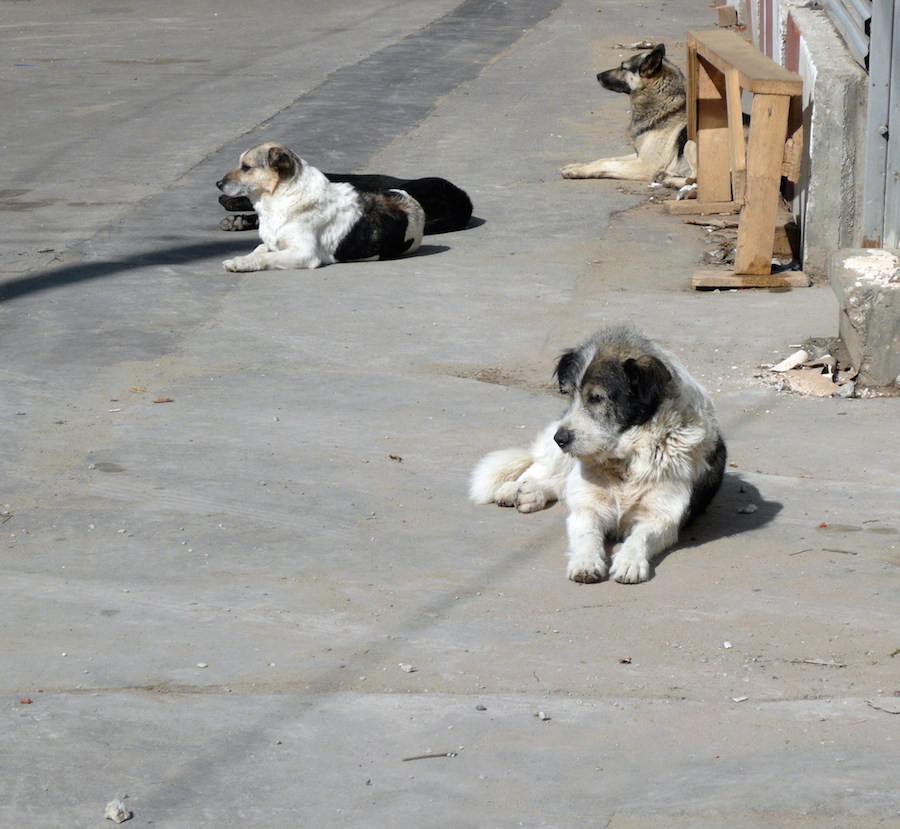 # 9: Check your health insurance
Are you correctly insured? Does your insurance cover health problems outside Europe? Check your policy to see if you have worldwide coverage. Do you have supplemental insurance? It's quite possible that your insurance will cover the cost of your vaccinations.
# 10: Enjoy
A visit to the Olympic Games in Brazil is a unique, unforgettable and historic experience. So, avoid stress by following this advice and enjoy every moment. That will also contribute to your health!