10 Things You Didn't Know About Biofuel
**UPDATE 23 JULY 2020, by KLM**
I look back with a hint of melancholy on some periods during my 41-year career at KLM. The year 2009, for example. Back then I was working as a test engineer at Engineering and Maintenance (E&M). A team of colleagues from various departments was working enthusiastically and especially hard preparing for the very first KLM flight powered by *biofuel.
That first flight, operated using Boeing 747-400 equipment, was a demonstration flight above the Netherlands. In terms of preparation, not an easy job given considerations related to technology, logistics and legislation and regulations. Before its take-off on 23 November 2009, this partially driven biofuel flight enjoyed broad-based support.
I'm regularly asked questions about biofuel flights. So I've gathered up 10 of them, along with the answers, in this blog.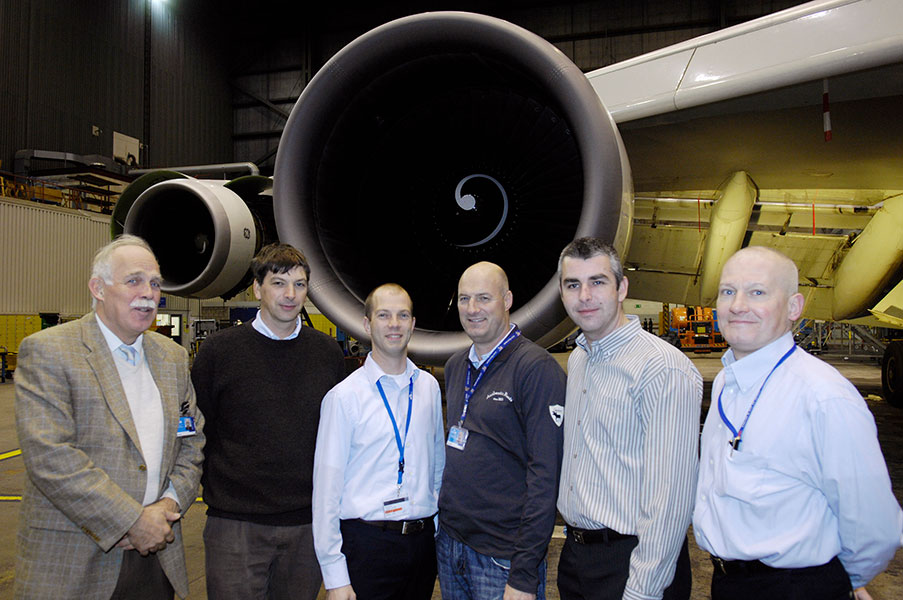 Engineering Project Team
What is biofuel produced from?
Biofuel is produced from renewable feedstock such as plant oils, agricultural waste and wood chips instead of fossil fuels.
How do biofuel and biodiversy go together?
KLM only uses sustainable feedstock for its biofuel. That doesn't have a negative impact on biodiversity or local food security for that matter.
What are the CO2 benefits of biofuel?
CO2 benefits depend on the feedstock and logistics.
Camelina is a plant that grows on Mediterranean soil with little to no fertility and has no negative effects on the production of nearby crops. It can reduce CO2 to about 70% compared to fossil kerosene. And compared to used cooking oil to about 80%.
When was biofuel
mixed with

kerosine used on a commercial flight?

Biofuel was certified for aviation in 2011 and KLM was the first airline to fly with a small percentage biofuel on a commercial flight. The biofuel was supplied by SkyNRG, a Dutch company established by KLM and others, which is now the market leader in providing sustainable jet fuel.
Do other forms of transport use biofuel?
Biofuels for transport have been around as long as cars have. At the start of the 20th century, car manufacturer Henry Ford planned to fuel his Model Ts with ethanol, and early diesel engines were shown to run on peanut oil.
Is biofuel expensive?
The price of sustainable biofuel has dropped from six times the price of fossil kerosene to two to three times since 2012. To be able to develop a market and purchase this biofuel, KLM is supported financially by multinationals like Heineken, Accenture, ABN AMRO and Friesland Campina through the KLM Corporate BioFuel Programme. (This concerns 2016)
How is biofuel supplied?
Oslo Airport Gardermoen was the first airport to add biofuel to its existing fuelling system at the beginning of 2016. Until then, biofuel had to be supplied by separate tank trucks.
Are there flights that use 100% biofuel?
It's not yet possible to operate flights using 100% biofuel. Due to aviation's strict quality guidelines, biofuels are always mixed with conventional fossil kerosene to a maximum of 50%. Update 23 July 2020: This question says something about the technical possibility per flight. The share of sustainable kerosene in 2019 was 0.18% of our total fuel consumption.
Do engines need adjustment when using biofuel?
Biofuel is a so-called "drop-in" fuel? This means you can simply add it to fossil kerosene and use it without any adjustments to the engines.
Does KLM use biofuel on all flights?
No. Unfortunately, too little sustainable kerosene is being produced to be able to use on all our aircraft. KLM did start (2016) using biofuel on all flights from Los Angeles this year and will do so for the next three years. This fuel is supplied by SkyNRG from the new Los Angeles-based bio refinery AltAir Fuels.
Learn more about KLM's CSR initiatives on KLM Takes Care.
* Nowadays KLM uses the term Sustainable Aviation Fuel (SAF) for "biofuel" and Sustainability for CSR. In 2019, the total volume of sustainable kerosene purchased was 6,911 tons. That is 0.18% of the total fuel consumption of the KLM Group.