4 Remarkable Photos from the KLM Archives – II
Because I like to keep my promises, I've selected four photos from the KLM archives that caught my eye as I burrowed, scampered and flicked through the images. If you look closely, you'll see things that are surprising or don't seem right or simply send your imagination off on a wild goose chase. I hope you enjoy the mixed bag of remarkable photos I've picked for you.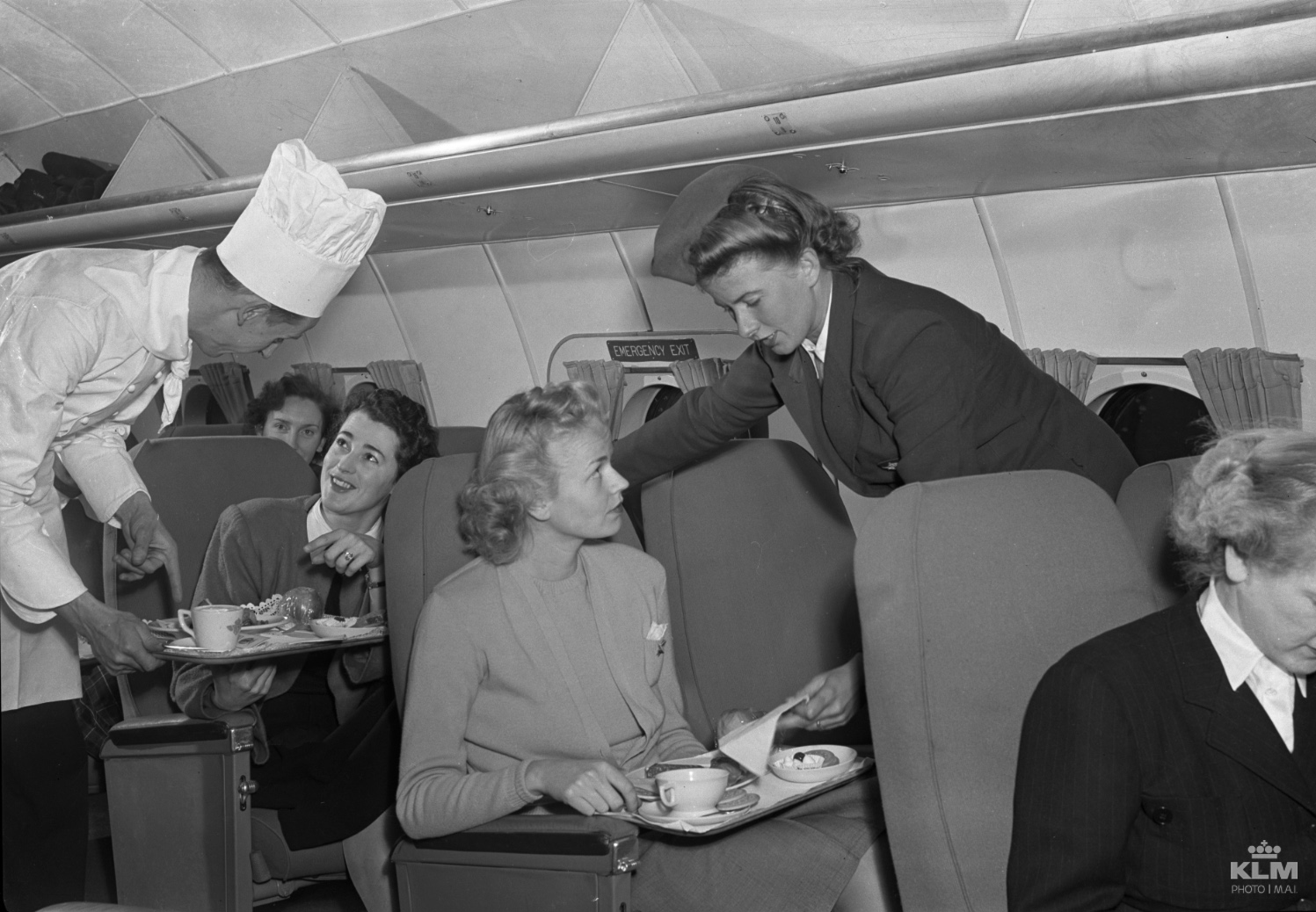 Absurd service
This was, no doubt, supposed to be a photo illustrating just how courteous and complete service was aboard a KLM aircraft. The photographer certainly succeeded in capturing the hospitable and service-driven atmosphere on board, with everyone doing their utmost. The chef, who was then still a feature on board, is serving a balanced meal, while the stewardess seems to be explaining what's on the menu. But she seems to have manoeuvred herself into a difficult position, leaning over the empty window seat to address the lady sitting in the aisle seat. What series of events could have led up to this? Passenger: "Do you have serviette for me?" Stewardess: "Of course, madam." She then climbs over the passenger, squeezes into the window seat, where she can hardly stand up straight, before handing over the serviette. We will go to absurd lengths to serve you.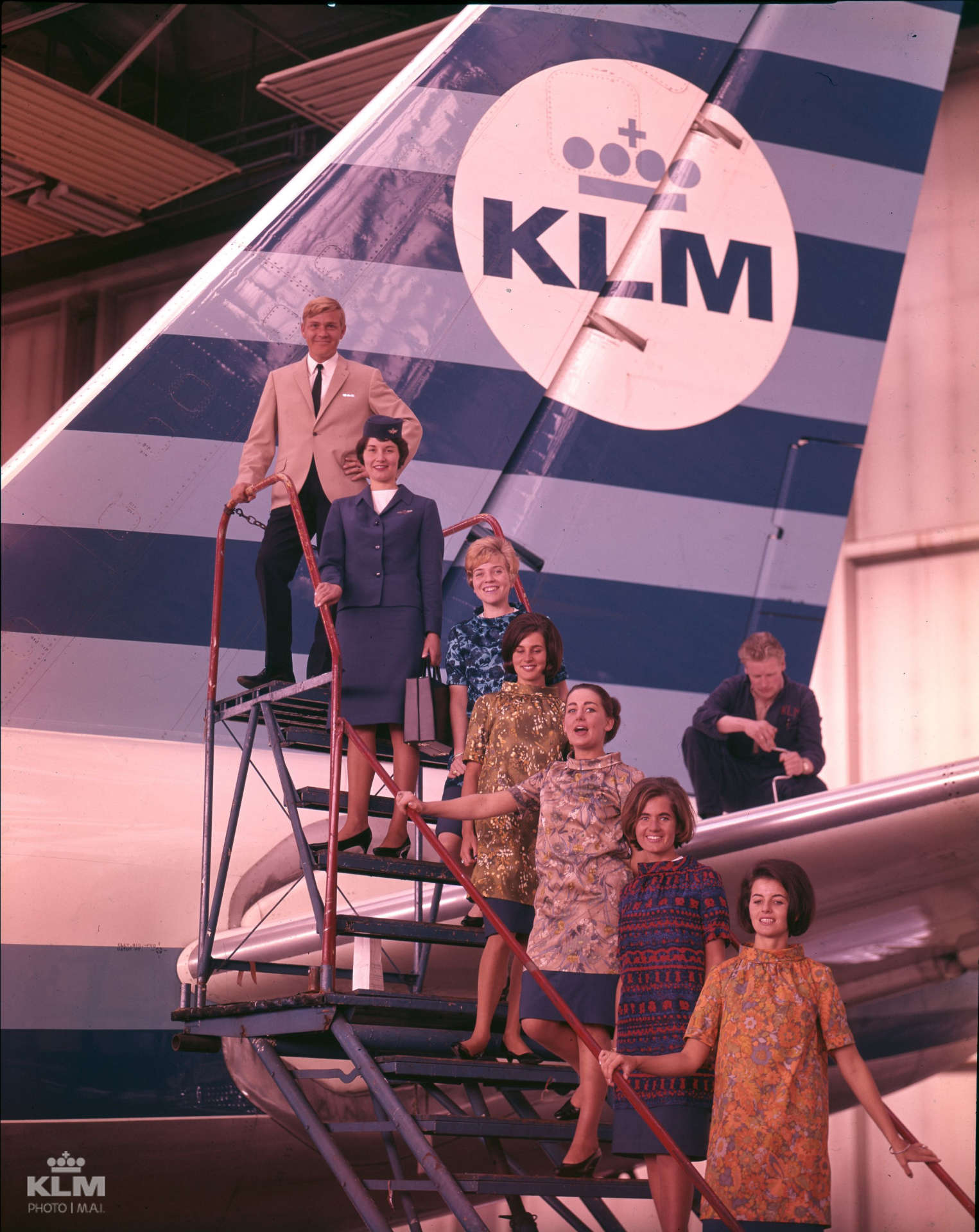 Close harmony group
Here's a group posing on an aircraft stairway in the hangar. Six ladies and a gent, somewhere around 1966. They look like the kind of close harmony group that was popular at the time: the Anita Kerr Singers, the Swingle Singers or Ray Conniff's outfit. You can almost hear them singing "Up, up and away" (My beautiful balloon). But nothing could be further from the truth. These people are, in fact, modelling a new uniform.
This range, called the New Look, was introduced in 1966 and didn't just include uniforms, it also encompassed the restyling of all sorts of other materials on board, including tableware. The slipover aprons that five of the ladies are wearing (Wolkenridder Magazine referred to them as "colourful kazaks") as well as the purser's jacket were worn when serving dinner. And why wouldn't cabin crew also get dressed for dinner? The mechanic in the background clearly had other things on his mind.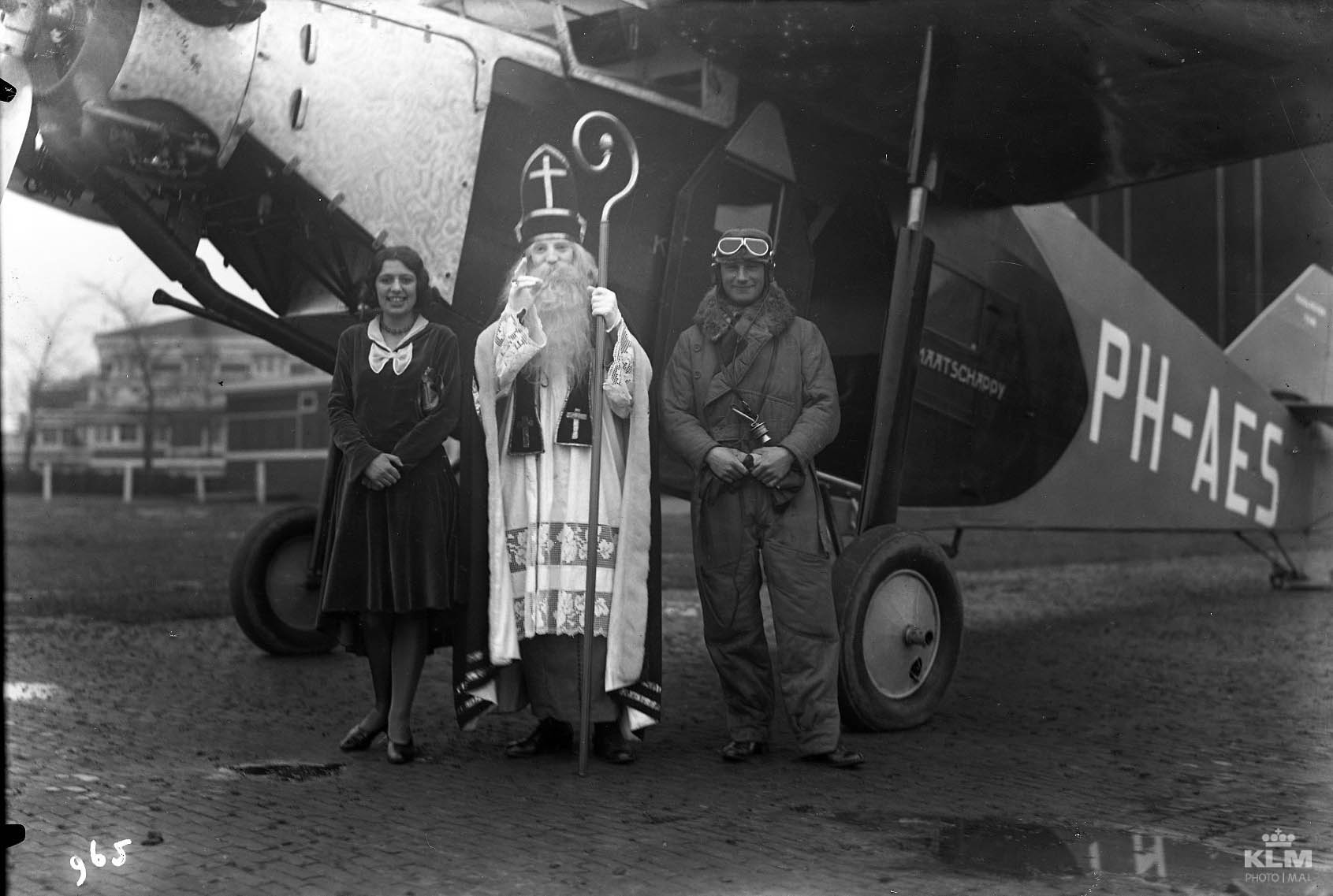 Royal Catholic Airlines?
Non-Dutch readers may be a little confused by this photo. There's a pretty lady and a pilot (nothing unusual there), but why is that bishop standing between them? Judging by their smiles, the lady and the pilot are delighted to have their picture taken with the bishop. In the background, you can see the only Koolhoven FK-40 that KLM ever owned. (You can read more about the "Piet Haes" in my blog on aircraft  names). You can also see the terminal at Waalhaven Airport in Rotterdam. I think the photo was probably dates from early December 1929. The "Piet Haes" joined the fleet in October 1929 and looks brand-new in this picture.
The bishop in the middle is St Nicholas, of course, who traditionally celebrates his birthday on 5 December by bringing gifts to Dutch children. He has clearly been busy, because he looks rather pale, perhaps even sickly. Could the bishop be flying back to Spain, where he spends the rest of the year, as all Dutch kids know? The problem is that KLM didn't fly to Spain in those days. It's more likely that he is a lookalike, who headed back to the terminal after this photo was taken to change back into his ordinary suit and return to his ordinary life, like all those other lookalike St Nicholases, Santa Clauses and Father Christmases.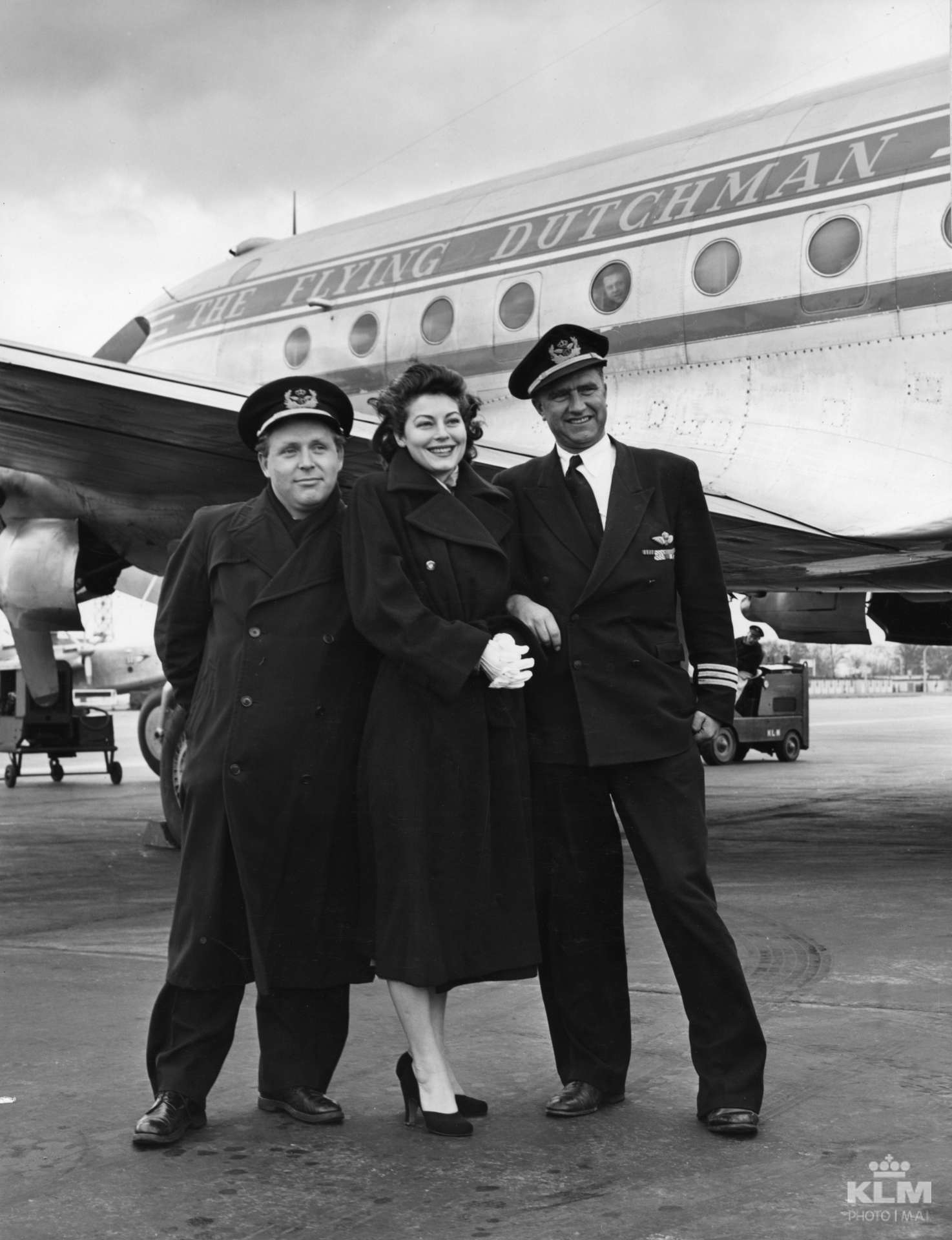 In the picture with Ava
She was world famous, a shining star of the silver screen in Hollywood: Ava Gardner. She visited the Netherlands in 1951, possibly accompanied by her then-husband Frank Sinatra, to promote a production in which she played the lead: "Pandora and the Flying Dutchman". I suspect that only her biggest fans will remember this movie, because it wasn't a huge success. Nevertheless, these two gents certainly weren't going to miss a star-studded photo opportunity. And they clearly had a blast! The gent on the right is standing at a friendly distance, but the gent of the left is leaning in comfortably. He has laid his head on Ava's shoulder. She was probably wearing heels, but she is almost a head taller than her paramour, who probably saw this as a once-in-a-lifetime chance. Ever the professional, Ava took it all on the chin with a sparkling grin, and probably thought: "Whatever sells tickets!"