Airline with a green heart: 50 years of Transavia
What do Transavia and the dance company Nederlands Dans Theater (NDT) have in common? In a nutshell, everything! Members of this company were passengers on the first ever Transavia flight, exactly 50 years ago today. Yet another KLM subsidiary to make it to half century.
Transavia is actually a year older, because it was founded in 1965 as Transavia Limburg. The founder's original aim was to operate passenger and cargo flights from Beek airfield in the southern Dutch province of Limburg. This brand-new airline initially aimed to serve passengers in the holiday market with a single DC-3. But, it was precisely at this time, the mid-sixties, that the holiday market took off. And for that growth the DC-3 was found to be too small. So instead of the DC-3 they chose the DC-6 with its four engines, 83 passenger seats and six crew members – three in the cockpit and three in the cabin.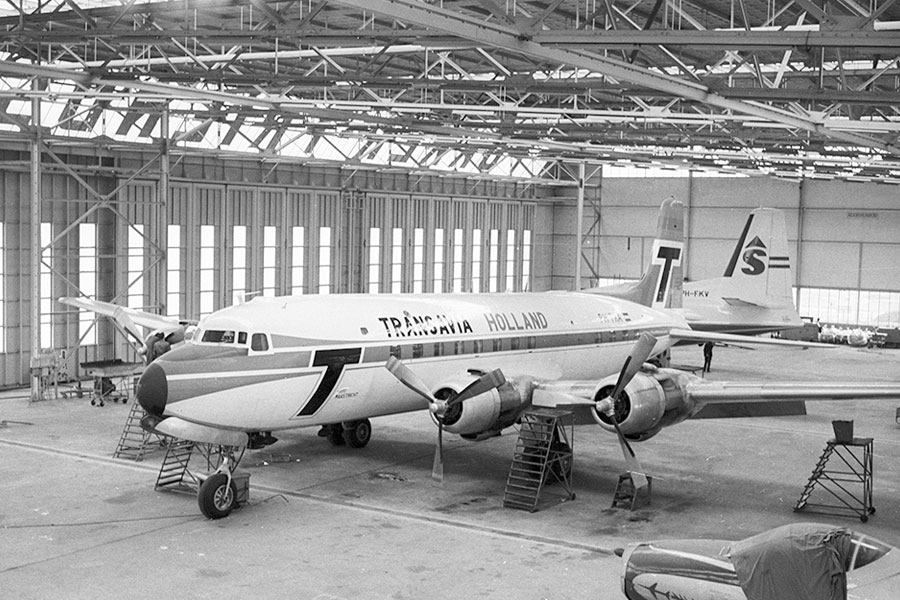 To Schiphol
Beek also became unsuited to the ambitions Transavia's new director, John Block, had in mind for the airline. He wanted to operate from Schiphol, but there were snags. The arrival of what was now called Transavia Holland, was viewed with deep suspicion by the competition and was even described as an "irresponsible distortion of the market". The last licence was finally issued on 14 November and there stood a new, fully kitted-out airline with aircraft, pilots, cabin crew and other personnel.
The first Transavia flight departed Schiphol for Naples on 16 November 1966, carrying the Nederlands Dans Theater and Ballet Orchestra. The passengers were all given a slice of cake to celebrate the maiden flight. The famous Dutch ballet stars, Han Ebbelaar and Alexandra Radius, who were on board this first flight, recalled how bad weather over Italy caused the flight to arrive late. Although the company had to race to the venue and abbreviate their warm up, the performance didn't suffer.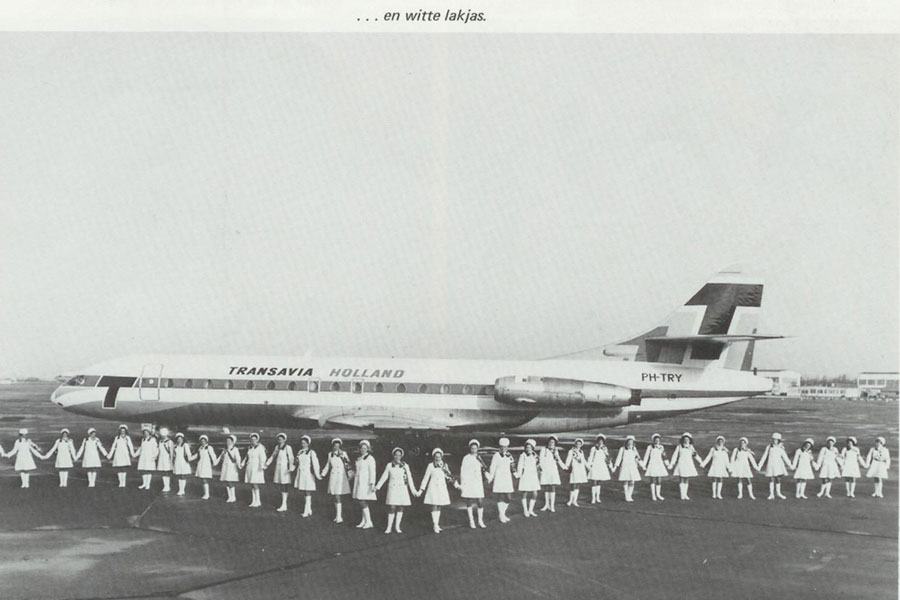 Rapid growth
The years that followed saw rapid growth at Transavia, both in passenger and freight traffic. Within three years the fleet had doubled in size to three DC-6s, a Boeing 707, and two Caravelles – a French aircraft type that was popular at the time. This is also the time when building work began for the first head office at Schiphol. A year later later Transavia received official recognition, which allowed it to use its own mechanics to carry out aircraft maintenance. Four years after its first commercial flight, Transavia was truly up and running.
Heroes in the global press
It was for a very different reason in 1974 that Transavia and a Boeing 707 made world headlines. And not a very pleasant one at that. Japanese terrorists had kidnapped members the French Embassy staff in The Hague and demanded a French aircraft to fly them to a different destination. The French government sent a 707, but its crew didn't fly the aircraft containing the terrorists. It turned out to be Transavia in the Netherlands that had the experience to fly the 707. And so it was Transavia captain Pim Sierks, co-pilot Ruud van der Zwaal, and flight engineer Bernie Knight who were prepared "to get the job done". They completed the job successfully and were greeted as heroes back in the Netherlands.
What's in a name?
Where KLM is the oldest airline in the world to still be operating under its original name, this is far from true for Transavia. Over its 50-year history, the names Transavia HOLLAND, Transavia Holland, Transavia Airlines and transavia.com have all adorned the fuselages of what it is today Transavia. Each of these names reflects the market philosophy of the day. transavia.com, with just lower case letters, links straight to the website, highlighting the importance of selling tickets through ones own channels. In short, anyone who knows Transavia associates it above all with charter flights to holiday destinations. But this does not do the airline justice.
Flexible product
This market, as is normal in this capitalist system in general and especially in the airline industry, is always subject to change. Charter transport and seasonal holiday traffic – to the sun or snow – was constant for years. But one-off flights too were part of Transavia's repertoire. Transavia has always tried to find answers to every twist and turn in the development of air transportation. This has ranged from operating flights for other airlines – such as British Airways, KLM and Air Malta – to setting up networks for other airlines. Always trying new ways to fill overcapacity in the fleet during leaner times.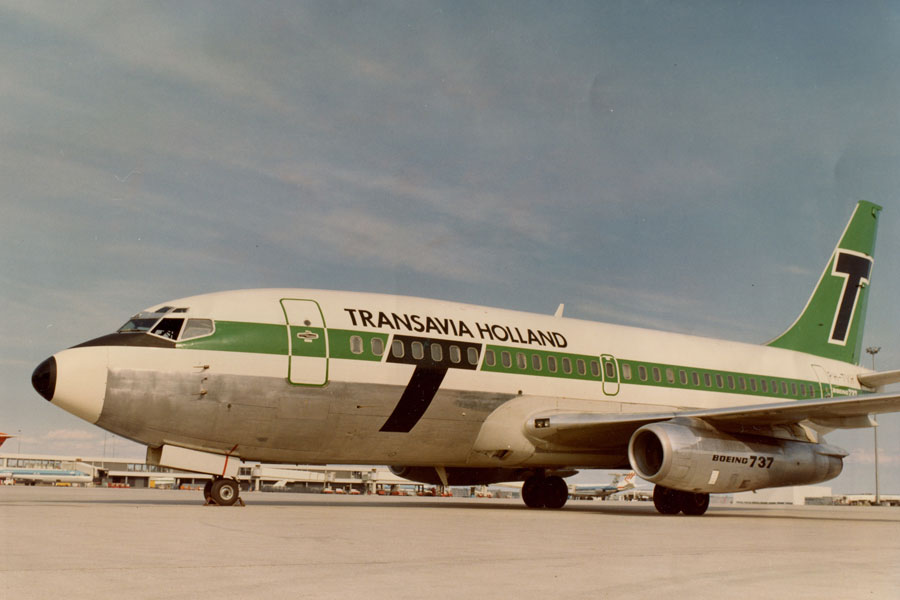 Scheduled services
Transavia applied for its first licence to operate a scheduled service in 1984. This was granted the following year for services to London Gatwick, Malta and Reykjavik. The first Transavia scheduled service was operated to Gatwick in 1986. The charter market was also strong at this time. There was new growth and this brought an expansion of the fleet. The fleet now comprised mainly 737s, marking the start of fleet standardisation. The first Transavia 737-200 joined the fleet in 1974; others followed in a gradual, steady flow. In 1987, one of these aircraft transported the millionth passenger for Transavia. 
KLM subsidiary
Transavia has had many owners and shareholders during its lifetime. The largest ever was KNSM, the Royal Dutch Steamboat Company, which later became a part of Nedlloyd. This company gradually sold its interest in Transavia to KLM and in 2003 Transavia became a full subsidiary of the KLM Group, which also includes KLM Cityhopper. At 50, this subsidiary is now the low-cost carrier of the family and is gradually transforming from an airline that carries people to the sun and snow, to one that is attracting business travellers. And it seems to be working. The Transavia fleet currently contains eight Boeing 737-700s and 34 Boeing 737-800s. The number of Transavia bases was expanded this year to four; in addition to Rotterdam, Eindhoven and Schiphol, four aircraft are now permanently stationed at Munich. And what about passenger numbers? Transavia serves more than 10 million passengers across a network of 110 destinations in 32 countries. A serious business!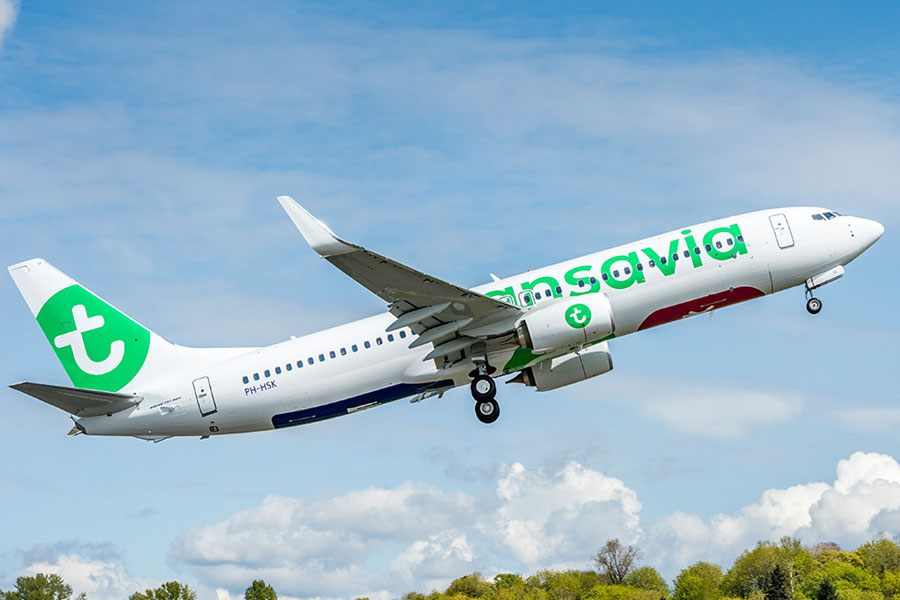 Green
Oh yes, before I forget, I had better explain the title of this blog. Green is to Transavia, what blue is to KLM. Green is always somewhere to be found, but Transavia's flexibility of service and product is reflected in its equally varied use of green. Just take a look at this photo. Always green, but always just a little bit different. Truly Transavia.