9 European Castles Well Worth A Visit
When I hear the word castles, I get this fairy-tale feeling. Since my childhood, I have always loved visiting these historic buildings and tried to learn about the stories behind them. In this blog, I will show you 9 stunning European castles that will enchant your imagination. 
Once upon a time… That's how my grandfather began his stories. As long as I can remember I have had a thing about castles and I blame my grandfather for that. It started when I was about five or six years old. My grandfather has around thirty books about castles. He always told my two cousins and me stories about their rich history. He described the knights in shining armours and their noble women, how they are built and were defended. And my grandparents also took us to a lot of castles in the Netherlands.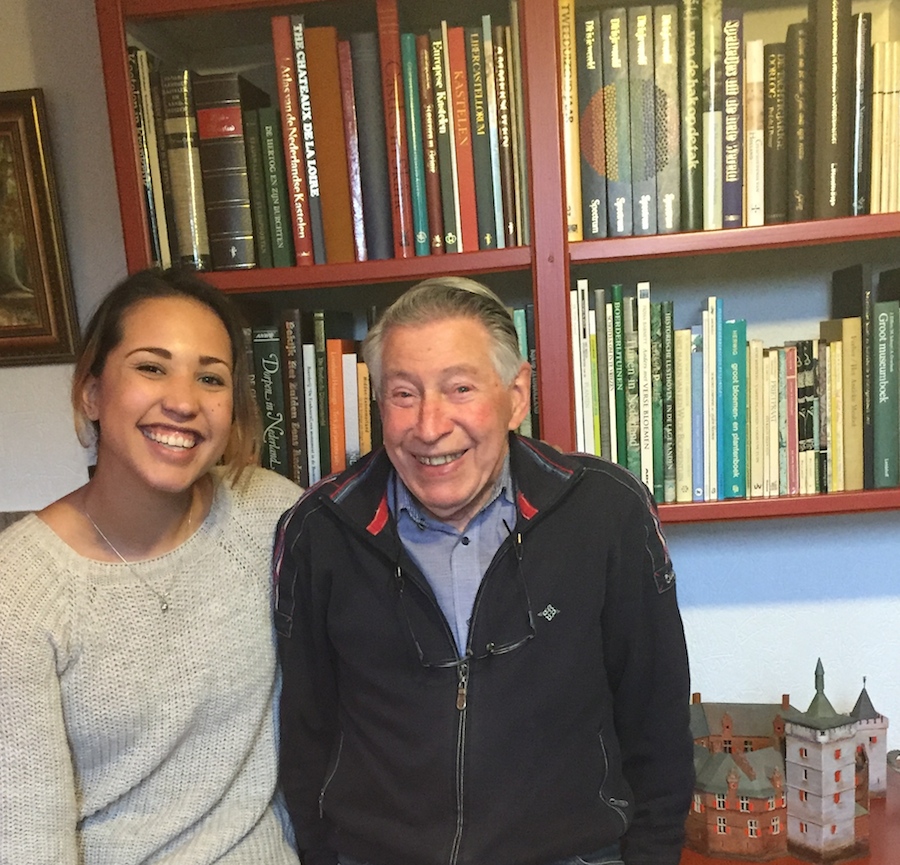 What makes a castle a castle?
The first castles were built in the Middle Ages as a home that was easy to defend, so many had moats and drawbridges. After a while the defensive aspect disappeared and the surrounding waters and high walls became more of a status symbol. After the Middle Ages many noble homes were built using elements from castles like moats and towers. So most castles that still exist today are not the real thing. Rather, they contain elements that they had earlier.
1. Neuschwanstein, Germany
Rumour has it that King Ludwig II built Neuschwanstein Castle in 1864 to escape from reality, which is why he decided to build it up in the mountains. Ludwig wished to be away from the public. Fortunately for us, the castle is now open to the public, and a lot of people do just that. Around 1.3 million people visit this castle every year. It is near Munich. So if you're there, you should really pay a visit. In fact, you may well recognize it from somewhere else. The builders of Disneyland used Neuschwanstein as the inspiration for Sleeping Beauty's castle at Fantasyland.
How to get there? Fly to Munich. From there it is a 2 hour drive to the village of Hohenschwangau.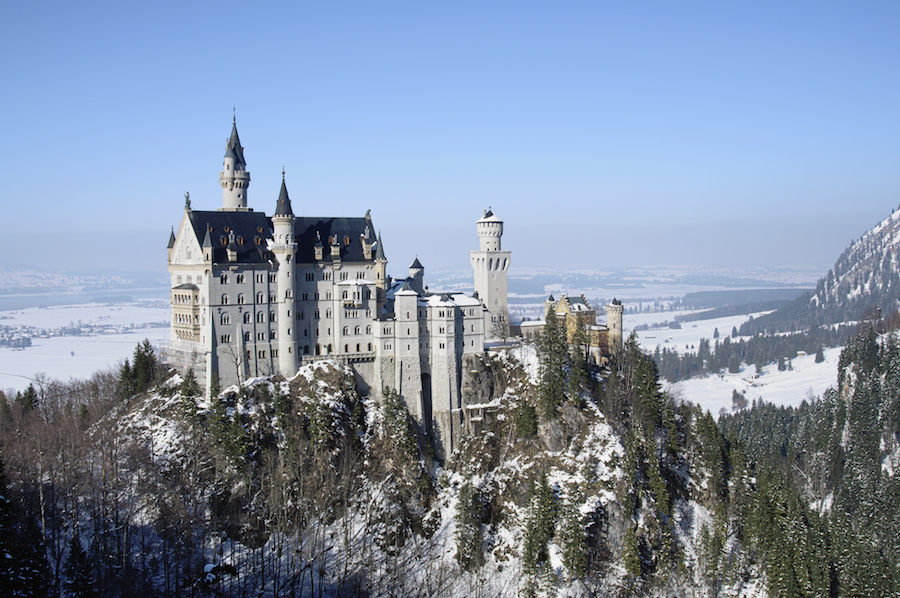 2. Alnwick Castle, England
You may know Alnwick Castle under the name of Hogwarts. That's right, this castle was used as one of the shooting locations for the Harry Potter movies. Nowadays the 12th Duke and Duchess of Northumberland live in the castle with their children. It has been their family home for more than 700 years. Alnwick is the second-largest inhabited castle after Windsor Castle. Fortunately for us, parts of it are open to the public. The castle has a lot of activities such as performances by fire-eaters and knights. Children can even take broomstick lessons.
How to get there? Fly to New Castle. From there it is a 50 min. drive to Alnwick.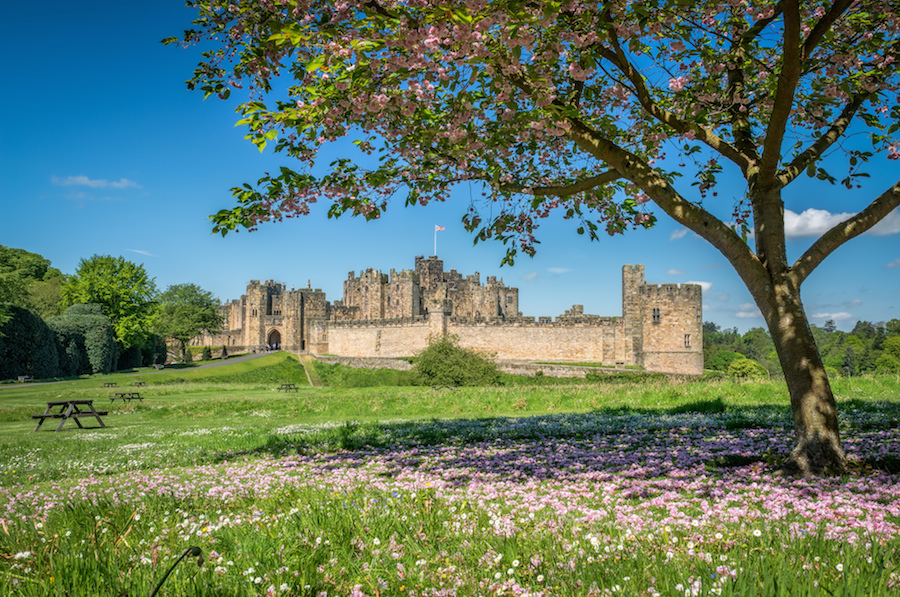 3. Château des Dames, France
This castle actually is called Chateau de Chenonceau, one of the many castles in France's Loire Valley. It is special because it actually stands in, and over, the Cher River. The French noblewoman Katherine Briçonnet built Chenonceau in 1513. After she died, King Henry II offered the castle to his mistress Diane de Poitiers. Unfortunately for her when Henry died, his widow Catherine de' Medici forced her to move out. After Catherine died the château was home to numerous other high-born women. It's why the castle has earned the name Château des Dames. It is also famous for its gardens. Catherine and Diane both built beautiful gardens during their stay. So if you happen to be in the Loire Valley, you should definitely visit this stunning location.
How to get there? Fly to Tours. From there it is a 40 minute drive.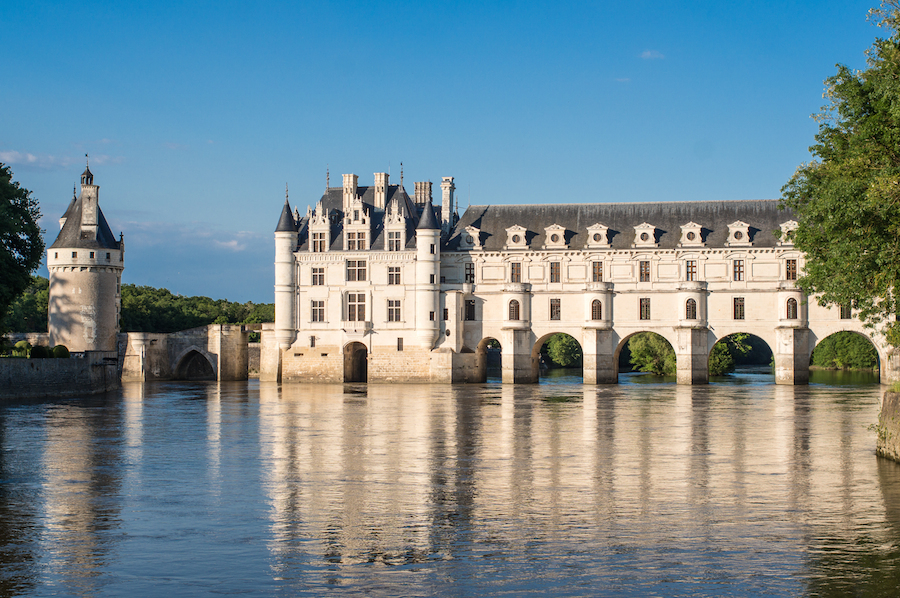 4. Palácio de Pena, Portugal
This one is not a true castle, but a palace. Nevertheless it deserves a spot in our list. The Pena National Palace is seen as one of the greatest expressions of romanticism in Portugal. Its colours are what make it so special. The palace was originally a monastery that fell into ruin. In 1838, King Ferdinand II decided to rebuild it and made some changes. The colours do actually have a meaning. The pink is for the old monastery and the yellow is for the changes Ferdinand made. He wanted to create a castle-like residence so that he could show the influence of German romanticism. Pena National Palace is not far from Lisbon, so it's a perfect day trip from there.
How to get there? Fly to Lisbon. From there it is only a 20 minute drive.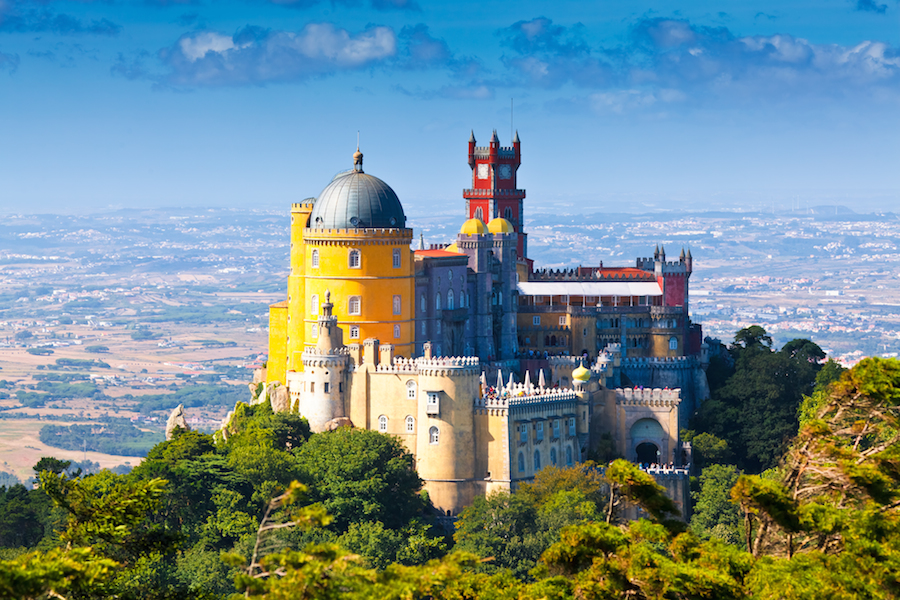 5. Alcázar de Segovia, Spain
This castle is located not far from Madrid. It's built on a rock and was originally used as a fortress to protect the city. What's special is that it is shaped like a ship's bow. Alcázar was used as a residence for the royal family of Castile. After a while however, it was converted into a state prison. Then King Carlos III founded the Royal Artillery School there in 1762. Nowadays the General Military Archive uses a part of the castle. But don't worry, much of it is open to the public.
How to get there? Fly to Madrid and drive 1 hour to Segovia.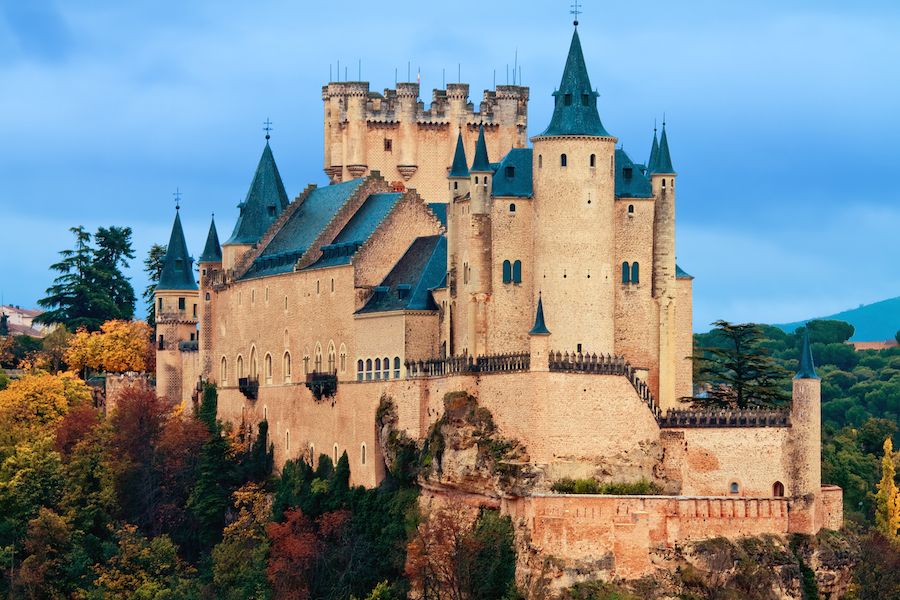 6. Drumlanrig Castle, Scotland
Another gem with a lot to see and do. Of course you can visit the castle itself. It has many beautiful rooms with silverware and porcelain and pretty French furniture. The castle also contains an art collection including Rembrandt's An Old Woman Reading. Drumlanrig stands on an enormous estate, so you can take a long walk around the countryside from there. You can also use the area to go fishing or mountain biking, and there are lots of adventurous activities for kids.
How to get there? Fly to Glasgow. From there it is a 1 hour drive.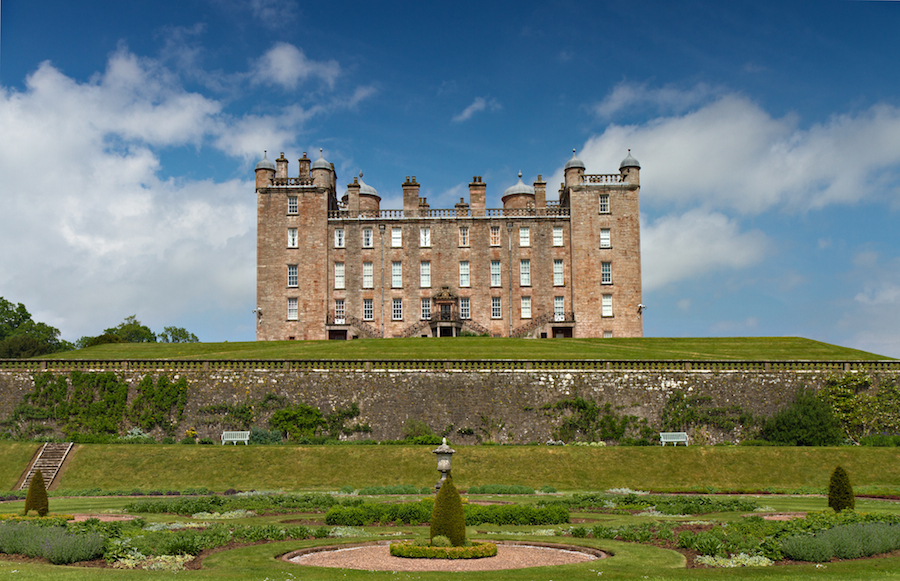 7. Dracula's castle, Romania
Many people know Bran Castle (Castelul Bran in Romanian) as Dracula's castle as rumour has it that this was the castle where Count Dracula lived. If you believe the legends you might consider taking some garlic along when you visit. Jokes aside, it was built as a defence against the Ottoman army in 1377 and, for a long time, it was used for military purposes only. When the Romanian border was moved in 1836 Bran Castle became less important. It was used for the Russo-Turkish War of 1877-78. In 1920 it became a royal residence and the military elements disappeared. Currently Bran Castle is a museum and one of Romania's most important tourist attractions.
How to get there? Fly to Bucharest. From there it is 2 hour drive.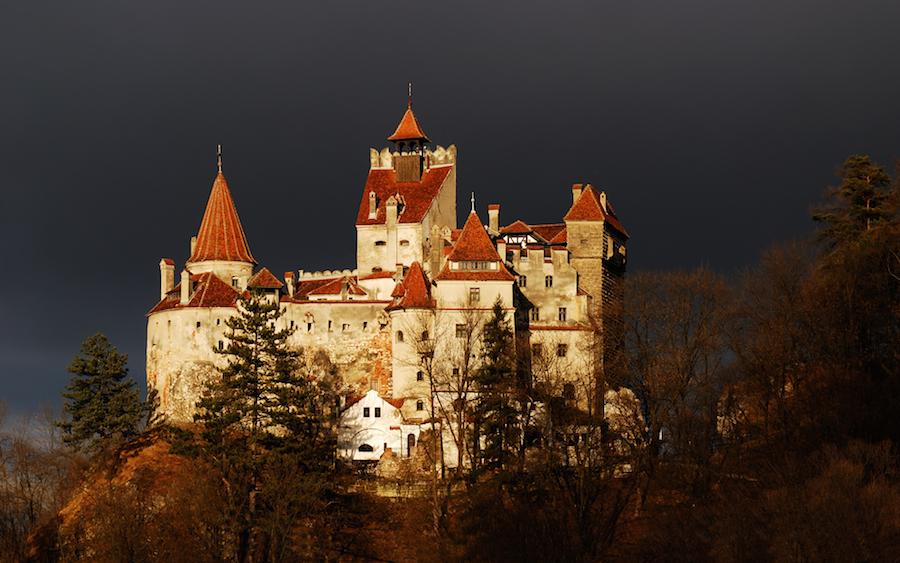 8. Kasteel de Haar, the Netherlands
Originally the castle belonged to the De Haar family. Through marriage the Van Zuylen family eventually took it over. It was abandoned for about two centuries when Etienne van Zuylen and his wife Hélène de Rothschild decided to restore the castle in 1887. The family still spends every September at De Haar. They invite guests to stay and enjoy the unique venue as well, including famous people such as Roger Moore and Brigitte Bardot. Guests are treated like royalty. Their suitcases are unpacked for them, they have their own chauffeurs, and have superior dinners. I wouldn't mind being invited next September. ;-)
How to get there? From Amsterdam it is a 40 minute drive to Haarzuilens.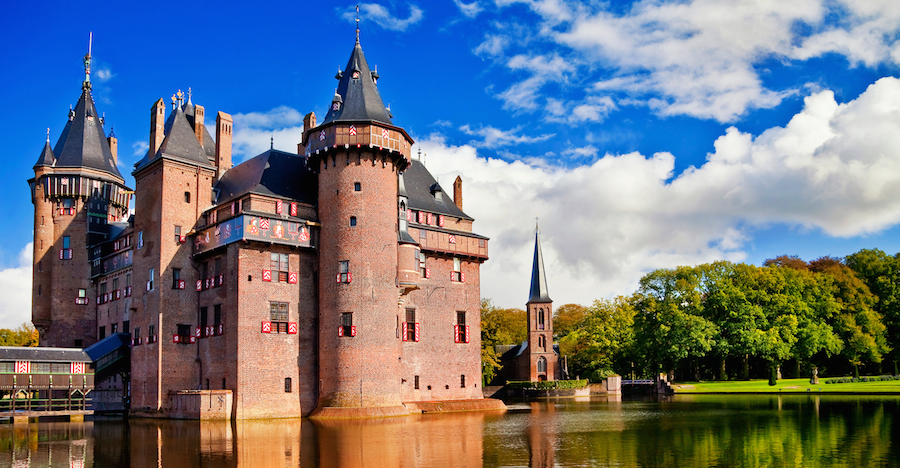 9. Hohenzollern castle, Germany
We complete our list with Hohenzollern Castle (Burg Hohenzollern in German), which stands on Hohenzollern mountain. The first castle was built in the Middle Ages but was destroyed in a siege. Its reconstruction began in 1454 and the castle was used in the Thirty Years' War from 1618 to 1648. Following occupation by several groups, the castle fell into decay. In 1850, however, the Hohenzollern family built on the site yet again and it remains in their possession to the present day. Burg Hohenzollern is no longer inhabited, but it is an enormously popular tourist destination. It is not far from Stuttgart, so it's certainly worth a visit if you're in the neighbourhood.
How to get there? Fly to Stuttgart. From there it is a 40 minute drive.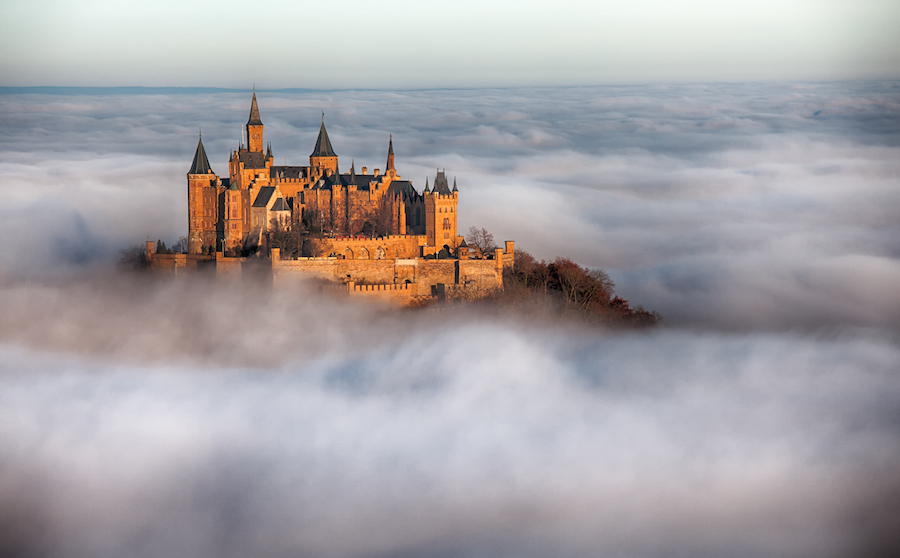 Castles for sale
As a child, I used to fantasise about living in a castle. If you have enough cash, that dream can come true. In 2014, Bran Castle was put on sale. There is no record of an actual sale, yet. So if you're interested, you may still be able to buy it! This castle in France is also for sale for the low, low price of EUR 1.3 million euros.  And how about this one in Italy? Looking at the prices, I think I'll keep on dreaming for a while…