A Business Jet Avant la Lettre
Have a good look at this photo. This is not some average DC-4 cabin dating from 1947. It did not yet exist, but this is what you call a real business jet. Two comfortable easy chairs with ottomans (and safety belts), a divan, plush carpeting, and a record player. And that's just for starts!
A 53-day world tour
On 12 March of that year, this aircraft—the DC-4 PH-TAT Twenthe—started its 53-day world tour. There were just two passengers: Bernard van Leer, director of the company bearing his name, and his wife. Van Leer's factories produced a wide range of industrial packaging materials such as barrels, jerry cans, expansion tanks, central heating radiators, and beer kegs. The company had offices and factories located around the world and the director wanted to visit them all.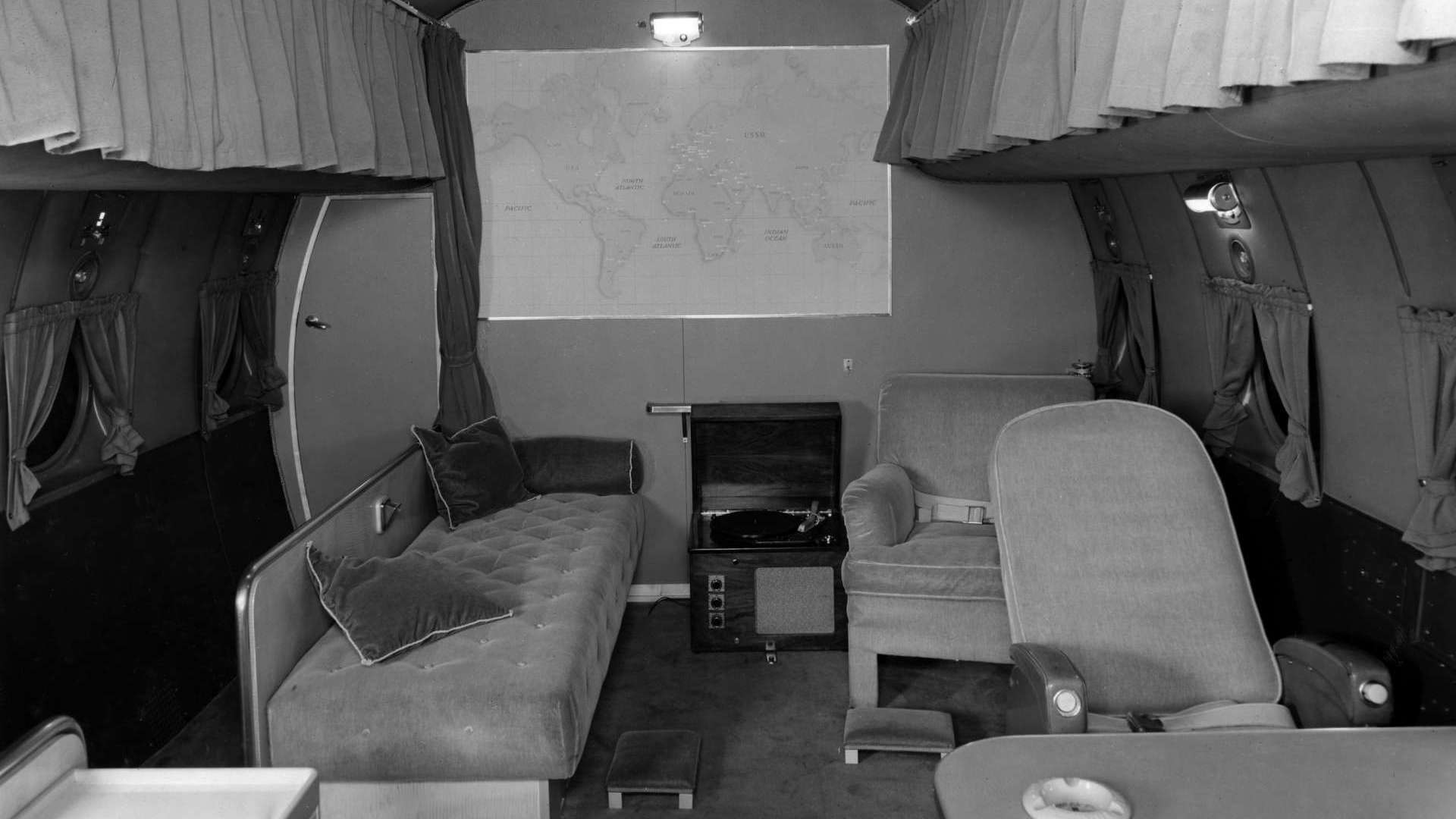 With KLM's help, Van Leer was able to make his inspection, and visit variety of business relations, in record time and in complete luxury. As a result, the DC-4's interior was converted in its entirety into a beautiful living space complete with offices and a bedroom. Hence the record player.
The intriguing record player
It's only a minor detail, but I'm intrigued to know if the record player actually got put to use. Might the Van Leers have stopped for a short dance between the courses of their dinner? Perhaps a modest rumba?  Nothing could take up too much space. I can only imagine that the slightest bit of turbulence—not all that uncommon during a flight—caused the record to jump. That won't have done anything to improve the dancing or listening pleasure. Or maybe it wasn't that bad. In those days, all of the records were "78s" and had deeper grooves. Sadly, we'll never know.
Heard it al before?
It's quite possible you've heard or read this before. We've posted this blog a while ago. So this actually is a repost. But not without reason: our great KLM Intern On a Mission recently made a funny and interesting vlog about KLM World Business Class. You can check it out here: