A Cabin Attendant Story: A new day a new team
Did you know that on intercontinental flights departing from Amsterdam the entire crew met each other just one hour before stepping in the airplane together? We have about 10.000 employed cabin crew so the chances that we know somebody prior to our flight is very small, even if we are flying for over 20 years. We are ought to deliver magnificent teamwork for sometimes 13 hours with colleagues we have never met before in our life. 
New day, new team
Let me tell you all about it. These are my top five challenges and lessons I learned from working in a constantly changing team:
Remembering 14 names can be a challenge sometimes
Your first impression of someone is always incomplete.
Each cabin crew is a walking treasure of knowledge and experience.
Great teamwork also means stepping back at times and using the resources of your colleagues when you run out of answers yourself. This is not a weakness but rather the strength of teamwork.
We shouldn't be fast in judgement but rather faster in being caring, nice and understanding towards each other because only then we take off into a great cooperation.
It always amazes me how fast we become at ease with each other, sharing our personal life stories, supporting each other and sometimes making friends for life. So how do we get comfortable and acquainted with each other fast? Openness and communication are the answer.
The first time we meet each other is in the preflight- briefing and here we shake hands, discuss safety topics and share our special talents such as languages, medical experience, nanny experience, writing talents or just our positive attitude. This is an excellent moment to repeat all the names in your mind, two or three times, if needed. My name is Eleonora but I have been called Elina, Ellen and Noura previously. If you are bad at remembering names, this is also the time to say it. Prepare your colleagues for your gift or weakness.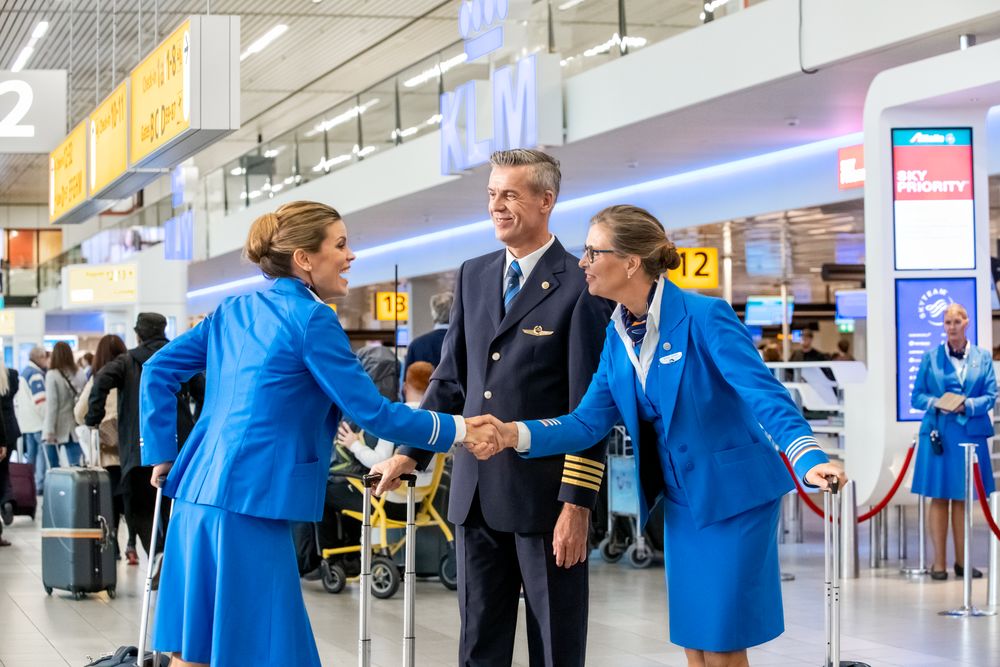 What does this mean for you? 
It means that whenever you step on board with us there is a whole new dynamic of crew waiting to welcome you. Each of them has their own unique talent and personality to make your experience with us a memorable one. Every flight is a new experience for us, as it is for you.
KLM does a great job in hiring crew and with excellent social skills, flexibility and open mindedness. The best thing is that working at KLM feels like you are part of a big blue family and this makes our teamwork very positive, open and full of support.  That doesn't mean you never meet a challenge.
My personal challenge this month was flying with a colleague who was a bit pessimistic. I noticed it quite quickly and I still had five more days to spend with her. Help, I thought to myself. But, I decided I would make it my personal challenge to meet her with my optimism and positivity, not an easy thing to do. But at the end of the week she called me darling and gave me valuable life advices. I was quite proud of my achievements but was also happy to change crew.
The secret? Use your positivity to make the difference and keep standing tall. Make magnifiers of your eyes and focus on the positive, underline it. On board. In life. Everywhere.  It's contagious.  And that's how you'll fly, with us and in happiness.
Are you interested in becoming a cabin attendant for KLM? We are currently hiring!  For more information, click here!