Even though restaurants can sometimes be crowded, we like to eat out. To order our favourite dish in our favourite restaurant is something we can look forward to for days in advance. We enter our favourite eating-place, order something to drink and study the menu, hesitating about what to order, because we like almost everything. The chef prepares our meal and when it's served, we enjoy every single mouthful.
Unfortunately, in an aircraft it is not possible to order everyone's favourite dish and prepare it on the spot. In an earlier blog about KLM Catering Services, you could read what it takes to serve all our customers. However, over the past year, KLM ran a successful trial with à la carte catering on flights to eight destinations departing from Amsterdam. Prior to the flight, passengers could order one of four gourmet meal options at an additional cost of between 12 and 15 euros. The Indonesian meal turned out to be the most popular (37%), followed by Italian (26%), Japanese (21%) and vegetarian-luxe (16%). From December 1, a Dutch meal can also be ordered for 10 euros.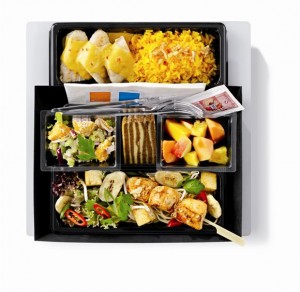 À la carte meals address our customers' ever-increasing demands for personal service by presenting a wide range of dining options that place greater emphasis on several important trends in airline catering. Anyone who travels Economy Class on an intercontinental flight, flying from Amsterdam to all destinations except Toronto, San Francisco, Tel Aviv and Cairo, can enjoy the new à la carte meals as an alternative to the standard meal. Orders may be placed between 90 days and 48 hours prior to departure. Passengers can order during the online booking process or after making a reservation via 'Manage my Booking'. Besides the à la carte meals, passengers can always request a special meal for medical, religious or dietary reasons on all intercontinental flights. Depending on the type of meal desired, it can be requested free of charge up to 24 or 36 hours before departure. For logistical reasons, it is not possible to provide à la carte meals on our flights to Toronto, San Francisco, Tel Aviv and Cairo due to the large number of special meals ordered for those destinations.
KLM recently tried out à la carte catering in World Business Class. World Business Class passengers can choose on board from three high-quality meals prepared by top chefs. KLM offers them even more options by adding up to five extra meals that can be pre-ordered, at no extra cost. The trial was initially on two routes, from Amsterdam to Cape Town and to Singapore. If the trial is successful, this service will be rolled out to more destinations.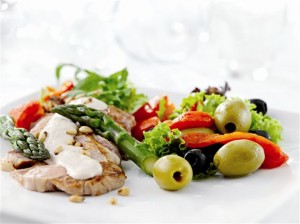 What will you order next time you fly with us?
Karin
Corporate Communications