A second life for an old bird
At Engine Services we have begun a relatively unique project. We are preparing an aircraft engine to be exhibited outside Building 404, KLM Engineering & Maintenance's headquarters.
There's nothing better than tinkering with an aircraft engine.
Sometime in mid 2016, VP Engine Services, Paul Chün, called me and my colleague Edu van de Haar to his office. "I have received a request from Ton Dortmans, VP KLM Engineering & Maintenance, to look into the possibility of having a static aircraft engine on display at Schiphol Oost. Do we have a written-off engine we could use?"
What began with a simple question ended with a plan for an opened-up aircraft engine on permanent display at Schiphol Oost near Building 404, the headquarters of KLM Engineering & Maintenance. We want to show our customers and anyone else who is interested, what we do and what our technical skills are.
The project will take more than a year and will be unveiled around KLM's centenary anniversary. During the preparations, we will produce a series of blogs, with photographs and films, to record what we are doing and to show what is involved.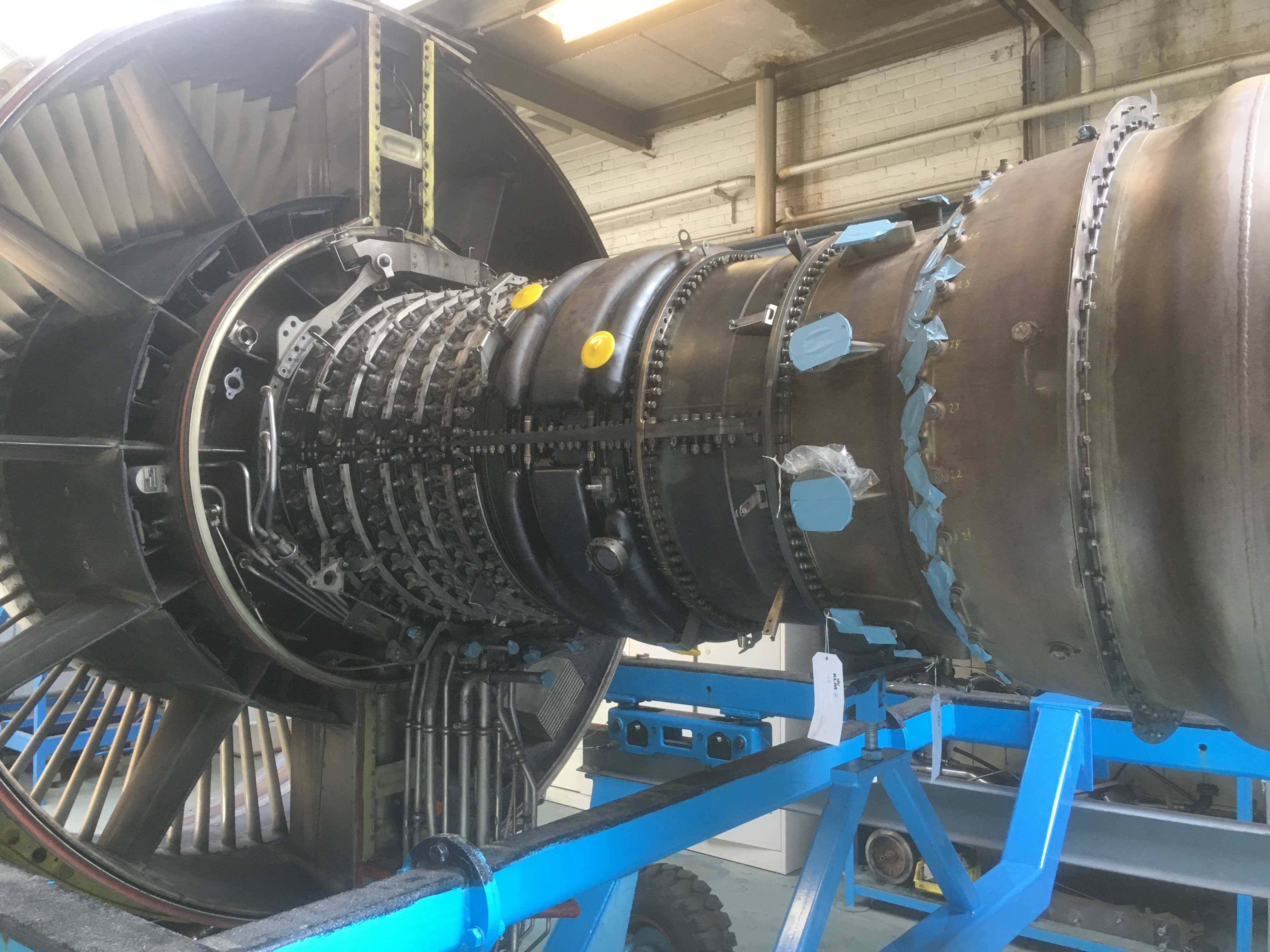 Plan
After detailed consultations with a number of departments at Engine Services, we eventually found a financially depreciated General Electric CF6-50 engine, which is the type that was fitted in the DC10s and older models of the Boeing 747 and Airbus A300.
The question was, how should we tackle it? What do we want to end up with, exactly? Where and how are we going to position the engine, what do we want to show, what needs to be done and who's going to do it? Important questions, because nothing can be allowed to interfere with day-to-day business.
A plan emerged from the necessary brainstorming sessions: We would partially open up the engine to show the internal airflow. All the parts that obstruct the view of the inside of the engine are to be removed, carbon-neutral lighting is to be fitted, as are electric motors to rotate the engine.
The engine's diameter is more than two metres, it weighs 4,000 kilos and is around six metres long. We want to place it on a concrete plinth so that you can easily see inside. The engine has to be able to stand up to the Dutch climate. And we will attach an air intake and outlet, which we will source from an aircraft disassembly company.
We now had a plan for what we were going to do. The question was, who was going to do it?
The idea was out forward to place the project in the charge of enthusiastic, experienced (retired) former KLM employees working with a team of students from the regional aviation college (ROC). In this way, KLM production staff can still get on with the day-to-day running of the business, while the students (perhaps KLM engineers in-the-making) get a wonderful opportunity to gain experience working on an aircraft engine.
We're off!
We eventually started work in the summer of 2018 and have now stripped the engine of all unnecessary parts. The combustion chamber, and the high- and low-pressure turbines have been removed and partially dismantled, and part of the high-pressure compressor – the top case – has been removed.
The students were supervised by practical supervisors who taught them how to follow the correct instructions and how to use the manuals. The ultimate aim of their training is to find them a job in the aviation industry where everything revolves around compliance with regulations and using the correct documentation. This group has now returned to the classroom and a new group of students will begin later in the year.
In the next blog we will show you how far we have got to in the project.
Rob Duivis/Edu van de Haar
KLM Engine Services.