I distinctly remember my first New Year's Eve in Amsterdam, marking the start of 1987. My new Dutch friends invited me round and, as we watched the TV clock ticking towards midnight, people stood wrestling with champagne bottles in an attempt to pop the corks at exactly the right moment. All this was vaguely familiar. But then the kissing began. And the shooting.
I was about to take cover under the buffet table when I noticed that my new friends were rushing out to the balcony or up to the roof or downstairs into the street, carrying bags full of fireworks. And so I put on my jacket and made my way out into the freezing night, seeking shelter behind a parked car until I imagined what might happen if a stray rocket were to hit the petrol tank.
When I was growing up in Johannesburg, we celebrated Guy Fawkes Day (5 November) with fireworks, but I don't recall ever having been treated to such incredible aerial displays or hearing such an ear-shattering barrage of bangs on New Year's Eve. Fireworks were banned in South Africa sometime in the late 1970s, so all this was new to me.
When I explained this to a couple of my friends, they immediately suggested that we should go to the Nieuwmarkt, a square in the oldest part of town renowned for the Red Light District but also for the many Chinese restaurants and businesses that line the surrounding streets. Every year, the local Chinese community put on a spectacular display of firepower, transforming the square into an ankle-deep red sea of firecracker paper.
"And it isn't even really new year for them!" shouted one of my friends.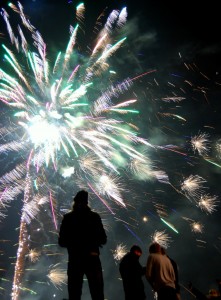 Fireworks on Nieuwmarkt (Photo by Roel Brals)
Only later did I discover that the Chinese celebrate the start of the new year sometime between mid-January and late February to mark the end of the winter season. And only today did I discover that this is because the Chinese calendar is lunisolar, which is why the date varies with the coming of the new moon and why Chinese New Year is also referred to as Lunar New Year, which usually falls about four to eight weeks before spring begins.
While I was reading up on this online, I was amazed to discover that New Year is celebrated on so many different dates  in various cultures and countries, in accordance with their different calendars and traditions. This shouldn't have surprised me, of course, considering the past year's experiences and the new insight I have gained via my online research and the many comments posted by helpful readers.
That said, I'd like to thank you all for your contributions and would be very interested to hear how you'll be ringing in the new year in Kiev or Athens, Birmingham or Rio, Muscat or Nairobi, even if you won't be celebrating it tomorrow.
Wishing you all health and happiness, and looking forward to a new year with new insight!
Richard de Nooy