A Tour Of The Netherlands
Late in june 2017 we left the Netherlands with our family of four. My husband Thaddeus's physiotherapy practice and our house were sold. Check. I was on a year's unpaid leave. Double check. We were ready for a world adventure.
Our first destination? Cape Town. Duh! We had already fallen in love with the city and were all too ready to discover the rest of South Africa, including a number of adjacent countries such as Namibia and Botswana. After six months we had to leave the country as our extended tourist visa had expired.
After that, it was South America's turn. From Buenos Aires we took a ferry to Uruguay, flew to the Iguazu waterfalls in Argentina and Brazil, jostled our way through Paraguay by bus, and then flew from city to village to mountaintop in Argentina. In four and-a-half months we created the warmest memories.
But we could not yet agree on our destination after South America. We discussed any number of countries (and how wonderful it is to be able to discuss this) when Thaddeus suddenly said:
"We could also do a tour of the Netherlands!"
What a great idea. All family members voted in favour. Secretly we were all missing our own country. Everything in the Netherlands is so well arranged, everything is close by, family and friends can easily visit, and there is so much to discover. So, we flew from Buenos Aires to Amsterdam and soon booked our first accommodation in a very, very special location: on the Meuse River in Rotterdam.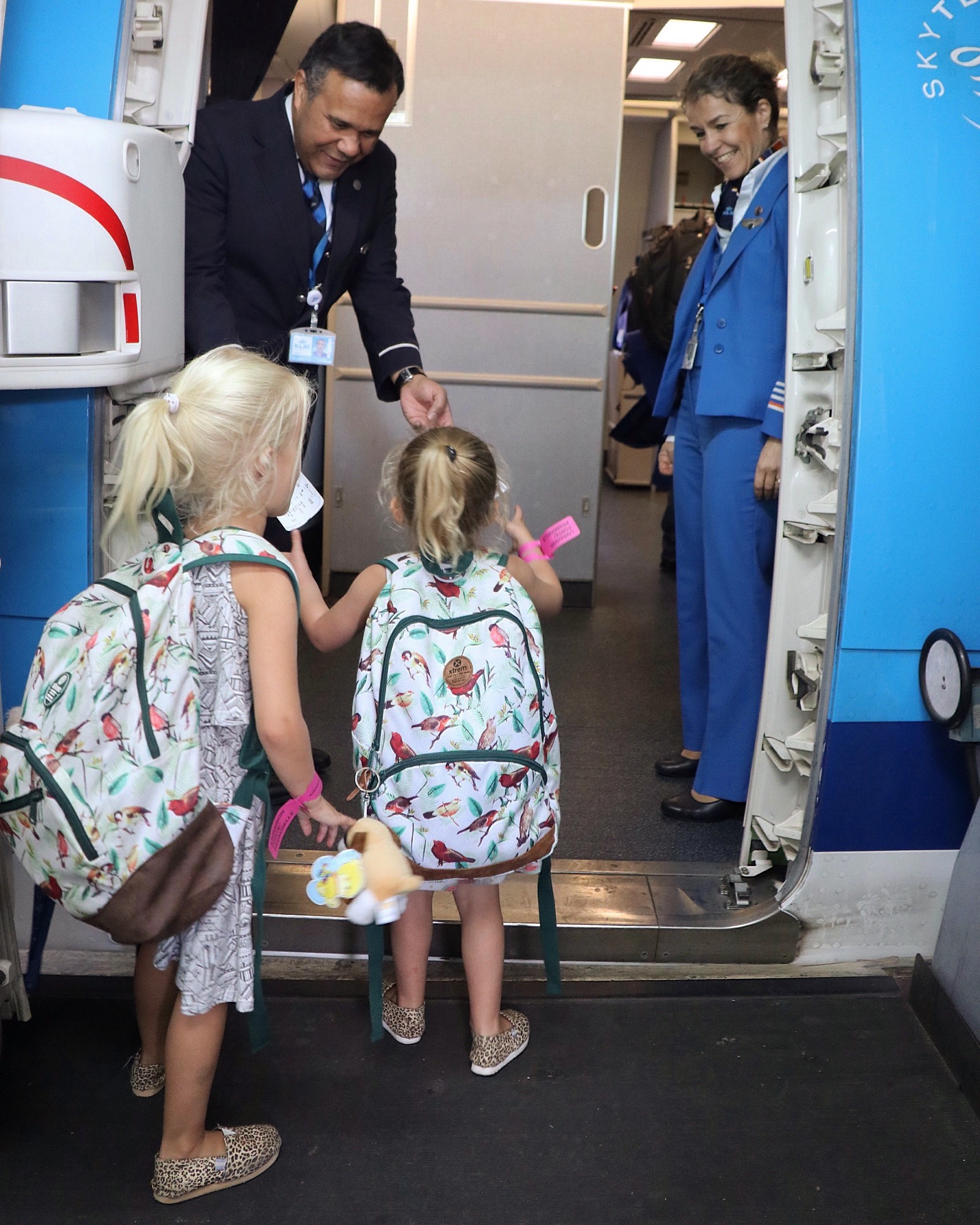 A heartwarming night on the SS Rotterdam
As a huge fan of ships and beautiful stories from the past, I was very much looking forward to staying on the beautiful SS Rotterdam. The steamship, sometimes called La Grande Dame, sailed the world from 1959 to 2000, first as a liner between Rotterdam and New York and later as a cruise ship. On 12 June 2013, she was officially transferred to WestCord Hotels. It was with great pride that the SS Rotterdam was added to the WestCord chain as its fourteenth and newest pearl.After doing some research, we could feel it in our waters (as it were) that this would be a special place. But the love really took hold from the moment we first glimpsed her as we drove towards the car park. Butterflies in the stomach! That feeling was only reinforced when we were received by two "real" captains who helped us bring our luggage on board.
It was followed by five days that we will never forget. The guided tour (given by Mr Will, who used to work on the ship as a cabin boy himself) made a particularly deep impression on all four family members. He made the ship's history come to life and that gave our stay much greater meaning. At first we thought that a guided tour lasting a few hours would be far too long for our three- and four-year-old daughters Pippa and Jools, but they thought it was more than great.
Mr Will involved the girls in all the stories in a beautiful way and asked them questions that further stimulated their curiosity. Watch the video below to experience the adventure:
Dreaming away in De Efteling: A World of Wonders
What was not to be missed during our Netherlands Tour? The oldest and most beautiful amusement park in the Netherlands: De Efteling. Because you're never too old to believe in fairy tales.
We highly recommend staying in one of the accommodations just outside the park. We spent two nights in a cottage on the edge of the forest called the Efteling Loonsche Land Holiday Park. After a day of information overload, it was so nice to find some rest there.
Interesting Fact 1: As a fanatical blogger, I take a lot of photos and videos every day. But during our two days at De Efteling, I decided to take the time with our family – to look at it with my own eyes instead of through a lens. Jools and Pippa were immediately pleased when I told them of my plan.
However, Jools did have one comment: "But then we can't show our family and friends where we we've been. Can you take just a few photos? Maybe six or so?
So I did that. The rest of the time, the camera and telephone stayed in the bag. And that made me experience those two days with my family in De Efteling so much more intensely. Note to self: Hide all devices more often.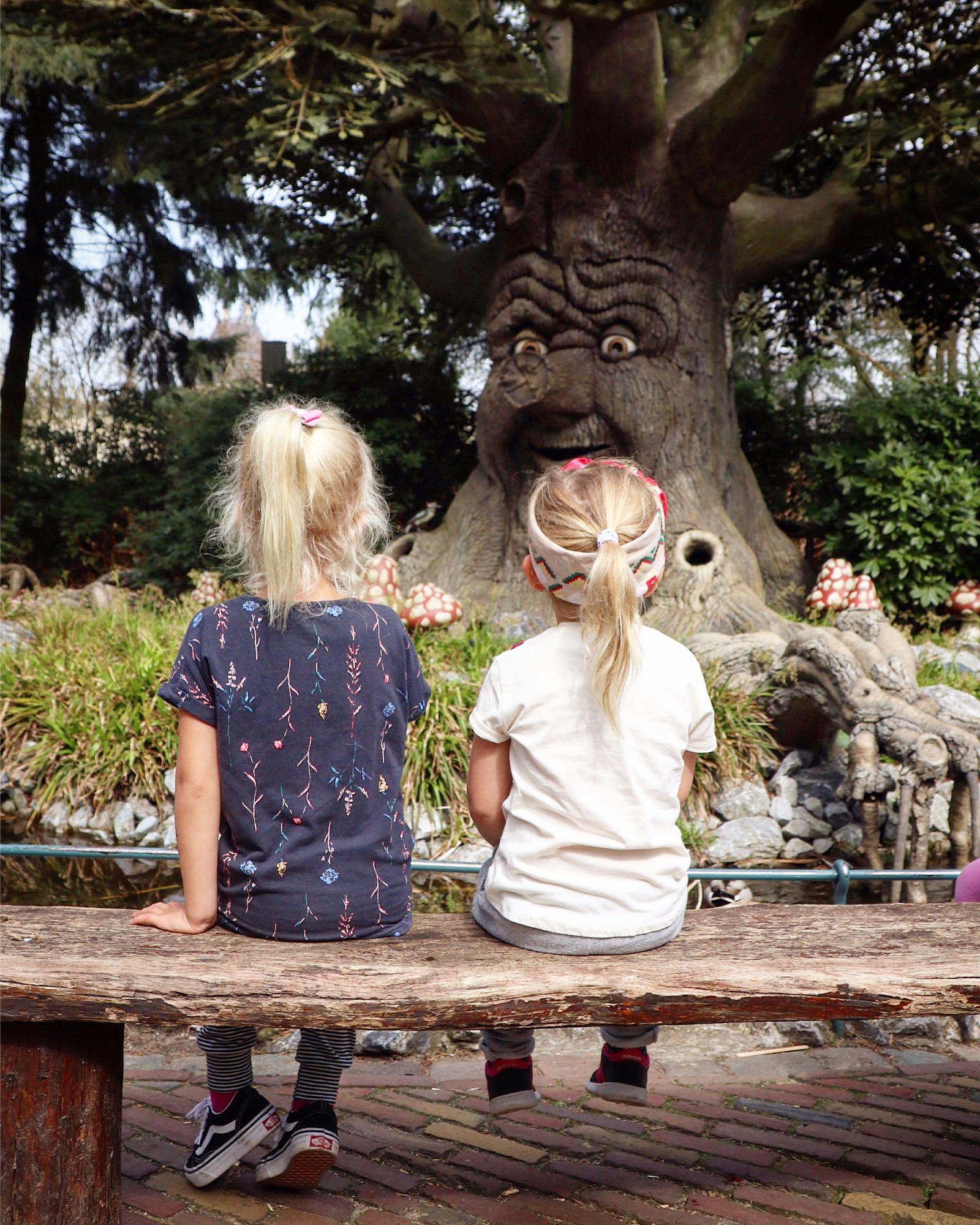 Interesting fact 2: Thaddeus's grandmother Corry has lived close to De Efteling for almost her entire life. Since it opened, she cycled there several times a year as a young girl. But she hasn't been to De Efteling these last few years because she's not so steady on her feet.
It was with pain in her heart that she thought she would never be able to go again. But when we invited her to spend a day with us – including collecting and bringing her home and a crash course in the use of a wheeled walking frame – she agreed after giving it some thought. She wanted so much to see the faces of her great-grandchildren who were enjoying all these wonderful experiences.
What was the best moment? When I distracted the girls and Grandma Corry secretly put a box of chocolates in Red Riding Hood's basket. The look on the girls' faces was worth its weight in gold when they discovered the chocolates: especially for them from Little Red Riding Hood.
GLAMping in the TerSpegelt Recreation Park
From a steamship to a fairytale wonderland to… a tent. But not just any tent: at TerSpegelt Recreation Park in the Eersel woods, we rented a tent complete with kitchen, toilet, dining area, and beds. Jools and Pippa shared a loft bed bed and even had a play area underneath. How much fun? We are not averse to real camping. On the contrary, we love it.
The great outdoors that is inextricably linked is pure pleasure. But, this kind of camping – in fact, it's called glamping – well, we loved it.
What else did we enjoy? The park's Sterrenstrand ("starry beach"). It is a covered beach with all kinds of playhouses and castles that will keep kids busy for hours, searching, building, splashing, and balancing.  It's always summer there.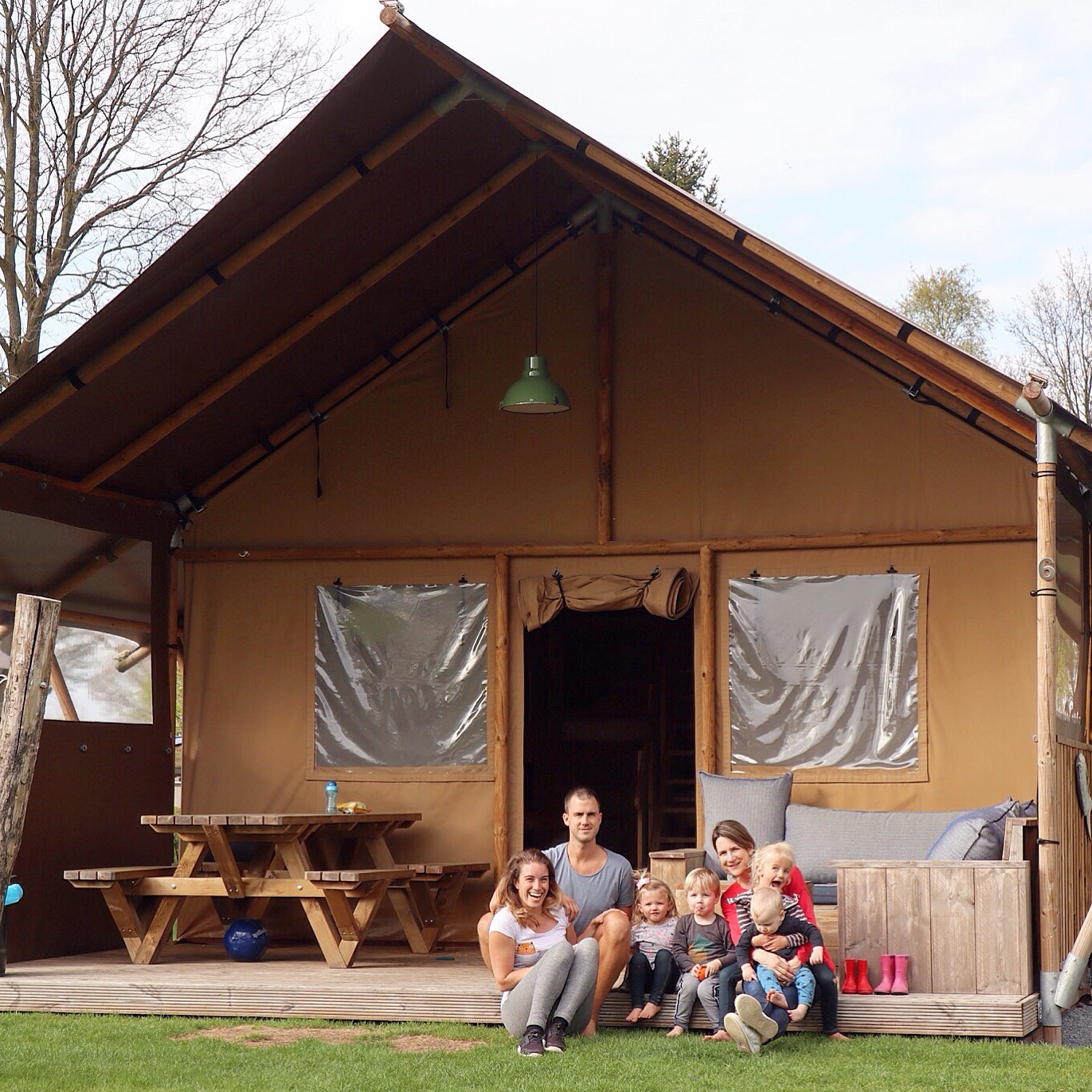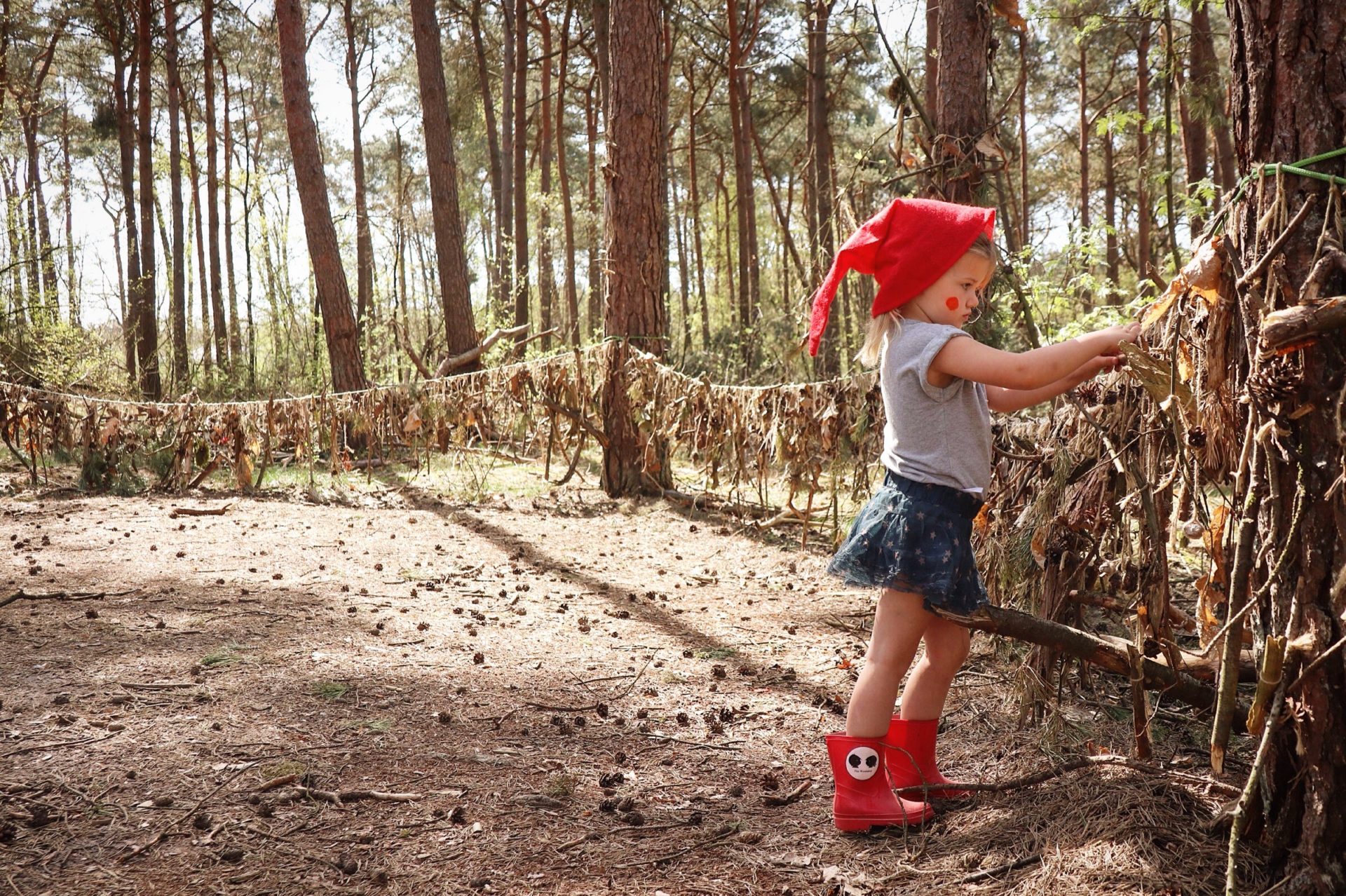 Around the world in one day at WILDLANDS Adventure Zoo Emmen
We concluded our tour of the Netherlands in a very special way in the far north of the country. As true world travellers, the "around the world in one day" offer at WILDLANDS Adventure Zoo Emmen sounded very attractive to us. What's more, we could even get there from our 79th "home" in ten months – CenterParcs Parc Sandur in Emmen – by bike. The start of this particular world trip lay entirely in our sporty street.
WILDLANDS Adventure Zoo is much more than just a zoo.  The name delivers what it promises. This is a place where you can experience great adventures – among the animals, above the animals, next to the animals, and also without the animals. This park is particularly cool for children from the age of three.
Climbing, floating, balancing, sliding, and racing alternating with animal watching. WILDLANDS has four parts: Jungola ("Oh, that boat trip is fun!"), Serenga (speeding through the brand new roller coaster TweeStryd), Nortica (cold adventures and shadow games with penguins and Ms Matti) and Animazia (a challenging indoor play paradise).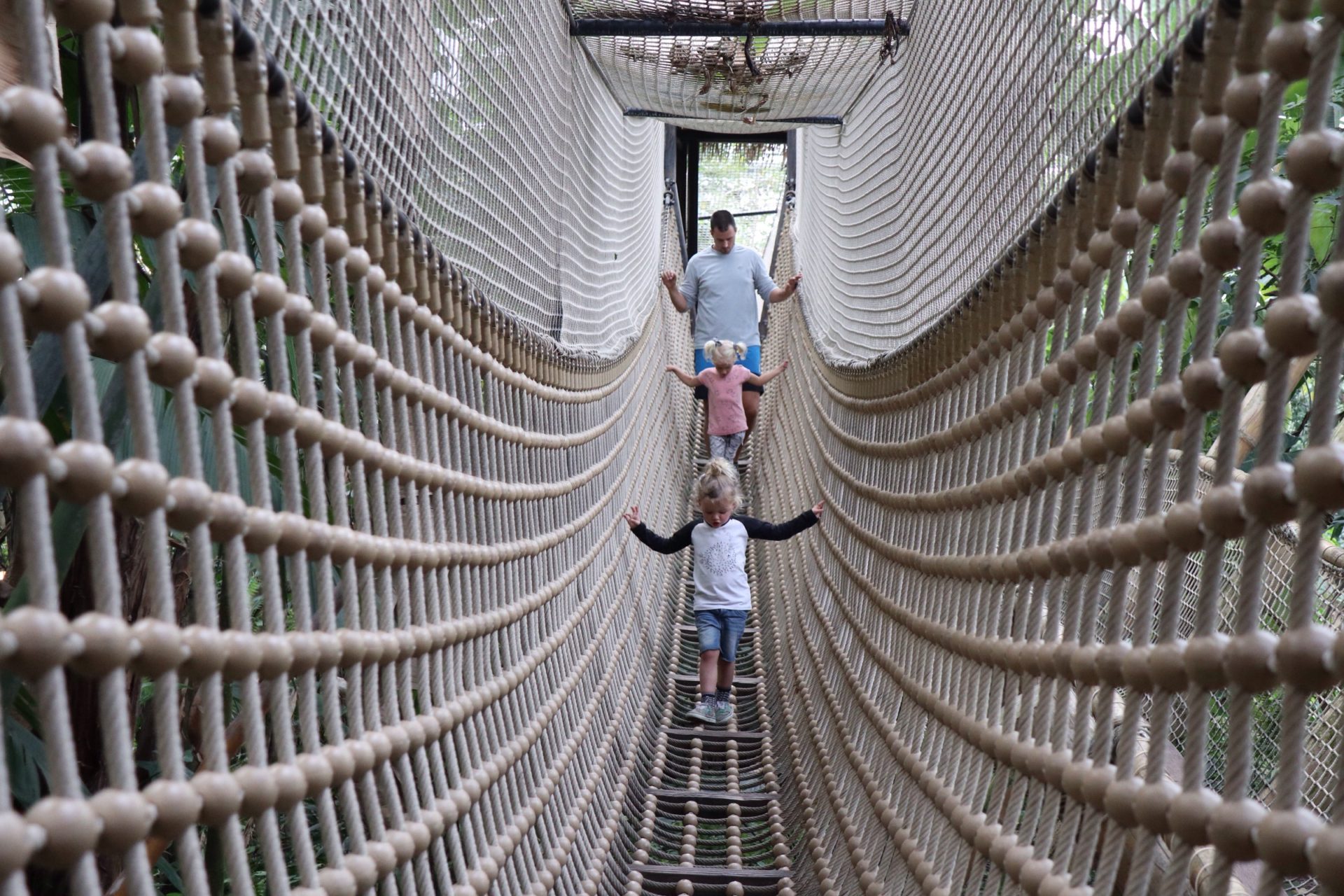 I wrote that the start of this one-day world trip started well by bike. But we ended the day in the same way, on our two-wheelers back to our "house" – through the centre of town, over the squares, and through the residential areas of Emmen. We felt like real locals.
When we arrived at CenterParcs Parc Sandur, it turned out our adventure still had several days to go. We helped out in the petting zoo with Lopke, raced down the water slide, made pizzas, and played children's bingo with Orry.
Well, then our Netherlands Tour was over. We could have gone on far longer than a month through our own beautiful country.
We already knew that there is an infinite amount to do. But, when we travelled through it in at our own pace, we came to love the Netherlands even more. We will definitely have to do another tour!
Love,
Annette
PS: What's next? Thaddeus has been offered a great job, so he will stay in the Netherlands for the time being. Jools, Pippa, and I will continue our travels, just the three of us. Next week we will go to Andalusia, in southern Spain, with tour operator "Eliza was here." We're ready!
Would you like to experience our adventures digitally? You can follow us on Instagram @theflyingdutchfamily and on MOMspiration.nl.