A woman who helped rebuild KLM
It's always rather special when former employees bequeath artefacts to KLM. We always gladly accept these documents, photos and any other KLM paraphernalia, because they are a rich source of information. This blog is about one of these intriguing collections.
At my request, our corporate archivist went in search of information about the way stewardesses were trained in the past. Not long afterwards, I was presented with the "Hoogvorst Klopper Collection", which consisted of a file, two photograph albums, a large scrapbook and some loose items, including a uniform button, all neatly stored in an archive box.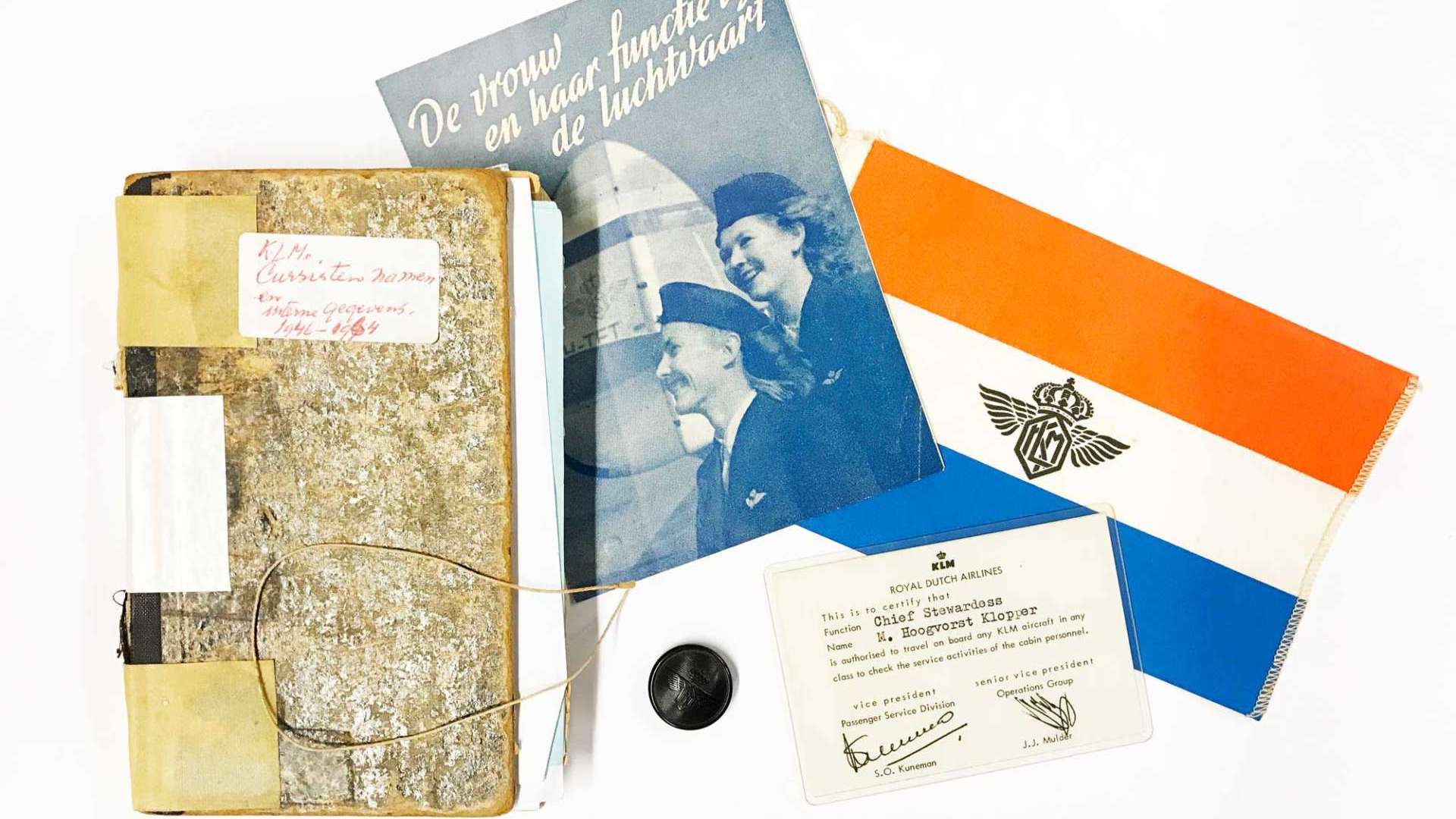 As I sifted and leafed through the material, I initially felt like a voyeur, rummaging through someone else's belongings, sticking my nose in where it didn't belong. But I gradually grew accustomed to the idea that all this stuff had been intentionally left to KLM, giving me, in effect, posthumous permission.
What's special about such a large quantity of photographs, papers, passports and notebooks is that you get a pretty good impression of a person's career and what it was like in the past. In a sense, you are transported back through time and given a glimpse behind the scenes. I'll try to describe what it was like.
Rebuilding
The lady in question joined KLM as a stewardess on 22 March 1946, together with nine other women. The company was on the move and was rebuilding itself after five dormant years during the Second World War. New planes were being purchased, old routes were reopening, new routes were being added to the network, staff were being recruited, and head office was being extended. Schiphol was up and running once more, in wooden barracks, it is true, but the place was buzzing. Mieke Hoogvorst Klopper (1915-2004) was recruited at this time and in her scrapbook, in which she devoted a couple of pages to every flight, filling them with picture postcards, photos, hotel bills and a whole lot more, mainly in the early years of her career, are testimony to her enthusiasm.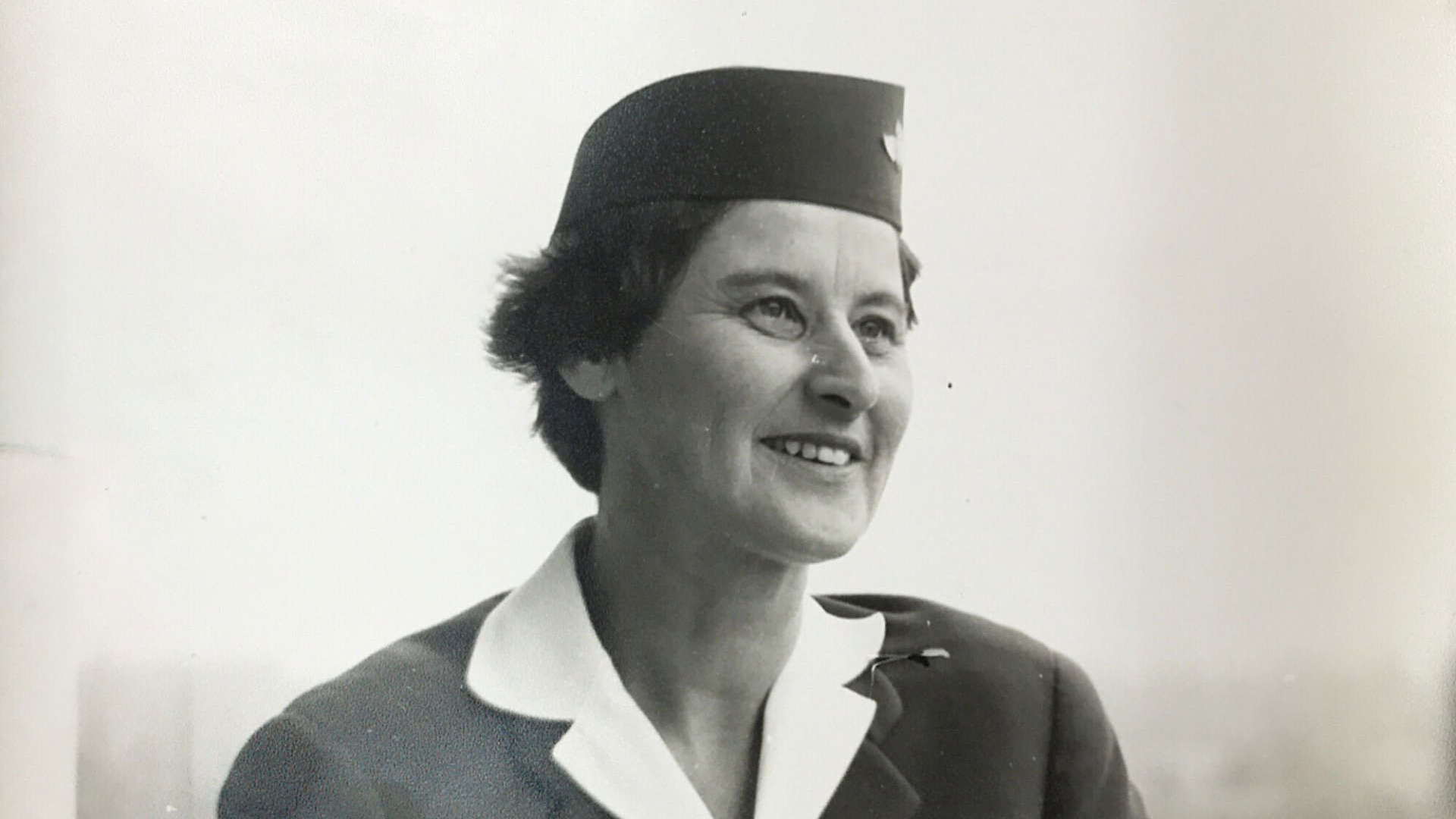 Notebook
Mieke Hoogvorst Klopper was an independent woman, and she was ambitious. In 1948, she became chief stewardess for Europe. In those days, the cabin crew corps was a fraction of its current size. At the end of 1948, KLM employed 132 stewardesses. Mieke's job as chief stewardess covered a wide range of duties. Firstly, she was in charge of recruiting new stewardesses. Her notebook offers intriguing insight into the procedures. She kept a careful record of the names of every new group, when they had joined the company, and usually when they left KLM as well. The latter date was marked in red pencil. She kept this up for almost twenty years.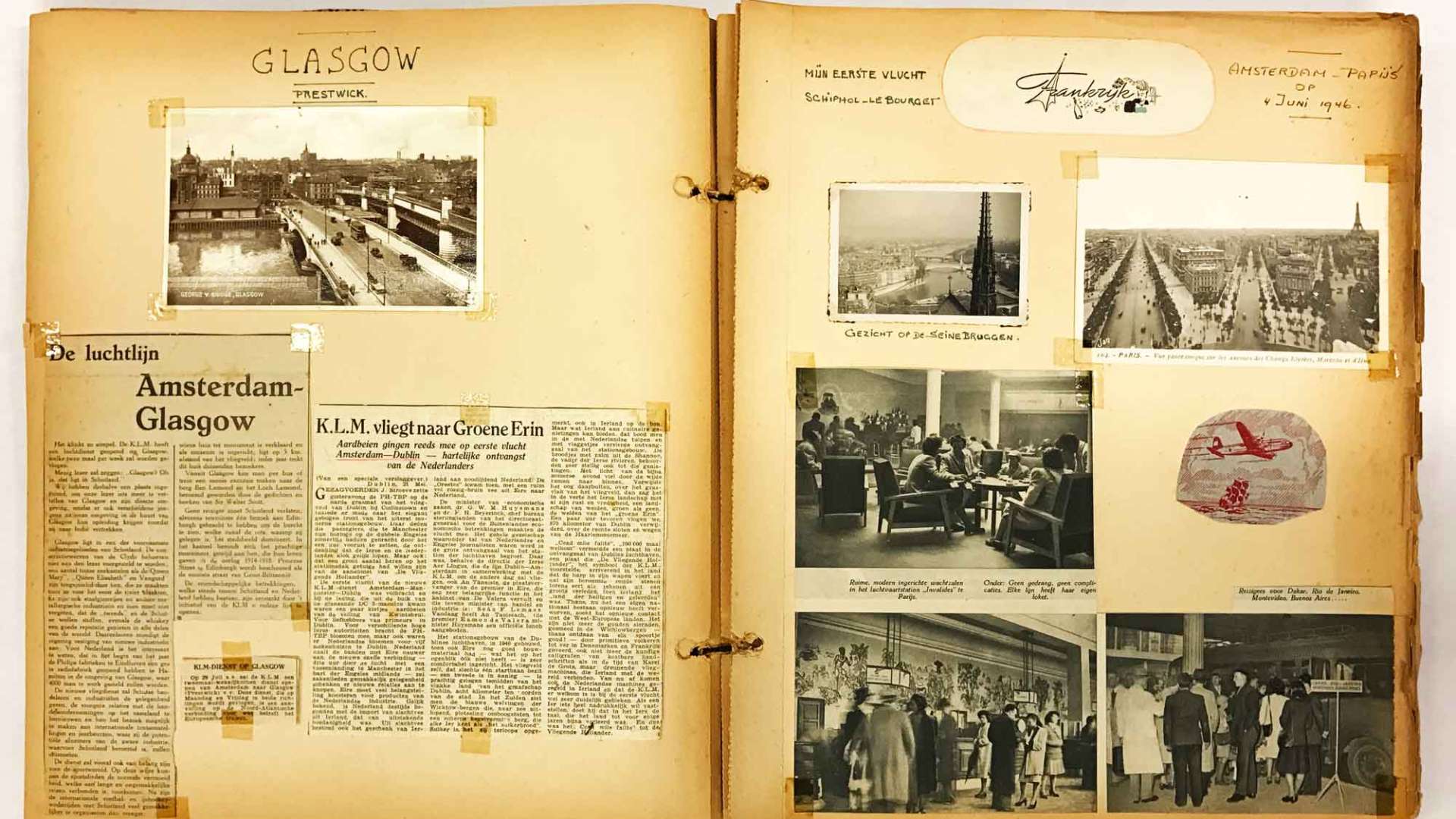 Selection procedure
The notebook offers unique insight into the selection procedures of the day. There are brief remarks sketching Mieke's first impressions of the aspiring stewardesses. "Languages poor" is one of her most common assessments. In those days, stewardesses not only had to speak impeccable Dutch, but were also expected to be fluent in English, German and French. That appearance and personality were also important is borne out by such remarks as "tough kid", "too youthful, transferred", and "average". The applicants were subjected to pretty intense interrogation, with many questions requiring general and specific KLM knowledge (What is the name of KLM's president? What types of aircraft does KLM fly?). The interviews were evidently held all over the country, because I found lists of candidates from Eindhoven and Roermond.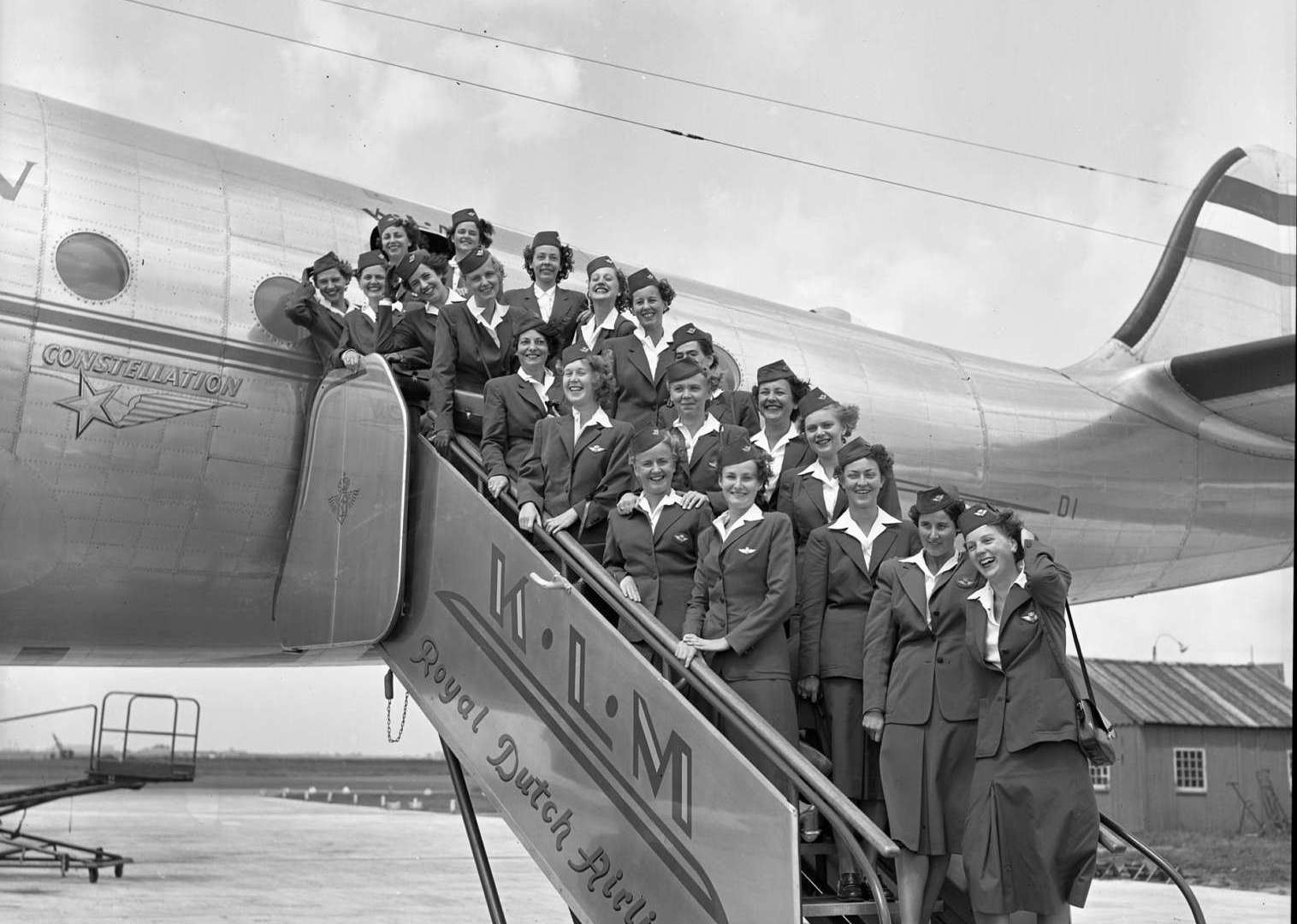 Mieke Hoogvorst Klopper, second from the right at the bottom of the stairs
Equal rights
The collection also included loose notes offering further insight into the duties of the chief stewardess. Mrs Hoogvorst Klopper wrote about it in her notebook on 29 July 1955, possibly in preparation for a meeting. "Since 1948, I have been chief stewardess for Europe. Compiling courses, planning training and organising whatever is required before and during the course. Inflight training and assessment of stewardesses. Later also involved in meal schedules, consultation on pantry-related issues. General contact with stewardesses. Accustomed to working and acting independently (but also in cooperation and consultation with boss). Wish to go on doing this, handling things as independently as possible. Have no desire to be the chief purser's lackey. Same job, same rights." She underlined the final sentence with red pencil.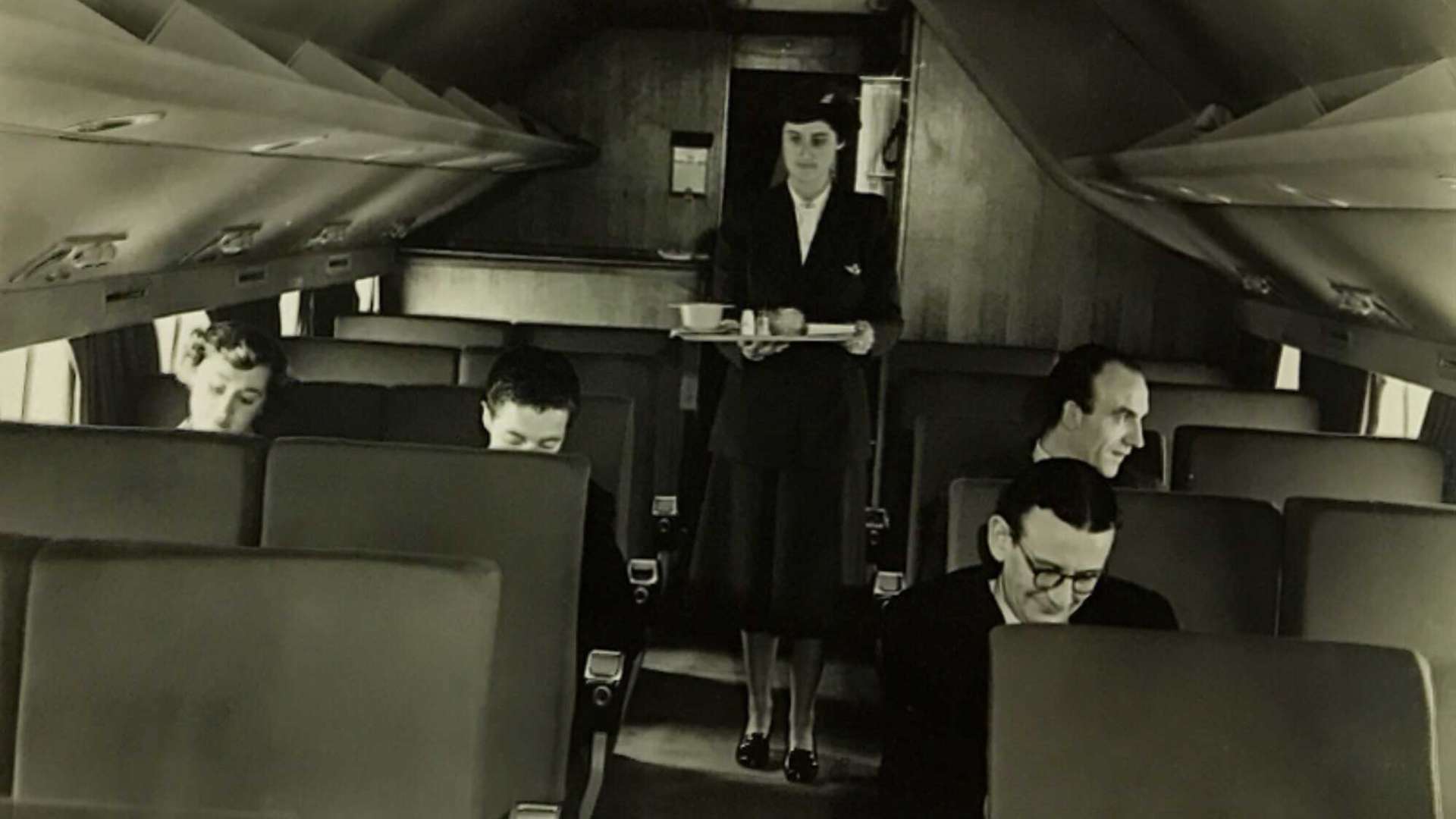 Mieke Hoogvorst Klopper knew exactly what she wanted and was strongly in favour of equal rights for men and women. To give you some idea of what that entailed 60 years ago, here are several examples. Before 1957, married women in the Netherlands were still considered legally incompetent. This meant that a married woman could not independently enter into an agreement or contract. She needed her husband's permission and signature. When you got married, you stopped working or you were discharged, which apparently wasn't seen as an issue, because your husband provided an income. Mieke would, no doubt, have found this annoying. She quite probably had strong opinions about something else I found in the instruction manual for stewards and stewardesses. The rank stripes on the sleeve of the uniform for the chief steward (three silver stripes and a star) were different to those of the chief stewardess (two silver stripes).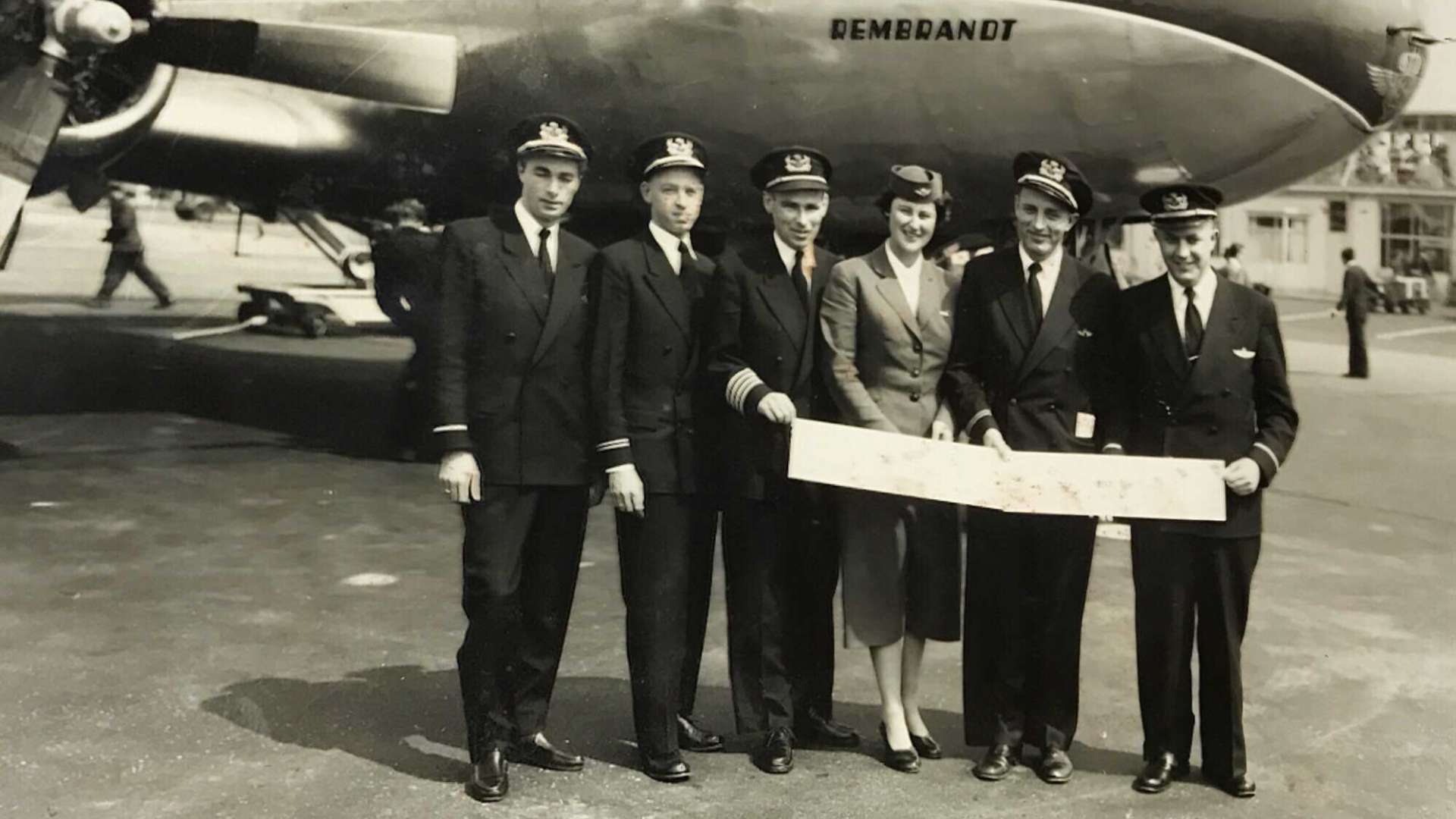 In closing
Mieke Hoogvorst Klopper left KLM in 1965 at the age of 50, but stayed in touch with her earliest colleagues for the rest of her life. A photo from 1971 shows her posing in front of a brand-new Boeing 747-200, together with her intake group from 1946. She is second from the right. By then they were all middle-aged women who had stopped flying many years earlier, but who still felt a strong attachment to "their" KLM. The group continued to meet regularly in the years thereafter. Flying together can forge very strong bonds. Back then, the day when there would be a female purser was still a long way off. And the idea that there would ever be a woman in the cockpit, let alone a female captain, was inconceivable. Although the stripes on uniforms have been the same for men and women for decades now, equal rights for men and women are still being fought for around the world today. Mieke Hoogvorst Klopper did her bit for emancipation by taking a stand wherever she could.