Flying a Pitts Special, a light aerobatic biplane, is not easy, and since flying has traditionally been more a male thing, not many women in the Netherlands fly aerobatics (probably four, of whom I think only two are active).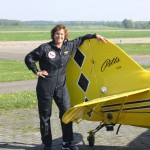 The Pitts is a taildragger aircraft, which means that it has a wheel under the tail instead of under the nose. Taxiing and landing a Pitts is therefore very challenging. Because the centre of gravity is behind the taildragger's main landing gear, the aircraft doesn't want to go in a straight line. The tail wants to come around and go in front of you because the centre of gravity is pushing from behind. This makes the aircraft difficult to taxi and land!
Sitting in the cockpit, the only thing you see is the very big nose of the aircraft (with a 200 HP engine in it). The challenge starts when taxiing to the runway. You have to zigzag all the way to avoid hitting another aircraft on the taxiway. Once on the runway and giving full power, the tail wheel lifts off the ground and you can see the runway over the nose of the aircraft.
A few weeks ago, I flew solo in a Pitts Special for the first time at Lelystad Airport in the Netherlands. After twenty minutes of aerobatics, I faced my biggest challenge – landing without the help of my instructor. You have to land the Pitts on all three wheels at the same time, which means in the same position as when taxiing. In other words, without being able to see over the nose of the aircraft. I could only see the runway by looking sideways. Last but not least, when the aircraft touched down, it had to go perfectly straight down the runway. I had to focus and stay in control of the aircraft all the time.
All went well during my first landing and I was congratulated by all the onlookers and my instructor. He opened the cockpit saying: 'You are the first woman in the Netherlands to fly solo on a Pitts Special!' And then was the time for champagne.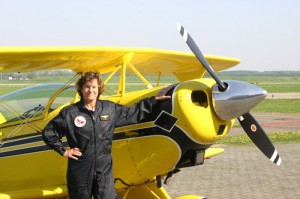 Eugenie
KLM Flight Operations