An Aircraft Airbnb Sleepover?
Have you ever slept aboard a plane? Perhaps a powernap after lunch or dinner? Or did you doze off during that great movie and wake up to the smell of breakfast? Whatever the case may be, you always wake up heading to a new destination. But that is set to change this month, because KLM and Airbnb will be inviting guests to sleep over in a fully refurnished aircraft that isn't going anywhere!
To be quite honest, I couldn't quite imagine what this entailed. But it proved to be quite a challenge. To begin with, they needed an aircraft. The retirement of the MD-11 presented an ideal opportunity. The last MD-11 will be heading off to the new owner shortly and will be grounded for several days.
And then there's the furniture. That means cupboards, couches, a dresser, a bed and all sorts of accessories, such as books, lamps, art and even a fishbowl (!). All of which will ensure a cosy, homely atmosphere on board.
Magnets
The assignment is also pretty unusual for the stylists. They can't just knock a nail into the "wall", so they have to hang everything with magnets. And who would've thought that the bottom of a baggage compartment isn't exactly flat? It would've made a lovely bookcase, were it not that all the novels slide straight to the back of the "shelf".
Sleepover in a plane
The homely aircraft will have all the creature comforts. There's a bedroom with a king-sized bed, and a living room with a flat-screen TV and cosy couches. And the kids will love it. But first, all the seats need to be removed so that wooden floors can be laid. Add a couple of hanging plants under the baggage compartments and voila – KLM's winged home is ready to welcome its first guests!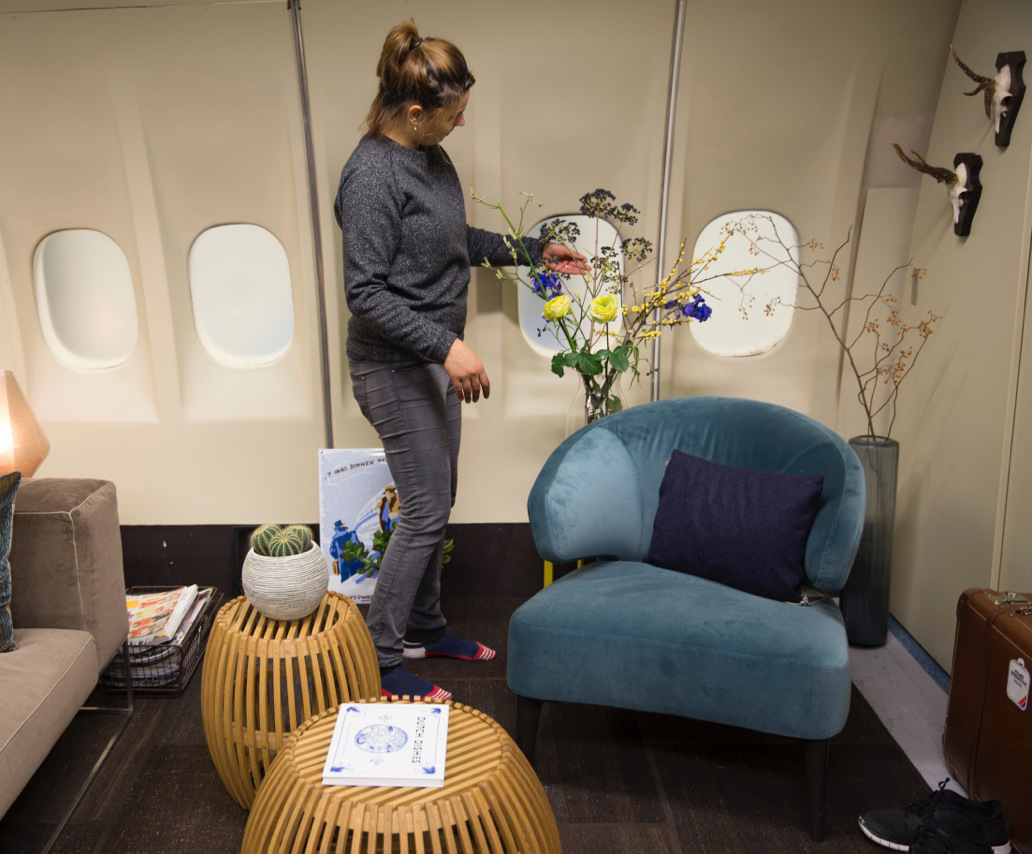 Register via Airbnb
Since yesterday, anyone who wants to spend the night at our place can register via the Airbnb site. All you have to do is tell us why you're keen to sleep over. We will then choose which guests we'd like to welcome on 28, 29 and 30 November.
This is the very first time I've ever regretted working for KLM. The reason being that staff aren't eligible for a sleepover. All the more reason for you to seize this opportunity with both hands!