Around The World 100 Times
Having racked up more than 100 flights with KLM, Jeremy Burton is set to mark another magical milestone on his upcoming flight from Amsterdam to Dar es Salaam. How does one come to circumnavigate the globe 100 times? And who exactly is Jeremy Burton? It's all in this interview.
100 flights with KLM – wow! Do you remember your first?
Yes, I believe I do, because something strange happened. As I descended the jet bridge, I was surprised to see that the plane was not the standard KLM-blue livery, but a yellow DC-8 with the Surinam Airways logo, which it turned out was on lease to KLM, if memory serves.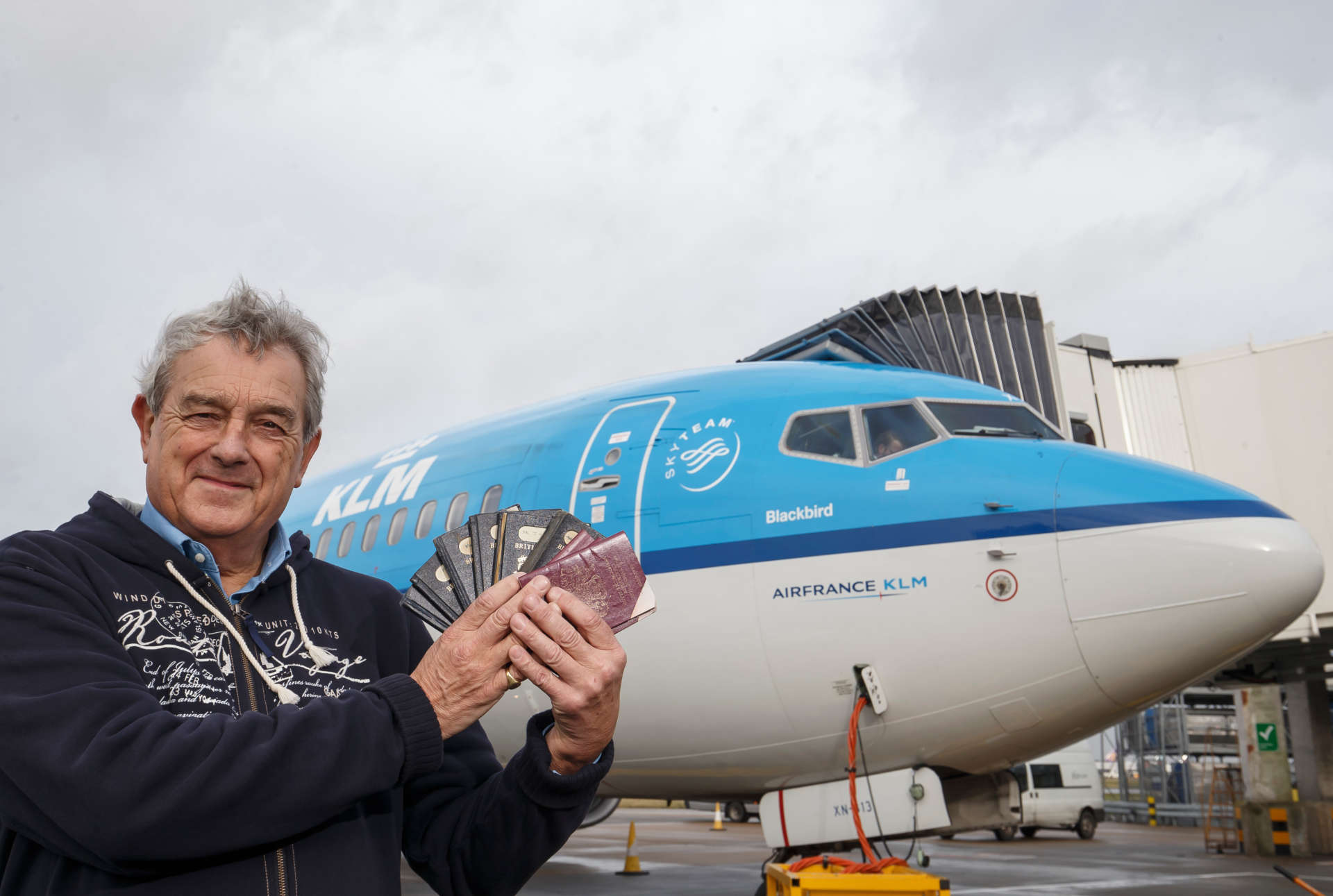 Dar es Salaam? Are you going on a holiday?
Yes. I'm joining a group who will be boarding a ship in Maputo, Mozambique. We'll be making our way back up the coast to Zanzibar, which will be the 131st country I've visited! I decided to fly via Dar es Salaam so that I could book a KLM Economy Comfort seat, as I'm rather tall and business-class prices are beyond my means as a retiree.
I've calculated that when the flight is approximately 44 miles south of Mbuguni in Tanzania, 20 miles south of Arusha and 4,314 miles from Amsterdam, I'll have completed the equivalent, in flight miles, of flying around the world 100 times! That's just under 2.5 million miles, about 4 million kilometres in total!
How did you know your 100th circumnavigation was coming up?
I regularly update my tables of flight data, so I knew the milestone was approaching: 24,901 miles (the circumference of the earth) x 100. Ironically, the big event was initially scheduled for my subsequent flight from Dar es Salaam to Johannesburg. But I was unexpectedly invited to New York in September, which brought the milestone forward to my KLM flight from Amsterdam to Dar es Salaam.
Where did you celebrate your 50th circumnavigation?
This is the first time I've marked a milestone in this manner. In the past, I marked my miles-flown milestones: 1 million on the way to New York, 1.5 million aboard a KLM flight Kuala Lumpur, and 2 million as we approached Shanghai. Sadly, I won't make 3 million miles, so celebrating 100 times round the world is my last opportunity to celebrate! On two occasions, I flew around the world on a single trip.
This will be my second record achieved on KLM, as I was fortunate to be on the flight deck when I passed the 1.5 million milestone on my way to Kuala Lumpur. This was at N31:52/E69:14, over the Afghan-Pakistani border, on 21 May 1994.
How cool!
Quite.
You also mentioned that you spent a year working at KLM HQ in the mid-1970s, on a joint KLM-IBM development project. What is your most vivid memory from that period?
I was based at KLM HQ in Amstelveen, where I lived with my young family on Straat van Makassar. I'd personally convinced IBM to approach KLM management to set up a development project to explore how the then new colour graphics screen technology could be used in airline applications. Until then, all data was presented alphanumerically, but with the capability to represent data in colour and images, decision-making was improved. More specifically, flight movements and schedules represented in screen strips enabled reallocation of aircraft in the event of disruptions, involving crew and maintenance as well as flight operations. KLM Logistics staff played a major role in software development. The results were eventually shared with the IATA subcommittee for shared information.
You also mentioned the London-based chapter of the Travelers' Century Club, which is for members who have visited more than 100 countries around the world. Could you tell us a bit more about this club?
The Travelers' Century Club (www.travelerscenturyclub.org) has chapters around the world, where serious international travellers get together to bore each other with their war stories and listen to presentations on Tristan da Cunha or Midway island. I've also been a guest at the Circumnavigators' Club (www.circumnavigators.org.uk) in the House of Lords in London.
Could you tell us a little more about your life, your family, your parents, the values you grew up with?
I have an Anglo-Swiss family background. I completed a degree in modern languages at Cambridge University, before joining British United Airways in the 1970s. I then moved on to the IBM International Airlines support centre, working on a joint airline-IBM reservations project, which included overseas postings to USA, Holland and Singapore. I moved to SITA in the mid-1980s, as Marketing Director for IT services to airlines. I'm married to an ex-BOAC stewardess and have two children (one based in Far East) and two grandchildren. I've been blogging about travel for over ten years (www. jeremyburton.net; www.mytripjournal/theburtons).
What are your favourite destinations and why?
Burma (multiple visits since 1980): culture, people, history.
Laos (multiple visits): Asia as it used to be 30 years ago, people, pace of life, history.
Uzbekistan: culture, history, architecture.
Netherlands: second home, all those Dutch traditions, Indonesian 'rice table', Willem II cigars, Dutch art and architecture.
Yemen: architecture, history.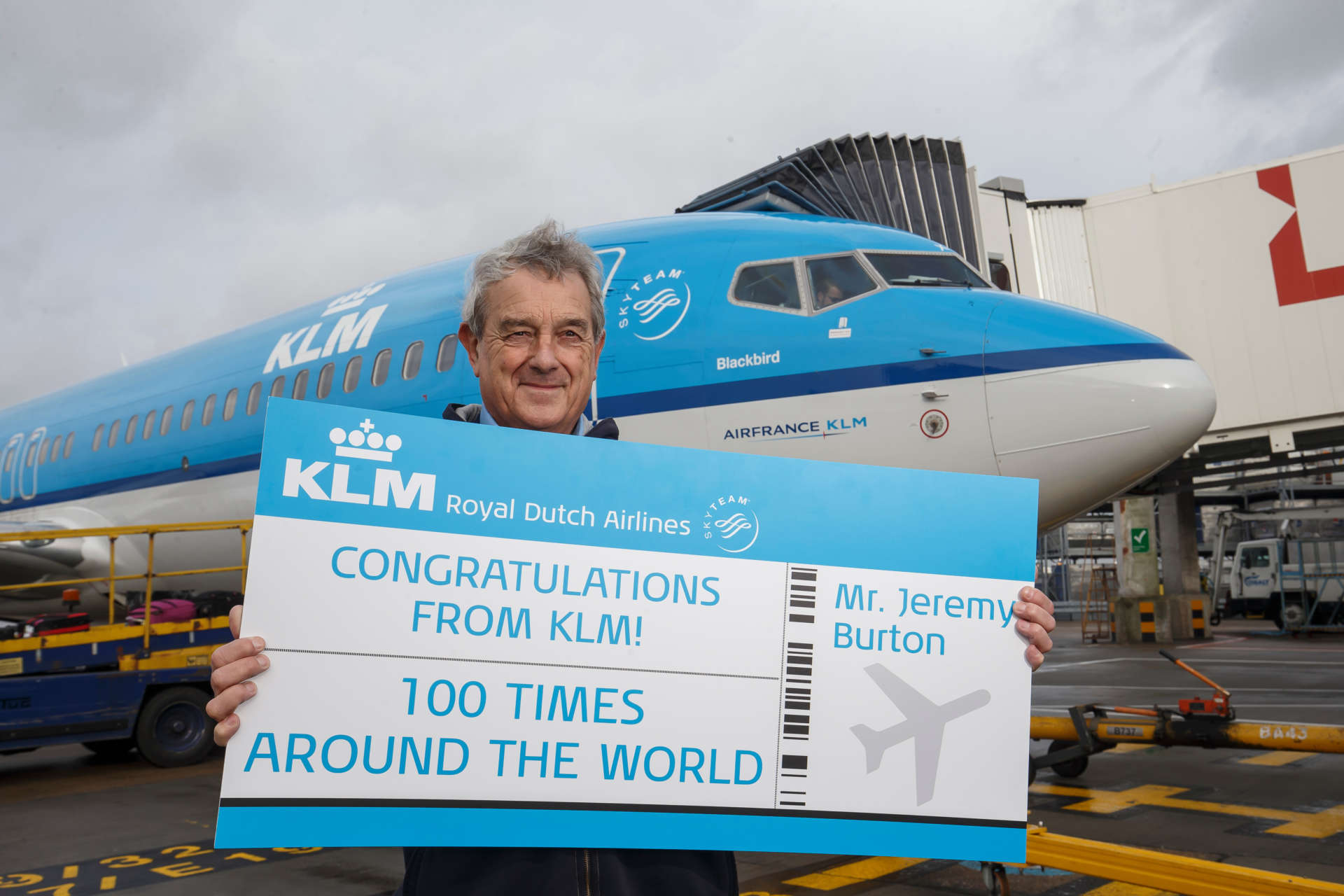 Are you a fan of flying? And what does flying mean to you?
Yes and no. Yes, because it's a family tradition (pilot uncle, ex-stewardess wife). I also love the evolution of aircraft (Electras, Tridents, Fokker F27 etc.) and the excitement of each new flight and airport (250 to date). And no, because of the increasing risk of thrombosis, airport congestion, less legroom and full flights.
What inspires you? What drives you in life?
A new country and experience on every horizon, Buddhist art, IT, children/grandchildren and Asian cuisine. And I'm still hoping to get my wife to travel light.
What is your favourite plane?
The Vickers VC10. It was leading edge at the time for high-altitude, short-runway operations. Sadly, production was delayed and it lost out to the Boeing 707. My best flight ever was from Gatwick to Biggin Hill – a ten-minute, non-commercial flight during a 1960s air show.
Who's your best friend and why?
Wow, this is deep stuff. Obviously, the person with whom I am soon(ish) to celebrate 50 years together. We still travel with a close friend from university days, most recently to the Silk Road in Kyrgyzstan and western China.
Let's end off with some quick-fire questions: cheese sandwich or sushi?
I prefer cheese outside a sandwich. Preferably soft, French and smelly. But I love sushi (and another Asian cuisine) best of all. A taste acquired on numerous business trips to Japan.
Sun or snow?
Sun, sun, sun! When I started working, two weeks annual holiday was the norm and as flights were expensive, it was one or the other.
Sleeping at home or at a hotel?
A cheap bungalow on a quiet Thai island beach (Ko Poda?) for 700 baht. Bedsprings optional, but that was then. I need a bit more comfort nowadays, but I still prefer small and personal. But home is second-best!
Thank you, Jeremy, and congratulations with your 100th circumnavigation of the globe!
Thanks!