In a comment on my last blog, Tom asked me how we deal with angry and frustrated customers when weather conditions disrupt air traffic. He referred to certain comments on Facebook and wondered whether people react the same in 'real life' as they do online.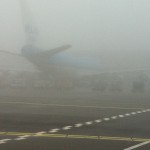 During the extreme fog in Holland a few weeks ago, I did indeed read some 'interesting' comments on KLM's wall on Facebook. Catherine Davies van Zoen replied with a story from the past that puts everything back into perspective, in my opinion. She writes about a businessman who was angrily demanding that a member of KLM's ground staff get him on a flight when Schiphol was covered in a thick blanket of fog. She gestured to the impenetrable fog outside the window and calmly replied, "Sir, even the birds are walking!"
Nature is one of those few things in life that human beings aren't able to control (yet?). I vividly remember the ash clouds over Iceland last year, which left countless people stranded everywhere in the world.
I realised I was quite lucky to be on Bonaire at the time. I could hardly call it a punishment to be stranded on this tropical island in the Caribbean. For some of my colleagues it was definitely a punishment though. One of them missed a family funeral; another had a hard time finding someone to look after her kids, especially since we had no idea when we would be returning home. After six days, the message came through that airspace had opened again. On the flight back home we heard various stories from our passengers. I'll never forget the young man who boarded in Quito (where the plane that would have brought us home got stranded) and had missed his own wedding!
I remember we were a little nervous about meeting all those passengers who had been stranded somewhere and had been dying to go home. But we experienced no anger at all on that flight. I learned that most people resign themselves to a situation that can't be changed. And when things become really bad, people seem to keep a sense of perspective, as seems to have happened at many places during those 'ash cloud days'.
Caroline