That first flight after a holiday is probably much the same as going back to your office after some time off. Only our office is a plane and the job is to bring the flight to a successful conclusion.
I'm pretty sure that those first moments back at work are the same for almost everyone. On your way to work you're still a little in that holiday mood, taking it easy and wondering why other people seem to be in such a hurry. Don't they notice what a beautiful day it is?
After entering our crew centre, it's a matter of only a few minutes before I return to reality. The bustle of colleagues reporting, greeting each other before rushing off to briefing rooms or heading back home after their flight overwhelms me for a moment. Until I realise that KLM's business went on as usual while I was away: flights just left and returned as always, not bothered by my absence at all.
Heading to the gate, I wonder if it really was only two days ago that I was enjoying those lovely tapas on a terrace in the shadow of a pine tree in southern Spain.
That first flight after a holiday usually brings a little stress with it too. A holiday seems to make the routine of packing my suitcase disappear quite fast. Normally I pack it 'on autopilot', but today I had to actually think about what to bring, knowing I always forget something on these flights.
I still have a vivid memory of my first flight after my last winter leave. Having arrived in snow-covered, freezing Montreal, I realised I didn't bring any suitable footwear. After struggling back from breakfast just one block away from the hotel in my working shoes, I had to 'de-ice' my feet in the bathtub. So I re-checked my suitcase carefully before leaving this morning.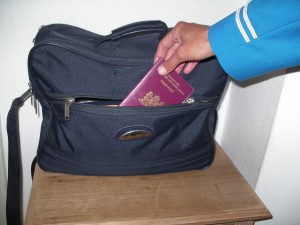 I'd already locked my front door when I realised that my passport was still in the jacket I was wearing on the flight back from Spain. 'Just in time', I sighed, while I re-entered the house. Only then did I notice my handbag on a table in the hallway, containing all the other stuff I would most certainly need on this trip. I thanked my guardian angel while leaving the house again, wondering what I would discover that I'd forgotten this time when I arrived at my destination.
Caroline