The blue thread connecting Kour with his father
It's May 1980. The Iranian Revolution is at its height. On board one of the last KLM flights out of Teheran we find Kour, then nine years old, together with his mother and younger brother, seeking a safe haven in the Netherlands. Kour's father stays behind in Teheran, fully intending to follow his family shortly. Circumstances dictate otherwise, however, and subsequent efforts to reunite with his family prove fruitless.
It eventually takes 37 years before Kour is able to embrace his father again. KLM runs through their lives like a blue thread. In May 2017, Kour flew back to Iran aboard one of the first KLM flights to Teheran, when service was resumed.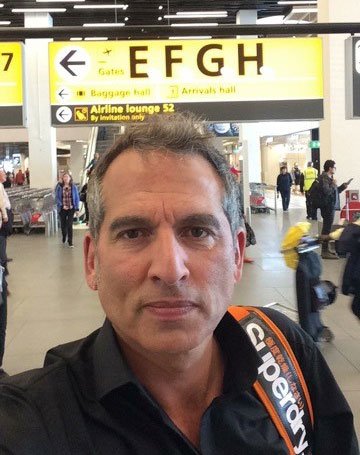 Freedom
Kour's life has been a rollercoaster, albeit a safe and stable one. His mother and father – Dutch and Iranian – met in Germany. She soon took the plunge and gave her heart to Iran. Love flourished and the family lived a happy life in the capital. She was a progressive Catholic and he was an equally progressive Muslim, and so the couple soon agreed that their sons should be allowed to choose their own faith.
Although Kour is not religious, he understands and respects all religions. Trained as a fireman, he has been a welfare worker in the Haaglanden region since 2002. His favourite neighbourhoods in The Hague are Schilderswijk, Molenwijk and Laakkwartier, where his colleagues describe him as a connector. He feels at home among people from many different cultural backgrounds, which is hardly surprising considering his Iranian-Dutch roots.
He is proud of his mother, who built a wonderful life in the Netherlands with her sons. This strong woman, who speaks Farsi fluently, left her beloved Teheran and helped her sons find their feet in our cold, wet country. Within two years, her boys spoke perfect Dutch.
Kour's father did eventually follow his family, leaving everything behind in Iran. He spent several years working in the Netherlands and Spain, but suffered long periods of depression. The family fell apart and Kour's father decided to return to Iran, with scratches on his soul. Letters were exchanged from time to time, but that didn't make the separation any less painful. And so 37 years passed.

Absence
Although there was a time when Kour accepted his father's absence – they had almost no contact for many years – this began to change around 2012. Kour felt a growing longing to see his father. "I must see him, Daan," he told his love. He then spent another five years getting the paperwork done.
No such thing as coincidence
It took ages to get a visa; diplomas had to be translated; the army authorities had to sign declarations – all of these things had to be done to ensure that Kour could not only enter his fatherland, but would also be allowed to leave again. As if it were meant to be, Kour eventually flew back to Teheran in May 2017 with KLM, setting foot on Iranian soil on exactly the same date as his family had left in 1980, 37 years before.
A special place
KLM has a special place in Kour's heart. It's the scent of Dutch coffee on board, the cabin crew, the friendly smiles, the fact that they take an interest. It all reminds him of that flight back in 1980; the start of his new life. He added a new chapter in the spring of 2017, against the backdrop of the Teheran skyline, the scent, the dry warmth of the air, the sounds of the city – it was like a homecoming.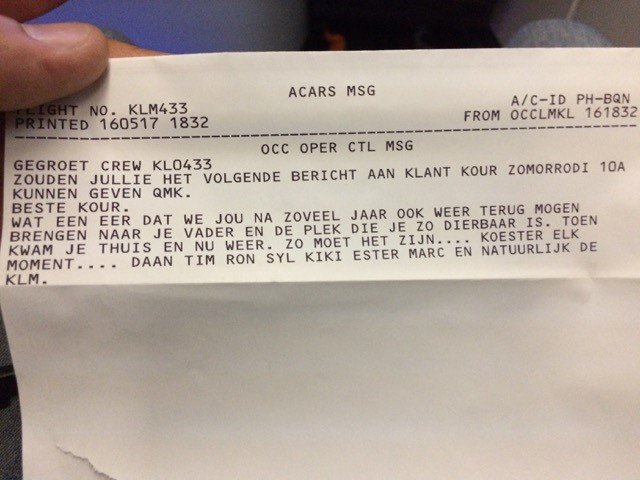 Greetings KL0433 crew
Would you please pass the following message on to customer Kour Zomorrodi 10A.
Dear Kour,
What an honour that we were allowed to bring you home to your father and the place you hold so dear after so many years. You came home then, and again today. This is as it should be… Cherish every moment…
Daan Tim Ron Syl Kiki Ester Marc and of course KLM.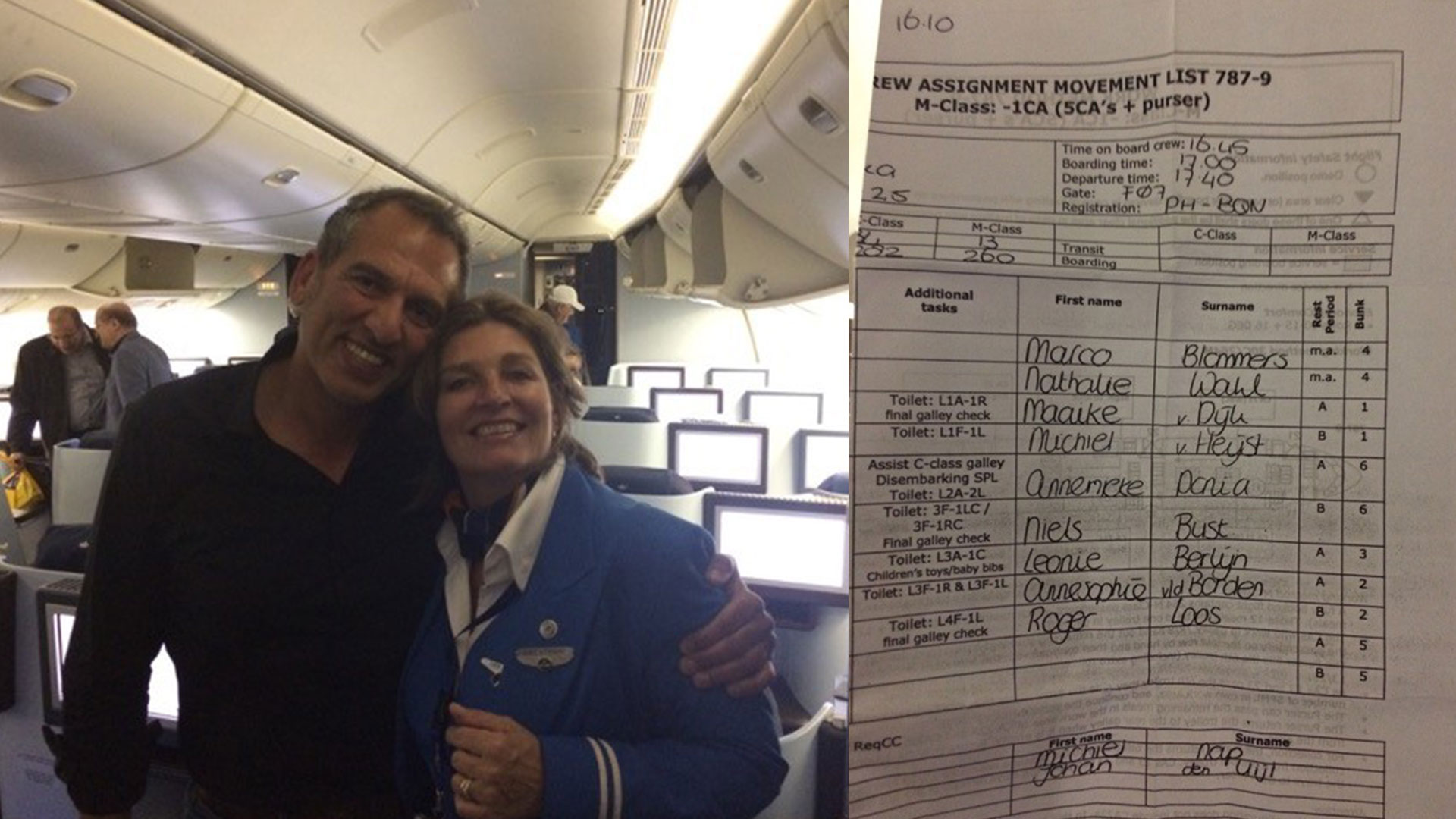 Kour's trip back to Teheran also left a lasting impression on the crew. Marco Blommers, who was a steward aboard the flight, remembers it vividly: "Sometimes you run into passengers, complete strangers, who leave you with such a positive impression right from the start. Kour was that person aboard the flight to Teheran. An honest, pure and good person, who touched me with the story of his father, from whom he had been separated for so long, but also with his trepidation at making the journey and with his longing to see his father again.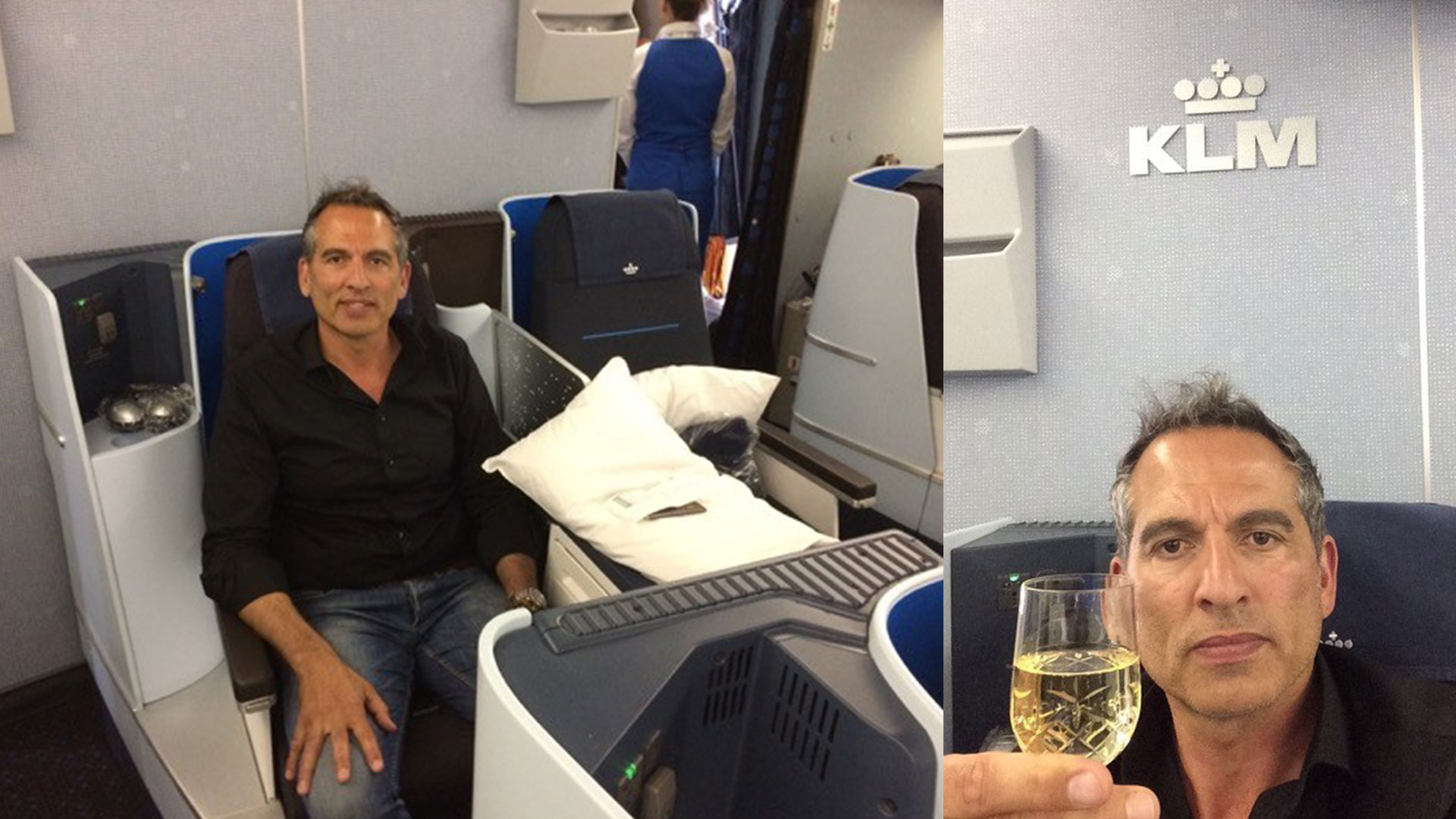 When we arrived in Teheran, we said our farewells as Kour was reunited with his father, surrounded by family. A very special moment, full of joy and emotion. It was a great privilege to be part of it all."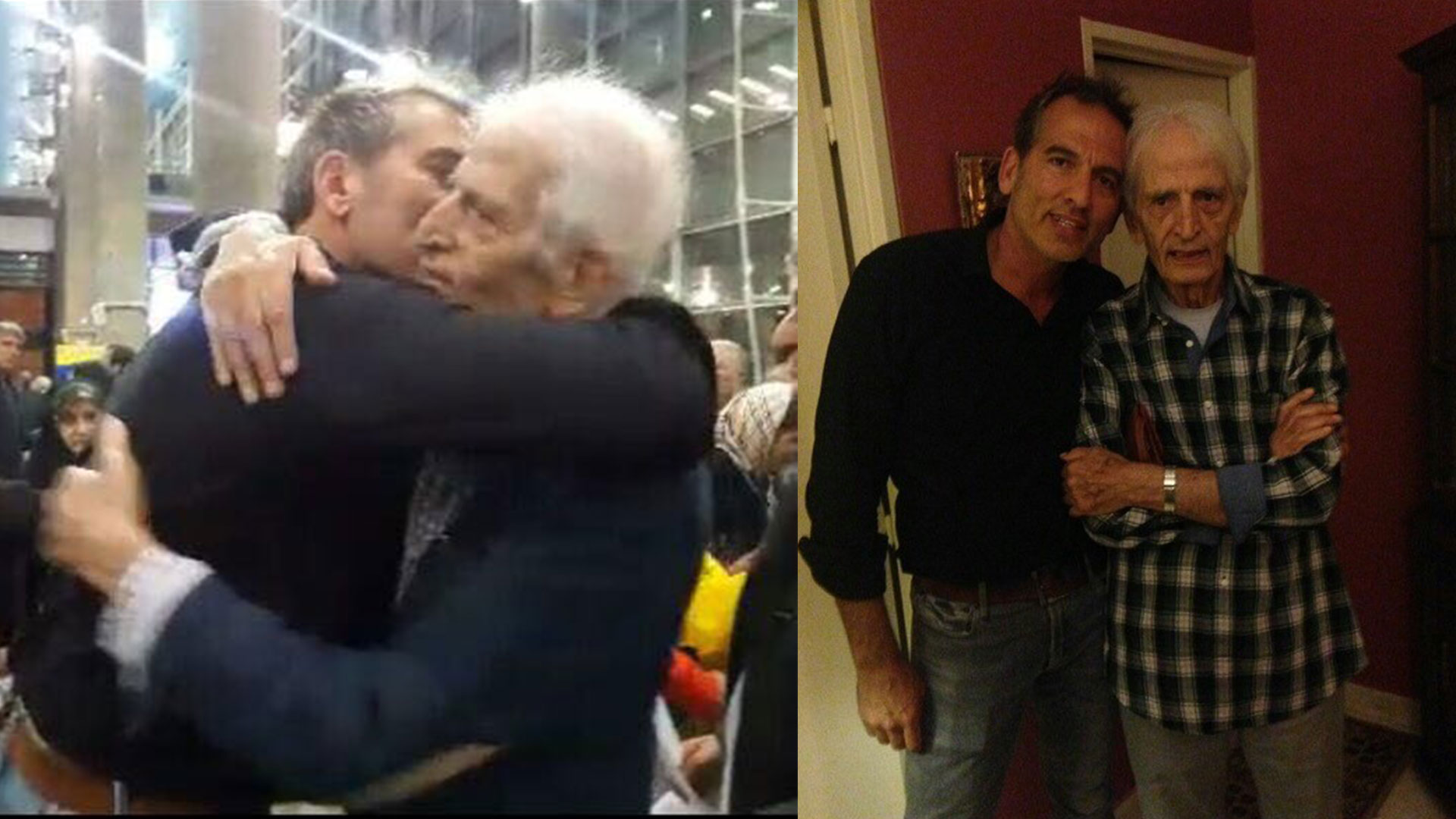 I too spent a memorable morning with Kour. His story moved me. It had to be told, I felt, and it deserves more. Maybe a book or a movie? Who knows. During the time we were together, it was as if I'd been transported into the world of The Kite Runner. Anyone who has seen the film or, better yet, read the book will know what I mean. Kour took me to Teheran with his stories, and I felt the oppressive atmosphere of the post-revolution period; the impact of the changes on the country's wonderful, generous people; the safety of Kour's loving family; the intense Iranian sun; the longing.
I can't wait to read a novel about Kour's life, but I'd settle for a movie.