In our 'Aircraft' series, it's time for a closer look at the B777. KLM has twenty B777s in its fleet – fifteen B777-200ER and five B777-300ER aircraft.
The B777 looks a bit like a B737's big brother. From a distance you don't see much of a difference, but if you look up from the ground you see how big and high the aircraft is. One of the B777-captains calls it 'a workhorse with a no-nonsense charisma'. It is used for long distance flights, so that in the new winter schedule it will fly, for example, to Quito and Guayaquil (Ecuador) and Buenos Aires (Argentina).
Some facts and figures:
The first B777 was delivered in 1995 and since then the fleet has made nearly 5 million flights and clocked up almost 18 million flight hours. A B777 is made up of 3 million parts, delivered by 500 trade creditors worldwide.
The aircraft can reach a maximum altitude of 14.2 kilometres and it can accelerate from 0 to 96 kilometres per hour in less than 6 seconds. Boeing's 777th B777 was delivered in 2009.
The tail of the B777-300ER stands 18.5 metres tall and is 73.9 metres long. The wing span is 64.8 metres. The maximum number of passengers in the B777-300ER is 425; 35 in Business Class, 40 in Economy Comfort and 350 in Economy Class.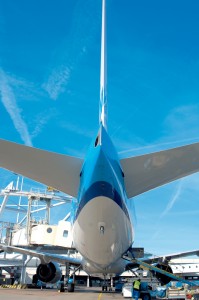 The B777-300ER has an enormous freight capacity. It can hold a total of eight CARGO pallets in the front and five in the back (each pallet weights around 5000 kilograms) or, without them, 20 baggage containers in the back and 24 in the front (one baggage container is one cubic metre and contains around 45 suitcases). Over the years the B777 has had many special 'loads': tigers, a rhinoceros, and also rescue dogs to Japan after the earthquake and tsunami, to mention a few.
Beside its length, you can recognise the B777 by its two huge engines, each big enough to park a little car in. What's more, each leg has three wheels, whereas every other type of aircraft has two.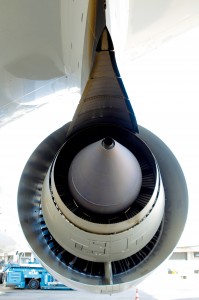 On 8 February of this year, KLM's fifth B777-300ER arrived at Schiphol Airport. The Yakushima, just like the other B777-300ERs, is named after famous nature parks worldwide. This aircraft, together with the fifteen smaller B777-200ERs, brings the total of KLM's B777s to twenty.
Karin
Corporate Communications