We have probably all enjoyed an in-flight meal at some point. We're given a small tray by the cabin crew, take the cutlery out, tear the cellophane off the meal and tuck in. But stop right there. What do you really know about in-flight catering? What had to be done before you could stick your fork in your food?
The logistical process is the least known aspect of catering and possibly the most complex. Because on one hand it's about getting three meals from airport A to B, but on the other hand it's about the 50,000 meals that are sent from Schiphol alone everyday.
KLM Catering Services
A key role in this complicated logistical process is played by KLM Catering Services (KCS), who carry out the entire distribution process. The whole food consignment arrives by lorry at the docking bays. Inside the halls and cold cells everything is collected, processed, reordered, combined, packaged and labelled. At the end, all the food – and other equipment such as the trays – stands ready near the platforms, neatly arranged on trolleys and ordered according to flight, ready to be taken by truck to the appropriate aircraft. Meanwhile, all the storage rooms are kept at the right temperature and there are constant quality controls.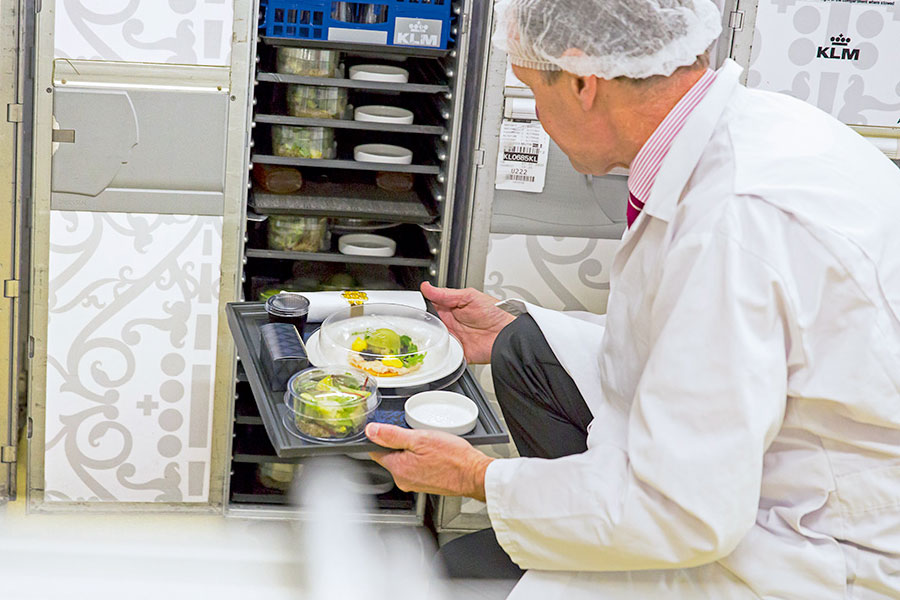 To each its own
KCS is a well-oiled machine with about 450 staff members per shift who prepare 50,000 meals in myriad varieties – chicken, pasta, Chinese, Indian, Surinamese, vegetarian, religious, medicinal, children's, and so on. Inflight Services is both the brawn and the brains behind the meals. They think them up and work with a number of parties to develop them into high quality products.
The passenger is key at KLM. The product managers continuously research what passengers want. A few examples: Americans prefer to eat beef, while a Dutch passenger flying back from Suriname might be yearning for pasta instead of rice. On the other hand, there may be Chinese passengers on the same flight who want neither beef nor pasta. So there have to be Chinese dishes on board as well. And on flights to Japan, Japanese specialities are served which are developed with the Japanese chef at the Amsterdam Okura hotel to ensure that KLM will provide what Japanese passengers actually want.
A monumental challenge
It is a monumental challenge to continuously anticipate the eating requirements of over 25 million passengers per year and to bring the knowledge, ingredients, recipes and tableware together to be precisely and efficiently assembled at KCS. All European KLM flights and all intercontinental flights that depart from Schiphol are catered at Schiphol Centre. Meals on incoming intercontinental flights are delivered locally but only after KLM's product specialists have been to the outstations to decide on the meals and the way they should be put together, following the same rules as those that apply at Schiphol.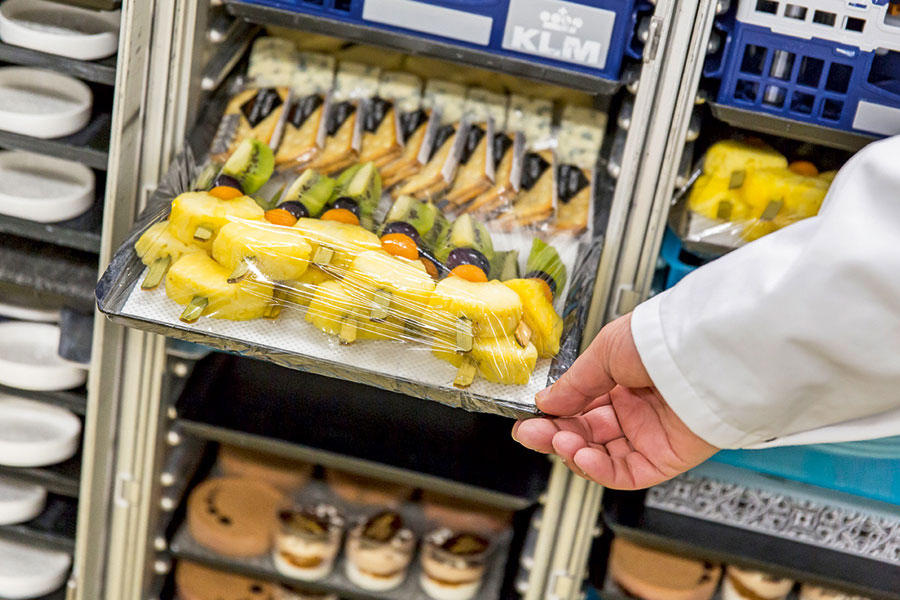 Heard it al before?
It's quite possible you've heard or read this before. We've posted this blog a while ago in July 2011. So this actually is a repost. But not without reason: our great KLM Intern On a Mission recently made a funny and interesting vlog about KLM Catering Services. You can check it out here: