Nowadays, when a patient must undergo an extensive examination, it is less common to immediately cut open the body. Endoscopy is a technique that allows the specialist to look inside the body using a flexible snakelike instrument with a camera on the end. A similar technique is used to examine the inside of an aircraft engine. This is done using a borescope, which is operated by a borescopist and saves a great deal of time and money.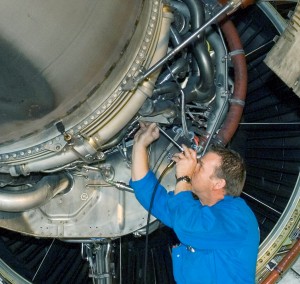 In this case (some details may differ from the picture) the 'specialist' is a professional from Engineering & Maintenance (E&M) with considerable experience, expertise and high-quality equipment who works at the Engine Shop (ES) at Schiphol-Oost. The 'patient' is a CF6-80EA3 engine. The instrument used: one of the dozens of borescopes found in the Engine Shop for 'exploratory operations' of engines (this elongated instrument is actually little more than a combination of lenses, mirrors and illumination angles). The 'operation' is the arrival inspection that all engines examined at the Engine Shop – as many as 330 a year – must undergo or, in other instances, a post-inspection that checks whether all work has been carried out properly. The borescope inspection is a required component of both operations.
The patient is the kind that usually hangs under the wing of an Airbus A320. With a total diameter of 289.56 cm and a total length of 424.18 cm, it manages to generate no less than 68,530 lbs of thrust. It weighs 5,100 kg. So this inspection is no minor task. Two consecutive 8-hour shifts are needed for a complete inspection of the inside mechanism.
The borescopist slides the borescope into the engine through one of numerous special openings. The flexible tube on the inspection tool is manoeuvred closely along the compressor blades and manifolds. The borescopist carefully watches the monitor that shows the inside workings of the engine. Using remote control, he rotates the recording unit to examine different parts. No single crack may be overlooked, as miniscule as it may be, because otherwise this patient may have to be 'cut open' later on, causing delays and costing extra money.
Medical specialists and borescopists also share a common goal: to provide a correct diagnosis of the 'patient' and, preferably, a clean bill of health, so that the patient can be on his way again as quickly and efficiently as possible!
Raem
Corporate Communications
[contact-form-7 id="11681″ title="Story"]