Broken Danish in Copenhagen
Apart from reminding me that there really is no substitute for first-hand experience when it comes to travel writing, my recent holiday to Norway rekindled my love of foreign languages. I am endlessly intrigued by the way they are spoken, the way they shape and reflect local culture, and the comical misunderstandings they cause. For instance, I saw this sign on various buildings in Bergen: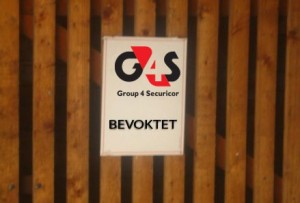 It made me snigger like a teenage boy, because it closely resembles an expletive used in Afrikaans and Dutch. The English equivalent is a word starting with F, meaning "buggered" or "broken" or "exhausted by sexual intercourse". In Norwegian, it simply means "guarded", which probably explains why I was almost arrested for taking this photo. (And when I say "almost", I mean "not at all".)
The long drive back to Holland gave me plenty of time to think this over. Having pondered and discarded dozens of ideas, I eventually came up with a concept that would allow me to achieve two important objectives: 1) write more blogs about foreign languages; and 2) get more readers involved in my blog.
Whether these objectives will be achieved remains to be seen, but the concept is simple enough. Readers send me four words or phrases in their own language describing their favourite sight, sound, scent and taste in their own home town (preferably a KLM destination). I will then do my damnedest, aided by the interwebs (but without the help of online translation engines), to work out what the hell they are on about.
To get the ball rolling, I asked my e-friend Peter H. Fogtdal, a Danish author currently residing in Portland, Oregon, to act as my guinea pig. He sent me the following phrases about Copenhagen, which I then attempted to translate and interpret:
Sight: "Frederiksborg slot i Hillerød" – I know "slot" means "castle" in Dutch, so my first guess is that this is a reference to an ancient castle and its ramparts in Copenhagen. Having checked the web, I conclude that Peter is referring to the Danish National Historical Museum (Frederiksborg slot) at Hillerød, which means "the place where Hilde cleared the forest". Peter writes historical novels, so I'm sure it's a place he has visited often.
Sound: "Skuffede turisters stønnen når de ser Den lille Havfrue" – My first guess is that this means: "Scuffling tourists staring at the Little Mermaid". But I know Peter has a great sense of humour, so I had to check the phrase "stønnen når de ser", which actually means "groan when they see". So my final guess is: "Scuffling tourists groaning when they see the Little Mermaid".
Scent: "Juliregn" – I'm pretty sure this means "July rain", referring to the aromatic tang of a thunder shower on the scorched summer earth. But that also seems unlikely, because it rained almost constantly while I was in Denmark. The web reveals that there is also a piece of classical music called "Juliregn", so perhaps that joker is referring to the scent of an old vinyl LP.
Taste: "Sennepssild" – I happen to love this myself. It's herring (sild) in a mustard (sennep) sauce!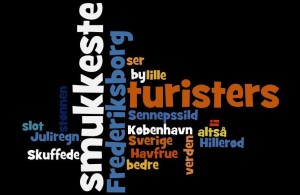 I think I did pretty well, but I'll leave it up to Danish readers to decide. I also invite readers from other cities around the world to send me a list of their favourite sight, sound, scent and taste, in their own language. I'll select one of your comments or tweets for further analysis and interpretation. I'll also approach you to answer the two questions Peter has answered below:
What to say in Copenhagen: "København er den smukkeste by i verden."
What NOT to say in Copenhagen: "Jeg kan altså meget bedre li' Sverige."
I'll leave it up to you to work out what he's on about. No cheating. Guessing only. I get the sneaking suspicion he may be insulting Sweden.
(Peter H. Fogtdal is the author of twelve novels in Danish. His latest novel, The Tsar's Dwarf , is available in English.)
Richard de Nooy