The only things I've ever collected in my life are marbles. There was a very practical reason for that: without them I couldn't play marbles with my friends. And that would have made me an outsider – the greatest fear of almost every child.
That's where my short life as a collector ended. I don't like collecting anything. It oppresses me to be surrounded by too much stuff, especially things without a clear use. I guess a psychiatrist would say I probably need tranquil surroundings because it's so busy in my head.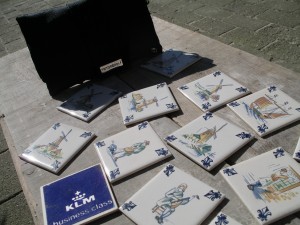 I was recently asked to clean out the attic of my parents' house. That's when I found out that my parents are collectors. They turned out to have kept almost everything during their long lives. In one of the many boxes I went through, I discovered a pile of pretty little tiles featuring ancient paintings. On the back I read 'KLM business class'. There's even a certificate of authenticity with them.
I found out that these tiles were given to KLM's Business Class passengers in the eighties. My father must have collected them while he was working for a company in the States.
A lot of our passengers like to collect the Dutch houses that are given to Business Class customers nowadays. I love them. They're really cute, but the idea of having them at home horrifies me.
There was once a passenger who proudly told me that he only needed three more houses and then he would have the whole collection – twice over. A quick calculation led me to 179 houses! I couldn't help asking him what he planned to do with his collection. He showed me a picture of one wall of his bathroom. There were small shelves holding this huge amount of Delft Blue houses. I had to admit that it looked really lovely. I didn't dare to ask who did the dusting though.
Last week KLM introduced a new comfort bag for its Business Class, designed by Viktor & Rolf, the world-famous Dutch designers. Both bags for men and women look really slick – true wannahaves. According to postings on Facebook and other social media, a lot of people are determined to get one. In the coming four years there will be sixteen different ones to collect. I'm pretty sure these limited editions will become collector's items. And yet I can't help wondering what these people are going to use their smart designer bags for. You can only use one handbag at the time, can't you? So I am planning to ask around again. I'm sure some people will come up with fantastic ideas.
 Caroline