Comfy, classy travelling with Anna Nooshin
Think of style and you think of Anna Nooshin. As a YouTube and RTL4 presenter she flies around the world, preferably with KLM. Her recent trip with KLM to New York presented a perfect opportunity to ask this travel professional how she manages to maintain her stylish demeanour, during the day and throughout the night. Because, let's be honest, who wouldn't want to know how to keep that vavavoom when flying long distances?
You frequently fly long distances. Is flying heaven or hell for you?
Grab your me time
Heaven. Flying is my ultimate form of relaxation. The longer the flight, the better. You're completely off the grid when flying and forced to do nothing. How often is this the case really? A long flight means having of some me time. I get to recharge my own batteries, enabling me to disembark full of energy on the other side of the planet.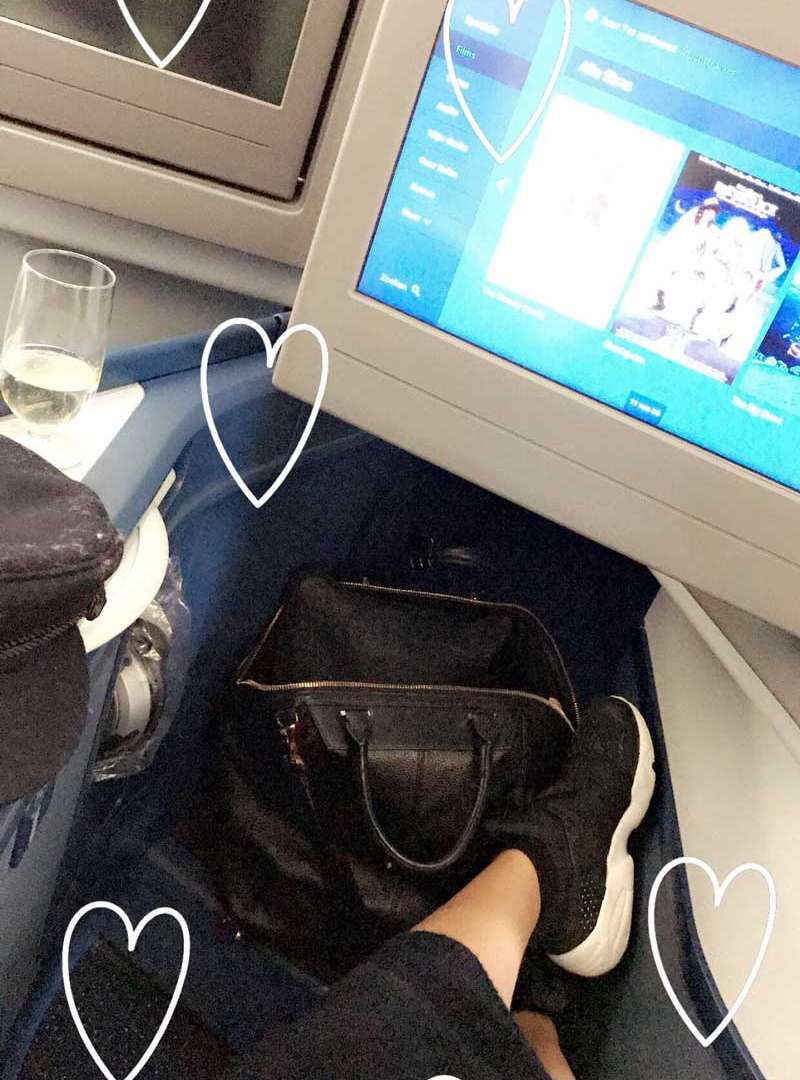 How do you close yourself off from the world around you, to relax?
Turn to music
I try to sleep as much as possible during longer flights. In order to get into sleep mode, I compile special playlists on Spotify. The right music helps me recharge and relax, ensuring that I arrive at my destination well rested. My favourite album at the moment is Starboy from The Weeknd.
How do you manage to stick to your sleep ritual during long flights?
Cream it up
I always bring my own silk pillowcase. That's good for my skin and hair. They can use some extra pampering during a long flight. For my skin I use an overnight mask and a hydrating cream, which I apply before departing and after landing. It keeps my skin relaxed and clean. The KLM comfort bag by Jan Tamineau is amazing; it contains everything you could ever hope for in terms of care and relaxation!
That covers your skin and hair during a long flight. What about your clothes?
Be comfy yet classy
When travelling, comfort comes first for me – but not at the expense of being stylish. My travel garb is comfy yet classy. For example, classy jogging pants made of cashmere or cotton, a sports bra and a cotton top. Keep it loose. I've always got a fine woollen jersey with me – preferably with a hood. If it's cold or too bright in the plane, I simply pull it over my eyes!
Does the comfy yet classy combo also apply to your shoes when travelling?
Easy in, easy out
Of course. I want to be able to get in and out of my shoes easily during the journey. Handy in the aircraft and passing through security checkpoints. The last thing you need is a struggle with your footwear. When choosing shoes, don't forget that your feet might swell during a long flight. My ideal travel shoes are therefore loafers or sneakers.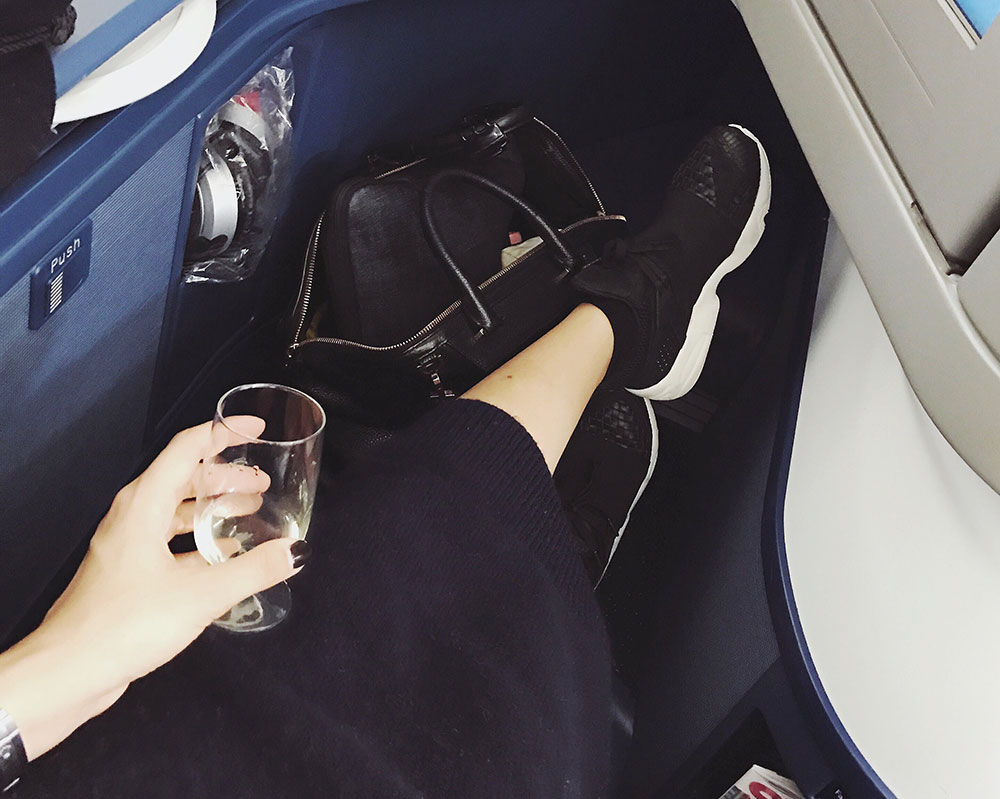 If we pop open your suitcase, would we find ordered bags or a tangle of garments?
Take up your (baggage) space
I always pack my suitcase as efficiently as possible. I put together outfits in advance and always try to work with layers. This way, I can create different combinations with as few garments as possible. To use up my baggage space, I stuff pairs of socks into shoes. I always take a pair of heels, a pair of loafers and a smart pair of sneakers with me. Oh, and plenty of dust bags. Handy to put over your shoes or to use for dirty laundry.
Are you a genuine bag lady or do you stick to two items of carry-on luggage?
Bag it up
I always take two carry-on bags. A cross body bag for the things you need repeatedly along the way; passport, bank cards, telephone and lip balm. My big handbag holds my laptop, a small toilet bag, a notebook and a bag of chargers and a universal plug. That rules out inconvenient or unexpected flat batteries.
Wear comfortable materials, don't have too many bags, pack wisely and don't forget your rest or music while you're at it. Do you have a magic tip in closing?
Enjoy!
The last one is the best. Simply enjoy. Clear your mind, focus on yourself and grab every moment of self-imposed free time. Write in your notebook, listen to your favourite music, watch the latest romantic movie and don't forget to sleep, apply cream and hydrate. If you remember these things, I'm sure we'll agree that flying is the very best!