Culinary Bangkok | The Origin Of The Famous Pad Thai Noodle
Pad Thai noodles may not be the oldest or most authentic dish in Thai cuisine, but they are certainly the most famous for visitors to Thailand. As everyone knows this popular dish, I decided to go in search of the best place serving Pad Thai in Bangkok.  
Khao San Road is one of the best-known locations in the Thai capital. It is a popular starting point for the many thousands of backpackers who come to this city every year. The street, and the surrounding neighbourhood, is filled with hostels, markets, travel agencies, bars and – lest we forget – the many food stalls where you can buy a delicious meal for very little money. It is at these stalls where, in one big wok, the local artisans will create your Pad Thai noodle dish in just a few minutes.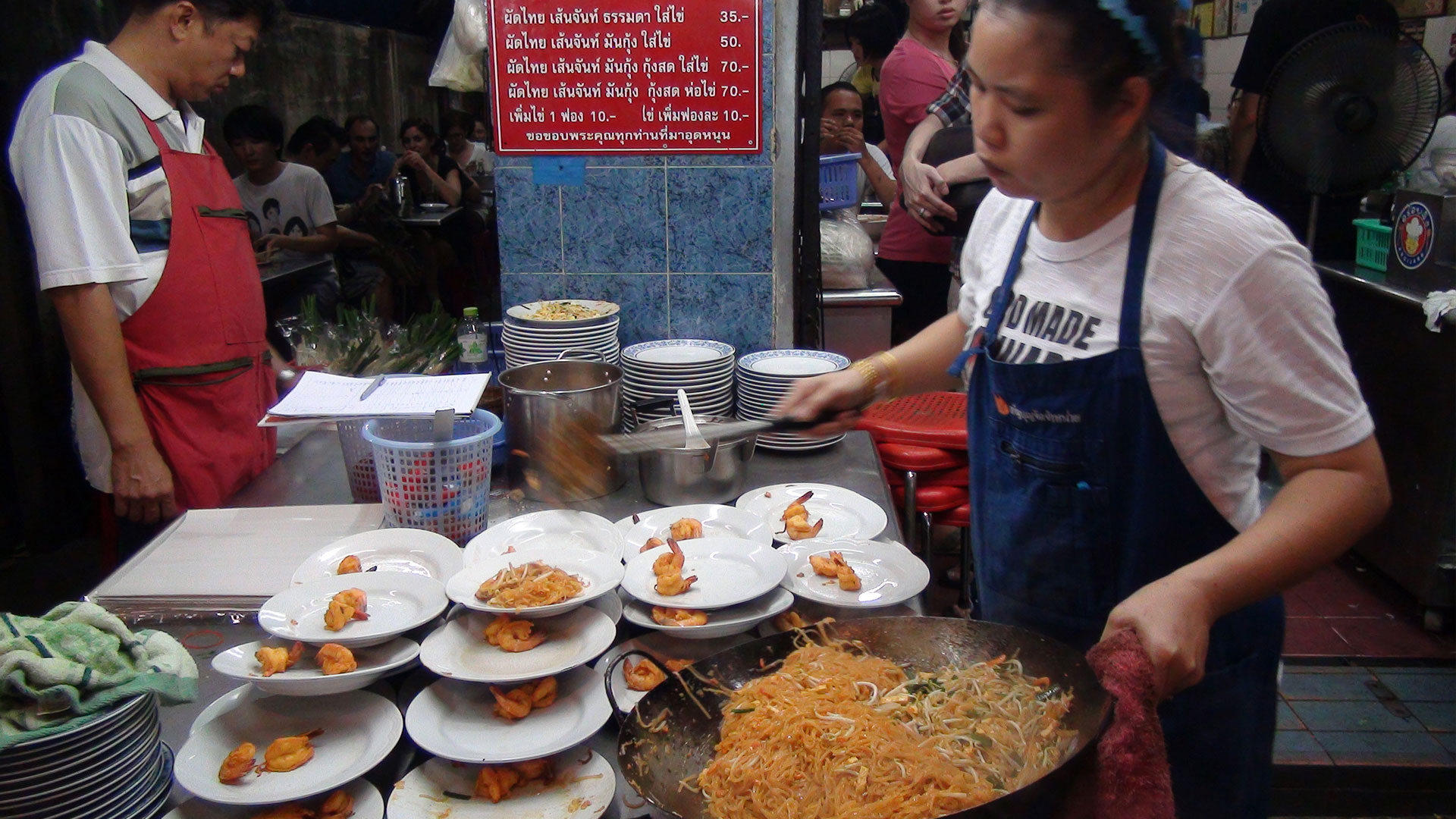 Although there is a fair amount of authentic cooking throughout Thailand, the vendors in this particular district will often adapt the flavours to the tastes of the Western tongue. So, where should you go to find truly authentic Pad Thai noodles? Well, that happens to be very close to Khao San Road.
The original Pad Thai
Across from the Wat Rachanatda Temple, within walking distance of backpacker heaven, they have cooked nothing but Pad Thai noodles in this tiny place for the past seventy years. The Lung Pha Restaurant is the birthplace of one of Thailand's favourite dishes. So, if you want to taste the original recipe, here is the place to go.
Is it purely by chance, but also very fitting, that the restaurant is on Mahachai Road. Mahachai is a fishing village just outside the city where you can find prawns fresh from the sea. If you have some time to spare in Bangkok, go to Wongwian Yai Station and take the local train to Mahachai for a day of culinary pleasure.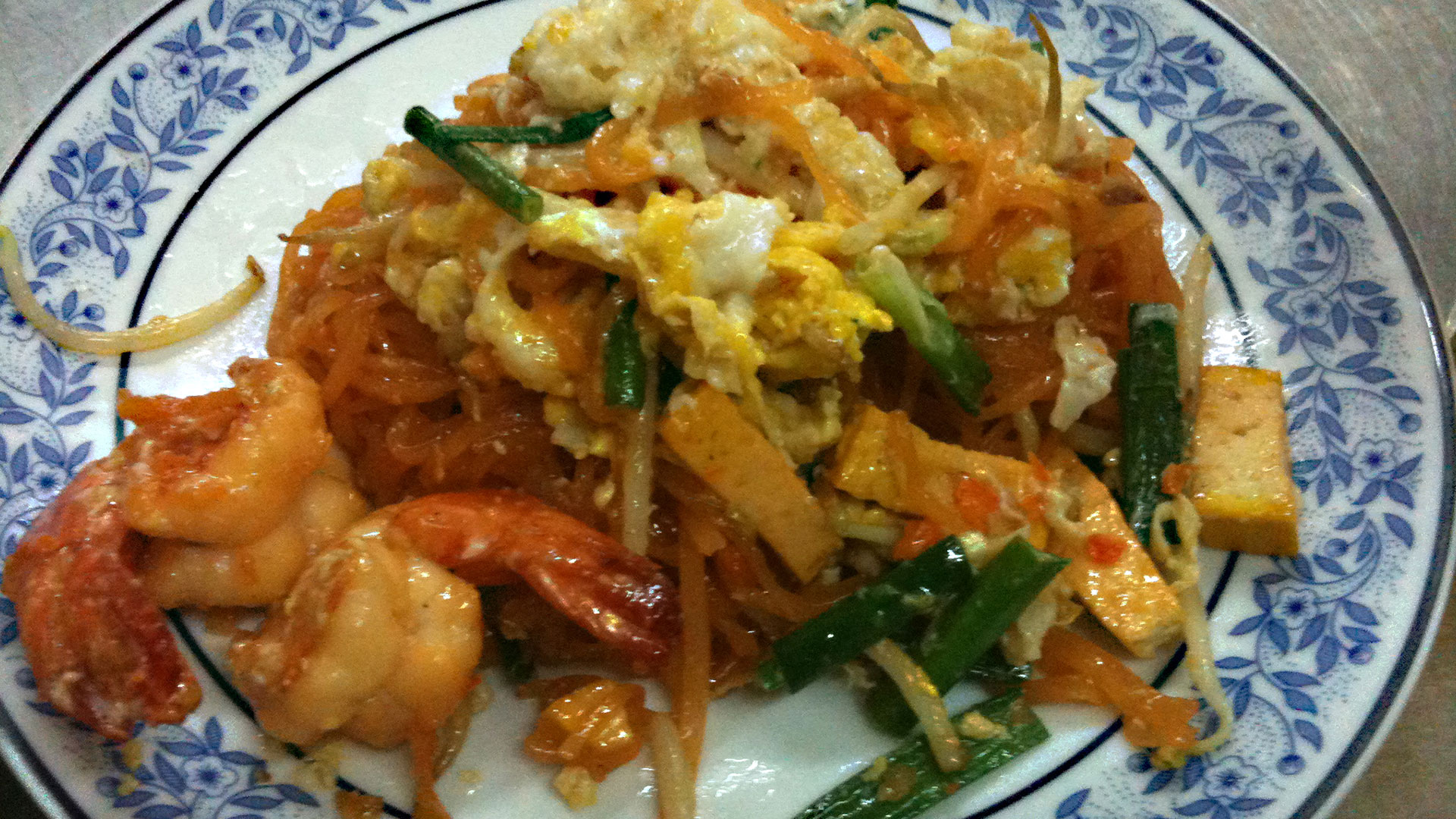 An hour's wait
Lung Pha is owned by Uncle Pa. He inherited it from his parents and you can find him there every evening, not cooking but making sure that everything is running smoothly.
It's open every day from five in the afternoon until midnight, and it's always wildly busy. It's not unusual to see people wait an hour to get their favourite dish. The clientele is largely local and I like that. Inside there's hardly a place to sit. Most people eat at a table outside.
Pad Thai Street
Surrounding the place there are stalls offering a variety of snacks. So to kill some time, or to stave off your hunger, you can get a bite to eat, such as grilled pork on a skewer with satay sauce served with bits of red onion and slices of pickled cucumber.
It goes without saying that commerce has discovered the success of this location. Now countless restaurants to the left and right of Lung Pha have opened selling the same dishes. So, these days, this place is know as Pad Thai Street. But if you want the original, you have to go to Lung Pha.
Keep dishing it up
Pad Thai is the only thing you can order in this restaurant. Even so, you get one choice – with egg or without. The dish is prettier without the egg. Beautifully shining rice noodles with a few prawns and bits of tofu. If you choose to have an egg, they'll scramble it right in the wok and, the moment it's cooked, a scoopful of Pad Thai noodles goes on top, the packet is folded neatly, turned over and popped onto a plate.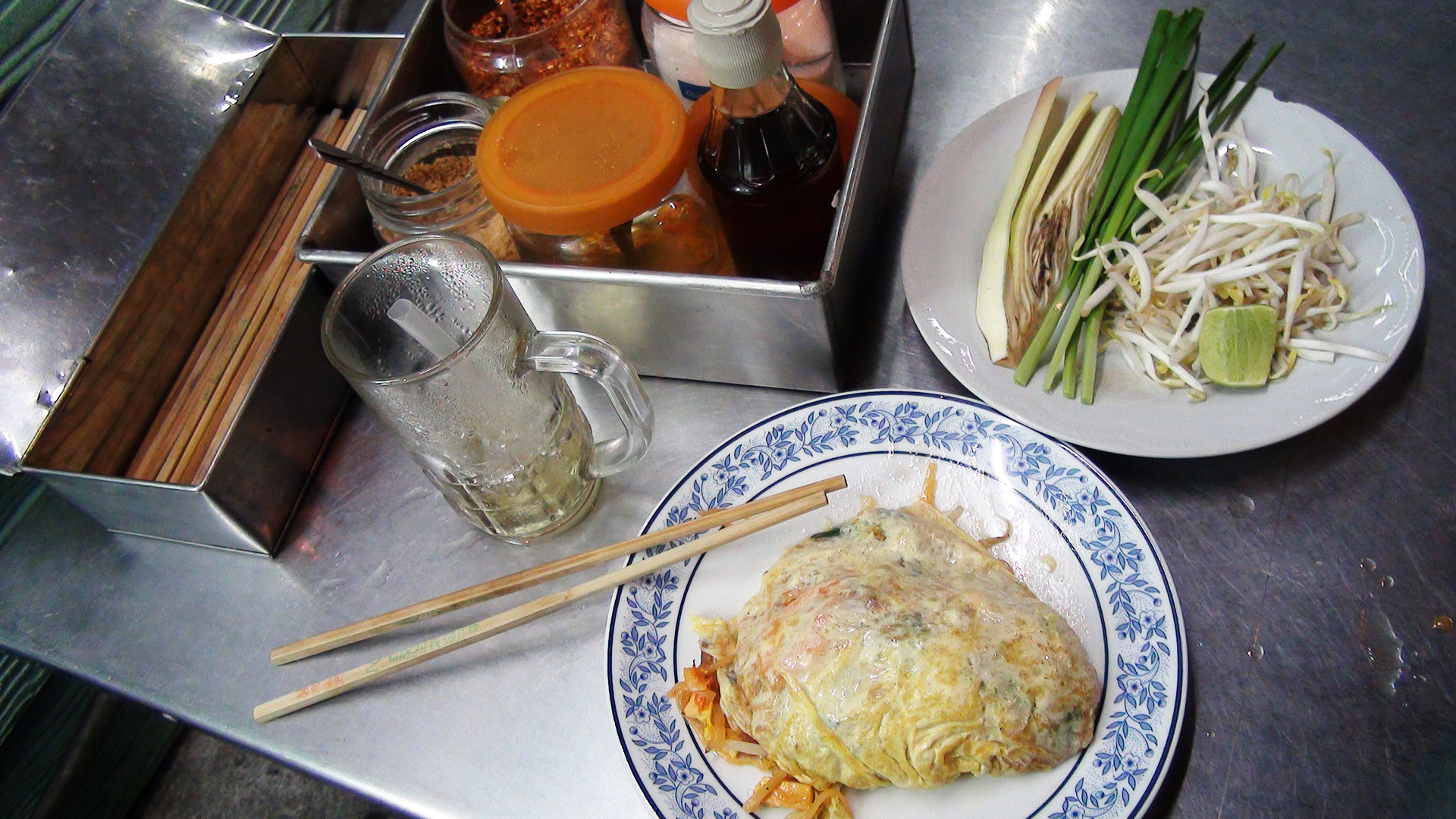 The noodles are served with bean sprouts, part of a banana flower, spring onion, and lime. Once at the table you can adjust it further to your taste. The wobbly metal folding tables have containers with sugar, vinegar, chopped peanuts, and dried chilli peppers.
The ladies at the woks just keep on dishing it up. Even though the place looks pretty old, turnover is constant and the ingredients are just as fresh as can be, so any spoilage is impossible. Let the delectation begin! As the Thai say, Arroy mak mak – Delicious!