Amsterdam Travel Tips – DareSheGoes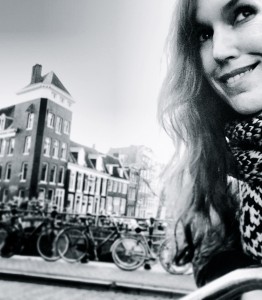 Passengers often ask: what's your favourite destination? I always chuckle. Rio, Paris, Singapore, New York, South Africa – I love all these places. But Amsterdam is still my absolute favourite. The feeling begins on the homebound flight to Amsterdam. On the train from Schiphol, and then on Tram 1 to my doorstep. Home sweet home. En route to my own house, my own bed. Here are some Amsterdam travel tips for you.

Touchdown
21 November, touchdown. Four weeks of holiday to look forward to. No flights. A chance to be at home. No plans. That is, apart from a deadline for this blog. Lots of ideas. How amazing to close this year at a destination where all KLM passengers arrive, board connecting flights or take a short break as part of their journey. An absolute must-see, steeped in history, just waiting to be discovered. And that's why I hopped on my bicycle last week. Took my camera and headed off on my favourite route.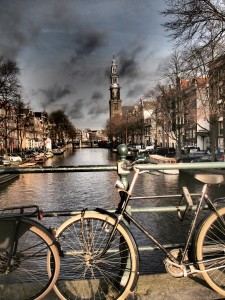 Vondel and art
Amsterdam has so much more to offer than most people think. I live near the centre in the Oud West neighbourhood. The Vondelpark is a minute's walk away. Ideal for a morning run. Did you know the park has a Picasso statue? I'll leave it for you as a present. There's also a blue tearoom. It's one of my favourite outdoor cafés in the city. From the Vondelpark, you can walk to the museum district in practically no time. Like Three Musketeers, the Rijksmuseum, Van Gogh Museum and Stedelijk Museum inhabit Museumplein. It's amazing to live so close to all these masterworks.
Vintage treasures
Still, the most popular museum is located at Prinsengracht 263: the Anne Frank House (KLM delftware miniature no. 47). Long queues, but well worth the wait. If you visit the same canal on a Monday morning, a short walk along the canal side will take you to the Noordermarkt. This market offers loads of vintage treasures and other exceptional wares. And you'll find the most delicious apple pie in Amsterdam at Winkel. Highly recommended.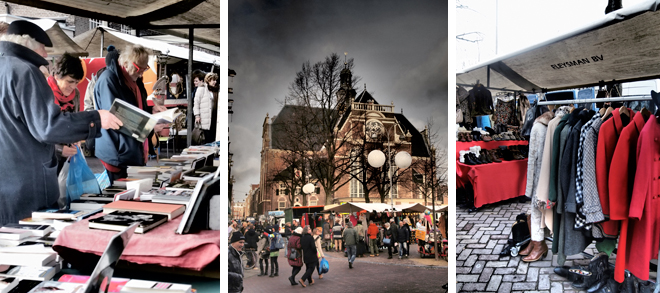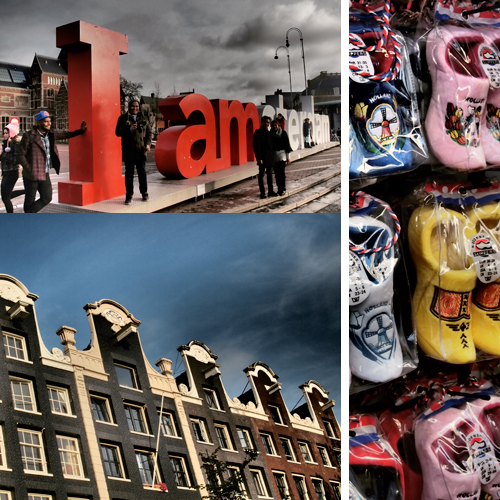 Heading home, I stop at Keizersgracht 609. FOAM (photographic exhibitions) with a charming museum cafe. Canal boats bob along the water. In summer, I like to join my friends on the boat Raep. You get the best impression of my home port from the water. Then back home again, cycling under the Rijksmuseum. Tourists take snaps at the IAmsterdam sign. This is my home town. For more than 12 years now. Full of art, beautiful canals, culture, bicycles and a wide array of different people. That's why I've made this Spotify playlist Home (Amsterdam) for everyone on their way home.
Because… there's no place like home.
Personal Favourites
–  Catch a film at Cinecenter or EYE
– Vondelpark open air theatre in the summer months – free performances
– From Amsterdam, it's a 40 minute train journey directly to the beach at Zandvoort aan Zee
– An evening's entertainment from the Amsterdam theatre group in the city theatre on Leidseplein (on Thursdays, the shows often have English subtitles)
– Take a boat trip on the canals!
– Eat a traditional treacle waffle
– Visit the most amazing museums on Museumplein
– shopping in the Nine Streets neighbourhood
– FOAM >> William Klein expo till 12/03/2014 #mustsee
– Gay Pride canal parade 2 Aug 2014
– Run around the Vondelpark
– Mercedes Benz Fashion Week Amsterdam, catwalk shows 23 Jan – 27 Jan 2014
– A cup of fresh mint tea at the blue tearoom in the sun
– Cycling or hitch a ride on the carrier through the city along the canals
– Sunday market at the Westergasterrein location
– Paradiso concert hall