DareSheGoes: Singapore Sling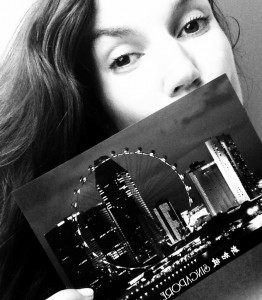 "I got your card!" my mother says happily over the phone. For as long as I've been flying, I've sent my parents cards from around the world. My mother keeps them all. She even numbers them. It makes for a great travel story. I visit some destinations more often than others. Each card is a different story — a memory — as is every trip. Each destination. New people. New adventures.
In my list of most-visited destinations, Singapore is at the top. It's about a twelve-hour flight from Amsterdam. The temperature there is always pleasant when I arrive. A kind of warm blanket that caresses you. City of beaches, culture and nightlife. Because the crew travels from Singapore on to Bali, the trips vary from five to nine days in length. The seven-day and nine-day trips are my favourites. I like visiting Singapore best together with friends. Discovering and experiencing things anew. It's why I like it best when I can travel together with my colleague and friend Petra to this multifaceted destination.
Life is a Beach
A day on Sentosa Island is always on the programme — as long as it doesn't rain. It's easy to take a taxi and then hang out at any of the beach clubs on Siloso or Tanjong Beach. The sunsets are beautiful there. That's followed by a bite to eat at any of the food stalls such as Newton Circus or Lau Pa Sat. Or a seat at one of the outdoor cafés on the river at Boat Quay or Clarke Quay. Then we go dancing at high altitude. The Marina Bay Sands' Ku Dé Ta or 1-Altitude are our favourites — you mustn't miss them. Great views of Singapore's skyline.

Welcome to Miami
In addition to the well-known neighbourhoods such as Little India, Chinatown and the charming Arab Street, we also discovered a new area — Tiong Bahru. A real "Welcome to Miami" feeling, certainly in terms of the architecture. The Art Deco buildings serve as the backdrop for fun restaurants and unique shops. Tiong Bahru is protected by the National Heritage Board. We get an extensive information booklet from the Visitors' Centre and go for a history walk. Spending an afternoon here is like opening an unexpected present. I'm amazed! In other words: Go!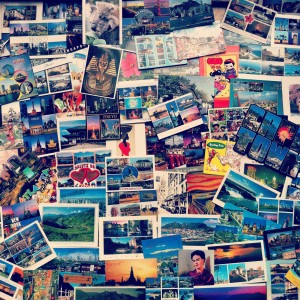 Rituals and Stories
Work and free time combines well in Singapore. Before leaving for home, I buy a card to send to my parents. In my hotel room I describe the highlights to them. It has become a kind of ritual. I post the card at hotel reception. Ready to fly home. We get into the crew bus. Riding past the Marina Bay Sands, the Botanical Gardens, the ArtScience Museum and other places. One last, happy look on our ride to Changi Airport. On our way to new people. New stories. New and different destinations.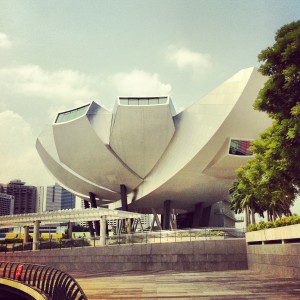 My personal tips:
Drink a Singapore Sling
Go shopping on Orchard Road
Go out to 1-Altitude or Ku De Ta for the best views of the city
Get some sun at one of the beach clubs on Sentosa Island
The metro and bus are cheap, safe and easy
Visit the ArtScience Museum in Marina Bay Sands, build in the form of a lotus flower
Listen to my playlist DareSheGoes Singapore on Spotify!