"Dear KLM, please help me with my wedding proposal!"
"Dear KLM, my girlfriend works at KLM Cityhopper. Flying is a huge part of her life, as you can imagine. But sometimes it seems as if her love for flying is bigger than her love for me. There has to be a balance, wouldn't you say. Bearing this in mind, I want to propose to her in an unforgettably original way. And it would be great if this could somehow be done in combination with KLM, for example before, during or after one of her flights. So, my big question to you is as follows: could you and would you lend me a helping hand?"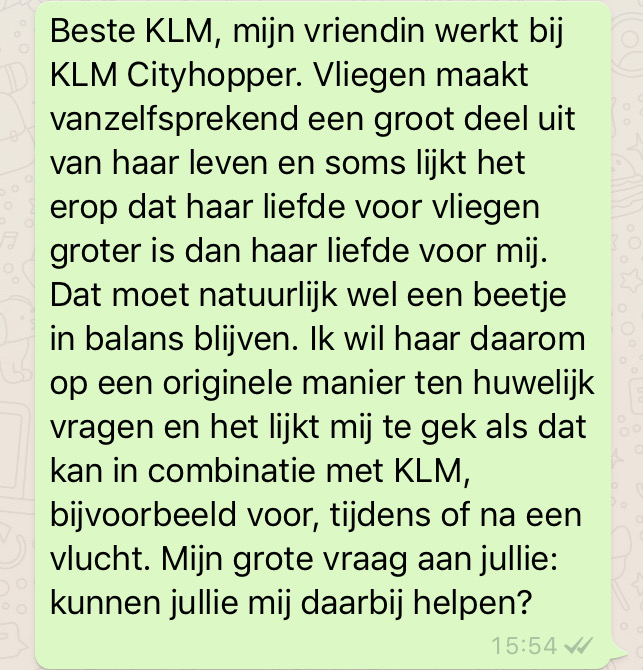 Frensch de Groot sent this WhatsApp message to KLM just under six months ago. Could we help him to ask for his girlfriend Colette's hand in marriage? I don't get requests like this every day and as a part-time cabin attendant, I can certainly understand Colette's passion for flying! The question takes me back two years, when I was the one being proposed to. With bags drooping to my toes after a night flight from San Francisco, my (now) husband was waiting for me at home with candles and flower petals surrounding him as he knelt down to pop the question. My own happy memories motivated me to give it a go and try to find a way to help him with his special request!
Through thick and thin
Frensch and Colette met in 2011. Colette's eye fell on Frensch at a party given by a mutual friend. A week later, the two bumped into each other again at a festival and a few dates later there was love in the air. They've been together for eight years now. They've supported one another through thick and thin, especially when Colette's father passed away. Their love is so strong that Frensch wants to crown their relationship with marriage. And, besides, "Colette absolutely deserves an amazing proposal," says Frensch.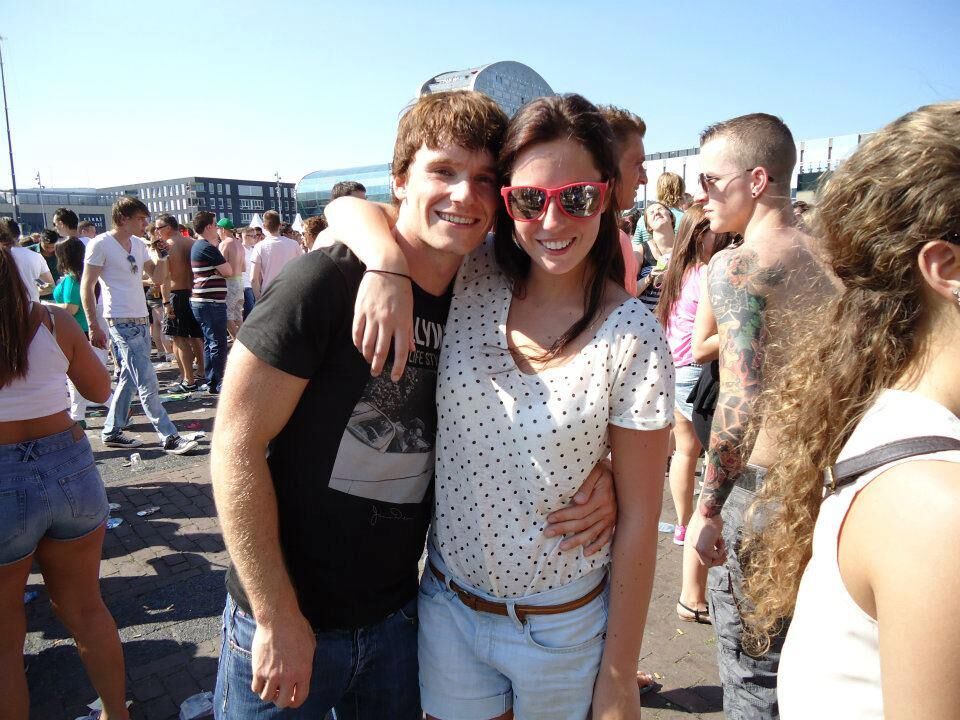 A puppy or a ring?
Colette drops hints at home every now and then about it possibly being time … When Frensch rented a sports car on holiday and raced off to a romantic destination; Colette thought the moment had come! But no such luck. Colette cast aside all thoughts of a ring and now has her heart set on a puppy. She has however noticed that Frensch appears to be planning something in secret. She thinks the puppy will be popping up sometime soon…
Hard at work
In the meantime, we set to work at KLM planning the top-secret romantic interlude. Frensch visited headquarters for a day and together we came up with a plan about how things would go. And then the hard work began… Even though the lines of communication are short at KLM Cityhopper, organising something like this is trickier than you may think. How about rolling out a blue carpet with red hearts on it at the foot of the stairs of an aircraft…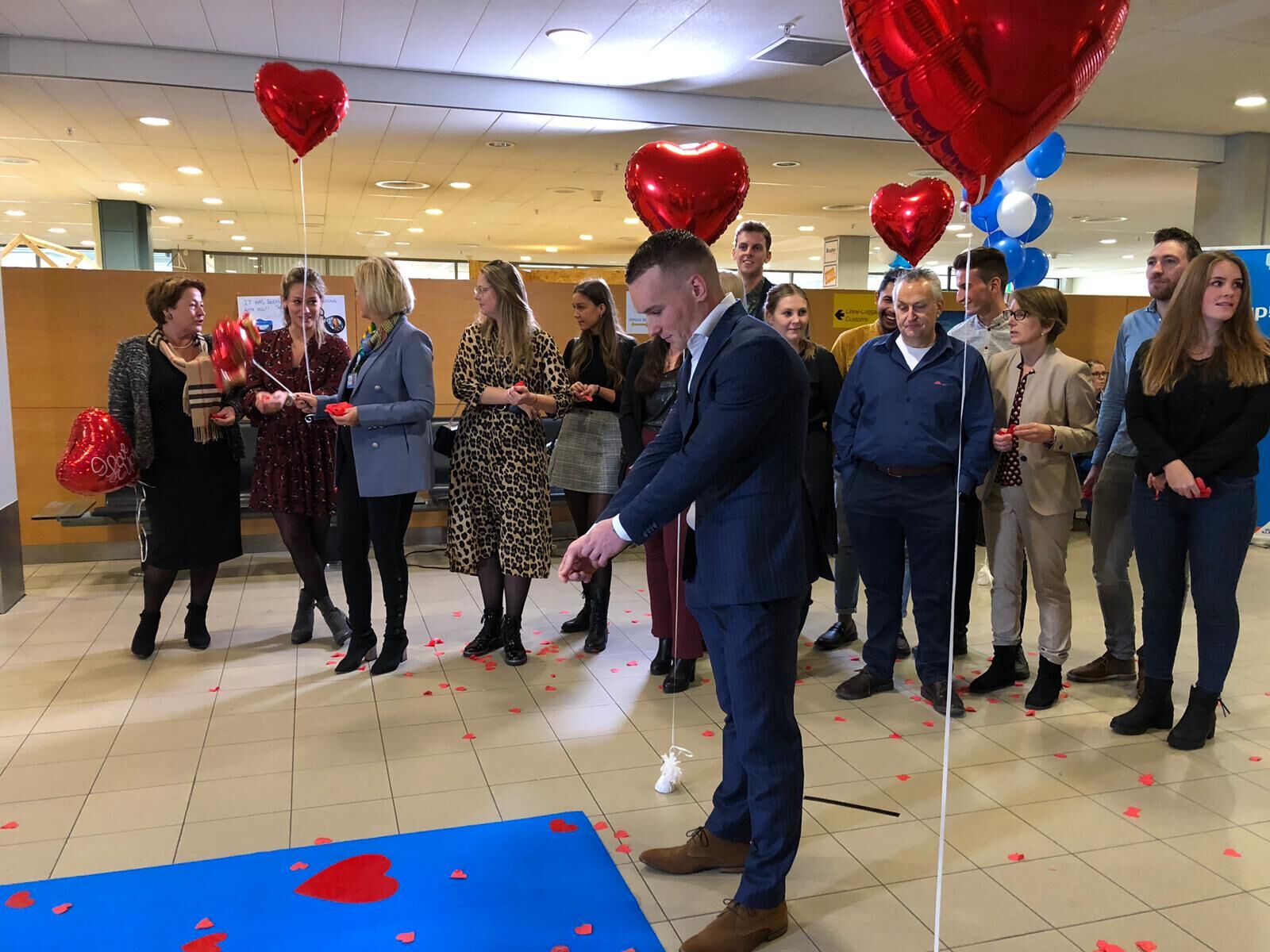 The big day
But everything was ready on time for the big day! A blue carpet, balloons, hearts … No stone was left unturned! Frensch stood waiting, surrounded by family and friends. Here at the Crew Centre, Colette would soon de-register from her last flight for the week. Colette thought the people with the camera crew on her flight were busy producing a staff video. But they were filming how the unsuspecting CA sets about doing her job. And Colette had no idea! Curious to see how things went? Check out the video!
At present, Colette and Frensch are still enjoying the afterglow of a successful wedding proposal and hope to be getting married within a year-and-a-half. And the puppy?? Guess Colette is still waiting for the nipper ….