'Let's take some pictures while we still can.' This was the first thing I heard when I arrived at Gate C11, and it added to the slight feeling of excitement I already had. I joined the rest of the group that had been invited by KLM Germany to make this flight to Hamburg. Flying to Hamburg might not be that special, but the aircraft taking us there certainly was. Among those in the know, its registration – PH-PBA – will have a familiar ring. This is a Douglas DC-3 Dakota, an aircraft that pioneered our modern commercial airline industry.  KLM received her first DC3 in 1936.  With more space and comfort for its passengers KLM started using the Dakota's on routes to Asia in 1937. In the late thirties it took the aircraft about six days and twenty stopovers to reach her destinations in Asia.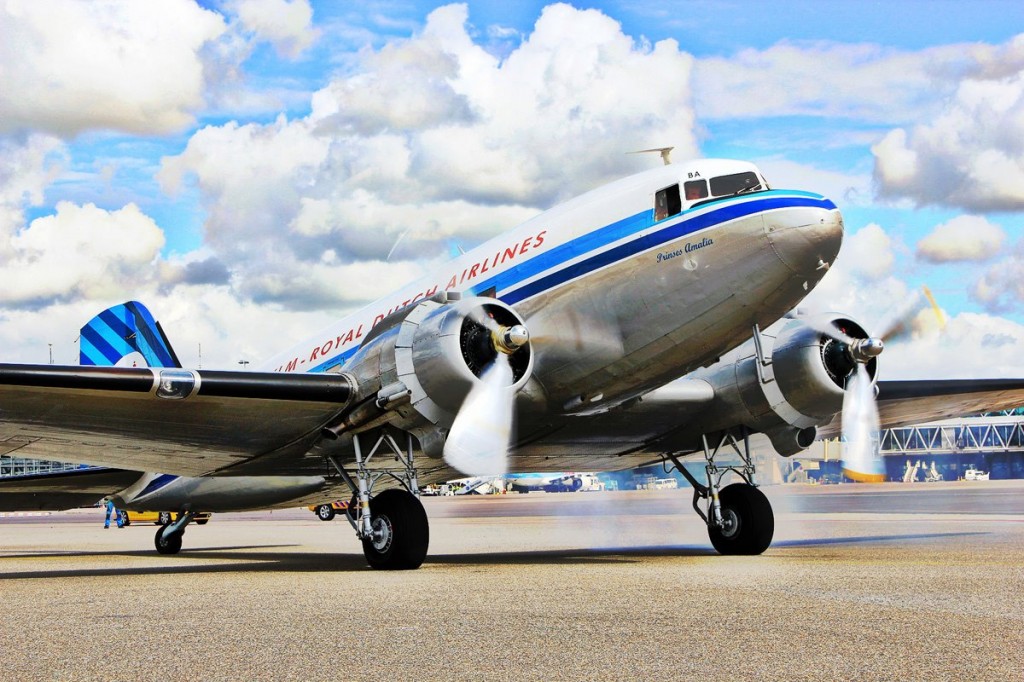 The PH-PBA Princess Amalia just before departure from Schiphol. (Photo by Michael Prophet).
If this 68-year-old beauty could talk, it would tell quite a story. Before it was put to use by The Dutch Dakota Association in 1998, it served the RAF and even took part in Operation Market Garden. After World War II, Prince Bernhard bought the plane from General Eisenhower. The PH-PBA became the Netherlands' first aircraft dedicated to transporting members of the Dutch royal family In 1975, this gorgeous DC-3 went into what would be a temporary retirement. She was exhibited in the Aviodome for more than 28 years before entering her second life when she was named 'Princess Amalia' in honour of the Dutch princess who is now second in line to the throne.
After I had snapped my 100 pictures, it was time to depart. To board this amazing aircraft, we had to climb her fold-out boarding ramp. Awaiting us inside were eighteen roomy seats in an elegant cabin. It felt like receiving a special invitation to enjoy the upcoming flight. At eleven o'clock, the 'Princess Amalia' taxied to runway '04'22 where we would take off to the northwest.
I heard and felt the engines. I could smell the fuel. And then we were airborne. More than I had ever noticed when sitting in any other aircraft. I was aware of every bank the plane made and any kind of turbulence we experienced. It was a bit like being on a roller coaster. Ultimately, I was glad that we had air sickness bags available.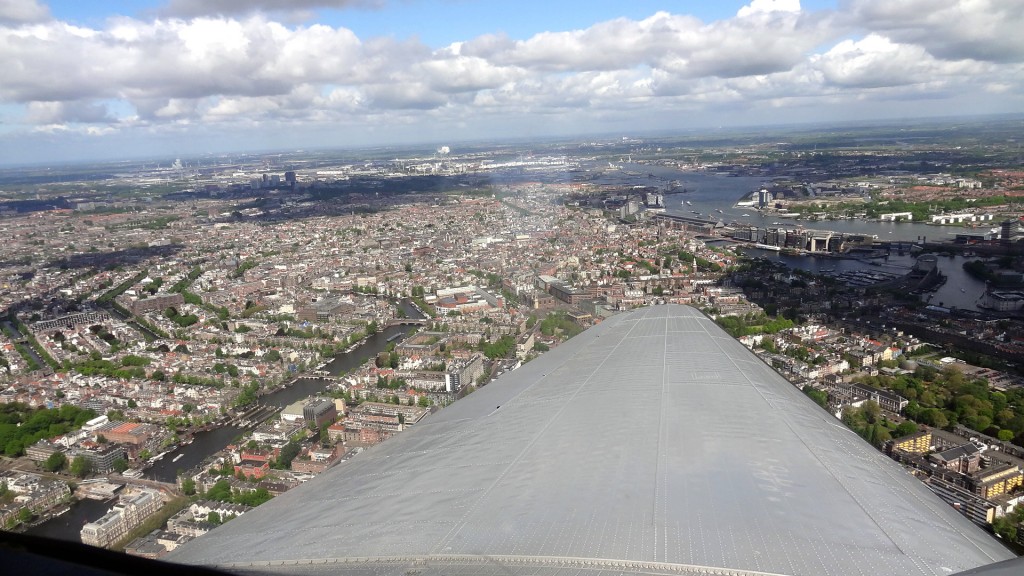 Sunny Amsterdam
After making a marvellous circuit at around 1200 feet over Amsterdam, we took a route over Lelystad and Kampen – over the flat yet magnificent Dutch landscape – on our way to the German border.
For me, the highlight of the day was a visit to the cockpit where I watched in amazement at how the pilots flew this aircraft. The captain and his co-pilot were constantly adjusting the course and engaged in navigating. Always turning knobs and keeping an eye on the dashboards. The heavy winds that day made their task not only a mental but also a physical challenge.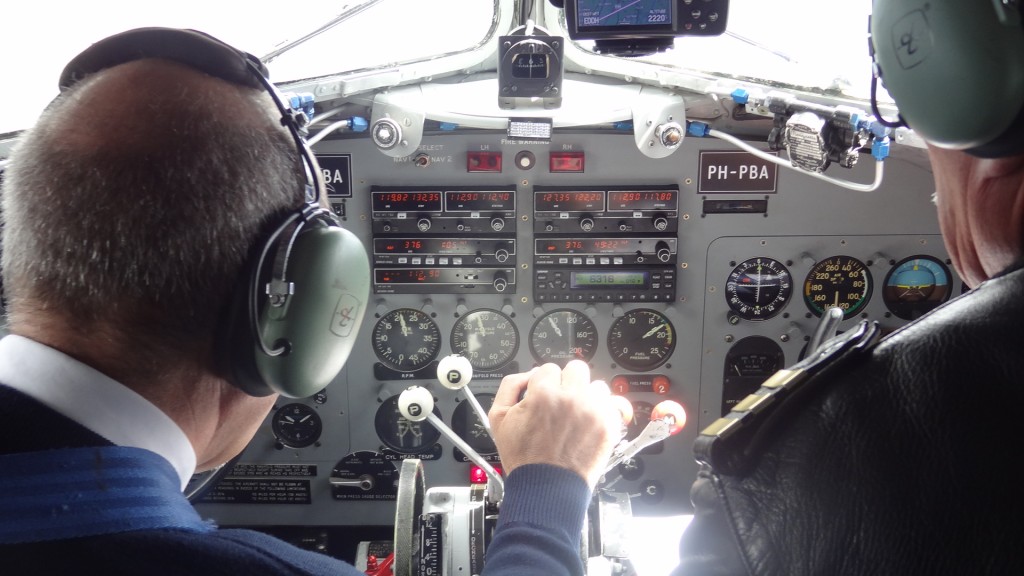 Fully focussed
Just before landing, we made another aerial circuit, this time above the harbours of Hamburg where a major nautical event was taking place. Despite the strong crosswinds, our Dakota made a smooth landing. Having touched down, my flight with DDA Classic Airlines came to an end. What a special experience – I wouldn't have missed it for anything. A modern KLM Boeing 737 flew me back to Amsterdam a little later.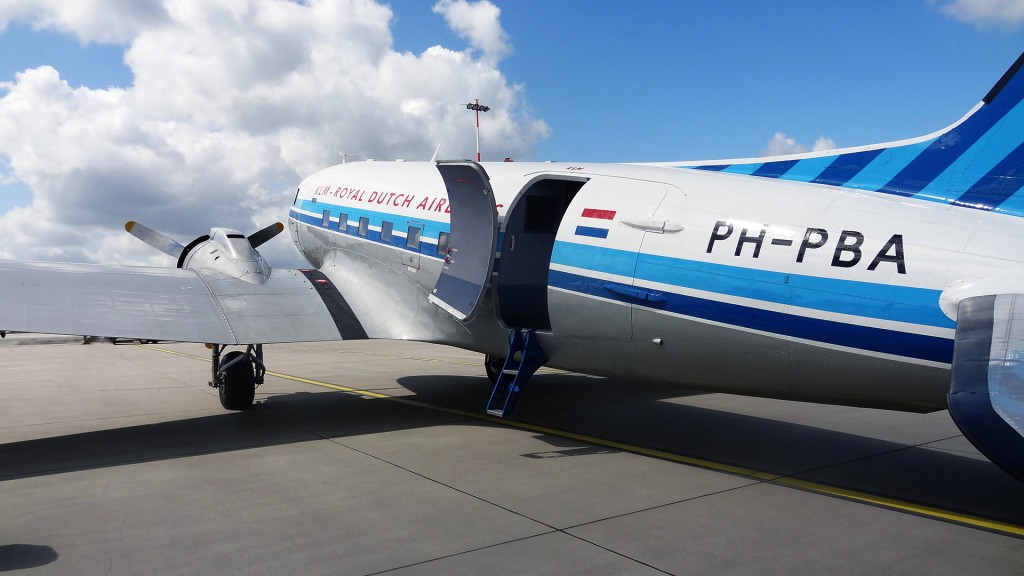 The PH-PBA Princess Amalia just after it had landed in Hamburg