KLM is a Dutch airline, and one that wants to project that image down to its finest detail. For this reason, KLM has brought some of the greatest names in the Dutch design world on board. Yesterday saw the start of Dutch Design Week. In keeping with this event, I thought a blog about Dutch designers and their association with KLM seemed appropriate.
Fashion designer Mart Visser created KLM's uniform for women and Viktor & Rolf have signed on to create our comfort bags. Marcel Wanders designed our tableware and Hella Jongerius created the stylish cabin interior. These are resounding names that also have significance for a large international audience. This is nothing new. Since the 1940s and '50s KLM has made a tradition of seeking out renowned designers and making use of their talents and insights. Here are two of them: Glass designer Andries Copier and architect and furniture designer Gerrit Rietveld.
Glass Designer Turns to Plastic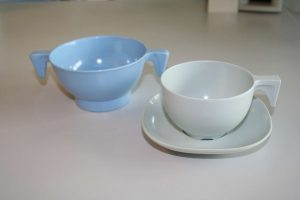 In the late 1940s, plastic utensils were not as popular as they are now. In fact, Bakelite was the only form of plastic in common use. It was most popular for telephones and light switches. In 1948, when KLM came out with a new line of tableware for tourist class, they put a new form of plastic to use: Melamine.
The designer was Andries Copier. Copier had long since earned his stripes as a designer though, until that time, his work had been limited to glassware and crystal tableware for Royal Leerdam Crystal, where he was the chief of the design studio. Copier began his career in the factory's drafting department. He designed his first tableware sets in the 1920s, after which time many more would follow. One of his best-known designs is called Gilde, which is still in production.
Melamine possessed a number of special properties. It was light, sturdy, and it retained heat well. It held its shape and was easy to clean. Structurally it stored well on the trolleys and used the space efficiently on the passengers' meal trays. Everything remained firmly in place and fitted perfectly. The dishware was light blue although, over time, it slowly lost its colour in the dishwasher. KLM continued to use the design until well into the 1960s until it moved to a new trend: disposable tableware.
An Architect Designs the Cabin Interior
Architect and furniture designer Gerrit Rietveld might not be the first person you would associate with aircraft cabin design, but he certainly associated himself with KLM. Rietveld has designed numerous homes in the Netherlands and is world-famous for his furniture. The renowned wooden red-blue-yellow-black reclining chair is a classic in the tradition of De Stijl—the most trendsetting group of its time among designers, painters and sculptors.
In the mid-1950's, KLM asked Rietveld to design new aircraft cabin interiors. For Rietveld, colour and material were of great importance and he used them in an effort to break up the cylindrical form of the aircraft cabin. Once again, he employed the primary colours—red, blue, and yellow—combined with white. He included the partition walls in his design. "The panels, which all the passengers must look at throughout the journey, have to be included in the overall composition. There must be something to see, something that increases in vibrancy the more you look at it."
Commentary about his designs varied from "stylish" to "bland". For KLM, however, the practical objections proved decisive. The red, blue, and yellow surrounded with by as much white as possible may have been beautiful to look at, but they also got dirty very quickly. Sadly, none of our aircraft ever ended up using Rietveld's design, but we still have the drawings. KLM has loaned them to the Central Museum in Utrecht.