I finally picked up that Big Red Book to refresh my knowledge of flight safety and security last week. And I passed the exams, as everyone did in my class.
These flight safety recurrents, as they are called, take place twice a year and cover many subjects.
For example, there is first aid. We're not expected to be proficient nurses, but as we're high up in the sky without a hospital nearby, it's quite handy to know a little about first aid when confronted with a medical emergency. Like, first of all, how to recognise one. Which sounds simpler than it is.
As I said, we're not medically skilled, so in the event of emergencies we have to call in professional help. The flight crew can make a call to a doctor in Amsterdam at any moment. Amazingly though, if medical assistance is needed, there often happens to be a medically skilled person on board.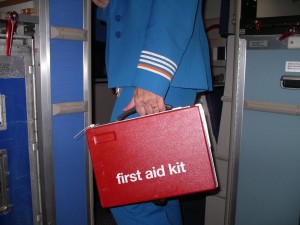 I'm lucky as all the medical incidents that ever occurred on my flights had a fortunate outcome.
I remember an incident with a passenger who wasn't feeling well. He made his way to the lavatory but fainted on a woman's lap. As I was asking my colleague to call for a doctor, the lady on whose lap the man had fainted told me she was a nurse. Her neighbour added: "And I'm a doctor". They took care of the patient and he was soon feeling better. On another flight, a passenger was complaining about pain in his chest. Suspecting heart problems, we called for a doctor right away. Whereupon a whole bunch of passengers responded. One of them explained that there was a conference for cardiologists the next day! This time too, the patient was doing well again by the end of the flight.
While I was practising on the cardiopulmonary resuscitation (CPR) dummy during my flight safety recurrent the other day, I realised that one day this could be a real person.
Some of my colleagues have witnessed serious medical incidents on their flights. When I hear their stories, I realise that such an experience can be quite emotional. For the patient, his or her travelling companions, the passengers in the vicinity, and, of course, the cabin crew.
Caroline