Five Beautiful Bawa Buildings in Sri Lanka
Apart from visiting the centuries-old royal cities, grand palaces and Buddhist temples, anyone visiting Sri Lanka who loves architecture should definitely visit the buildings of Geoffrey Bawa. He is the country's world-renowned architect and the spiritual father of tropical modernism. We've picked out five of Bawa's beautiful buildings that are worth visiting, inside and out.
Ask a local Sri Lankan to point the way to Bawa and you will be sent off in all directions. And with reason; the buildings constructed by the country's master architect are spread across the island. From the parliament building in the administrative capital of Kotte and the school buildings in Colombo, to the luxury hotels on the coast and Bawa's own tropical paradise on a former rubber plantation. You can't really avoid Bawa on Sri Lanka.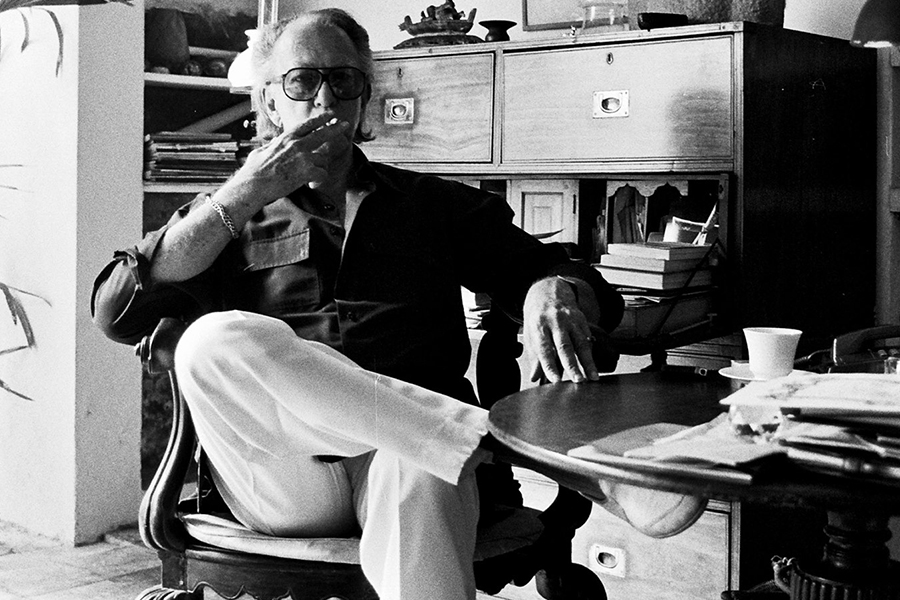 Geoffrey Bawa: Geoffrey Bawa Trust
Fusion architecture vs fusion cooking
One of Sri Lanka's best restaurants is the Gallery Café in Colombo. Once designed by Bawa to serve as a doctor's dwelling, it later became his headquarters. Under his watchful eye, it was transformed into the Gallery Café. It's a pricey yet popular spot for an amazing lunch or dinner. The menu reflects the same fusion level as Bawa's architecture and its desserts enjoy widespread acclaim. Want to spend a lovely afternoon or evening here? Be sure to make a reservation first. And don't forget to visit the adjoining gallery where local artists exhibit their work.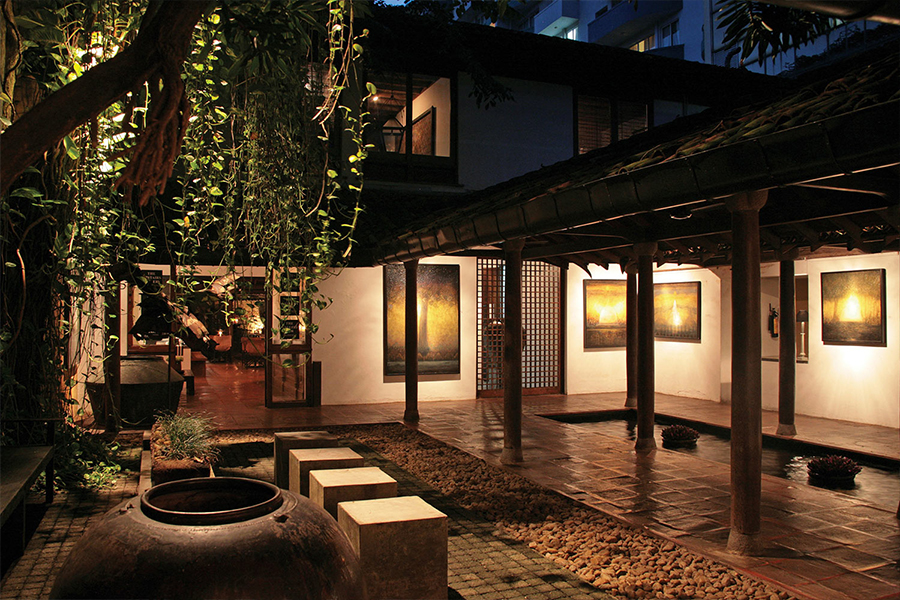 Gallery Café: Paradise Road
At home with Bawa
Number 11 is the rather unromantic name of Geoffrey Bawa's grand residence in Colombo. A labyrinth of rooms, patios, courtyards and terraces, seamlessly connecting in- and outdoor; a place where trees penetrate the roof. The interior is an eclectic blend of antique and modernistic furniture. You'll recognise old pictures and sculptures created by fellow artists, and elements taken from former Sri Lankan houses, including window frames and columns. All of it maintained in its original state by the Geoffrey Bawa Trust.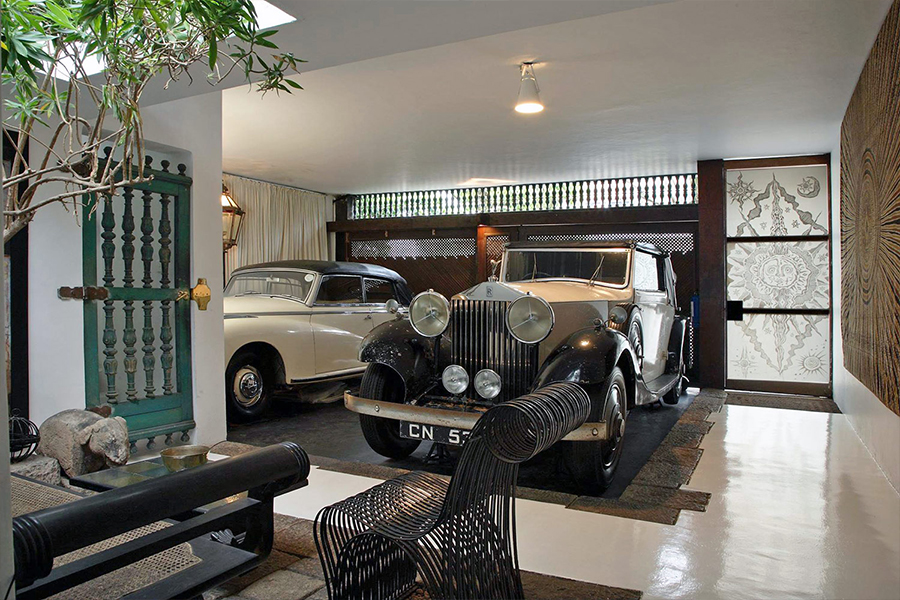 Number 11: Geoffrey Bawa Trust
When Bawa met Buddha
Although Bawa built hotels, offices, private residences, schools, a university, a police station, a library and the parliament buildings, the number of temples remained modest: one to be precise. Situated upon Beira Lake, the Seema Malaka Temple stands as an oasis of calm in the hectic heart of Colombo. Bawa built the temple on three artificial islands connected to the banks by walkways. Local residents come here to meditate. Or for a selfie with the Colombo skyline in the background and one of the many golden Buddhas – although one must never turn its back on Buddha ;-)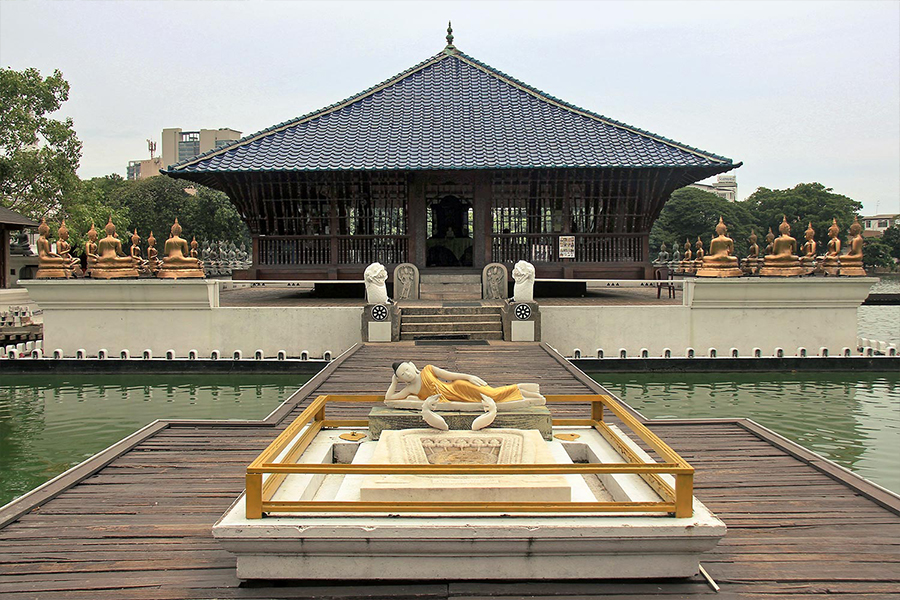 Seema Malaka: Wikimedia Commons
Become one with nature
In the 1960s, Sri Lanka gained enormous popularity as a holiday paradise. Bawa built the country's first big hotels, but Hotel Kandalama is considered its masterpiece. The building is beautifully integrated with the natural surroundings: it appears to rise out of the jungle peak upon which it stands. It boasts a selection of swimming pools and restaurants, a super-de-lux Six Senses Spa and an unending outlook across the Kandalama Reservoir. Out here you're sure to have that wanted room with a view.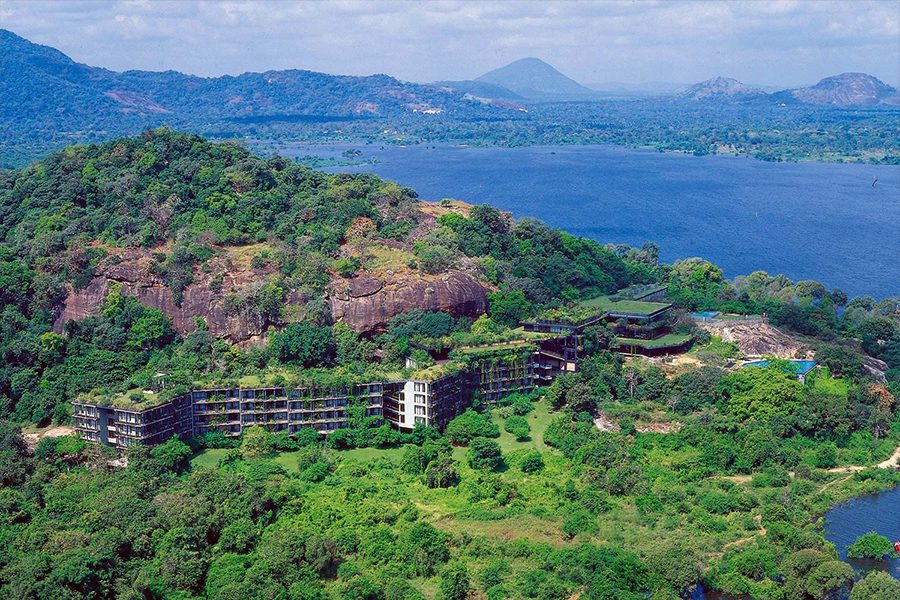 Kandalama Hotel: Heritance Hotels
Behold Bawa's life work
If Hotel Kandalama can be considered Bawa's masterpiece then Lunuganga is surely his life's work. In over half a century, he transformed a former rubber plantation into his private tropical paradise. Whereas his house in Colombo was largely a building incorporating nature, it's the other way around here: a garden incorporating the buildings. Bawa used his country retreat as an experimental architectural garden; he tried out his new ideas here first, applying them later to the huge hotels he built. Together the different structures comprise a portfolio of Bawa's tropical modernistic style. And what an impressing portfolio that is.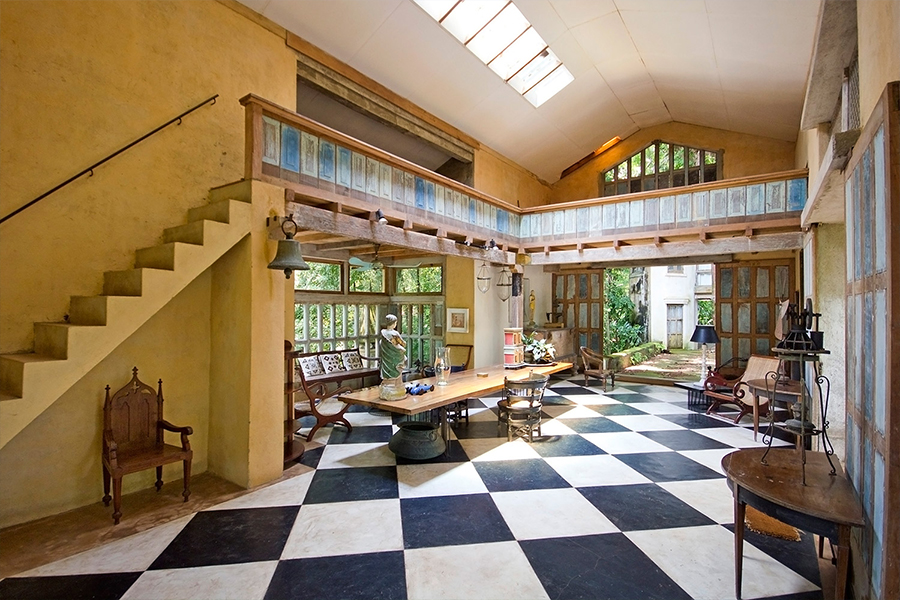 Lunuganga: Sander Groen
Can't wait to go on a Sri Lankan adventure yourself and see all this beauty with your own eyes? KLM offers flights to Colombo four times a day.