Flying with Children: Terrible or Terrific?
Once upon a time, long, long ago, I lived in a wonderful world where I could decide to travel to Barcelona today, and be there tomorrow. I would head off at the drop of hat, carrying just one tiny suitcase as hand luggage. But this wonderful world was obliterated when I started travelling with kids. If you're anything like me, you know this can total drama or great fun. Fortunately, there are ways to ward off the former and ensure the latter. Here are some tips.
1. A gift every hour
My last flight lasted only three hours. Easy-peasy, you might say, but flying with children, in my case three daughters aged 9, 4 and 9 months, I was very glad I'd taken my little-bag-of-joy along, filled with small gifts. Every hour, I handed out pencils, a colouring book, a game cube or a comic book. And every hour there was a bit of a party, followed by 30 minutes of distraction and 30 minutes of anticipation for the next gift.

2. DIY travel games
This isn't rocket science. Using only your imagination, a pen and some paper, you can play hangman, noughts & crosses, dots & boxes, and the animal name game. Say what? You start with "elephant" and then the next player has to use the last letter to come up with the next animal, like "tyrannosaurus rex". Well, maybe not, but you get the idea. Which reminds me of a bad experience I had playing "I spy with my little eye…" The game went as follows:
"…something yellow!"
"This teabag?"
"No."
"The sun?"
"No!"
"I give up."
"That man's yellow teeth!"
3. Pre-flight fun
This should have been at the top of the list, because solid pre-flight preparation is key. About a week before departure, start reading them books about planes. There are plenty of fun books about holidays and travel. And don't forget your own preparations. If you arrive at the airport well in advance, you can check-in comfortably and leave plenty of time to explore the airport. This ensures that your own stress levels, and those of your children, stay low.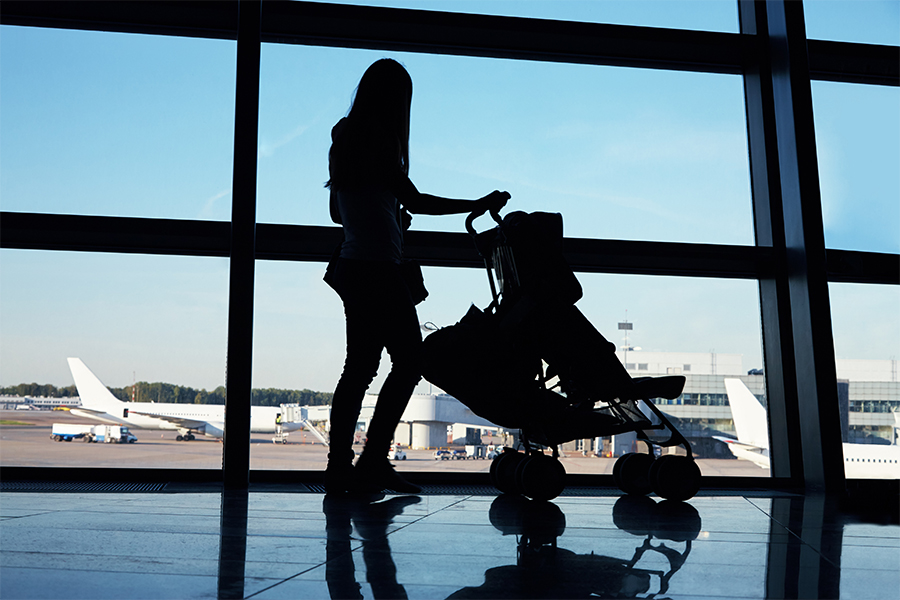 4. The Baby Chain
If you're travelling with a baby, it's always a good idea to reserve a carrycot. But even if you do, your baby will spend a lot of time on your lap. You can keep them amused with a baby chain. Say what? A necklace with shiny bits, chewy toys, bells and other stuff baby's love. One of the parents wears it or, if you value your sanity, you can take turns wearing it. After the landing, I usually hide it in my bag, because it's not really the kind of fashion statement I'm trying to make.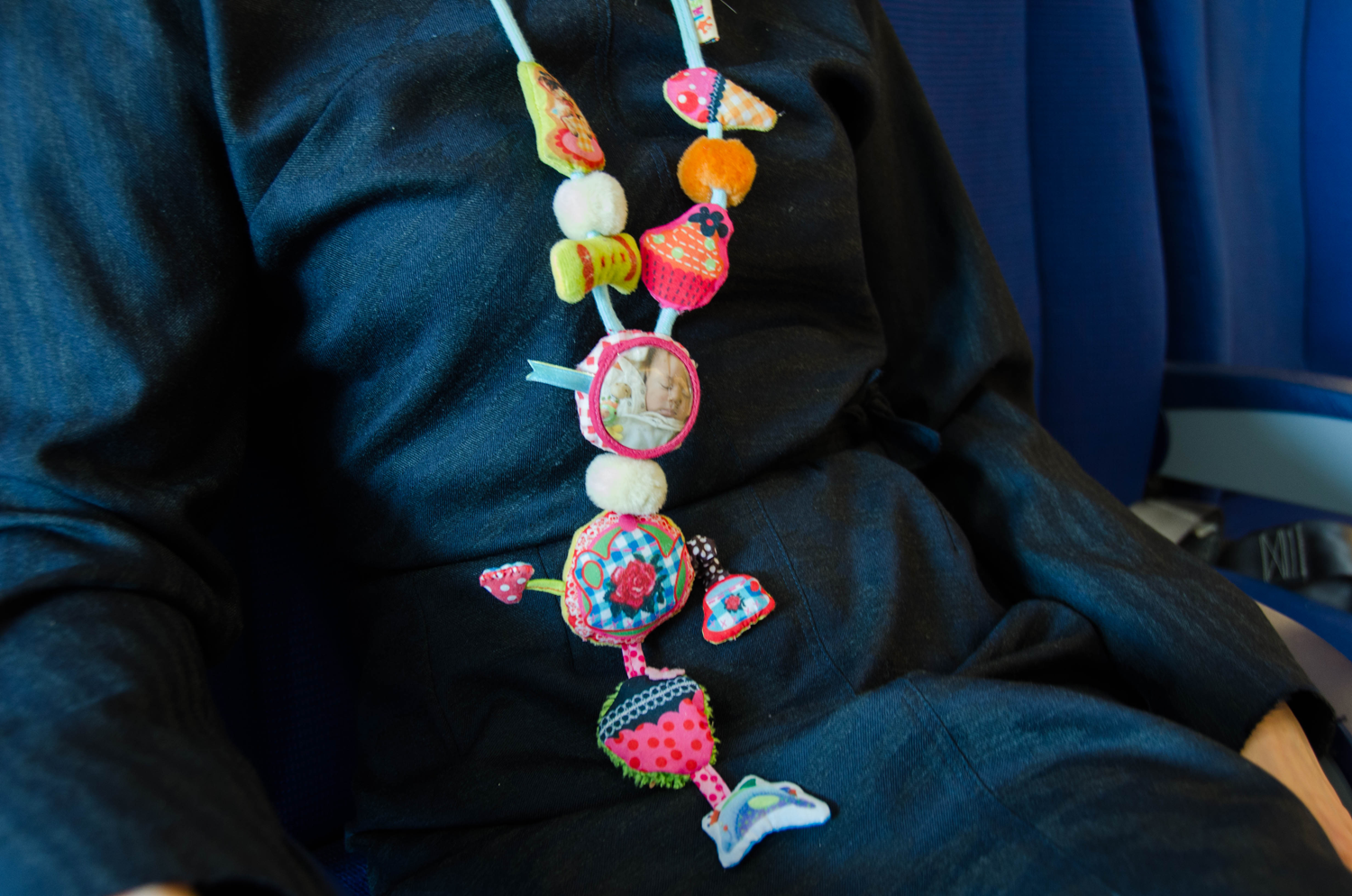 5. Have no fear, Bluey is here!
Apart from the entertainment you bring yourself, most airlines make an effort to entertain their younger passengers. Having said that, allow me to introduce Bluey to all adults travelling with kids. This little, cute and obviously blue, airplane is KLM's mascot for children. From take off until landing, Bluey travels along. On KLM's intercontinental flights, kids are given the Bluey Play Set and the inflight entertainment system has a special children's channel, which also features Bluey's adventures in a really fun series of four, two of which are brand new! With Bluey at hand, chances are you (or other passengers) won't even notice your kids travelling with you. Now how's that for a mascot? To really make your flight something special for your kids, order a special kids meal 24 hours in advance via this link. The smiles on their faces are the best start of any holiday!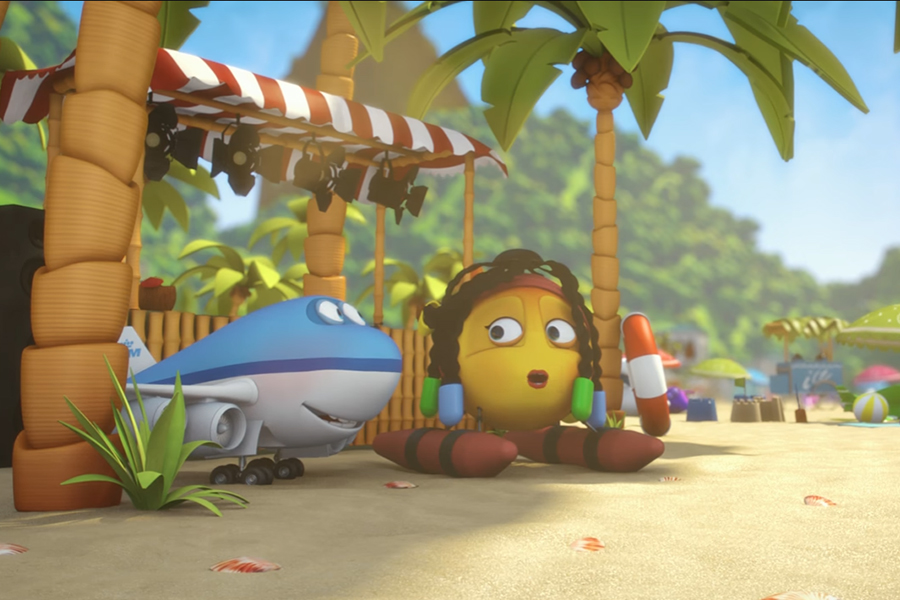 6. Meet the crew
You really can change your trip into an unforgettable experience by getting a photo of your kids with one of the crew. To be quite honest, I never dare to ask this myself, but my daughter has absolutely no qualms at all. You can make up for a lot of airborne drama by getting a photo of your kid with a friendly stewardess, possibly even in the galley.
7. Peace offerings
It goes without saying that my children would neeeever produce socially unacceptable noise levels aboard a plane, but should that ever be the case, I always have peace offerings in my bag. If they've been too noisy, my daughters present these offerings (often in the form of biscuits and sweets) to passengers seated within earshot. And if things have really gotten out of hand, you can replace the biscuits with earplugs. ;)
Have a great and relaxed flight!
PS: If you fancy Bluey toys, you can buy it in the KLM webshop.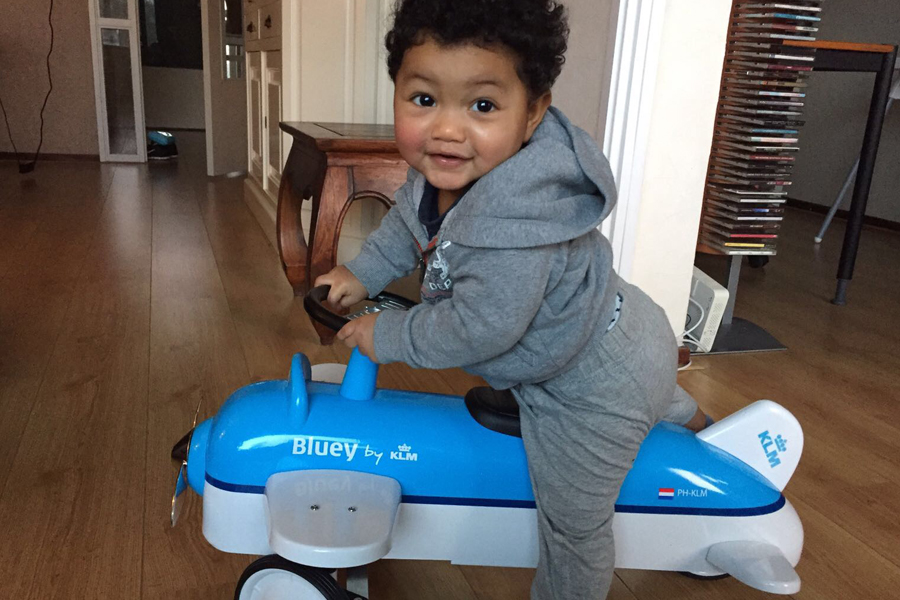 Ruben Sedoc (1 year old) with his own Bluey
Sounds familiar?
Maybe you feel like you've read this before. That's right. We've posted this blog in April 2015. But seeing that for some of us spring holiday is here or just around the corner we've decided to do a repost. Also we wanted to let you know that there are two brand new episodes of our own little fella Bluey's adventures. One can never get too many tips for a great start of an ever greater holiday, right?