Flying (with) dogs. How to book a flight for you and your dog!
Today, the 23rd of June, is "Take your dog to work day." If only I had left a memo in the canteen to make all my colleagues aware of this, I would have been holed up in a meeting room full of cute dogs by now. Best day ever. Of course, for KLM it's "Take your dog on board day" every day, as we transport them daily in the cabin, in the hold, or via Cargo. Through our service channels, I noticed that passengers still have quite a few questions about travelling with their furry friends. So let's sniff around and dive into the world of flying (with) dogs!
PETC! What? Pet in cabin!
When you request to have your dog accompany you in the cabin, your booking will show you requested a PETC: a pet in cabin. Bark Obama can travel in a soft bag of 46 x 28 x 24 cm (length x width x height) maximum or a hard kennel of 46 x 28 x 20 cm maximum, which must be placed under your seat. Nobody likes the odour of wet dog, so make sure they smell nice and fresh. Your dog and bag or kennel may not weigh more than 8 kg in total. Although I can imagine you might want little Brad Sit to sit on your lap, this is not an option, just as exit rows or bulkhead seats are not possible. Also, our A330, B777, B747 and B787 World Business Class seats don't have space under the seat. So if you want your doggie with you in the cabin, enjoy the comforts of Economy.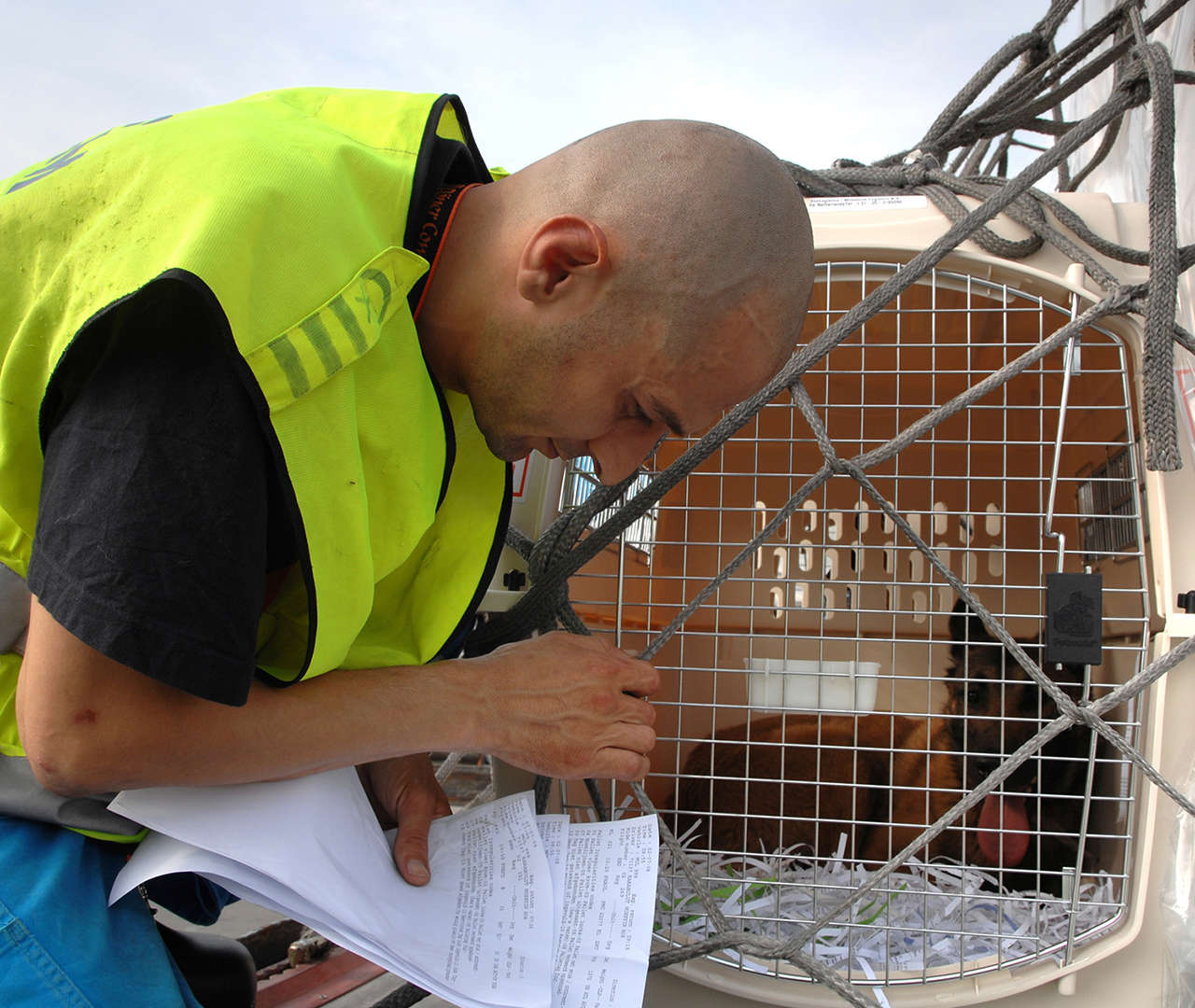 Hold up! AVIH?
If L.L. Drool J. is a bit bigger (but not heavier than 75 kg, including the kennel), you can request an AVIH, which stands for Animal Vivant in Hold. Did you know we transport about 75% of all animals in the hold? You can even bring three of them as check-in baggage. Cute pups can't be younger than ten weeks old. All animals are kept in a special section in the hold, which is heated especially for them. Important: The kennel must comply with quite a few rules. For example, leashes or muzzles can't be in the kennel they're travelling in.  See the checklist below.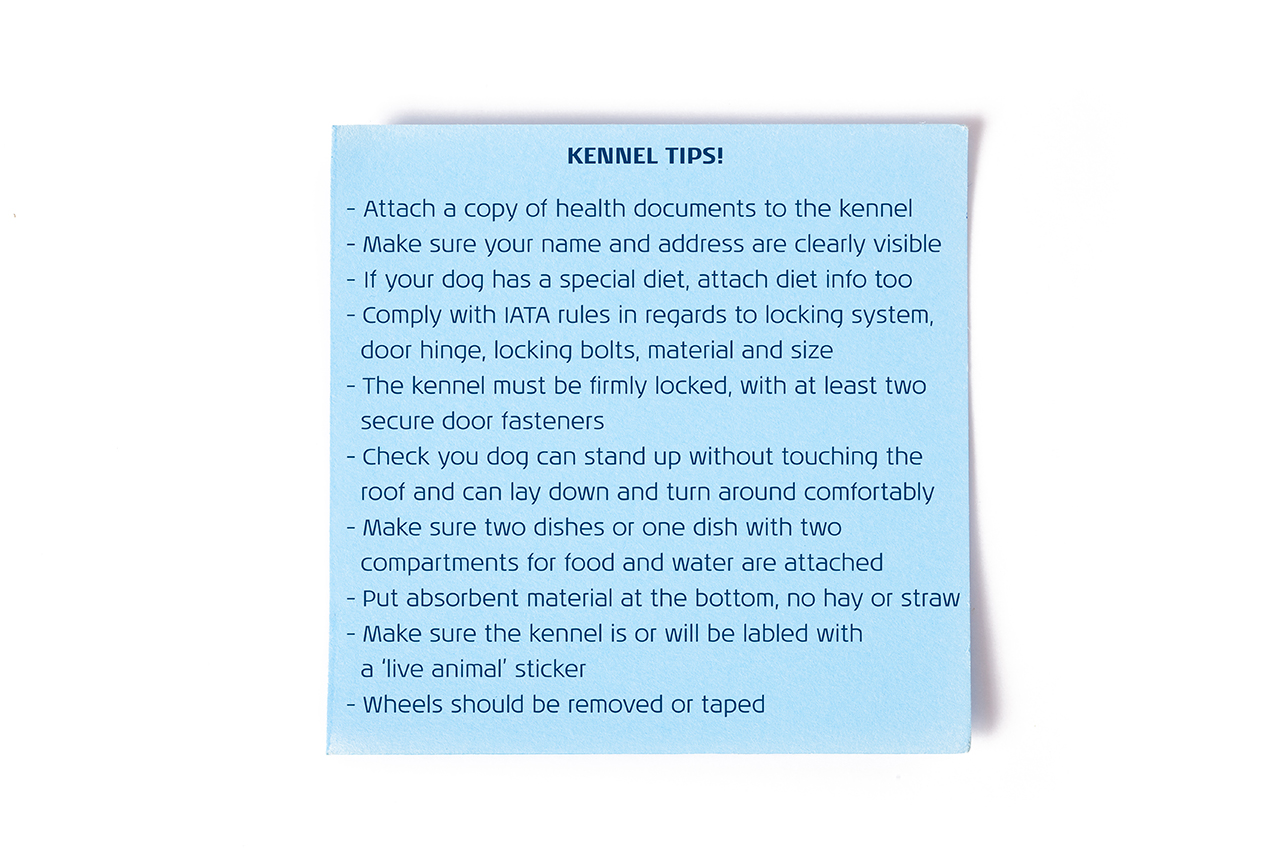 Em-BARK-o so maybe cargo?
Is your massive Irish wolfhound heavier than 75 kilos? Or are you not travelling on the same flight? Good thing we've got Cargo! You can arrange for J.K. Growling to be transported with a specialised cargo agent on the AIR FRANCE-KLM cargo website. Not all dogs (in cabin or in hold) can travel on all routes, planes, or code shares. Please check the embargo list below as sometimes Cargo is the only way to go. Also, most snub-nosed animals can have trouble breathing during the flight due to high temperatures or stress. So dogs like snub-nosed boxers, Pekinese, and most types of bulldogs may only be transported in the cabin or as cargo. Unfortunately, we don't transport English and French bulldogs, Boston terriers and pugs in the hold or as cargo at all. Please contact us to check what the best way to transport your dog is!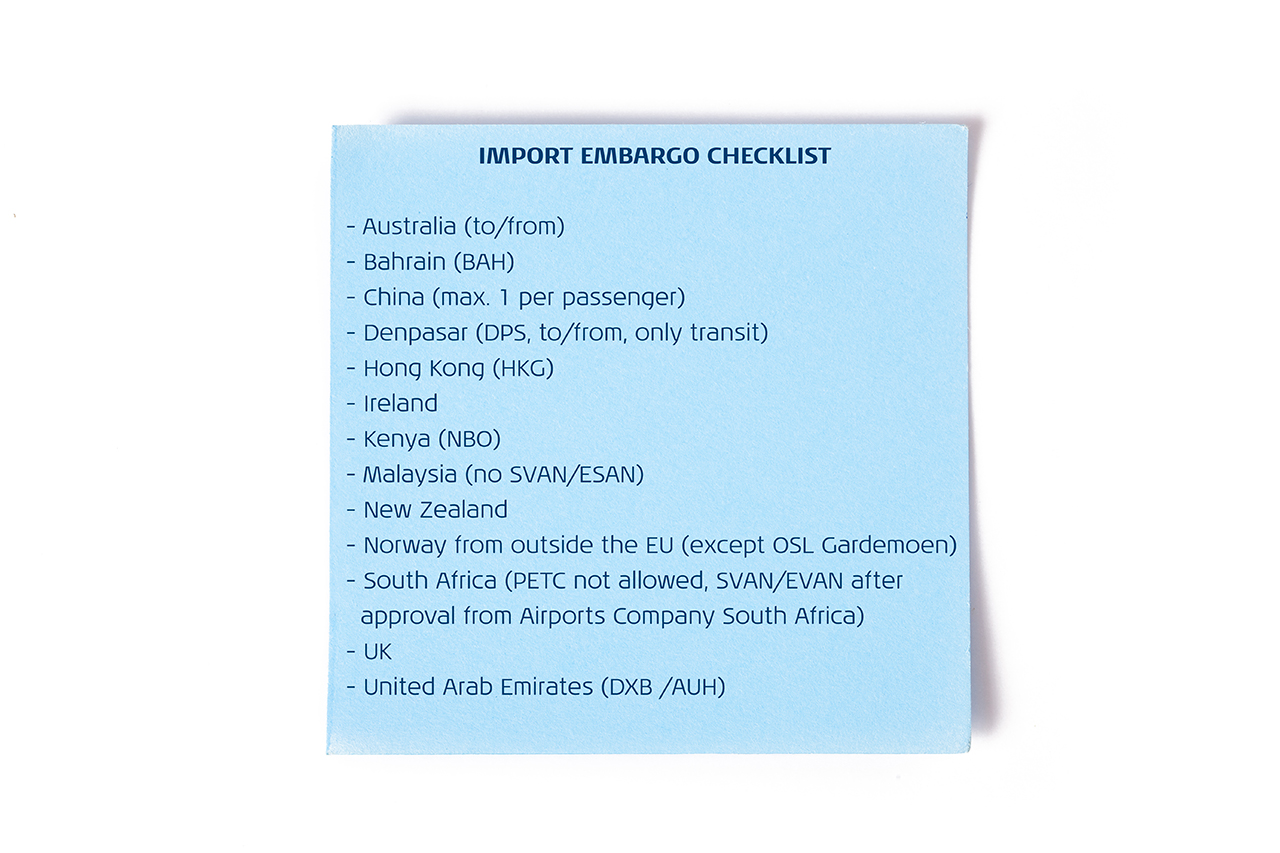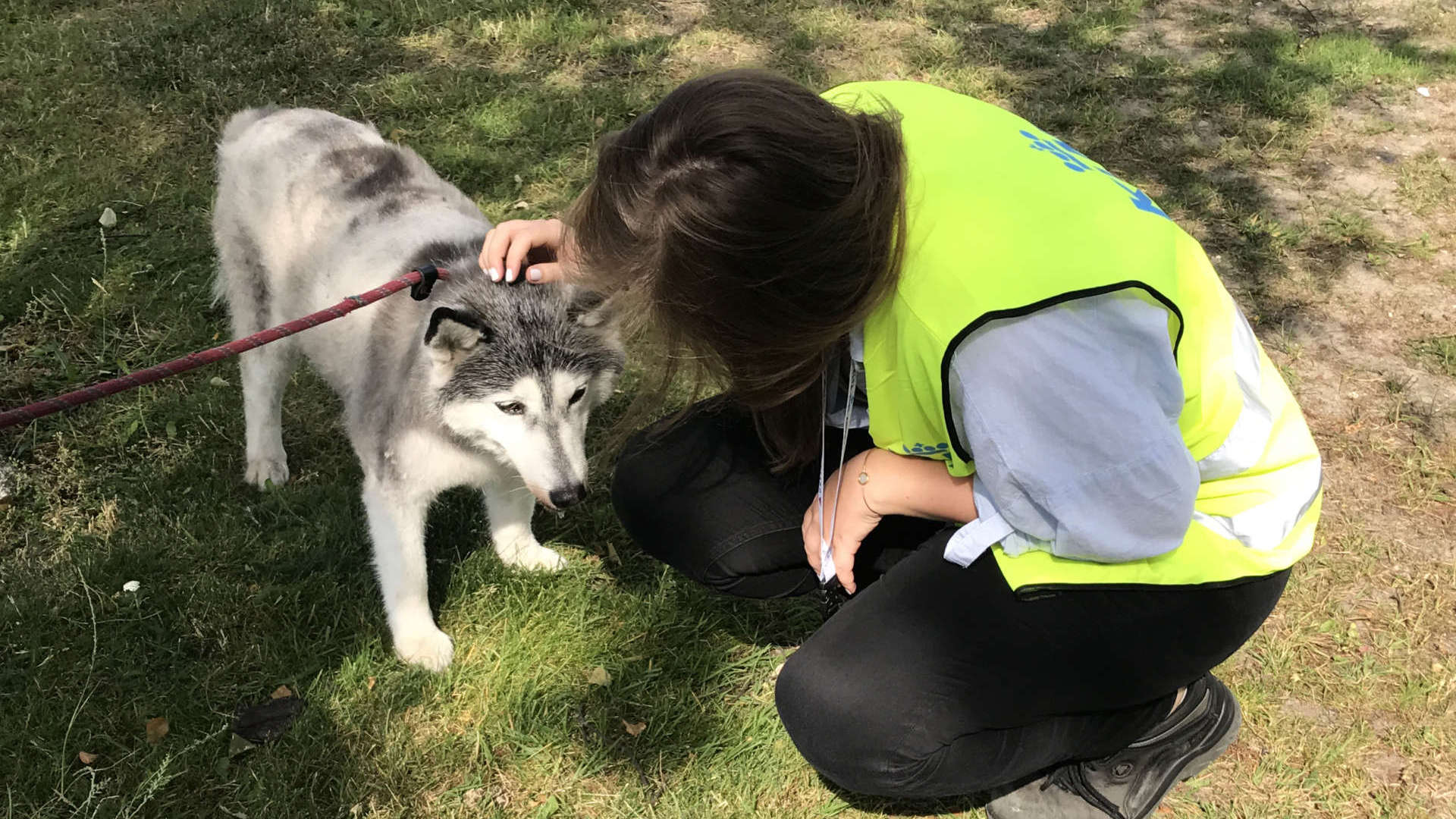 We do like SVANs
I'm not talking about the elegant white bird. A SVAN is a service animal such as hearing, seeing eye, seizure alert, and social dogs. All of these certified and individually trained guide dogs can be taken in the cabin free of charge. Bear in mind, you cannot be seated at an exit seat or bring another PETC. There's no need for a kennel as long as your service dog is harnessed and secured. Did you know that Air France also allows trained monkeys? Hide your bananas.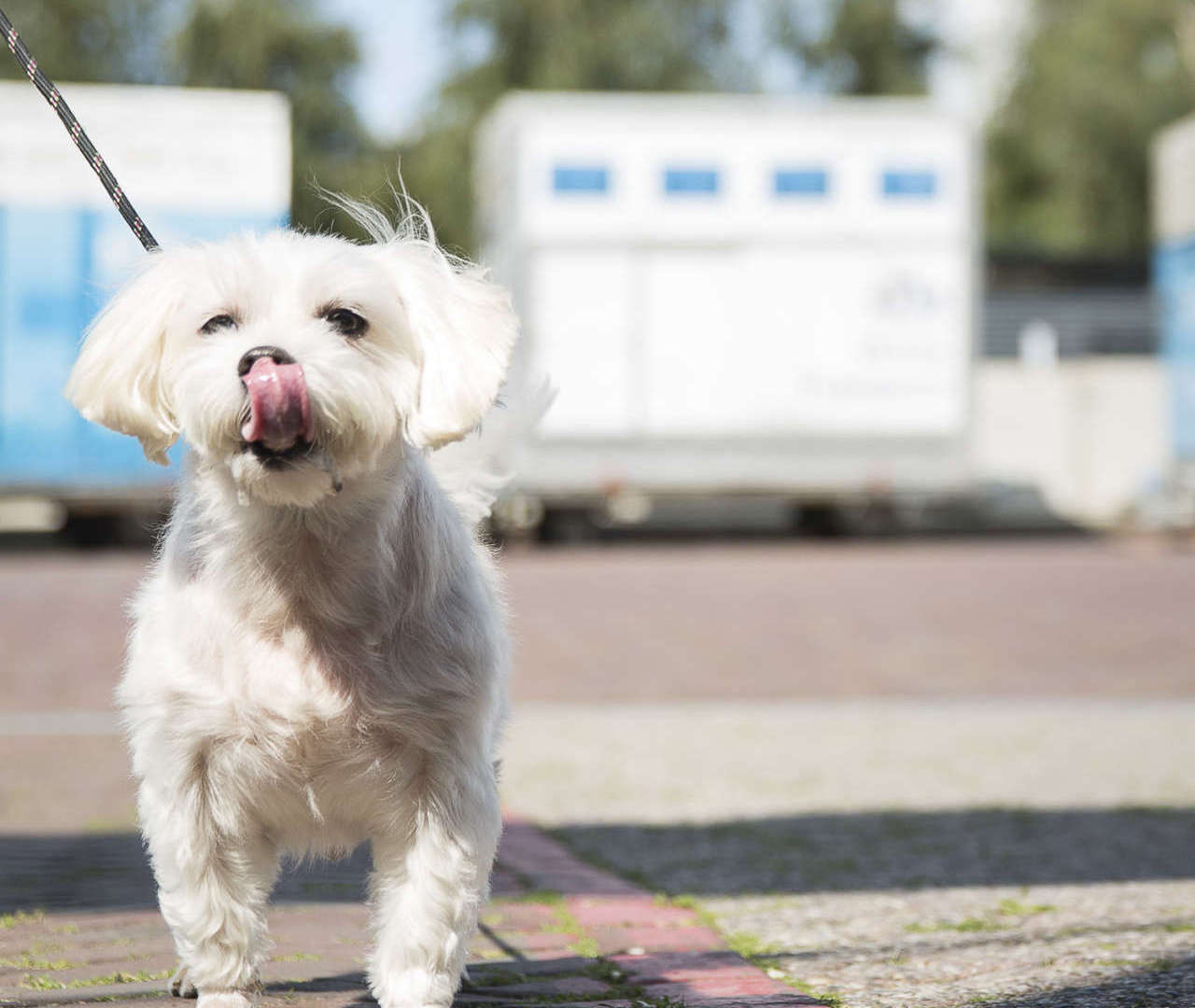 ESAN: Emotional Support
Besides SVAN, there's also the ESAN: an emotional support animal or so-called buddy or therapy dog. ESAN's are also free of charge, but to be able to bring Pawtrick Stewart, a certificate that is not more than one year old bearing the letterhead of a mental health professional is required. You need airline approval and an application form via KLM Cares. Airline approval is also needed for rescue dogs "on a mission" that accompany rescue teams with the recovery of victims and for all types of military, police, border protection, custom, and fire dogs travelling in hold.
Pet paradise, the Animal Hotel!
Did you know that ninety percent of our dogs visit our amazing Animal Hotel? I went there to see our team walk the dogs, give them food and water, and check the kennels. I also walked this cute and super friendly dog called Taffy, who was on her way from Budapest to Vancouver. So fluffy! Just like Taffy, your dog can stay in the Animal Hotel if you have a transfer of two hours or more. You have to pay a flat fee of EUR 150 (or USD/CAD 200) for the hotel and the costs of transport of your dog depend on your itinerary. Besides all the dogs, the hotel is full with other animals that your doggie can make friends with including loads of cats, horses, and ducklings. Cute!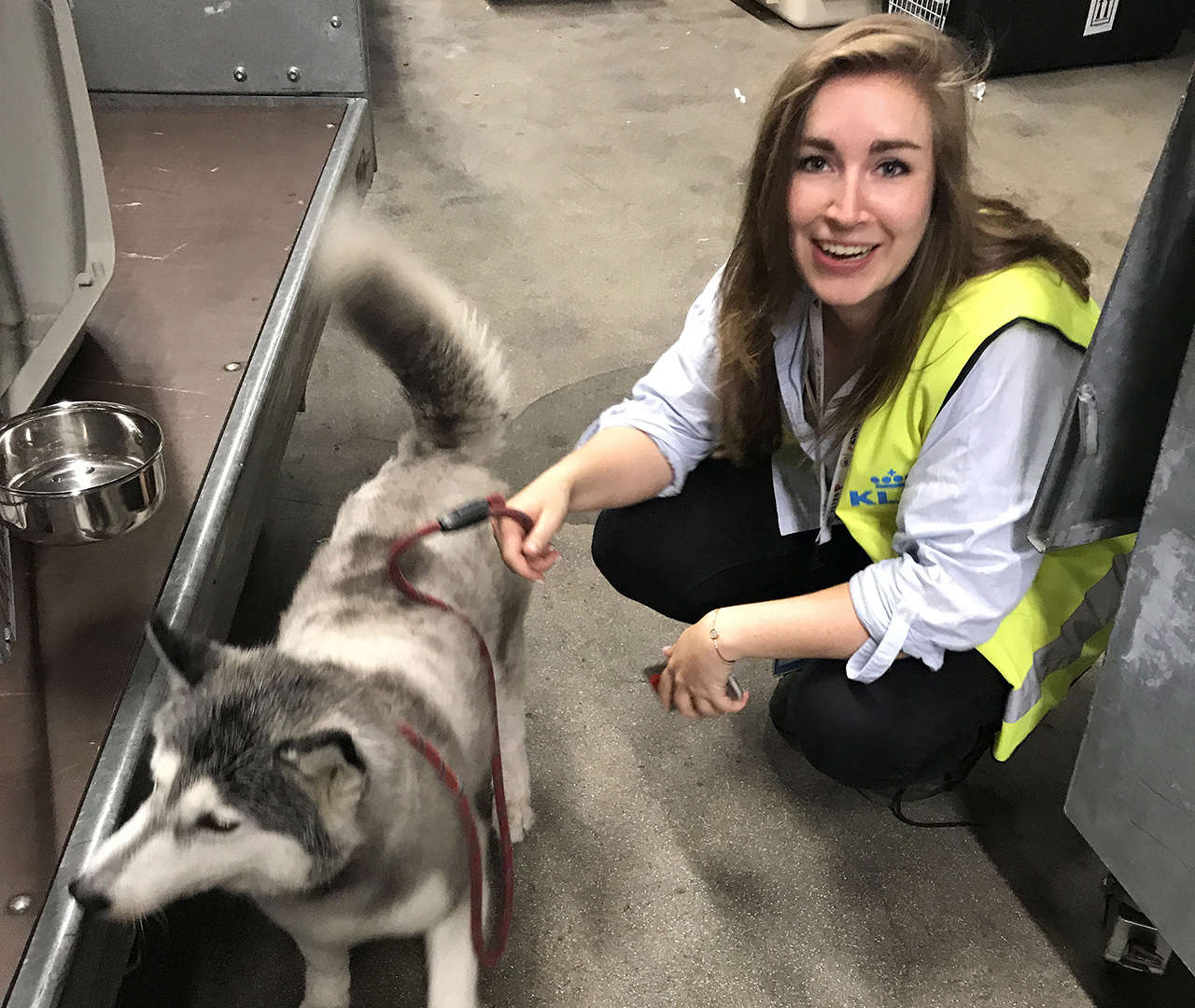 Booking your dog
So, how do you book all this? Easy-peasy. We Can Help 24/7! Just get online and contact us via social media and share your name, booking code (privately, of course), breed of dog, size and weight of kennel/bag and the weight of your dog. You can always call our KLM Service Centre or KLM Cares, too. Our special reservations department will then check availability and you can keep track of the status of your request in MyTrip. Please do this at least 48 hours before your flight or Snarls Barkley might have to stay at home. On the day of your flight, we advise that you be at the airport three hours before your scheduled departure time. And then…
Your dog is ready for departure!
Basically, dogs are the best thing on earth. I totally understand why you would want to take them with you on board. I hope this blog has taken away some of your doubts or questions. In addition to all this information, you will of course need some more preparation, such as the correct travel documents and the required vaccines. Here's a handy checklist. Also, always check our travelling with pets page! We can always help you with your questions by phone or via Facebook and Twitter, too. Maybe share some photos of you and your flying dog with me too? Paws up!