Flying With The High-Flyers
Flying so low over the island of Ameland, you could almost touch it. Smiling faces pressed against cabin windows. Models of Boeing 737s flying above the seats in the clutches of small hands. This was a special flight carrying 59 seriously ill and disabled children, who don't usually get a chance to fly. The 90-minute flight over the Netherlands in a Boeing 737 was organised by the Hoogvliegers (High-Flyers) Foundation.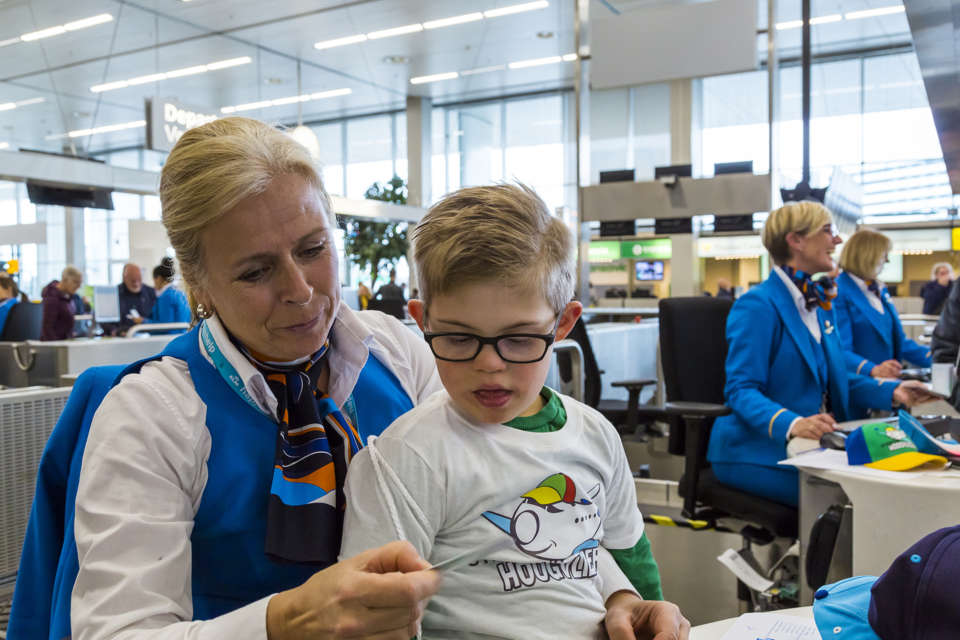 Photo by Andres Bolkenbaas
Joy at the check-in desks
Even as I checked in I got a taste of the joy and excitement around me. The kind ground stewardesses and stewards chatted with every child and gave them a lovely rainbow-coloured hat, put armbands around their wrists, and even allowed some of the children to look into the check-in system. "Now you can be a stewardess too!" a kid was told. The happy little laugh this elicited said it all. Meanwhile, every child in the line was given a lovely Hoogvliegers rucksack and T-shirt, which they were allowed to put on straight away. T-shirts were enthusiastically pulled over jackets and rucksacks, requiring a little help when shirts and rucksacks got into a tussle with each other on a kid's back.
Bluey for president
"It's Bluey!" a delighted voice exclaimed behind me. When I look around I saw the little blue aircraft standing there. Everyone got to dance, cuddle and high-five with Bluey. One little boy didn't want to let him go. I don't think Bluey has ever had so many hugs. If only the little plane could fly in the real one. Another real-live hero was radio DJ Coen Swijnenburg, ambassador for Hoogvliegers. The children eagerly took selfies with him and Radio 2 presenter, Wouter van der Goes. I even spotted autographs on one or two of the rucksacks. If I wasn't already over the age-limit for asking for autographs, I would have done it too.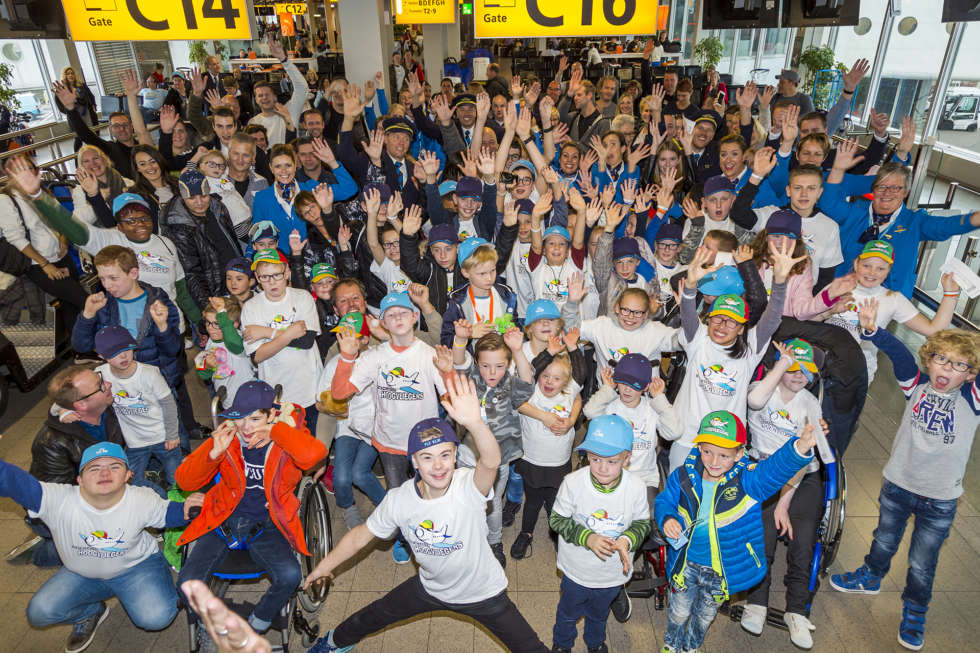 Photo by Andres Bolkenbaas
A group photo was taken at the gate and then the party truly began. Everyone was taken to the aircraft. While we were waiting I had a chat with Sil. He has Down's Syndrome, but has already flown many times, including to Scotland and Bonaire! He and his big brother were really looking forward to the flight. They'd hoped to be able to wave to their grandparents in Gemert, but unfortunately the flight wasn't going that way anymore.
As we taxied to the runway, Captain Michael, who'd come along as extra crew, got the whole cabin to do a Mexican wave. The tone was set. This flight was going to be a party! The aircraft flew over Almere to Groningen and then around Schiermonnikoog, over Ameland and back to land at Schiphol.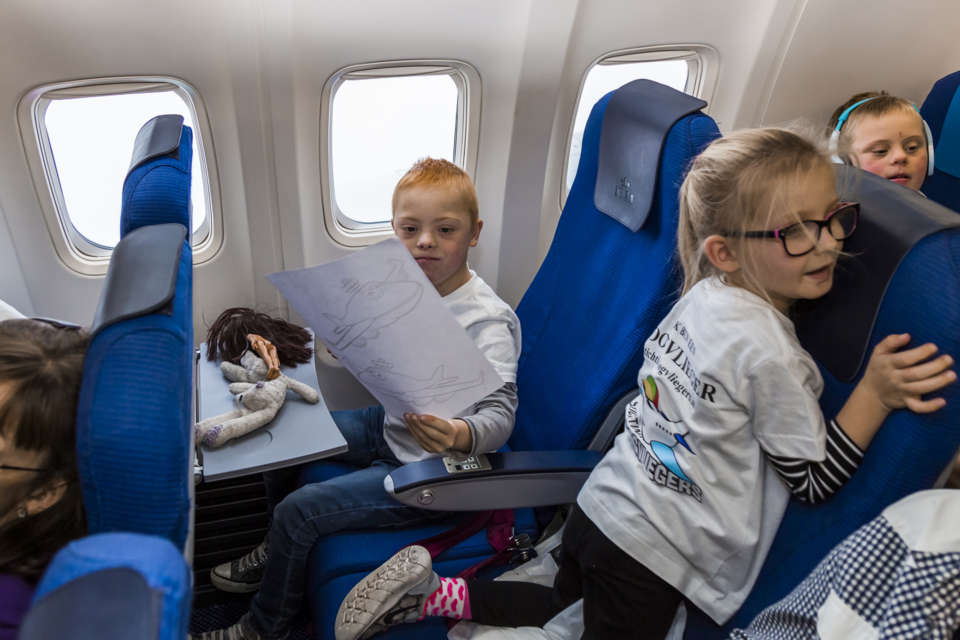 Photo by Andres Bolkenbaas
Steven Spielberg in seat 22A
Tygo, sitting next to me with his father, filmed everything. He had never flown before and, according to his father, it was a test flight for the future. Tygo secretly filmed our conversation. He filmed everything – taking off, flying, landing – to show to his mother back home. Tygo has a tube in his throat following an operation. Doctors had said that this would enormously limit his ability to speak. But, his father quietly confided, the little lad's doing so well they sometimes wish they could turn him off.
Across the aisle is Jayden. His little brother and mother are sitting behind me. Jayden is holding on to a colouring picture with a blissful look on his face. On his table are stickers, a model Boeing 737, and a bag of sweets the cabin crew were handing out.
At the end of the trip, the children disembarked feeling thoroughly spoiled and content. Those who had enough energy leftover were allowed to have their picture taken in the cockpit. For a brief moment, they were able to feel like real pilots. Dreams that came true.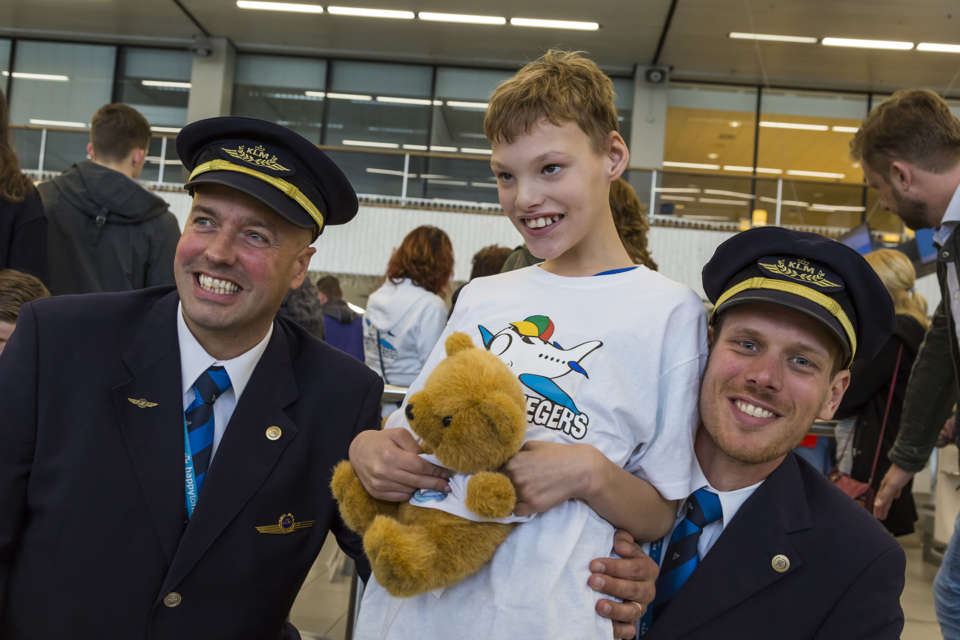 Photo by Andres Bolkenbaas