The immense popularity of KLM Surprise, a campaign that saw KLM treating passengers to personalised gifts, got me thinking about ways we could do something similar for our passengers on a permanent basis. "Social gifting" is a concept that was highly popular for some time and entails giving each other gifts with the aid of social media.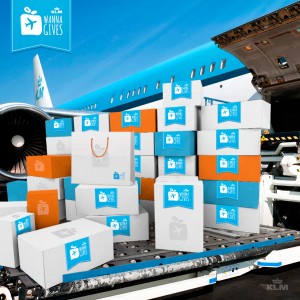 I liked the idea. We wanted to give a little extra to our passengers, but I also thought it might be interesting to see how we can help people do something special for each other. During this period, my brother-in-law and his wife went on their honeymoon and flew KLM. I wanted to treat them to something special and asked a colleague at the Social Media Hub if the crew could surprise them with a glass of champagne. My colleague informed me that we often get requests like this via social media: "Can you help me surprise a friend/relative with a gift or personal greeting during the flight?"
Ideal gift items
This got me thinking harder and I ultimately concluded that this is what we need to facilitate. Wouldn't it be great to receive a gift from a friend or relative at an altitude of 10 kilometres? Especially if it was presented by our cabin crew. And so KLM Wannagives was born. Our existing KLM webshop – shop@KLM – already offered a broader range of items. We have selected the ideal gift items, such as a bottle of champagne, for our Wannagives range. And I felt it was important that the giver could add a personal message to the gift, making it even more special.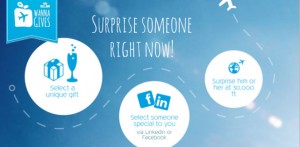 Facebook teasers
KLM Wannagives is up and running. If you want to surprise a friend via Wannagives, you'll find a wide range of gifts on wannagives.klm.com, including chocolates, perfumes and watches. You can select a friend by logging in via Facebook or LinkedIn, but you can also make a purchase without using social media. Logging in via Facebook and LinkedIn offers additional options, such as sending a teaser message or a free E-card featuring a KLM vintage photo. Another advantage of logging in via social media is that friends' birthdays are listed. Once you've selected a gift, you can decide whether you want to have it delivered during the flight or to their home, which is an option we offer worldwide!
Journeys of Inspiration
If you want to surprise someone on board, all you have to do is fill in the passenger's name and the date of their flight or their flight number. We will ensure that the gift is taken along on board. The crew will be notified and the passenger will be surprised with their gift at an appropriate moment.
Wannagives is not only a great new service for passengers, but is also fun for the crew who get to hand over the gift.
We believe that Wannagives will make our passengers' journey even more pleasant. This new service echoes our Journeys of Inspiration campaign. The strength of Wanniagives lies not in the fact that we give something extra to our customers, but that we enable people to give each other something special.