Joost Luiten, top Dutch golfer and winner of the KLM Open 2013, will be blogging in the run up to the KLM Open 2014. He will write about the preparations and his role as title defender and ambassador for the sport.
Rich Kid's Sport
Golf used to be a sport for the wealthy, but that hasn't been true for a long time. Of course, you still have traditional clubs where membership costs a fortune, but there are now plenty of clubs which are accessible and friendly. You don't even have to be a member of many clubs to be allowed to knock a ball around. You can simply pay by the day, which works out no more expensive than many other sports.
A lot of schools introduce young people to the sport by arranging special courses to give them a chance to practice on a golf course. They soon find out it's not boring at all. There is so much involved – loads of technique, mental development, and it's really exciting and relaxing at the same time.
Start young…
As with many sports, the sooner you begin the better you get. And the more time you spend training, the more you gain. If you look at it technically, the golf swing is a really unnatural movement, so you need to have lessons to learn it from the start. You'll soon find out that you miss nine shots out of ten. It requires a huge amount of concentration, particularly because golf isn't a reaction sport. In football or tennis you react to the ball, you have almost no time to think. Golf is different. The ball is still and you have to think about how hard and where you are going to hit it. You only have to change the position of your blade by a millimetre for it to change where the ball ends up over a distance of 40 to 50 metres.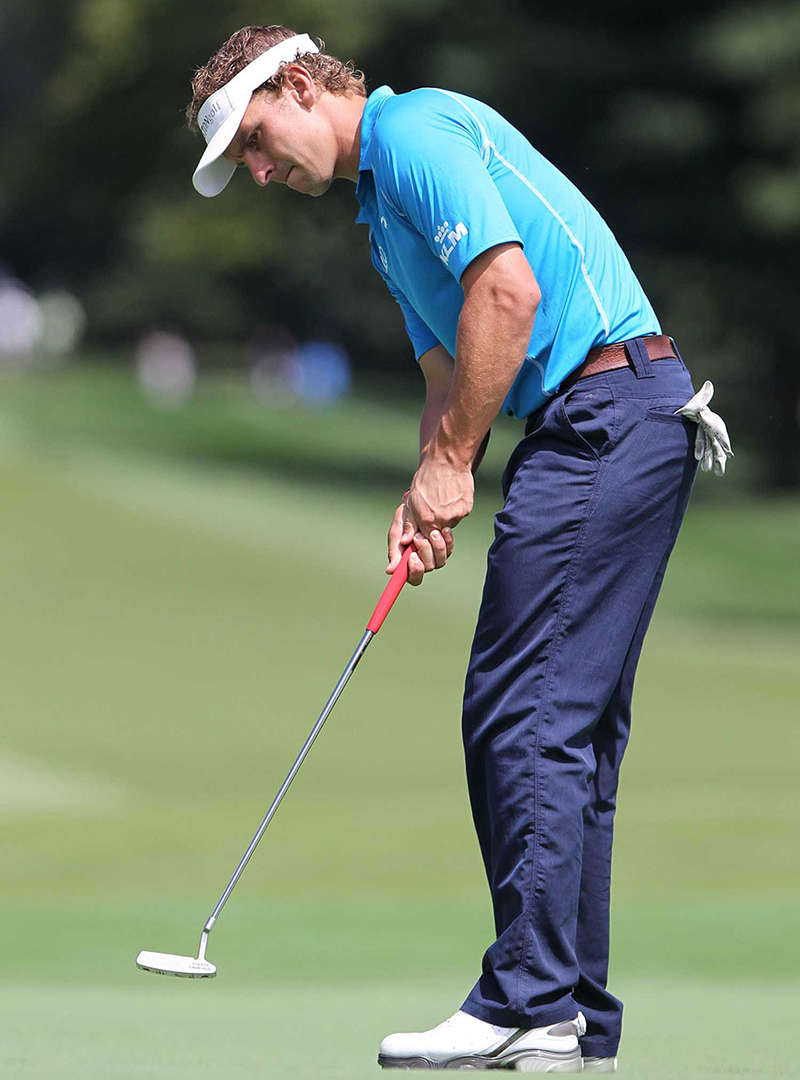 Career as a ski jumper
I started playing golf at the age of three, because my uncle was a golfer and I often went along with him. But I played football too, and I liked table tennis and ski jumping. When I was 10 I broke my elbow ski jumping and dropped that sport. I carried on with football and golf. At around 15 I had to make a choice. I played so many golf tournaments at weekends, I could hardly ever play in the football matches. So I got moved from the first team to the second and that, of course, was too much for my pride. I chose golf because I enjoyed it more and I came to realise that I am more an individual player than a team player. If you play on your own you can't blame anyone else when it goes wrong. It's just you and your stroke.
Strongest at 34
One tournament goes better than another. One day goes better than another. It depends on so many factors. Weather, opponents, type of course, whether you like the ground. The Official World Golf Rankings are the expression of how good you are. At 28 I am in the top 50 and that's good, though I would like to be higher. In 2009 I injured my wrist and that held back my development by six months. The lads I played with then are now higher than me. But I'm still young, I still have time to get my revenge. On average, golfers are in their prime at around 34. That's when you reach the ultimate combination of experience and mental fitness. But it's still tough. A tournament lasts four days, 156 players take part and you have to beat all of them everyday. If you manage to win just one tournament a year you are having a great career. You play about 25 to 30 tournaments a year and an average is taken over two years to decide your ranking. I want to make the top 20 as soon as possible. The highest achievement is taking part in the Ryder Cup in Scotland. That's where the best 12 European players play the best 12 American players. The atmosphere is amazing! Usually you play on your own against the others, but in this tournament you really do play in two teams: Europeans versus Americans. 50,000 people go to watch everyday.
Ambassador for Golf
I am trying to put the Netherlands on the golfing map by playing as well as I possibly can. Golf is huge worldwide. In America it's the most important sport after basketball, baseball, American football and ice hockey. America is very sports-minded and a lot of air time is dedicated to it – golf even has its own TV channel. In the Netherlands golf is less well known. If I and other Dutch players take part in important golf tournaments, TV won't be able to avoid us. More people will then come into contact with the sport and come to understand and appreciate it. Golf will be an Olympic sport from 2016, so that will definitely help. People watch sports during the Olympics they would normally never see and that could be enough to light the flame of enthusiasm for this fantastic and multifaceted sport.
In my next blog I will take you along to the preparations for the KLM Open.