'Have You Found My Dad's Dentures?'
Not sure if you can bring your selfiestick / PS4 / baby lizard or knitting needles on board? Or have you lost your teeth? (I hate when that happens.) Just hit us up via Facebook, Twitter or LinkedIn and we will do our best to help you out. Let's have a look at some of the weirdest and most frequently asked questions I come across daily!
Hand baggage can be tricky, so passengers often ask us if certain items are allowed in the cabin or not. Let's get some of the most frequently asked out of the way. Flowers? Lovely, no problem! Cigarettes? Okay, but keep the country's import restrictions in mind (same for the flowers). Knitting or crochet needles? Nope, they're pointy. Selfiestick? No, you have to use your hands for those cabin selfies. (Hands? What?) Straightening iron or hair dryer? Sure, just don't use them. Just like you can't touch your artificial cigarette, which can be transported in hand baggage only (keep in mind the liquid restriction too). Parakeet Frankie? Sorry Frankie, no can do.

Furry requests
No matter how cute your rabbit, snake, guinea pig, Frankie or ferret, only dogs and cats may travel with you in the cabin or hold (and service animals of course, like a social monkey!). Luckily, toy animals are a totally different story. Passenger James had quite a brilliant request: could he bring a 150 cm tall plush giraffe, which he described as "a most successful but otherwise highly impractical Valentine's gift" for his girlfriend? Luckily for James, Valérien (the giraffe's name, although we baptized it Siegfried) could come with the couple. As James was allowed two pieces of check-in baggage for his destination, plastic wrapped Valérien could come along instead of the second bag. Score! It's requests like these that make my job extra fun.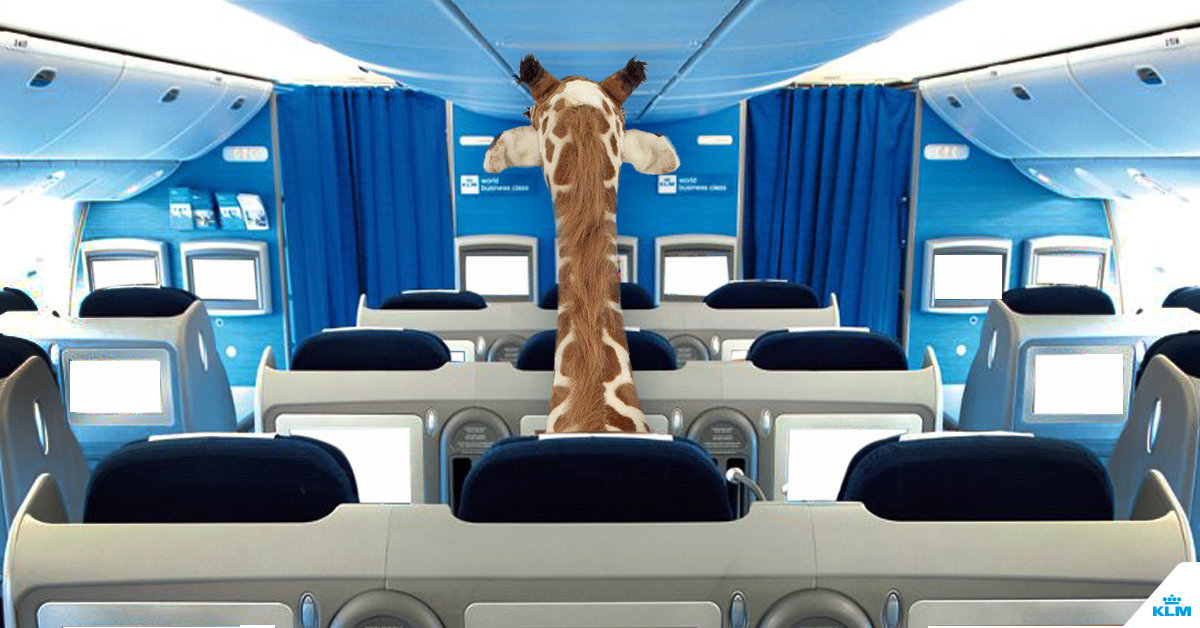 Herring in your hand luggage
Sometimes, you just have a mighty need for certain foods on board. Personally, I'd like a ridiculous amount of 'spekkoek' (Indonesian layered cake) while in the air. So it's not so weird that quite some passengers wonder if they can bring their own snacks or meals on board (no problem, especially in case of allergies) or delicatessen like blue cheese (yes, if well packed and not too smelly). Oh and don't hesitate to share either, we Dutchies do love our cheese you know. As always, there are exceptions and you have to keep the liquid restrictions in mind (max 100 ml/ 3.4 oz). Please make sure the country you're travelling to is also a cheese fan. Not all countries allow you to bring agricultural or animal produce in, so always check with customs or the local embassy to be sure you can Instragram your plate of imported food later. Don't get too crazy either, asking if you can bring a whole bucket of frozen herring in your handbag is overdoing it. Seriously.
Have you found my dad's teeth?
To finish up, I'd like to share a few of the somewhat more unusual and/or cute requests I came across so far. I want to thank these passengers for bringing a smile to my face. And if anyone has a burning question, you know how to reach me and my ridiculously talented colleagues of the Social Media Team. Cheers!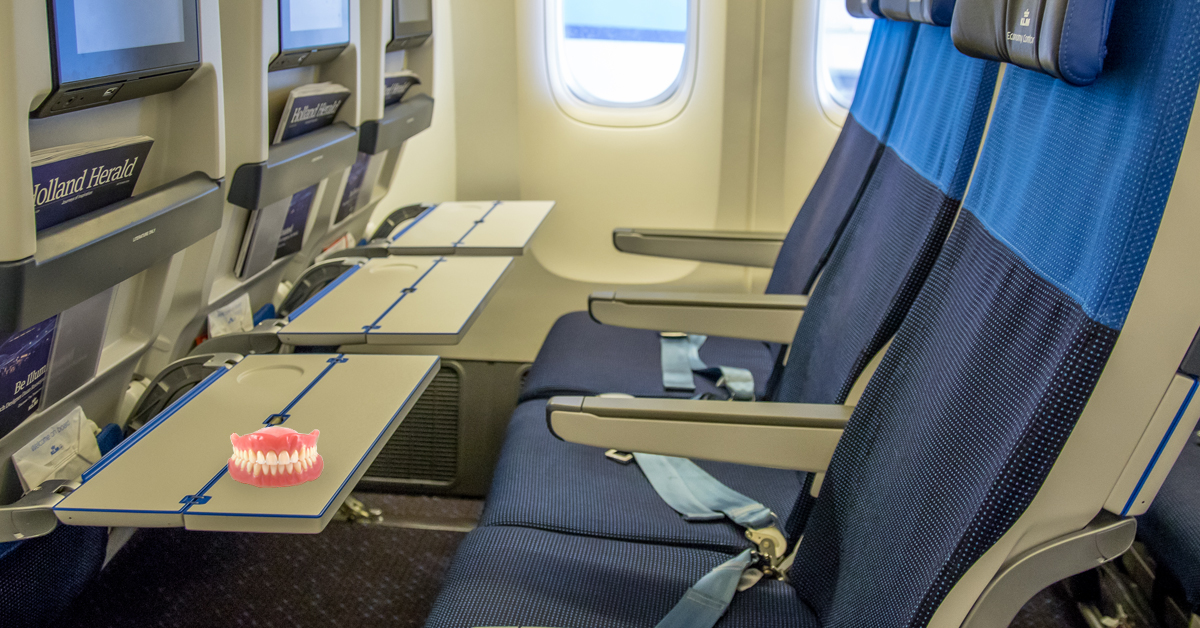 On a flight from Bristol to Munich with a connecting flight in Amsterdam on the 4th of August my father lost his dentures on either of the flights! Maybe you have found something, which would be great!
Excuse me, can I bring tea bag on plane?
Hi I need to bring a baby lizard from Amsterdam to UK do you allow this cheers.
Maybe a bit of a weird question but can I bring my pencil sharpener to San Francisco?
My 3-year old son's Rhinoceros slept with him on the floor in front of our seats and we forgot to wake her!! Do you have any idea where she might be?
Hi, I have a weird request. Could you calculate the cheapest trip that will get me 9000 miles, before 31 December, Tel Aviv to anywhere? I don't mind where, Europe, Americas, all's good!
Can I bring vacuum sealed smoked sausages in my hand baggage?
Please can I ask if KLM Flight from Dubai to Amsterdam offer passengers in Business Class sleepwear to change in to?
Sounds crazy, but may I bring my saw in my luggage? Going to Mexico. Thx. :)
– Renée –
P.S. Unfortunately for father and crew, the dentures were never found…
If you like this, you might also be interested in this funny questions blog.