Hitting The Airwaves: 9 Performances At 30,000 Feet!
Sometimes you get the perfect mix of ingredients: a merry crew, enthusiastic passengers, a good vibe and talent on board. Since the early days, quite a few musicians and other artists have treated KLM passengers to a spontaneous performance on board. So let's have a look at (and listen to!) some of those performances at 30,000 feet!
1. Oh Happy Day!
It's no secret that our crew enjoys a good celebration. They sometimes even serenade our passengers themselves with a lovely rendition of 'Happy Birthday'. We regularly get messages to thank the crew for their singing efforts.
Maybe 'a great singing voice' should be a new requirement for cabin crew? While we're waiting for this to happen, we can enjoy the mega-talented people on board, who do a perfect job. The Virginia State University Gospel Chorale, for instance, who gave an impromptu New Year's Eve performance of the gospel classic "Oh Happy Day" on their flight to Washington DC. Superb!
2. The world's first "flight-in-show"
"Birds and dudes, welcome aboard flight KL 538 to The Big Apple. Sit back, relax and enjoy seven hours of groovy tunes! Our DJs will bring you the coolest beats of the '60s and '70s. Far out! Come join us in the lounge of this Boeing 747 and get ready to boogie! We wish you a funky flight!" We quietly hope this was the announcement 400 passengers heard in 1973, when they took off to New York from Amsterdam together with DJs from Radio Veronica, who entertained them with the world's first "flight-in-show".

Photo copyright: Hans Becker
3. Fly2Miami aboard a private dance jet
The 1973 "flight-in show" was a great success. In 2011, 38 years on, a group of Dutch DJs gave a repeat performance with the FLY2MIAMI initiative, which you may have read about in this blog. The "private dance jet" gig was initiated by a Dutch DJ and a filmmaker. KLM set the following challenge: if they could fill the plane, we would operate a special flight. And they did it. In just 5 hours! Six days before the Amsterdam-Miami route reopened, an MD-11 full of party animals and denizens of the dance industry took off, right on time to enjoy the great dance events that were about to take place in Miami. In short, it was a blast! It's hard to imagine that this amazing in-flight party all began with a single tweet!
4. In-cabin concerto in D minor
Although you can enjoy more than 1,000 hours of interactive entertainment on all our intercontinental flights, sometimes the real deal is even better! And of course it's not only cool DJs and contemporary music that hit the airwaves on board. Viennese violinist Daniel Auner once brought his classic violin from 1709 on board a flight from Amsterdam to Sao Paulo. The crew couldn't resist and wanted to hear him play, and Daniel was happy to oblige. Cabin acoustics aren't great, of course, but we think Mozart would have been proud.
5. Mini concert aboard flight KL791
As if one violin wasn't enough, we actually flew a whole orchestra to Brazil aboard a Boeing 777-300! In 2013, the Royal Concertgebouw Orchestra celebrated its 125th anniversary with a world tour on six different continents. As the orchestras global partner, KLM transported all the musicians and their instruments. During the flight, the royal Dutch airline and orchestra teamed up to offer passengers a mini concert, including works by Mozart and Beethoven. The entire performance was filmed and it was a truly memorable experience for everyone on board. See for yourself!
6. A college choir singing their hearts out
Another amazing performance was that given by the Nordic Luther College Choir. On their flight from Chicago to Amsterdam, they sang their hearts out for the other passengers, performing a beautiful classical piece. The footage on Facebook is guaranteed to give you goosebumps!
7. Poetry on board
Last year, a passenger shared a touching story with us. Young poet Charlotte had been selected to recite a poem she had written for Dutch National Remembrance Day on 4 May. Unfortunately, she missed the memorial gathering in her hometown, because she was still on her way home aboard one of our planes. So, before the two minutes' silence, the crew asked her to share her beautiful poem "War and Peace" with other passengers via the PA system on board. A video of Charlotte reading her poem was shared with us on Facebook here. A truly beautiful performance.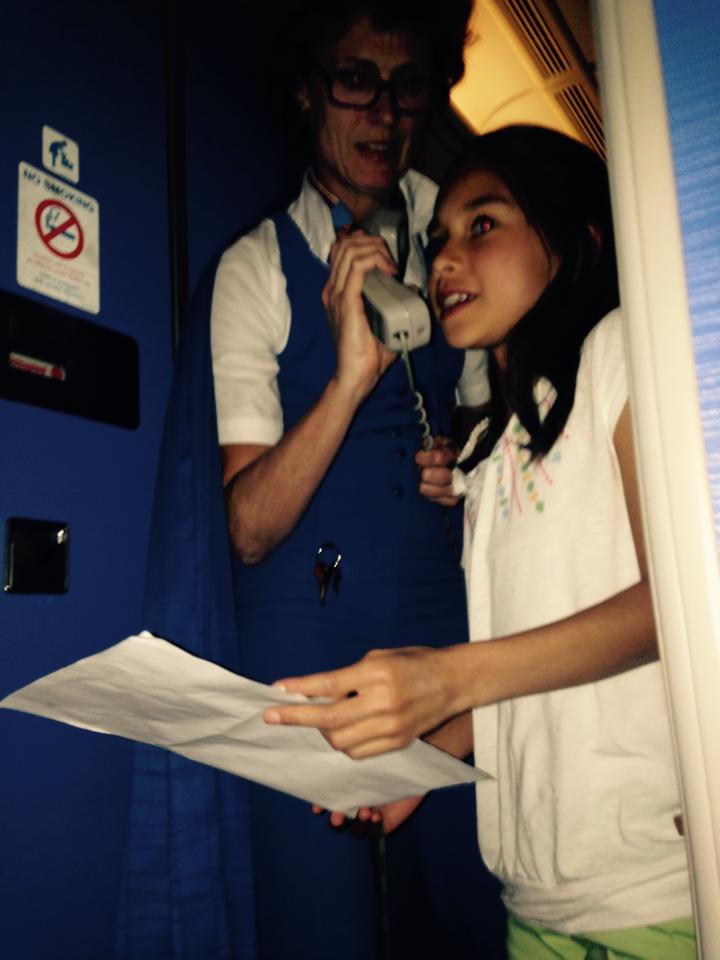 8. Little Liam
Maybe this little star called Liam could join our ranks later? He seemed more than willing to sing a nice tune on his flight from Amsterdam to Geneva. He'd be a cute addition, don't you think?
9. Mozart in the air
The Amsterdam Sinfonietta gives a spontaneous concert in a delayed KLM aircraft while waiting at Shanghai airport. The orchestra is the only professional string orchestra in the Netherlands. They perform throughout the world, so the passengers were lucky to get this treat. Sure made the delay a lot more fun!
Hopefully you enjoyed all these amazing performances. Please keep sharing them with us, as we truly enjoy these special moments! ♫ Hope to see you and your ukulele on board soon!
– Renée –