For those of you who are thinking, "Huh? Flying horse groom?" click here to read my first blog. In it I said a bit about what the job entails, what preparations are carried out before a flight, and how the horse containers are loaded into a Boeing 747. Now it's time for the take-off and landing of a "horse flight"! Enjoy!
There is a difference between an animal attendant and a flying horse groom. In my last blog I said the animal attendant is like the captain of the flying horse grooms. Flying horse grooms load the horses into the aircraft and travel with them. Animal attendants also work on the ground and are qualified to work with all animals; the two pandas KLM recently transported, for instance. An animal attendant always travels aboard a flight with a flying horse groom. The animal attendant is also ultimately responsible for the transportation of the animals.
The take-off
Once the horse containers have been loaded into the aircraft and the (often unsuspecting) passengers are safely in their seats just a few metres in front of the horses, the animal attendant requests permission from the captain to remain in the hold. Strictly speaking, we have to have permission from the captain of every flight to remain in the hold with the horses during take-off and landing. Before departure, the purser does the rounds through the hold. Everything is double-checked before take-off. The horses, three in a row, will often be chewing contentedly on their hay.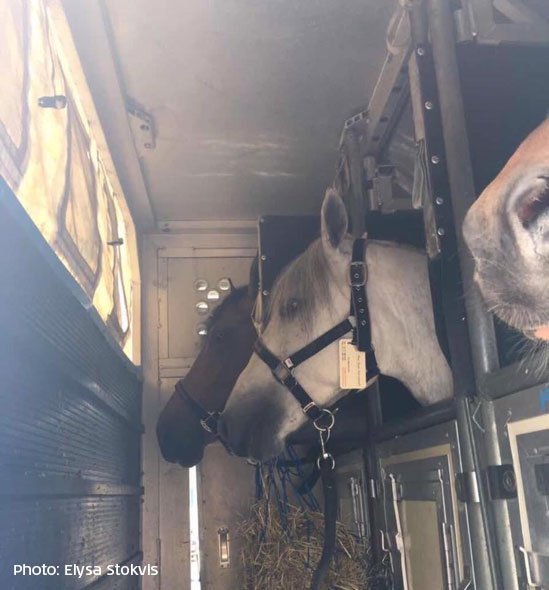 During taxiing, we spread out between the containers. The horses are positioned with their noses forward. We stand right with them inside the containers. It doesn't happen often but, if a horse does get frightened, we're then tactically placed to be able to calm them straight away. This way we can maintain an overview. It's also important that we are able to anticipate situations. In this job, as in so many others, an ounce of prevention is worth a pound of cure. Most horses look around curiously or just keep on eating. As long as we remain calm, the horses do too.
During the flight
It disturbs the horses if we walk around all the time. So, once we're at cruising altitude, we generally leave our noble friends alone. We can hear them if they get restless and we look in from time to time to see how they're doing and to make sure they have enough hay and water. It's not good to give them a lot of water at one go, so we give them a little and often. We're never alone in the cargo hold, but always with two people or more. That way we can always help each other.
Recently, I travelled in a horse trailer (ssshhh, don't tell anyone) just to experience what it's like for a horse. Believe it or not, an aircraft is much quieter and more stable for a horse than a trailer. An aircraft doesn't brake and accelerate all the time and doesn't go round as many bends as a trailer on a road. And air turbulence? It feels rather like driving over a rough road or a long series of speed bumps.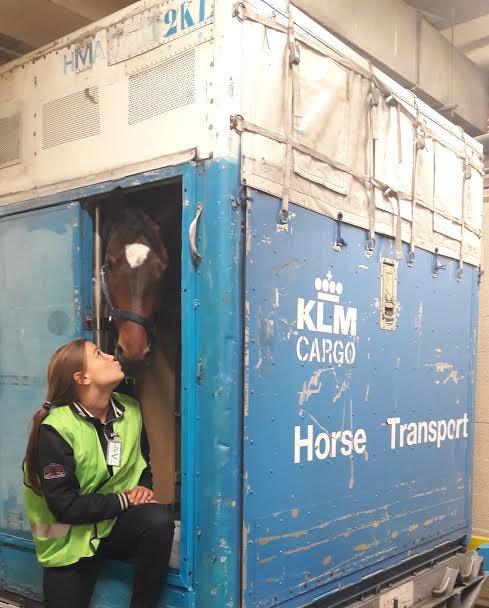 The landing
During landing we join them in their containers again. And we stay in the cargo hold after landing while the aircraft taxis – all in the interest of getting the horses ready for the next leg of their journey. The staff at the airport unload the horses.
Every flight is different. One time we might have 20 grey ponies travelling to South Korea, the next time nine trotters for China, or a couple of Friesian stallions heading for Mexico. We stay a while at the destination and return a couple of days later. If we have no horses to carry on the way back, we often fly home as passengers in the cabin.
Special experiences
I well remember one time when the horse owner was on board the flight. Before the flight, she was very worried that something would happen to her horse. Once we were aboard the flight, the roles appeared to switch. She spent the entire flight petrified and close to tears, so great was her fear of flying. Her horse, on the other hand, spent the flight munching away quite happily in the hold. The woman clutched my hand for some of the flight, while I looked in on her horse every now and then, who was perfectly fine. A tickle and a sprig of hay was enough to keep him happy. I had to laugh a little. The owner did too – later!
The most remarkable horse I ever accompanied was Legolas. The connoisseur will know him immediately. Legolas was the best-known and, at the time, the most expensive American dressage horse to compete in the Olympic Games.
To sum up
So, if you ever happen to fly with a KLM 747 Combi, there could be any number of things in the back: expensive cars, ostriches, or 20 horses. I promised to say something about the planned phasing out of the B747 Combi. It will happen, but we don't know when. Not for a couple of years at least. We will carry on transporting horses though, because we'll continue to operate full freighters to different destinations around the world.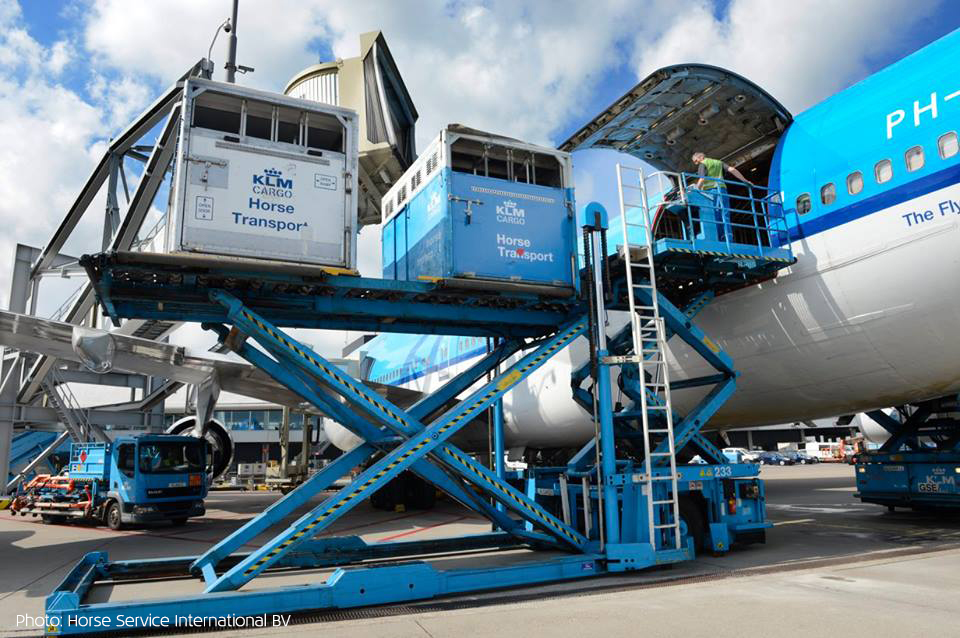 So, what will I ultimately do? I hope one day to be able to sit at the controls of an aircraft myself.
Besides flying with horses, I'm working on my bachelor degree, which is a long and hard journey as well. However, I'm going to work hard to fulfil my ambition. I can't imagine anything better than flying a Boeing myself. That's my real dream.
With each flight, I fall in love with flying all over again, my head – quite literally and figuratively – in the clouds. Flying has a special place in my heart. It's quite simply magical, time and again.