What New Year's Eve on board looks like
For cabin crew, having to work on some public holidays is part of the job. Aircraft take to the skies all over the world each and every day, including public holidays. Of course, most of us would prefer to be at home with our families celebrating special times, but it's part of the job and we know that our passengers on board feel much the same. You can get pretty lonely travelling solo during the festive season. This is how we make flying more fun during these special days:
1. We make the flight extra special
In our capacity as the crew, we try to make these moments extra special. It creates an exceptional atmosphere and puts a smile on many a face. When it's King's Day in the Netherlands, for example, we celebrate by serving an orange treat to passengers when they board.

2. Exceptional chats
I've had the most wonderful and valuable chats on board during public holidays, partly because travelling at such creates something of a bond. Some people live far from their loved ones and have to travel great distances to celebrate the festive season at home. I vividly recall one lady from Toronto, who was flying to the Netherlands on Christmas day because her first grandchild had been born. She was so happy and proud!

3. Special catering!
Being on board at New Year is actually a strange experience: because the hour comes unexpectedly, flying high over the ocean or a desert. On board, when flying through the dateline we'll have a special treat. Catering Services makes sure there's champagne on board for our passengers travelling on these flights. As the clock strikes 12, the purser (or captain) makes an announcement and cabin crew serve champagne, to raise a toast in celebration of the New Year. The crew sip an alcohol-free alternative of course, as we never drink while working on board. Raising a glass together is truly a special moment, because it's as if you're wishing everyone a New Year from your elevated position!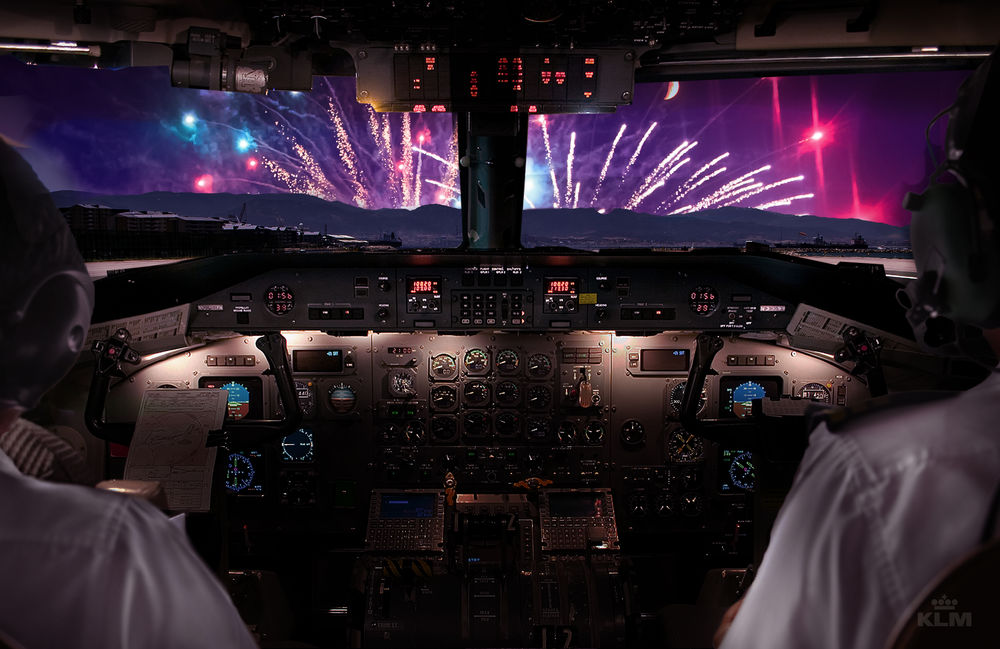 Even if you're not too keen on celebrating such occasions for personal reasons, it isn't a problem: you too are welcome on board.
It's especially nice to get home after such travels. Often I simply celebrate a belated Christmas Day or early New Year. Let's be honest, as long as you're surrounded by friends or family, it doesn't really matter which day you choose.
Did you know… That we sometimes surprise passengers on board on your birthday? If we get a heads-up before the flight, letting us know that certain passengers have something special to celebrate, such as their honeymoon, we always make an effort. Never miss the chance to tell us! Who knows, we may just put you in the spotlight.
Happy Holidays!