How Caruso the tiger flew to Johannesburg with KLM Cargo
Working as a social-media intern at KLM, you need to seize every opportunity that comes your way. So, when I heard that Caruso the tiger was travelling to Johannesburg, I decided to investigate immediately. It's not every day KLM transports tigers and it's my job finding out why and how exactly this is done.
Abandoned and forgotten
I'm not a huge fan of cats and cat-like creatures, as my family and friends will confirm, but Caruso's story made a huge impression on me. Caruso was born at a German safari park in 2006 and later sold to the circus where he grew up. He was just two years old when he ended up at a rescue centre in Friesland, the Netherlands. Things didn't really improve for him at the centre, where he spent years in confined, barren quarters.
In 2013, the rescue centre was taken over by the Dutch chapter of the international animal welfare organisation FOUR PAWS and was transformed into the FELIDA Big Cat Centre. Caruso wasn't in great shape at the time. Apart from the poor living conditions, he also had major dental problems, which caused him a lot of pain. In short, Caruso's life consisted mainly of pain, stress and boredom.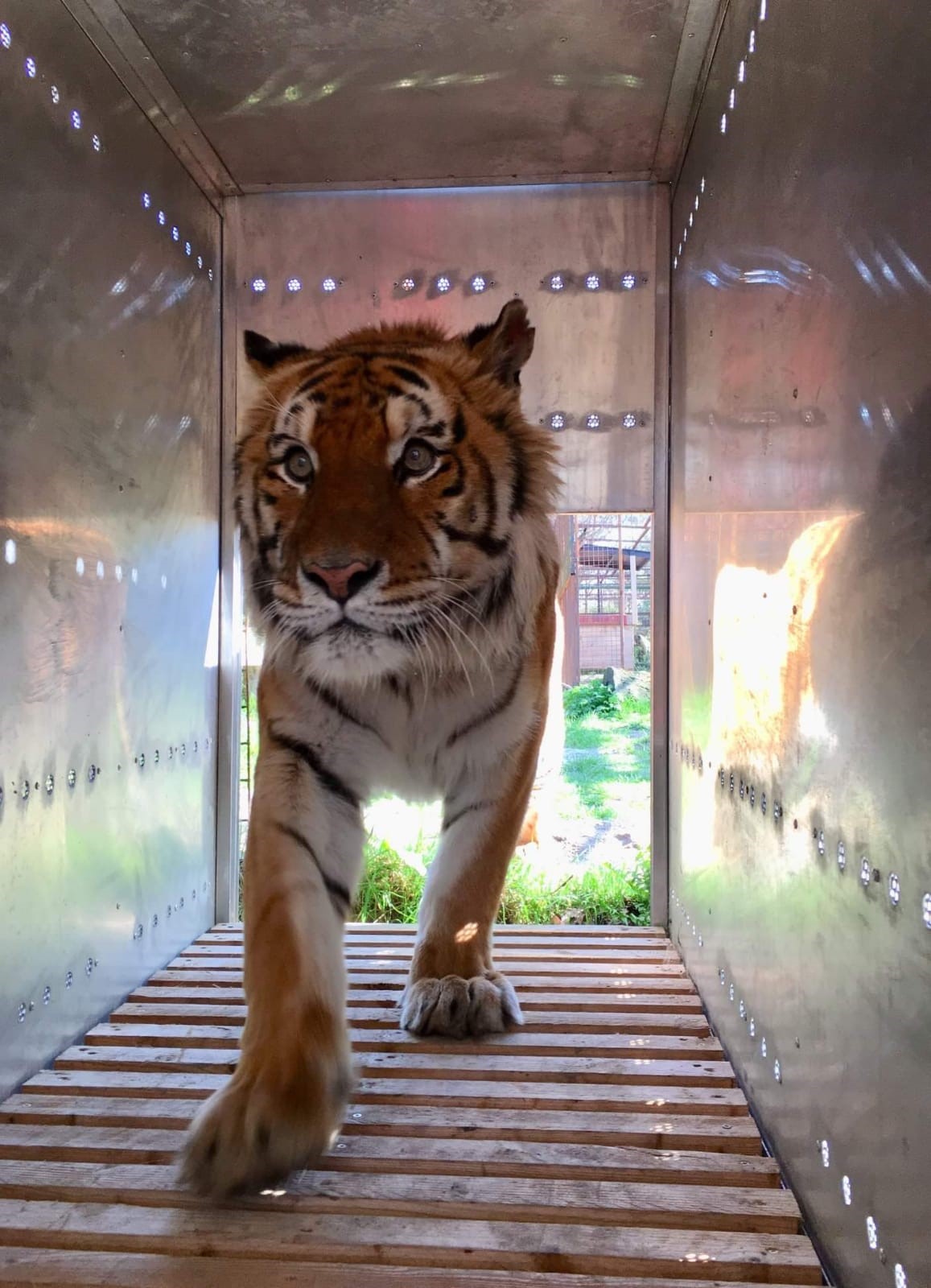 Caruso in 2019
Several years down the line, Caruso has undergone a number of operations and has receive lots of love, attention and good care, transforming him into an inquisitive, cheerful 12-year-old tiger. To make things even better, he will be spending the last good years of his life at the LIONSROCK Big Cat Sanctuary, a reserve run by the FOUR PAWS Foundation in South Africa. This is the ultimate place for rescued cats to run, play and (in the case of tigers) swim!
Did you know…That you are unlikely to encounter tigers in the wild. You will only find wild tigers in India, Russia, Tibet, Malaysia, Laos, Vietnam and China.
Preparations for the big trip
But before Caruso could explore his new quarters, he first had to travel from Friesland to South Africa. Preparations for this trip began months ago. Caruso's keeper Marieke and her colleagues at FELIDA trained Caruso to walk into the crate in which he was eventually transported. This went in small steps, but they were successful in the end. Caruso voluntarily walked into the crate and lay down after the last latch was closed.
Did you know…People often think animals are sedated during transport, but this is not the case. It is better if the animals are awake and alert, so that their behaviour can be monitored.
Did you know…Caruso got plenty of water and wood chips and, despite being a tiger, got the lion's share of attention en route!
On Thursday, 29 March, Caruso set off from the FELIDA Big Cat Centre in Friesland to the LIONSROCK Big Cat Sanctuary in South Africa. We humans usually pack our suitcase, make preparations and then get aboard the aircraft, landing in South Africa approximately 11 hours later. But this is not how things go for tigers…
The big day
Caruso was loaded into a special van, which carried him from Friesland to Schiphol Airport. You wouldn't think there was actually a tiger inside that van, but that really was the case. A welcoming committee met Caruso at the KLM Animal Hotel. I was there too and again I was amazed just how relaxed everyone was. Most people get stressed if they have to transport their cat to the vet, let alone a tiger. But there was no panic at all. Bernard de Boer has helped transport pandas, apes, horses and tigers for KLM Cargo. Sometimes he has multiple animals at the same time. All this experience ensured that Caruso's trip was smooth and peaceful. After the crate was unloaded, there was even a photo moment and of course I took the opportunity to check in on Caruso, who was still looking as relaxed as ever in his crate. I never thought I'd find myself eye to eye with a tiger, but even at a distance of half a metre, Caruso remained his calm and lovely self.
Special bond between human and tiger
I saw the special bond between Caruso and his keeper Marieke. She is one of the people who has taken care of Caruso from the beginning, in 2014. She is a familiar face to him and you can hear this in the sounds Caruso makes when he hears her voice. I can only imagine how conflicted Marieke must feel having to take leave of a tiger you have given loving care for more than five years. Marieke confirmed this when I spoke to her. She said she was very happy that Caruso can spend his golden years in Africa, but also knows she would miss him terribly. Fortunately, she was allowed to accompany him all the way to LIONSROCK, where she spent two weeks supervising things, so that Caruso could adjust to his new surroundings.
Did you know… Much like your own cat, tigers make a "greeting" sound when they recognise someone or something?
Did you know…Caruso flew aboard a KLM Cargo flight that normally doesn't carry passengers. A special exception was made for Caruso's keeper Marieke. She went along on board and ensured that Caruso was comfortable during the flight.
On arrival in Johannesburg, Caruso and Marieke still had to travel quite a distance to LIONSROCK.
Not everyone gets a chance to take a peek at a tiger in transit, which means I can already conclude that my internship at KLM has been excellent. It was really interesting to be part of Caruso's big trip and I really hope he has a happy future ahead of him at LIONSROCK. I even have to admit that Caruso has changed my view on cats somewhat…