How do You Paint a Plane? #Jesseyknows
How do you paint an airplane?

— Justin Ryan (@The_JustinRyan) October 16, 2014
"A splodge of blue here, a splash of blue there." On Twitter someone asked how a plane is painted. I can tell you how KLM gives an aircraft its blue identity! I went in search of the answer in the painting bay in our hangar.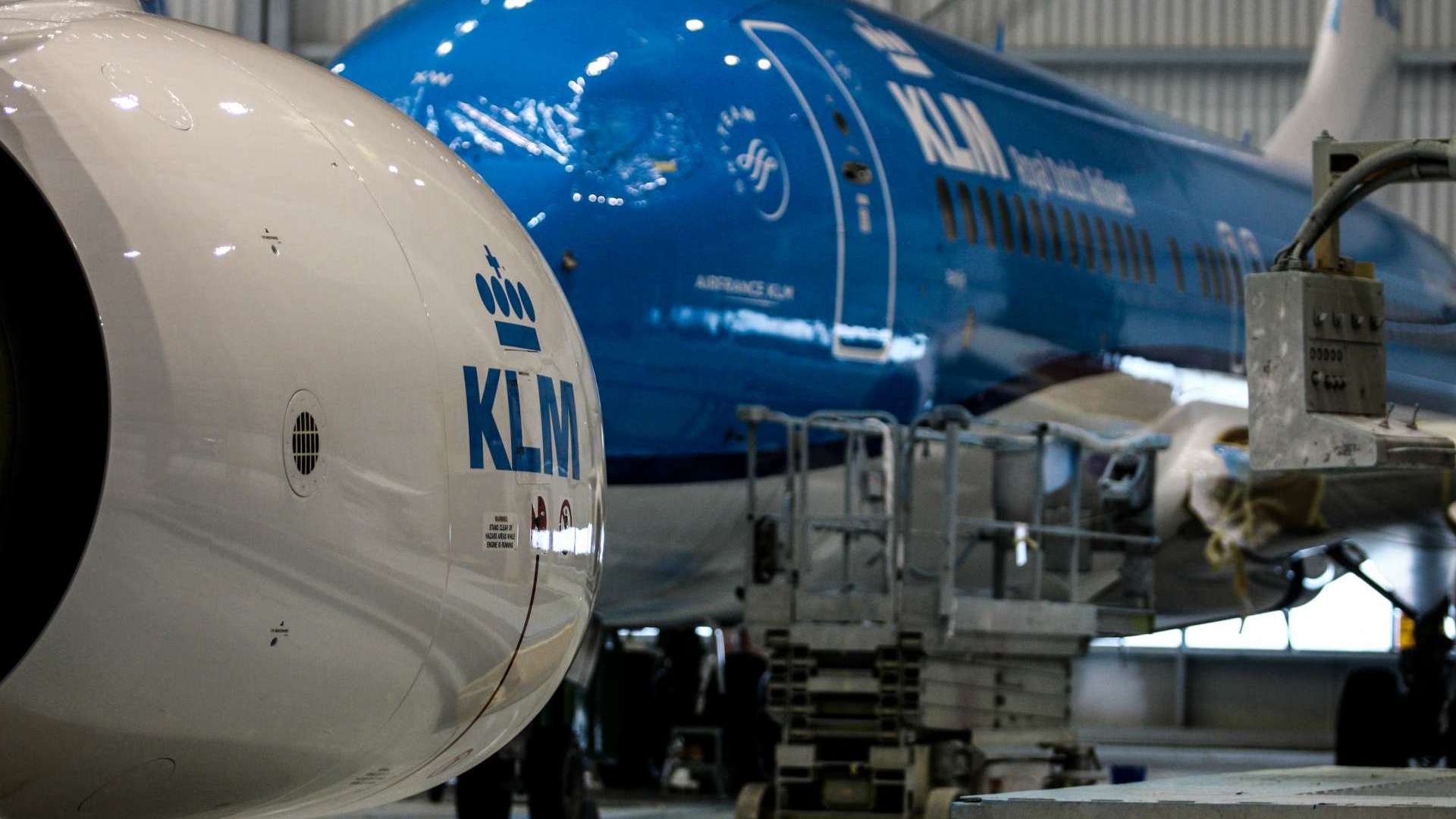 It's Tuesday morning when I first step inside Hangar 14. An aircraft rolls in wearing her old coat. A week long she will be sanded, sprayed and painted, 24-hours a day, until her new wings are ready to take to the skies once again.
Different layers
Two Boeing 737s are in the hangar awaiting their new livery. Or rather, waiting to have KLM's new design sprayed onto them. "We carried out an inspection yesterday and start sanding today". I'm standing opposite Dick Rovers, the Decoration Operating Officer, on this paint project. Dick ensures that everything runs in a structured manner. He takes me to see the aircraft, which are half covered in tarpaulin. "Do you see this? This patch has already been sanded." I find myself looking at a large, grey stain on the belly of a plane. Around it I see different coloured rings. "The yellow is the primer. That's the first layer to be sprayed on." I put my finger on the green ring surrounding it. "You can see the different layers we paint onto the aircraft very well here: primer, base coat and top coat."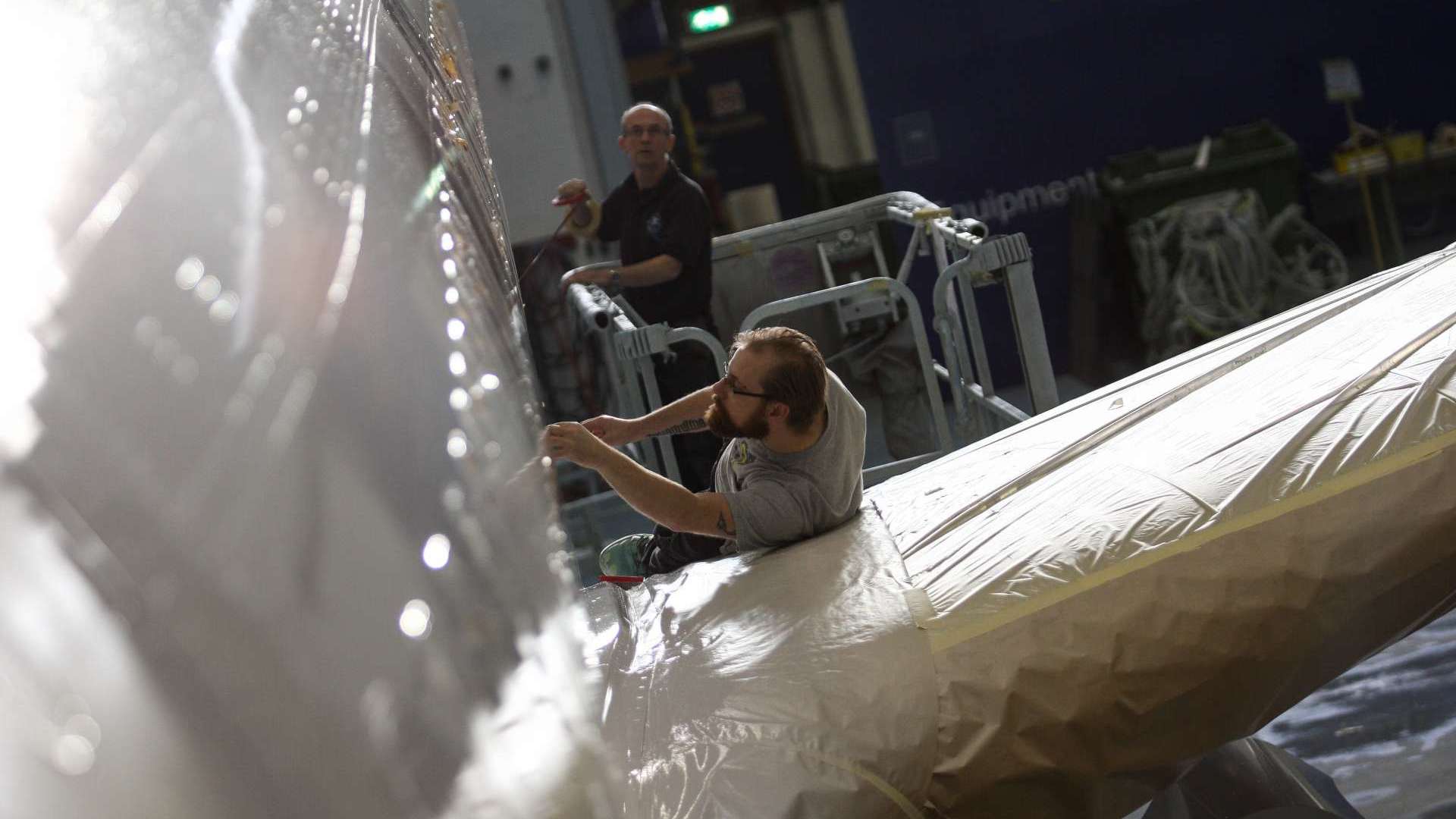 Sanding and stripping
An aircraft can be disrobed of its old paint coat in a number of ways. A Fokker is sanded by hand with a sander. A Boeing or Airbus is partially sanded, partially stripped. Stripping is carried out using a liquid which, at 25°C, can strip an aircraft of all its paint in 24 hours. Once all the old paint has been removed, the primer is sprayed onto the aircraft. It takes around six hours for each layer to dry.
Once every five years
30 to 35 aircraft go to the painting bay every year for a make-over (new livery) or touching up. But these are not only KLM aircraft. "We see aircraft from all kinds of airlines passing through. For instance, KLM aircraft might be painted in China and Etihad planes here, in Hangar 14. An aircraft is repainted once every five to eight years."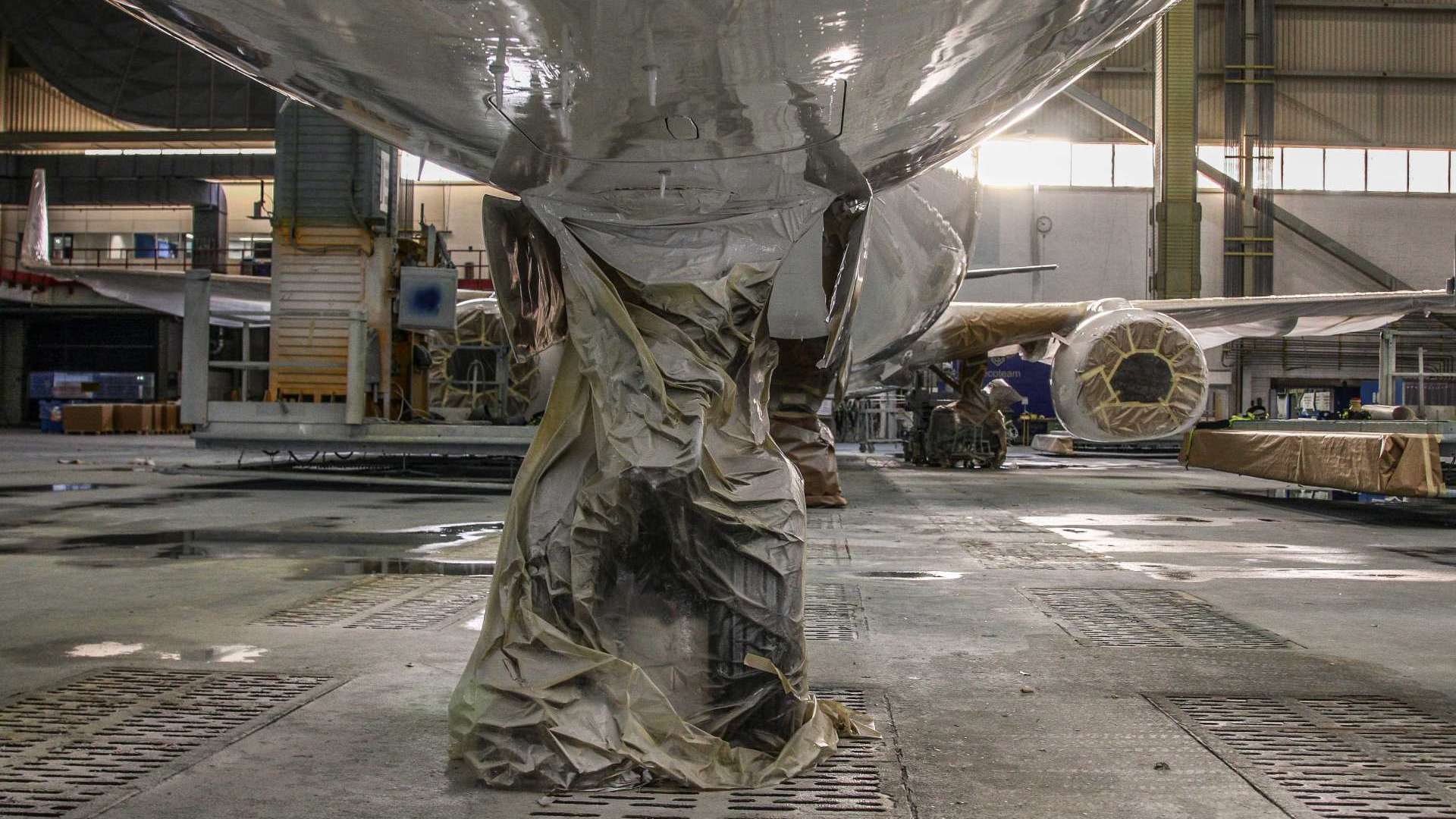 Friendly, feather-light paint
KLM has been using a sustainable paint system for a couple of years now, which our Engineering & Maintenance department developed with the German supplier Mankiewicz. It is, in fact, very simple: 15% less paint is needed if it is applied in more, but thinner layers. The paint is also chrome-free and easily washable. The aircraft can be degreased mainly using soap and water, which considerably reduces the amount of harmful solvents that are required.
Buckle and Dent
"This work requires enormous precision," Dick explains, as we walk towards the paint lockup. Each aircraft has its own "Buckle and Dent". This is a report which numbers and lists all the minor repairs that have been carried out on the aircraft. The numbers are also written on the aircraft itself.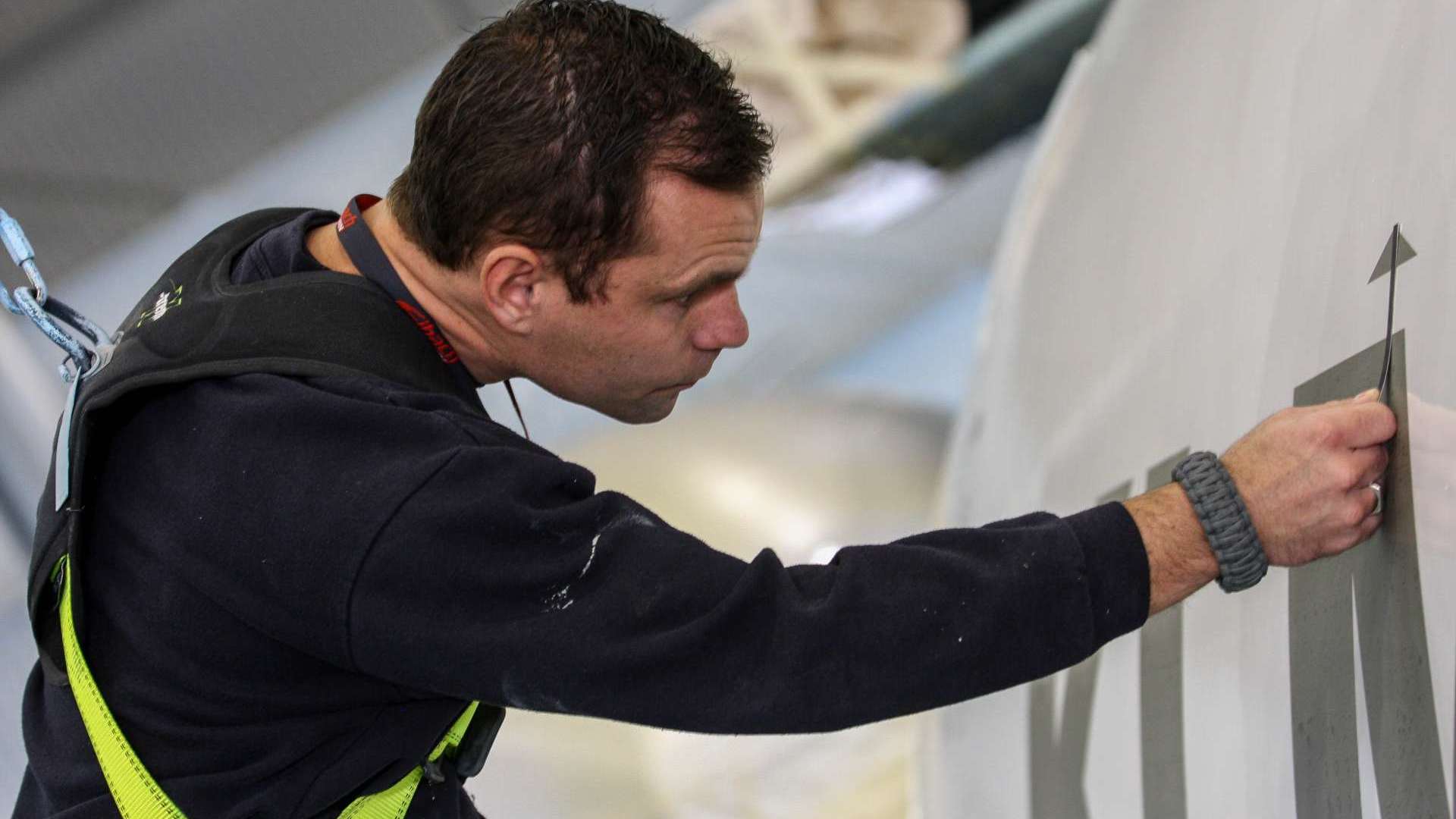 Within the lines
But how do you know which colour to use? The painters work with a Livery Drawing. Each step and its colour is laid out in this drawing. "The painting process differs from aircraft to aircraft. A Fokker has a different drawing and step-by-step plan than, for example, a Boeing or an Airbus."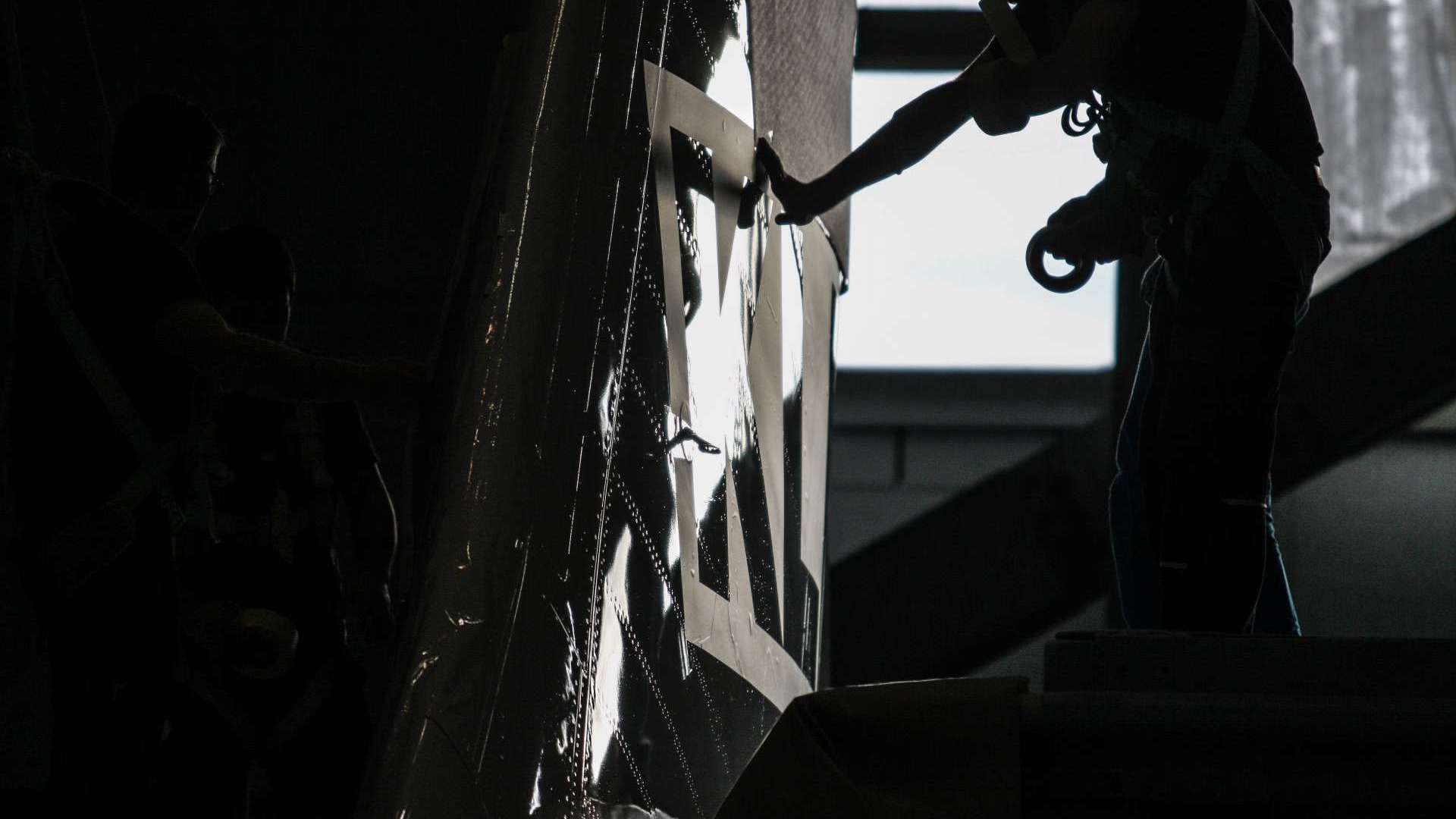 New livery
I return to the painting bay, when the aircraft are ready to be given their blue coats. Both Boeings are now white and utterly unrecognisable. Robin and Chris let me go up on the "flying carpet". This is a hydraulic platform, which enables the painters to float around the aircraft, coating the whole thing in paint.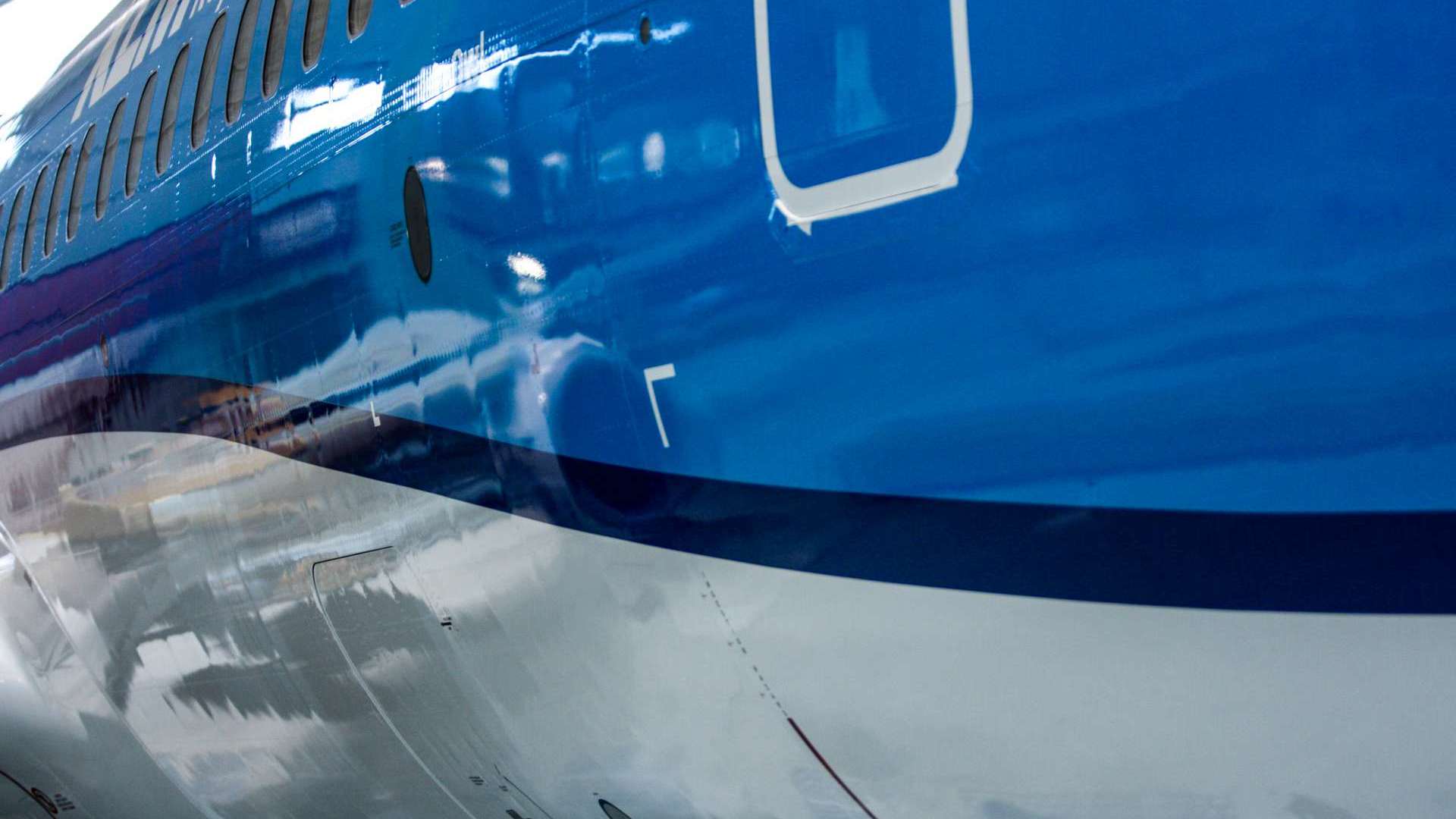 I'm given a white overall and a harness. KLM is very strict when it comes to the safety and health of its employees. "Off we go!" says Robin as he lets the carpet rise up. "All we have to do now is paint on the logos and the blue. Then we're done." He taps the side of the plane. "This is a paint job we can be proud of."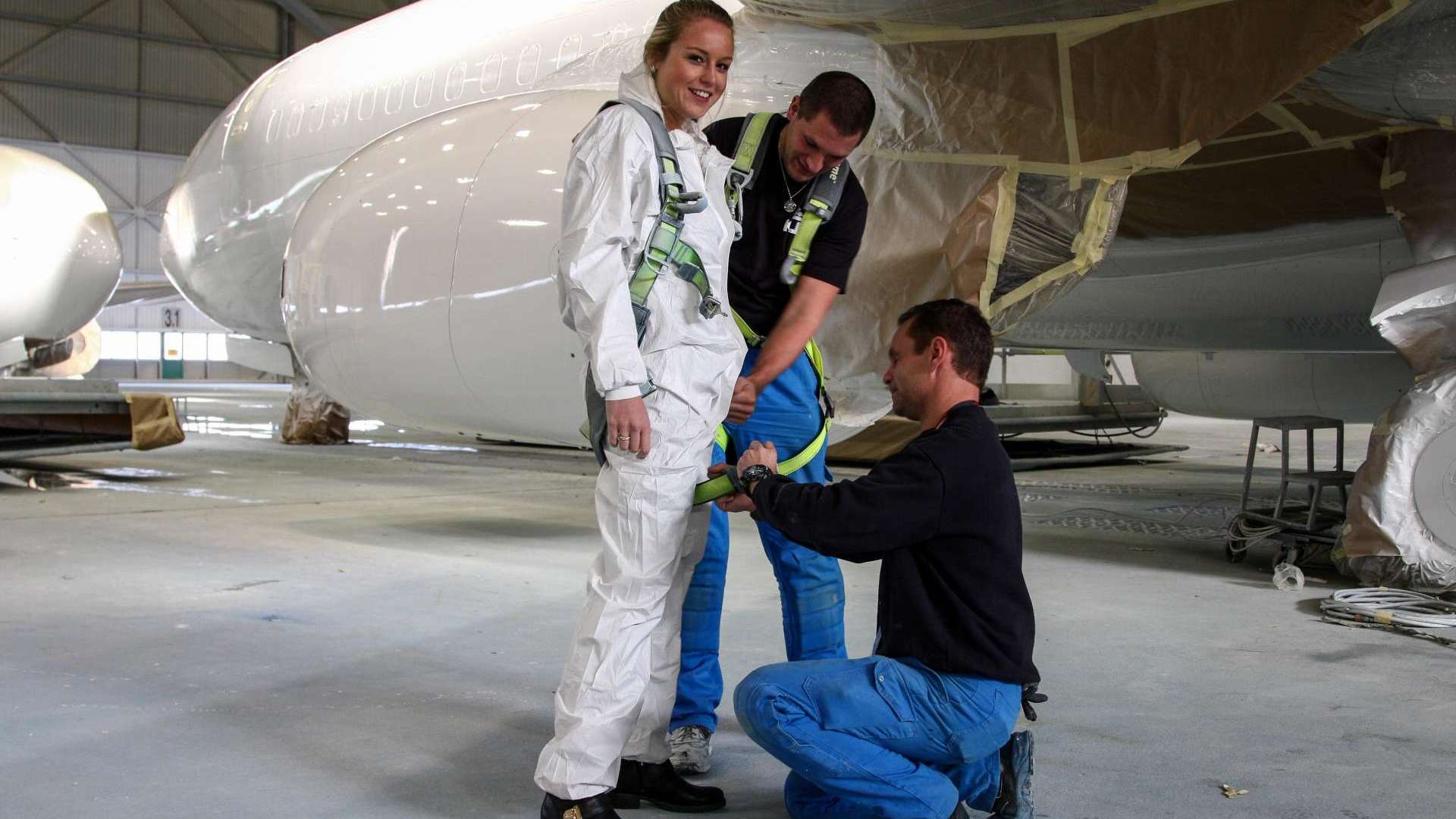 Plane painting in 6 steps
Inspect, document all dents and other damage
Sand and/or strip
Apply primer
Apply base coat
Tape up livery (logo, lines, blue colour and text)
Apply clear coat