How To Put a Sticker On a Plane? #Jesseyknows
What's the right way to celebrate a 95th anniversary? After all, we are not going to let this pass us by unmarked—certainly not in the air. Via social media someone asked me if we are going to do something with our aircraft to show people that we are celebrating our 95th birthday. I went in search of an answer and also immediately answer the question: how to put a sticker on a plane?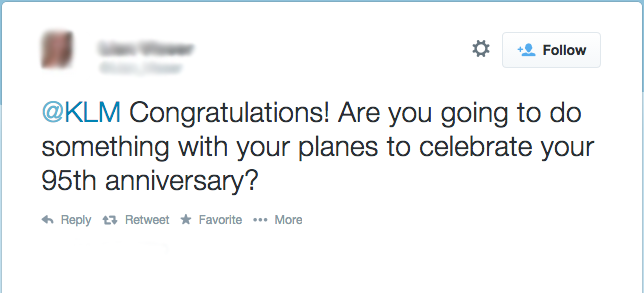 "Stickers are my life," says Garry Land proudly. It was 10:00 o'clock on a Sunday evening as we stood across from an MD-11 in Hangar 12.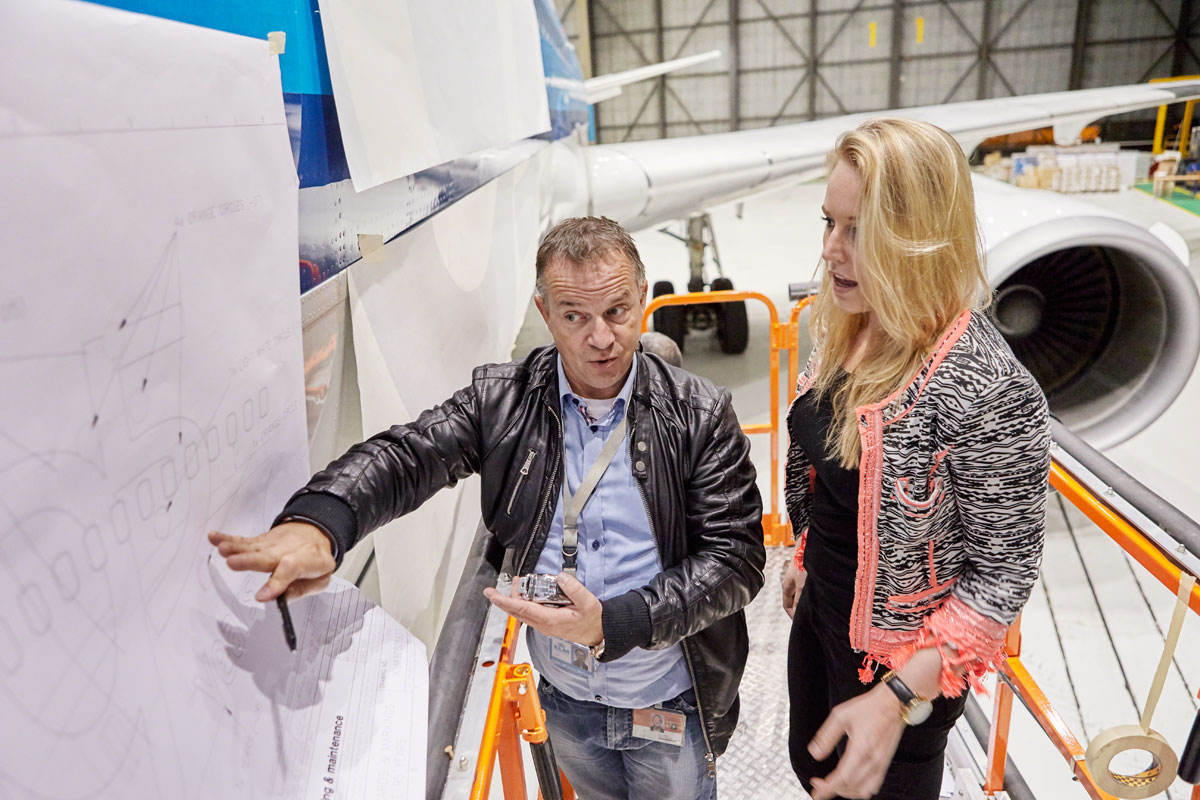 Some time ago, I was invited to furnish one of each aircraft type with an enormous "95 Years" sticker. It involved seven aircraft in all, including this MD-11. Two staff members were standing on an elevated platform in the painting bay, ready to apply the sticker according to Garry's instructions.
Whatever Sticks
As Technical Specialist in Aircraft Decorations and Markings, Garry is responsible for everything sticky at KLM. And, no, I'm not referring to the lemonade we serve children on board. We are talking about stickers in and around our KLM aircraft. "The stickers on the baggage bins, the toilets, buttons in the cockpit—there's nothing I don't do. If there's a sticker to be made, I can make it."
[tweet text="If there's a sticker to be made, I can make it."]
Garry took possession of the "95 Years" sticker design. "It's my task to enlarge the design and apply it to the aircraft. I make the drawings, order the stickers, and instruct the team. In short, I'm involved in all of the engineering activities."
A Technical Job
Before the team applies the sticker, Garry makes a technical drawing describing every detail. Stickers may not be applied to any component that gets warm during the flight or on any moving part that would require ground engineers to perform more maintenance. "I do my best to keep to the original design. Now and then, however, I have to make minor changes. For instance, the stickers can't prevent passengers from looking out of the window."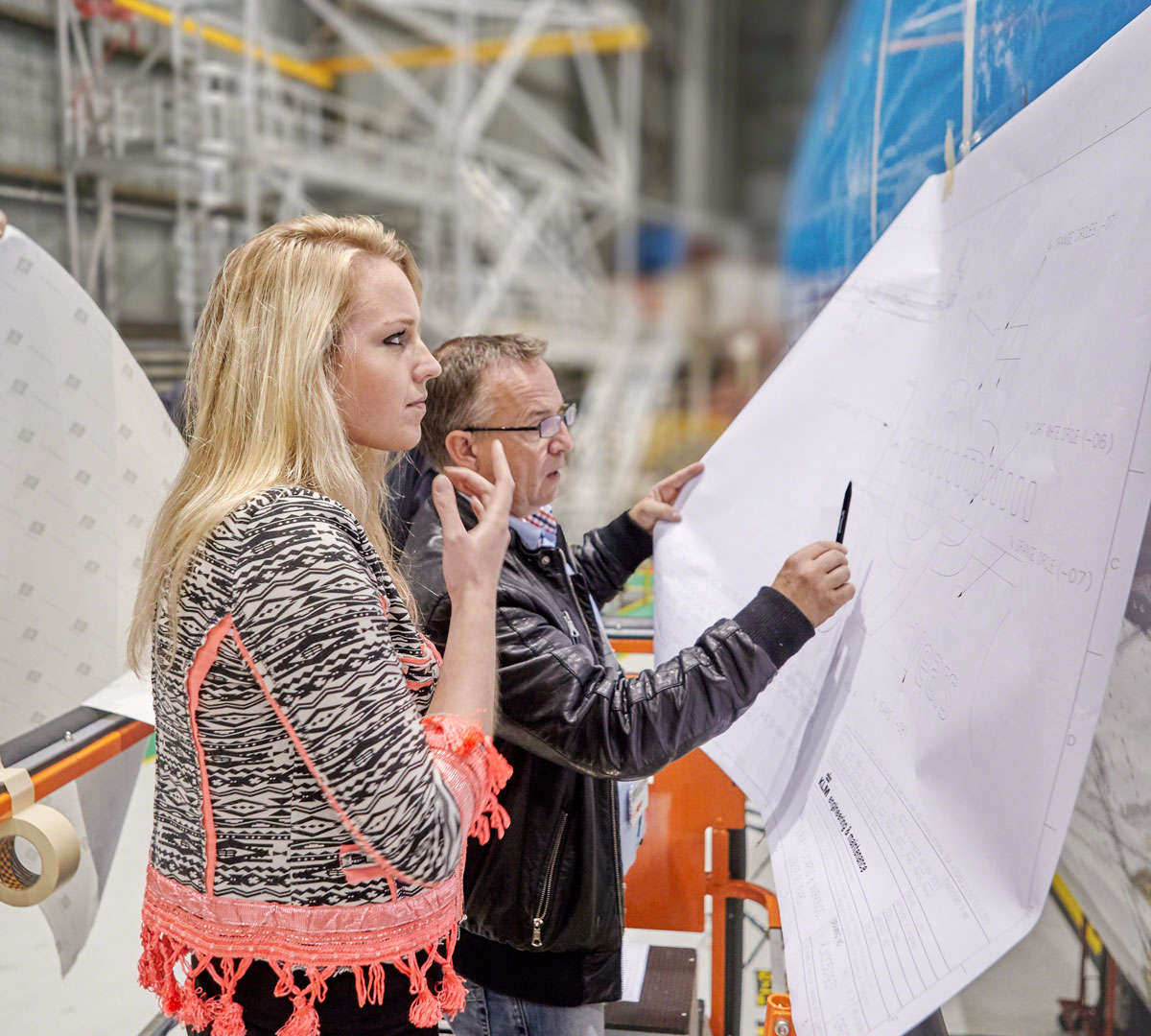 Sticking Density
The stickers can't just fall off after one or two flights. For that reason, the materials are tested in temperatures ranging from -50° C. to 110° C. Also, an extra layer varnish is sprayed all around the edges because the application tape is only 65 micrometres thick. "You can compare it to a little sticker from a packet of bubble gum. As soon as the sticker has been applied, we remove the application tape.
Bubble-free
How do you make sure the sticker is as smooth as possible on the hull? The sticker is divided into layers. Each layer is applied using a squeegee, pressing from the inside out. "If a bubble appears, we pop it with a needle. We also get an extra sticker to correct each colour."
Errors
The sticker is about 4.5 metres wide and 4.5 metres high. It takes about three hours on average to apply the "95 Years" logo to each aircraft. Sometimes, though, there are problems. "In some cases, I've made incorrect calculations. So the sticker ended up too high on the hull and had to be removed. Fortunately, this doesn't happen very often."
During his career, Garry has created hundreds of thousands of stickers. "Sometimes I look at in aircraft flying overhead and I think, 'Wow, I made that!'"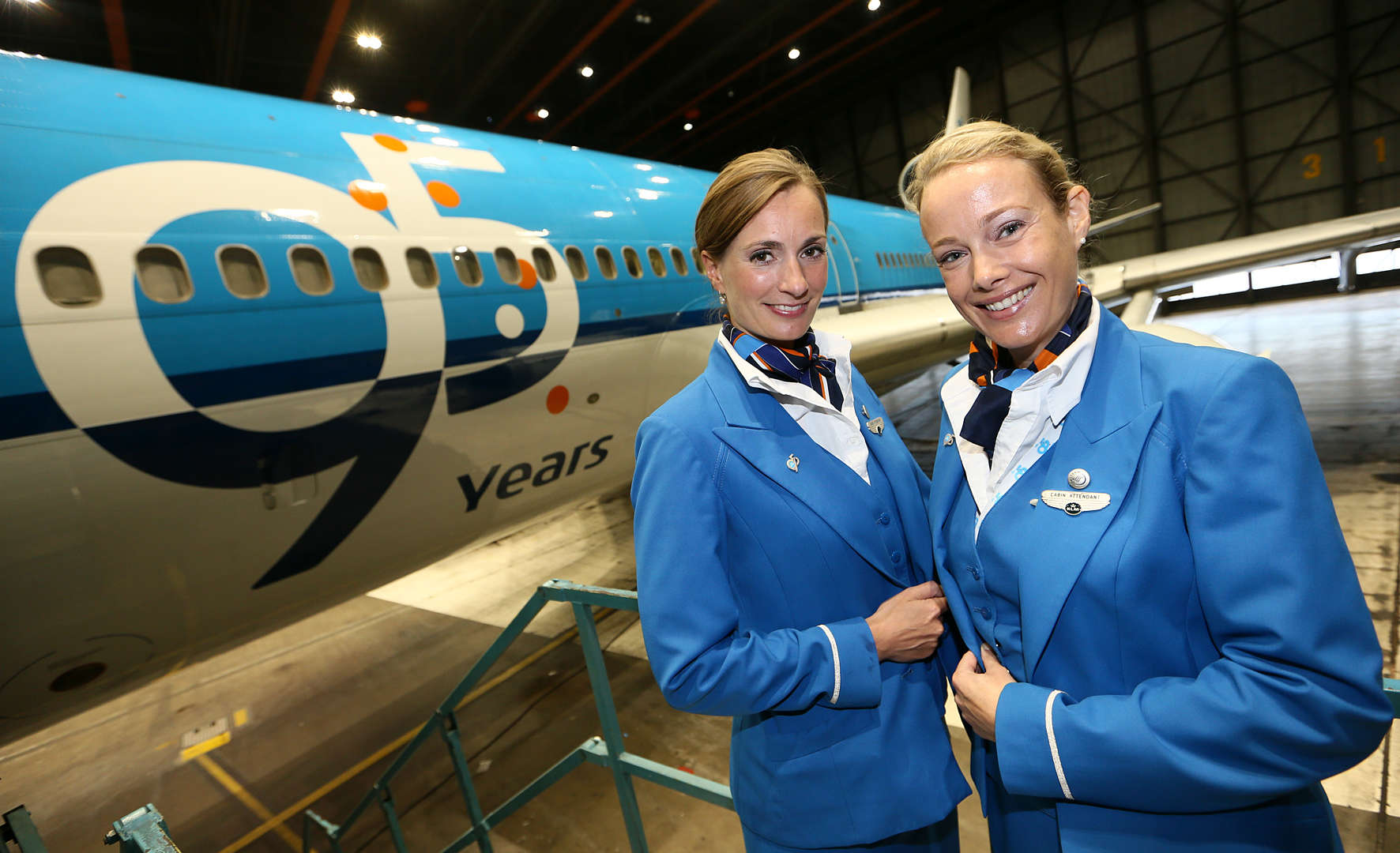 The aircraft will carry the "95 Year" logos for half a year. (The MD-11 will carry the sticker until 15 November 2014.) So keep watching the skies and see if you can spot one of the aircraft!
KLM has quite a bit of experience when it comes to stickers. Do you remember the Tile and Inspire campaign? Using the Facebook app, more than 120,000 people turned their profile photo into a Delft Blue tile. We stuck the 3,965 most inspired tiles to a KLM 777-200.