Ibiza's Most Exclusive Hideaways
Ibiza, the party paradise, has much more to offer than the high-fun-factor clubs complete with famous DJs, throbbing house music, and late nights. During the day, the island is a visual paradise for walks along the rugged rocky coast and quiet beaches. And then it's a delight to lounge in one of these heavenly hotels.
In the 1960s, the iconic Café del Mar was the favourite place for stars such as Grace Jones and Frank Zappa who came to enjoy the sunset. These days it's a tourist trap with grumpy waiters and astronomical prices. The sleepy fishing village of San Antonio has transformed into Ibiza's party capital. That's perfectly fine. But anyone looking for some peace and quiet would do well to look elsewhere.
Having said that, Ibiza is a great destination for people in search of relaxation. They'll find what they're looking for on the island's north coast, far from the clubs in San Antonio or the concrete hotels in Ibiza Town. On the far side, it's completely quiet and extremely beautiful. Here is a list of Ibiza's five most exclusive and relaxing hideaways.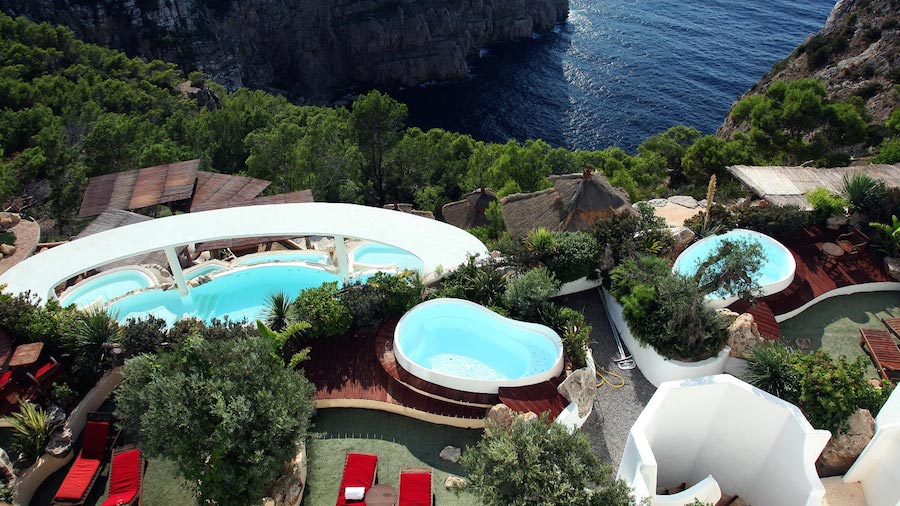 From the cascadas suspendidas at Hacienda Na Xamena you can look across the water from an altitude of 180 metres.
1. Spa hotel • A bit of Bali on Ibiza
A Belgian hippie couple built Hacienda Na Xamena in the 1970s. It is now a four-star hotel – a white palace decorated in the oriental style complete with Balinese furniture, woodwork, and a variety of Buddhas – all poised above the cliffs within a nature preserve in the quiet of north-western Ibiza. Most of the 65 rooms and suites have a balcony or a terrace with a hot tub or a plunge pool, and there are three restaurants from which to choose. And a seventeen-metre yacht lies ready to take guests on day trips to Es Vedrà or Formentera.
But the single greatest attraction at Na Xamena is La Posidonia, Ibiza's "most beautiful spa". From this well-furnished spa perched on the rugged coast 180 metres above the water, you can look out across the azure sea, idyllic bays, and pristine white beaches. The cascadas suspendidas – the stair-step hot tubs – are famous for the views they offer over the sea.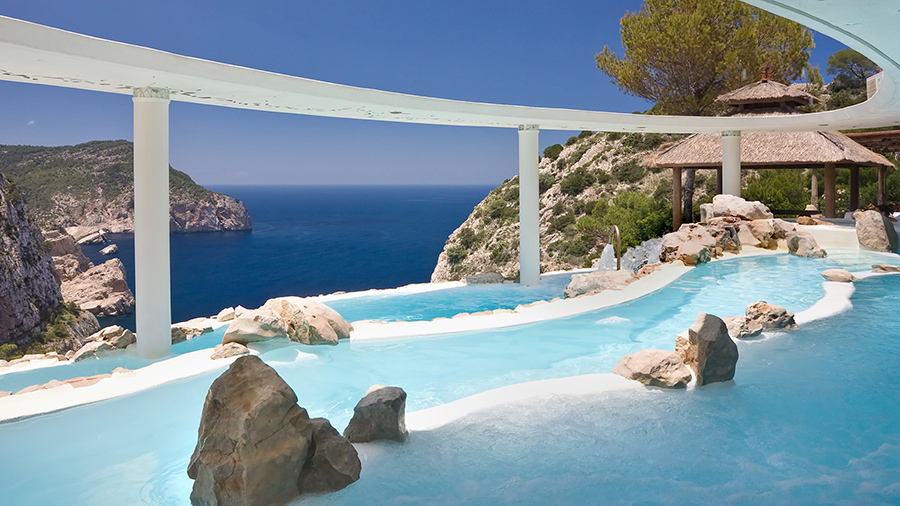 La Posidonia, the spa at Na Xamena, is Ibiza's "most beautiful bath house.
2. Finca • Cocoons in Es Cucons
The quiet north of Ibiza is dotted with ancient fincas that have been converted into boutique hotels. These are small, white, box-shaped country homes with thick stone walls to keep out the heat, and spacious verandas that welcome the Balearic breezes. One beautiful example is Es Cucons. In just a fifteen-minute drive from San Antonio you find yourself in a different world. The seven rooms and eight suites built into this 17th-century finca have been appointed with antique furnishings and equipped with all the modern comforts such as WiFi and mini-bars.
You can go to the spa for a massage with hot stones or cacao. In the restaurant, the chef puts a different Iberian menu on the table every evening. Es Cucons is sufficiently removed to allow you to relax. However the village of Santa Agnés is just walking distance, and the beaches and woods are just a bike-ride away.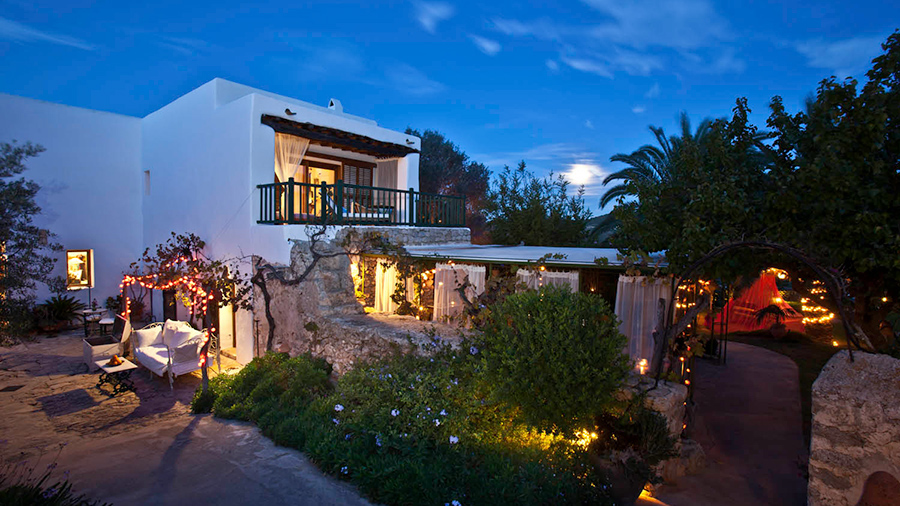 At Es Cucons, a finca that has been converted into a boutique hotel, you can curl up in your very own cocoon.
3. Private island • On Tagomago in your birthday suit
The name makes it sound like a tropical surprise – which it is – but then close by in the Mediterranean. Less than a kilometre away, and a five-minute sail from Ibiza's north coast, lies the private island of Tagomago, home to a super-deluxe villa. You can make your holiday, just the two of you, or with all your friends. There are six beautiful suites, each fully furnished and fully equipped.
The villa has its own swimming pool, spa, and restaurant, and the white-sand beach offers a view of Ibiza. There is a staff of eight, including a chef, all of whom ensure that the guests want for nothing. So you can lie back and relax, but you don't have to. Tagomago is as large as a hundred football pitches, so you can go wandering along walking paths, from the rugged cliffs on the north side to the hundred-year-old lighthouse on the southern point.
4. Budget • The most beautiful sunset
The exact same magical sunset that once made Café del Mar famous but without the tourist hoards. You can find it at Hostal La Torre, just outside San Antonio on a green cape jutting into el Mediterráneo. It really is an hostal so don't go expecting five-star luxury. But you can expect seventeen low-priced, rustically furnished rooms, four of which have balconies and a sea view.
They are above the outdoor café which is popular with guests and people from elsewhere, all of whom come to watch the pink sunset to the sound of lounge music and a good glass of wine. The menu has the Spanish classics, including tortillas, calamari, and gazpacho as well as hamburgers, steaks, and fresh fish. The hostel also offers rooms that include a hire car and that's very clever – it's the perfect spot from which to start a journey along the northwest coast.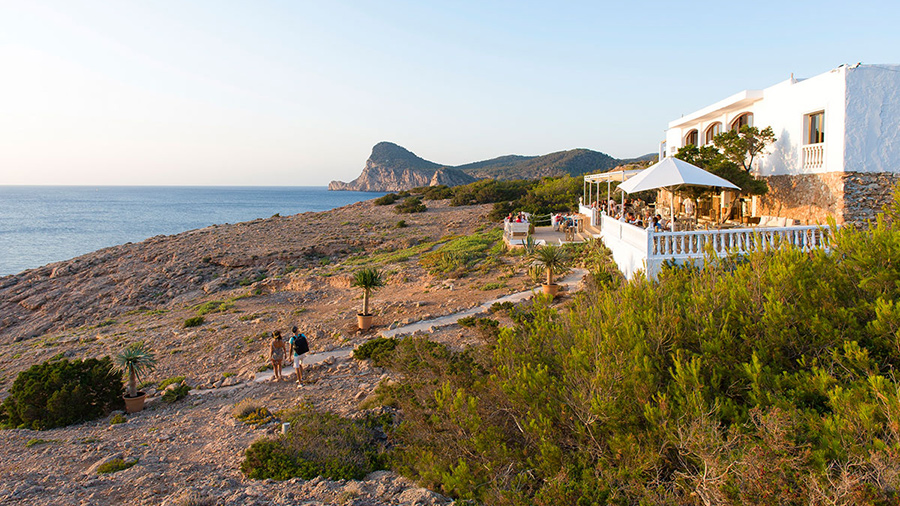 Close to hectic San Antonio, you'll find Hostal La Torre, an oasis of peace complete with sea view.
5. Yoga retreat • Salute the sun
Formentera Yoga organises yoga holidays in London, Toulouse, and Italy [and Morocco!], as well as at the hip Gecko Beach Club on Formentera and at its own finca on Ibiza. It offers space for 18 guests, surrounded by a giant garden and a rustling pine forest. During a one-week retreat, there are daily yoga lessons at sunrise and sunset, a silent Vipassana walk, and meditation. The Centre teaches Hatha yoga and the retreats are open to beginners and advanced practitioners.
In addition to the yoga sessions – which can be extremely intense – participants have plenty of time to relax at the swimming pool or with a massage. Much attention is devoted to good nutrition. The Centre offers copious vegetarian brunches, lunches, and dinners. You'll come away reborn. Namasté.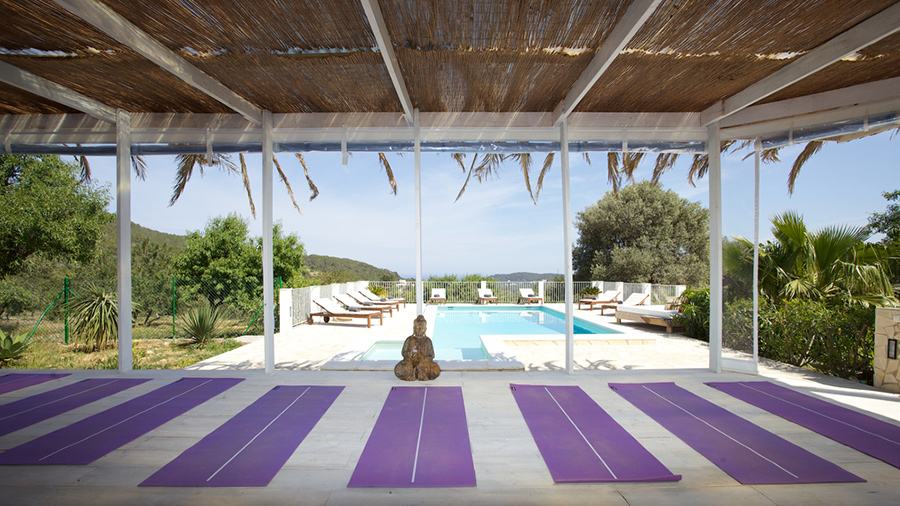 Do the "sun salute" during a yoga retreat in a finca in northern Ibiza.
Practical information
This summer, KLM will fly directly to Ibiza. The flights will operate on weekdays from 4 July to 25 August using a Boeing 737.
Hacienda Na Xamena, San Miguel, double room from EUR 225.
Es Cucons, Santa Agnés de Corona, double room from EUR 195.
Isla Tagomago, max. 12 persons from EUR 100.000 per week.
Hostal La Torre, Cap Negret, double room from EUR 57.
Formentera Yoga, 7-day retreat from EUR 950.
About the blogger: Sander Groen is an award-winning travel journalist with 14 years experience. He has circumnavigated the globe 15 times, visited 70 countries and produced hundreds of travel stories for Dutch and international newspapers and magazines. He is also a teacher at the School of Travel Journalism, curator of the Travel channel of digital news platform Blendle and editor-in-chief of De Reisjournalist, a platform for high-quality travel journalism. Follow him at sandergroen.nl
This article was written in cooperation with the School voor Reisjournalistiek