"In a way, I was married to KLM", says Willem (94)
"I joined KLM in 1947, two years after the Second World War, and I worked there until I retired. Those were the best years of my life." In front of me sits a man in his wheelchair. He is dressed in a neat suit and is wearing a KLM tie for the occasion. He is fragile and vulnerable, but his aged eyes shine brightly when he talks about his days at KLM.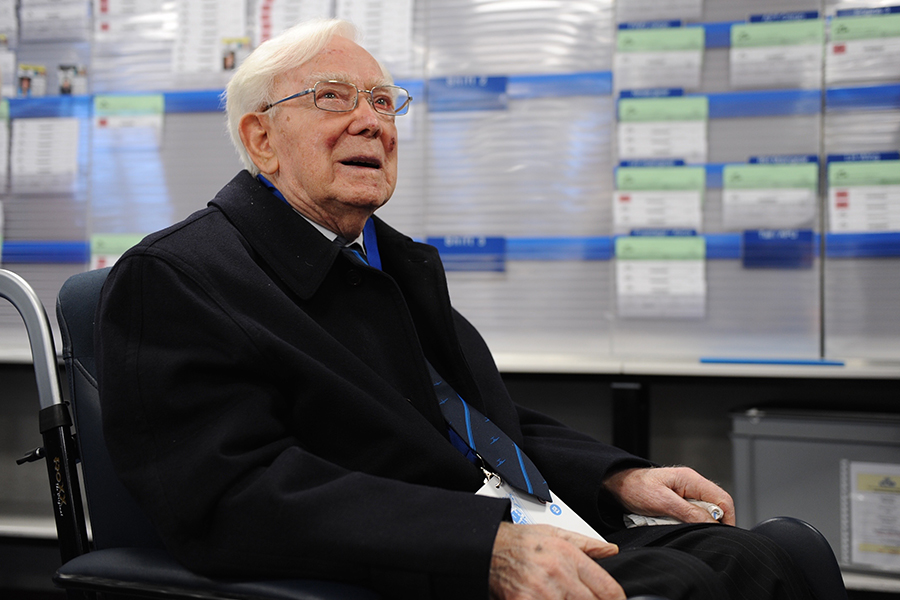 When I tell him that I too work for KLM, he gets his wallet out of his jacket pocket. After some searching and fiddling, he proudly presents his KLM ID card, dated 1988. I show him my own ID card and we place them side by side. They look very similar. He laughs. But when I give him his ID card back after a minute, he looks at me in surprise and asks me how I got hold of it. Mr Huiskens – "call me Willem" – is 94 years old and suffers from dementia.
Last month, KLM was contacted by Margreth Chel, who is in charge of care at the home where Willem lives. She had noticed a KLM-blue thread running through all of Willem's stories. Thirty years after his retirement, Willem still feels as connected with "his KLM" as during the 41 years he worked for the airline. Despite Willem's foggy memory, his years at KLM are as clear as yesterday. It would mean the world to him if he could pay a visit to his former employer, she explained.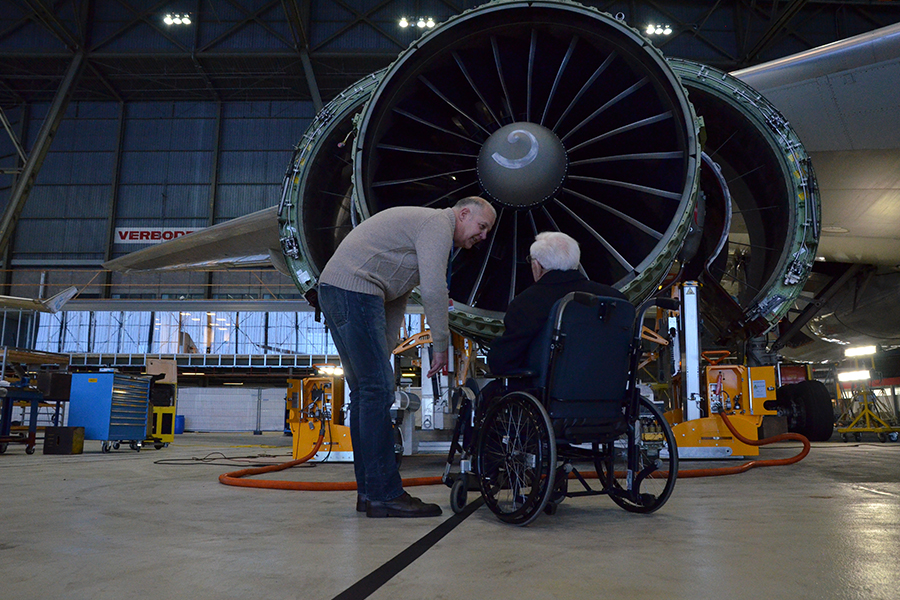 When I meet Mr Huiskens, he has just visited his old workplace in Hangar 10, 11 and 12 at Schiphol-Oost. "Such a great day it was", he says. But he didn't recognise the plane my colleagues showed him: a Boeing 777 with 2 big engines. It clearly bothers him.
"When I worked at KLM, there were only two hangars, and they contained Dakotas. They weren't really my business, because it was my job to build the scaffolding, many metres high, around the planes. Very handy if they needed to do work on the plane – washing, or a paint job, or repairs," says Willem.
"I was on call day and night. A jack-of-all-trades. My wife didn't like that much, which was understandable. In a way, I was married to KLM."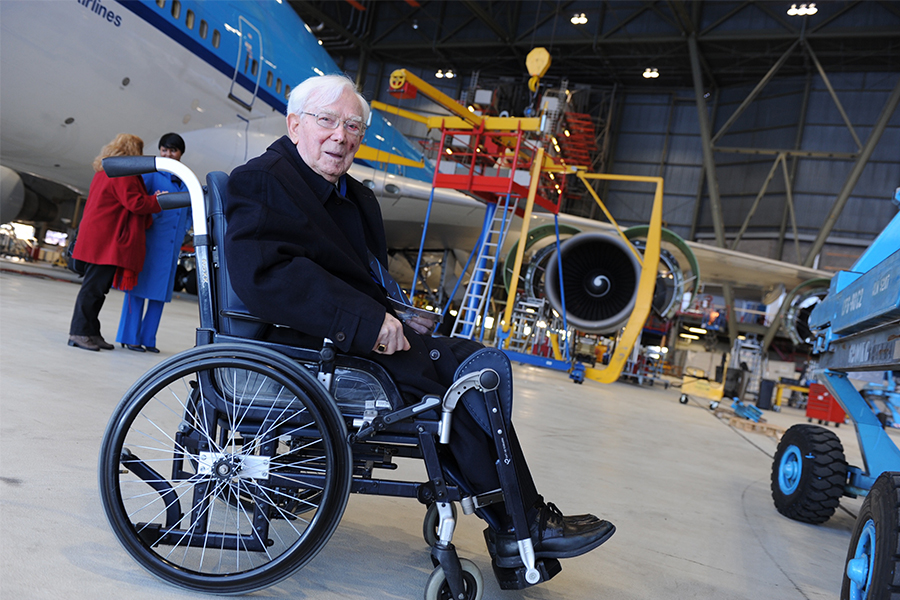 Willem dozes off for a moment but quickly returns: "I knew no fear. Climbed up everywhere. They once needed a rudder removed from a DC4. And of course Huiskens was their man. But a I was on top of the plane, Mr Plesman walks in with his secretary. So I climb back down and we shake hands and have a little chit chat and I tell him I'm married with children. I can still hear him saying: 'Huiskens, I don't want you climbing up that high ever again!' I was scolded by Mr Plesman himself!"
E&M collegue Richard Hilt and Margreth Chel, head of health care at Zonnehuisgroep Amstelland
Willem tells me he once spent six months in Indonesia, for work. But when he arrived on the other side of the world, they didn't have the materials he needed, so there wasn't a lot of work for him to do. "So I do what I do. I make the best of the situation and explore the city. I walk around the kampongs to meet the locals and see with my own eyes how life is here. And of course everyone tells me that isn't a good idea, but I go anyway. I've always been a pretty stubborn chap."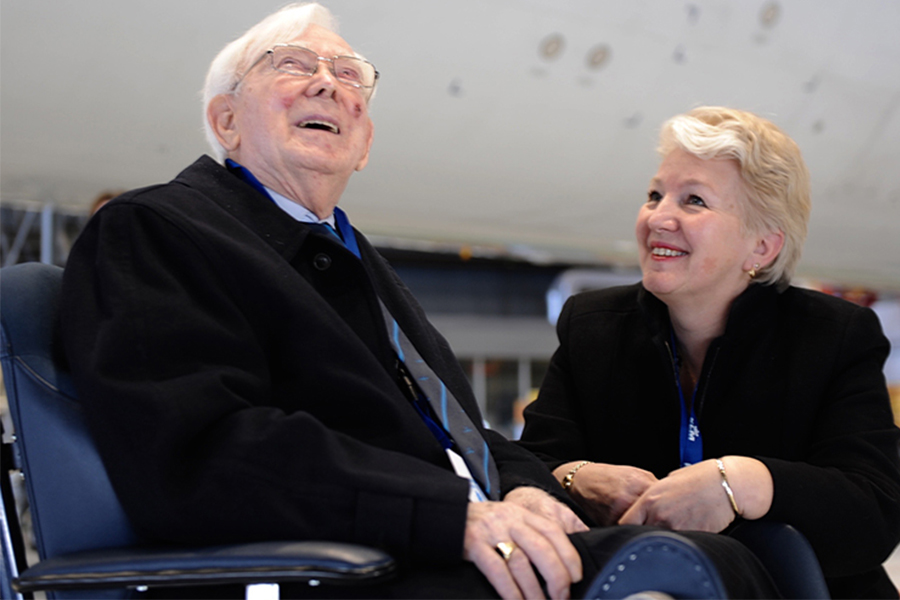 Willem is crying now. He suddenly seems to realise he's in Amstelveen instead of Jakarta. He takes his handkerchief out of his breast pocket and dabs his silent tears away.
"I didn't recognise the aircraft type they showed me. What happened to the good-old DC4s? The old ones from the war?" he asks. As I try to come up with an answer, Willem tries to remember what he's here for. "We're here to talk about KLM, Willem", Margreth helps him. "Ah yes, KLM," he says. "There isn't a day at KLM I would've wanted to miss."