It was early January 2008 in Bali, the Island of Gods, when I decided to continue my studies in Holland. Going to the Netherlands had been my childhood dream. I'd heard and read all of the wonderful stories about the country, about how the Dutch have fought against the water and, of course, their famous saying "God made the world but the Dutch made Holland". I was more than excited when the time came.
In April 2008, I packed my suitcase and made ready to leave my home country, Indonesia. At the airport, I peered out of the window at the gigantic Boeing 747-400 in its white and blue livery, with the KLM logo on its fuselage, and I started to cry. "It's a dream come true", I said to myself.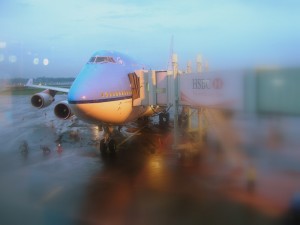 The Netherlands is my number one world destination but KLM is more than just an airline for me. It's a Dutch brand. When I go to another country, I prefer to fly with their national airline, but really I love almost every Dutch brand because I'm addicted to Holland. So going to the Netherlands for the first time without flying KLM would have been unthinkable. I didn't care much about the price or the facilities – all I wanted was to fly with KLM to Amsterdam. And I made it.
The stewardesses in their blue uniforms, the plane's interior and even the food packaging were beautiful. The 16-hour flight from Jakarta to Amsterdam was a memorable one. Long before I made this trip, I'd made a crazy vow. I said to myself, "if one day I can step onto the ground at Schiphol airport, I'll walk from Immigration to the Arrivals Hall in my bare feet".
It was around 5.30 a.m. in the morning when we landed. I was so thrilled when the cabin crew announced that we had landed safely at Schiphol. The lady next to me asked, "Why did you cry, dear?" I simply said, "I just made my dream come true".
The weather had changed dramatically from hot and humid to dry and cold. It was 5 degrees centigrade when I walked out of the airplane to Immigration. The moment I left Immigration, I took a deep breath and I said to myself, "What clean air I'm breathing!" There was no need to wait; I took off my shoes and walked barefoot. It was 6.30 a.m. in the morning and people stared at me as if I was crazy.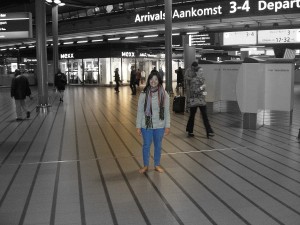 It was my first trip to the Netherlands with KLM. The trip of a lifetime to Europe. It was one of the best things I'd ever done in my life and I couldn't stop telling people that nothing is like the first time.
Yurina Martin
Yurina Martin originally comes from West Sumatra but was raised in the hustle and bustle of Jakarta, the capital of Indonesia. A few years ago, she moved to the Netherlands to complete her master's degree in international communications management.
Currently, she lives in Delft – a small yet beautiful city in the province of Zuid Holland where she hopes to build up her future in this low-country. As she struggled to get her dream job in the Netherlands, she writes to fund her expensive hobby: travelling.
Yurina is an aviation geek, a 'travelholic', a food enthusiast and a make-up junkie. She runs and manages her website and the Expedition Yurina Facebook page. It's all about her crazy wish to visit 16 countries in 6 continents plus 1,985 cities in the world.