This weekend, KLM staff – past and present – and their families gathered for a celebration. On 7 October, they marked the ninety-fifth anniversary of the company for which they have worked with so much pleasure. The party was a modest one. KLM is saving up for the centenary celebration in five years' time. In 1969, KLM celebrated its Golden Jubilee. And that went as follows:
Hangar 9 Party Hall
About 6,000 KLM staff members gathered in the "party hall", Hangar 9. (At the time, about 15,000 people worked at KLM.) They were joined by a number of special guests for the celebration. One such guest was Albert Plesman's widow Mrs Plesman-van Eijk. The celebration was proceeded by an anniversary exhibition in Utrecht's Jaarbeurs Exhibition Centre and the presentation of a special anniversary book.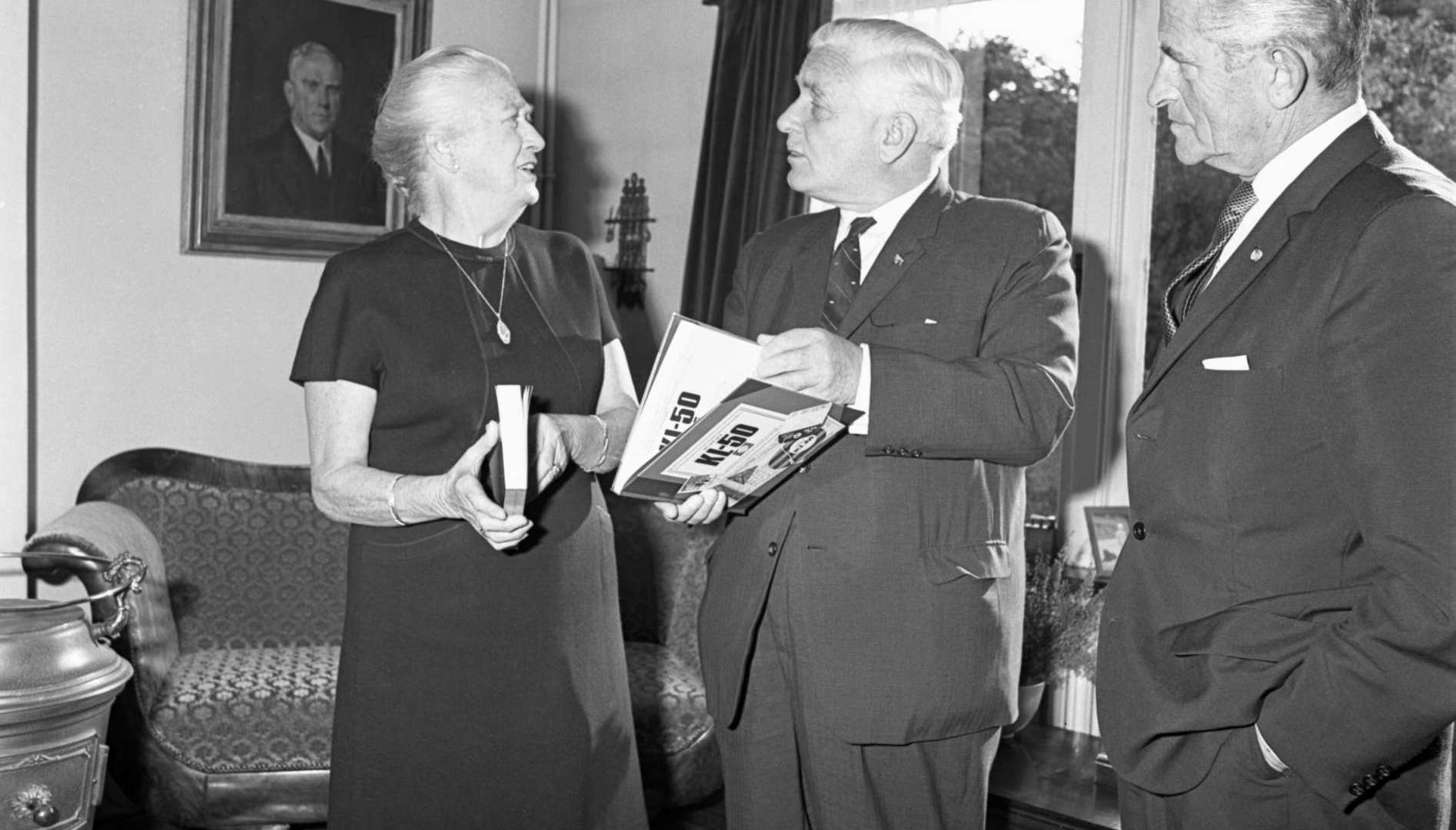 Every KLM staff member received this book, the title resembling a flight number "KL-50" in which Mrs Plesman and President Van der Wal wrote many inscriptions. To say nothing of the Jubilee Contest, which will have occupied many KLM minds in the months leading up to this moment.
Fully equiped DAF sedan
And the prizes were pretty impressive. The first prize was a fully equipped DAF sedan. The car was the pride of the Netherlands. It was also the only Dutch passenger car. Second prize was a Volkswagen 1300 Beetle—also not to be sneezed at. Other prizes included a Philips colour television, a set of silver cutlery, and much more. The contest itself consisted of fifty multiple choice questions based on photos from KLM's history. There was much to puzzle over.
The hangar was bedecked in bunting and chrysanthemums, all in KLM colours. There were performances by the KLM Men's Choir, a speech by then-president Gerrit van der Wal, and the awards to the contest winners, all of which added lustre to the celebration. Encouraged by shouts of, "Just fight your way to the front!" the contest winners made their way to the stage to take possession of their prizes.
500 kilos of sausage
"It is amazing to see all of you here together in this hangar! No wonder that we have reached the age of 50!" said Mr Van der Wal in his speech. During the party, there was lots of good food and drink. Those present ate 500 kilos of sausage and 250 kilos of cheese. The bars were also kept busy as people drank about 6,000 glasses of cola, 9,000 glasses of sherry, and 11,000 glasses of beer. The party came to an end at 6:00 PM and everyone went home happy.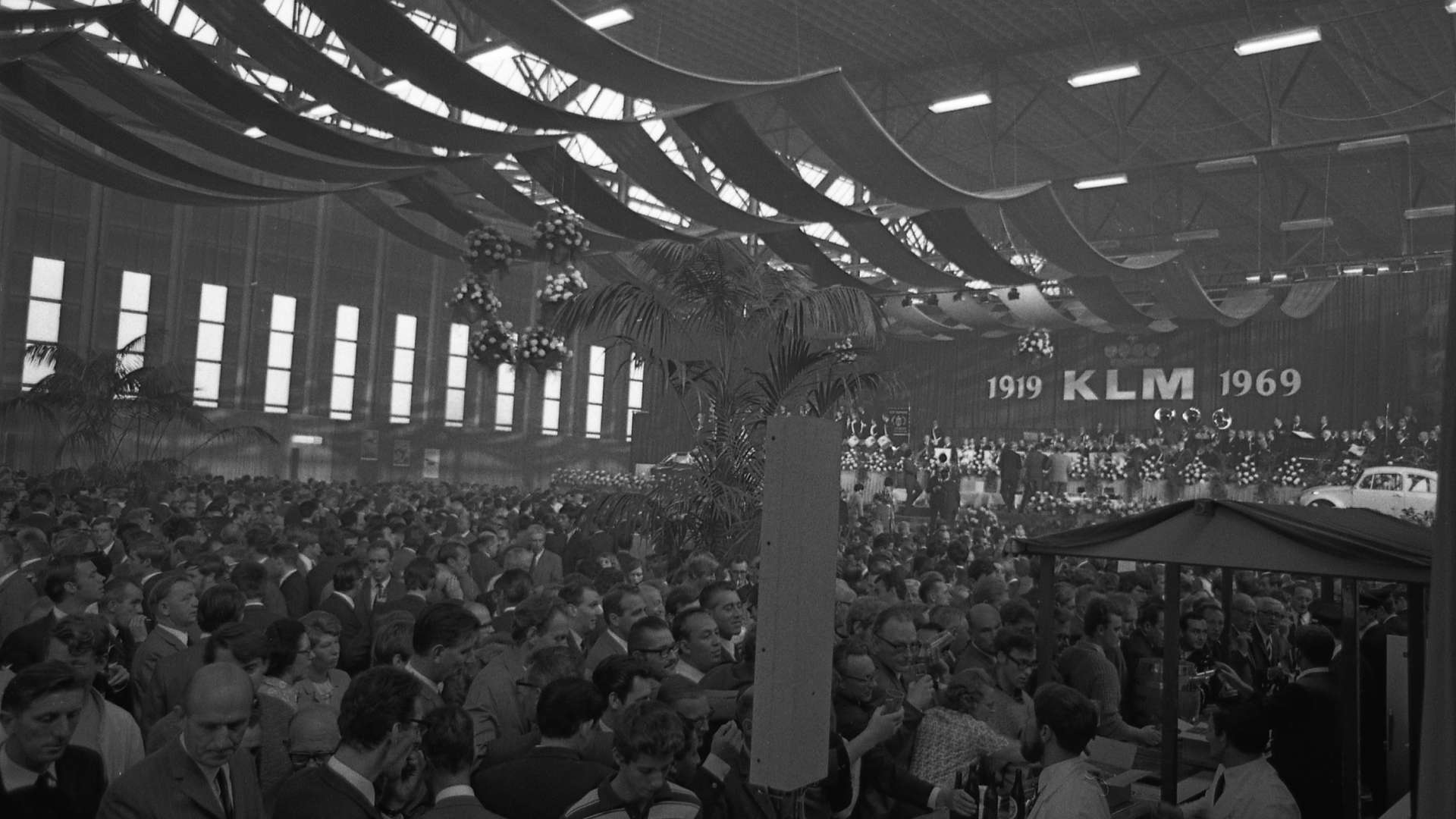 The next day, 7 October, was a more solemn one as the cornerstone was laid for KLM's new headquarters in Amstelveen. A lead tube including the newest Dutch currency and coins from all the countries in the KLM network was also buried in the wall. As far as we know, the tube is still there.
Copyright Video's: Nederlands Instituut voor Beeld en Geluid.