King's Day and Other Dutch Birthdays
It's almost the 27th of April, when the Netherlands will be flooded by a sea of orange in celebration of the king's birthday. Not every Dutch birthday is celebrated as majestically, of course, but there are plenty of local customs and traditions in this regard. Photographer Ilvy Njiokiktjien toured the country in 2013, compiling a wonderful overview of the festivities.
Almost every birthday in the Netherlands ends up with people sitting in a circle around the coffee table, even when people send out invitations boldly claiming otherwise. Another typical Dutch tradition is that you go around the circle shaking every hand or kissing every cheek, congratulating them on the birthday boy or girl.
Treats
There's almost always cake at every Dutch birthday party. According to Ilvy, Dutch people can be a little cautious if there are strangers at the party. She concludes that this is because the Dutch like be down-to-earth on their birthday. Acting normal is strange enough – as the Dutch saying goes. It's also something of a custom to take some sort of treat along to give to your colleagues or classmates. The basic principle is: the birthday boy or girl gets presents, but has to bring along the treats.
1. King's Day: the biggest street party of the year
The Dutch celebrate King's Day (formerly Queen's Day) with many open-air festivities, music, a flea market and food stalls. If you love nationwide parties, then 27 April is the ideal day to visit the Netherlands. Outdated travel guides will claim we celebrate Queen's Day on the 30 April, but this date changed when King Willem-Alexander took the throne in 2013. King's Day is now celebrated on 27 April.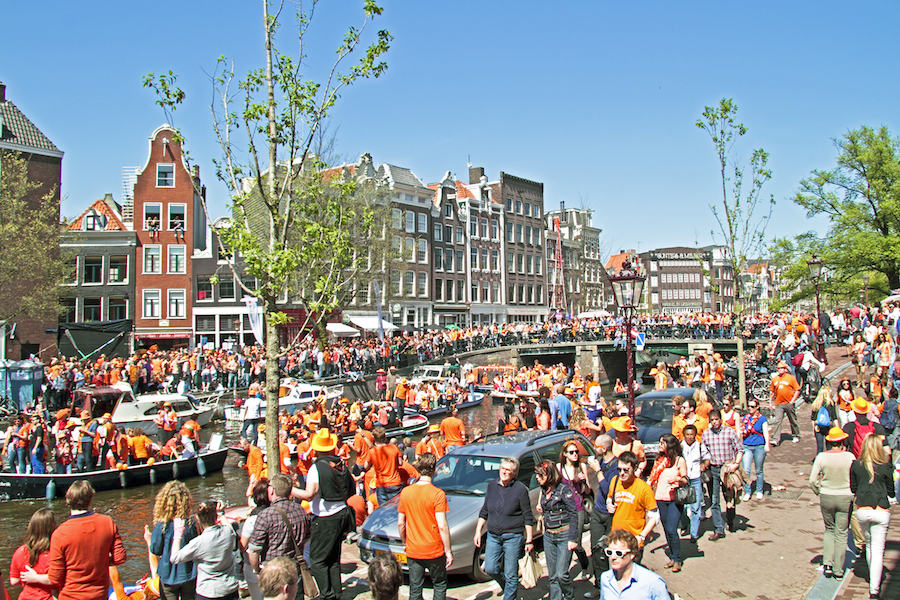 2. Queen of the office
Queen of the office for a day: Petra Offerbeek-van Buuren is turning 49. Her colleagues have decorated her desk with paper chains, balloons and pictures.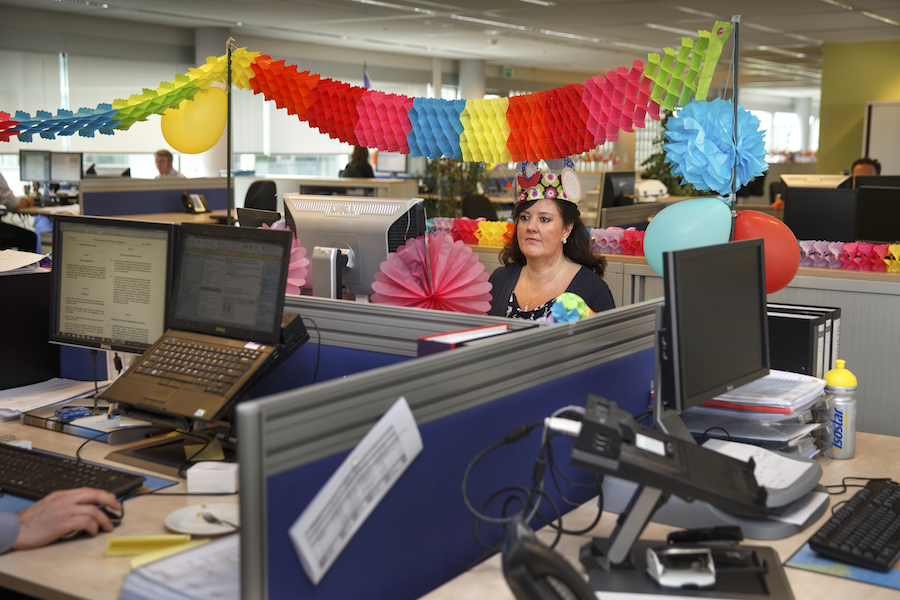 3. Birthday at a campsite
Rikelt van den Hooven, 60, always spends his summers at the Bakkum Campsite near Castricum aan Zee (North Holland). His birthday is in the summer, so he celebrates it at the campsite with family and friends.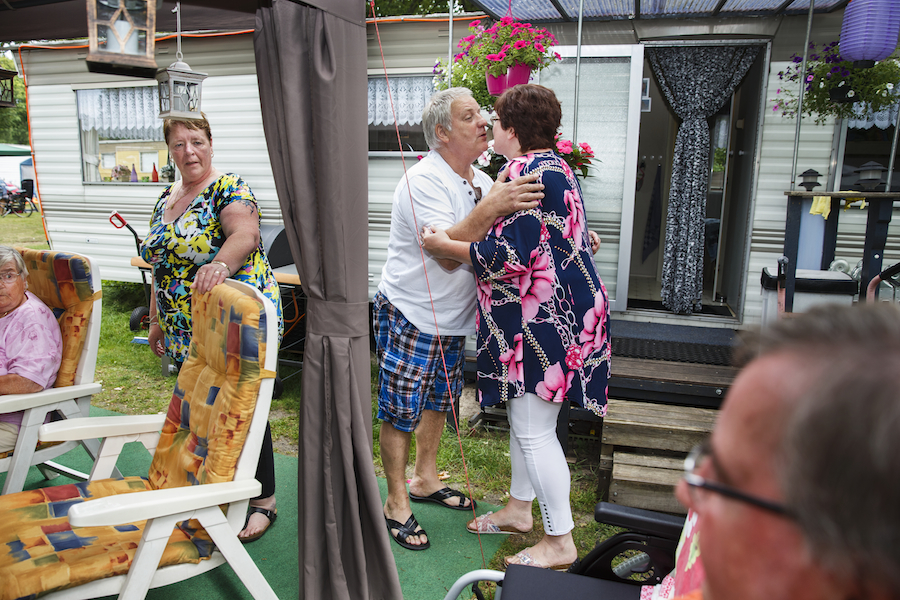 4. Tea party for a princess
Sofie de Loo is turning 7. She has a tea party fit for a princess.  Sofie's parents hired a party planner, from My Greatest Party. They specifically plan birthday parties for kids. The theme of the party was Marie-Antoinette.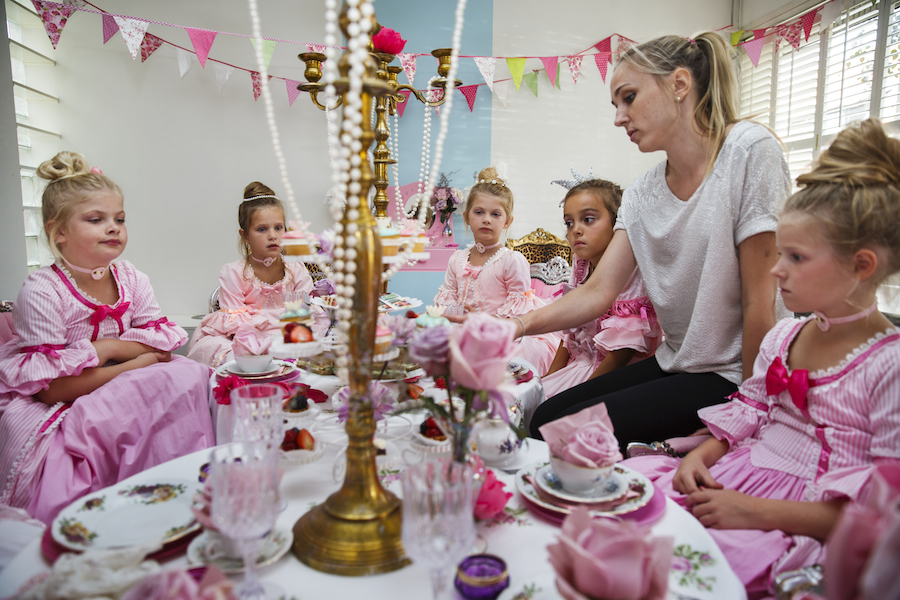 5. Hindu birthday
Vinesh Kalloe is turning 2. It's not unusual for Hindus to invite more than a hundred guests to their birthday. Vinesh slept through the cutting of the birthday cake for him and his brother, but he danced and partied hard while awake.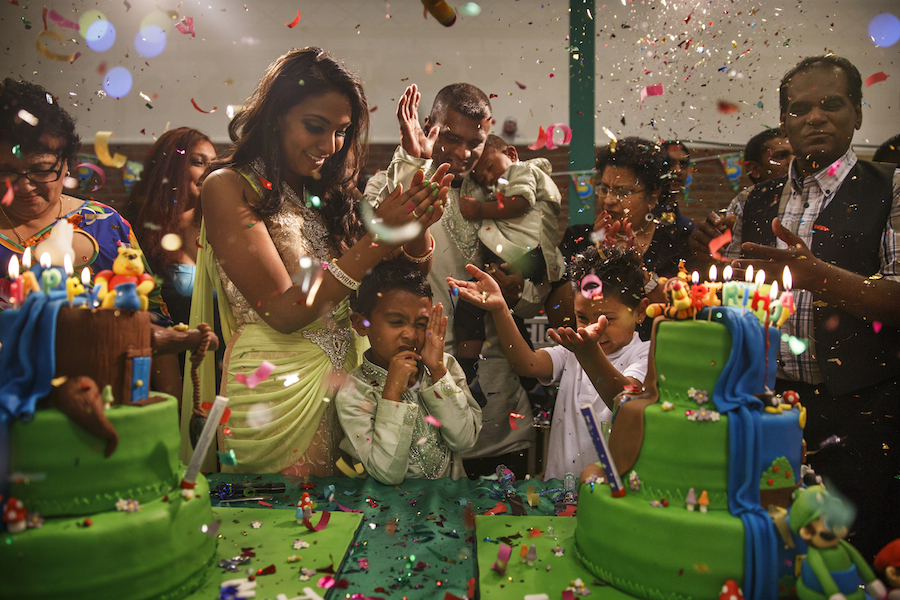 6. Birthday at a commune
Chiu Yuk Tang celebrates his birthday at the commune where he lives. Once a month, the residents gather to celebrate the birthdays for that month, and everyone brings along something to eat.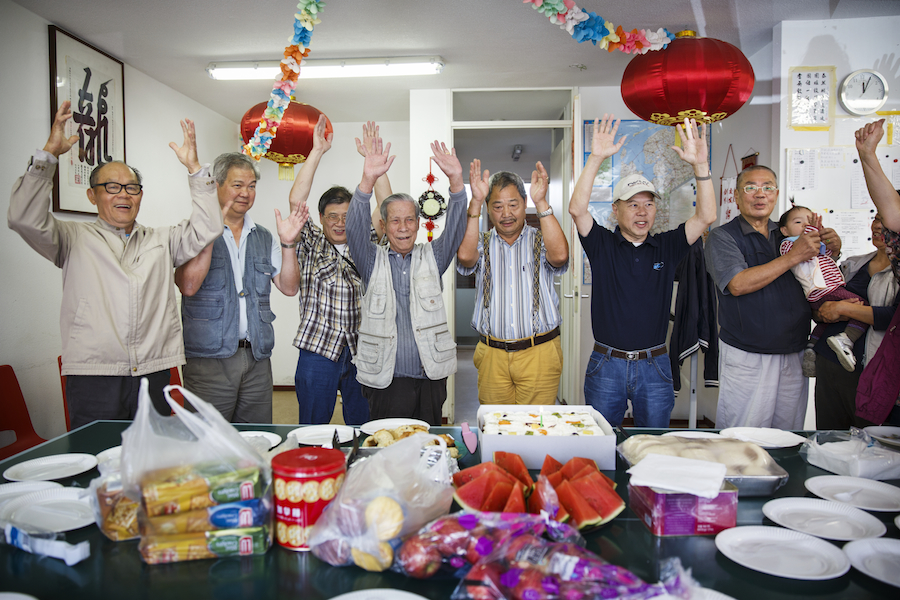 7. Forever 39
Marjan Strijbosch organised a "Forever 39 Party" lasting two days, with 160 guests and a five-tiered cake.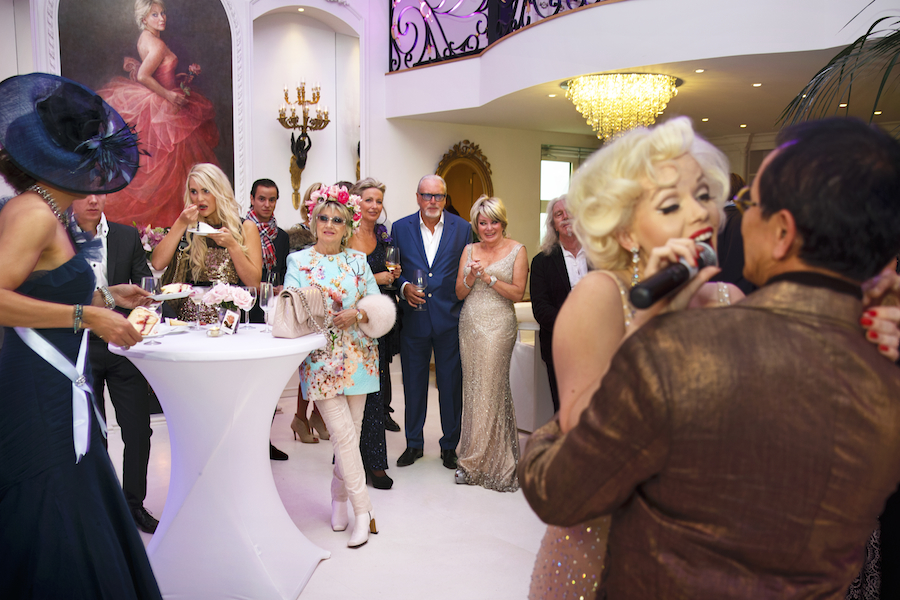 8. Circle birthday
Aaltje Hooikammer celebrates her birthday with friends. She is a seamstress and makes her own clothing. She's always dressed in folk costume.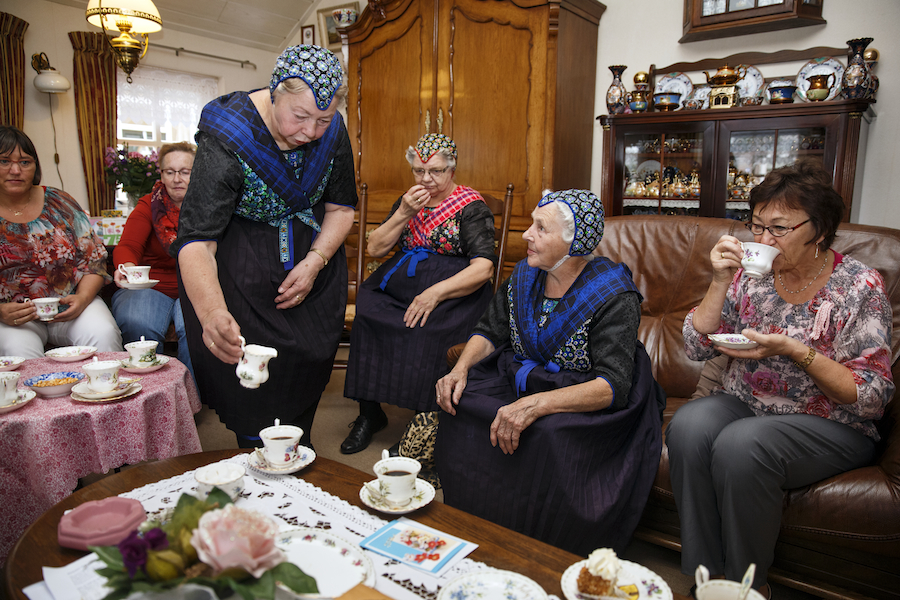 About Ilvy Njiokiktjien
In 2013, Ilvy Njiokiktjien was appointed National Photographer of the Netherlands and was asked to depict the theme "Family", which she did by photographing 100 Dutch people on their birthdays. Over the course of 18 months, Ilvy drove tens of thousands of kilometres across the Netherlands, from Groningen in the north to Limburg in the south, and from windmill to houseboat. She went to great lengths to ensure that her photos gave a full overview of the Dutch population in its many guises.
Her hundred photos are collected in her book "Cream Cakes and Paper Chains – The Netherlands in a Hundred Birthdays".
Fun facts
KLM's birthday is on 7 October.
Europeans originally celebrated their birthdays to ward off evil spirits, which were thought to be particularly dangerous on such special days.
In the Netherlands, a separate party is often organised for the children.
5 October is the No. 1 date for birthdays in the Netherlands. Almost exactly nine months after Christmas.
When you turn 50 in the Netherlands, men are referred to as Abraham and women are referred to as Sara. Family and friends will sometimes make a large puppet resembling the birthday boy or girl. This puppet is put on display in the front garden, partly to alert passers-by to the auspicious occasion.