5 Reasons Why KLM and Gaming is a Match Made in Heaven
Today marks the release of our second KLM game, Jets. Over a year ago we released our first strategic 3D game, Aviation Empire. It was downloaded more than 850,000 times and received a lot of positive reviews. As an airline we know all about getting passengers from one place to another. But gaming was a completely new thing and, in fact, it still is. Nevertheless, we believe that KLM and gaming are a match made in heaven. Why? Let us share our gaming experiences with you.

1. Be Where Your Customers Are
The gaming industry is hot and happening. Millions of people around the world play for hours at a time. Gaming is the most dominant form of entertainment. From our experiences in the social world—and KLM is a frontrunner in social media—we know that we can reach new target groups through social media. People who never heard of KLM before are following us. They are turning into KLM ambassadors and, quite possibly, future customers. By maintaining a presence in the gaming world we can introduce KLM to gamers in their own way—gaming. Imagine the power of 850,000 people playing multiple sessions of Aviation Empire for more than fifteen minutes at a time. That's stronger than an ad campaign!
2. Connect Games to Your Operation
Thousands of people are part of the KLM operation on a daily basis—buying tickets via KLM.com, checking in, and flying. An airline operation involves many challenges. The interesting thing of gaming or gamification is that you can influence customer behaviour. In Aviation Empire we gave customers the opportunity to check in via GPS on a destination and unlock this airport in the game. With Jets we take it one step further. We reward gamers who have bought a KLM ticket by giving them additional game points. But that's not all. Having passengers on time at the gate is extremely important to us. We have added a beacon functionality at Schiphol Airport making it possible to reward passengers when they are on time at the gate. Earning by travelling with KLM, that's what it's all about.
3. Be Relevant and Social
KLM has about 17 million fans on social media. Sharing relevant messages on social has a strong ripple effect. For us a game needs to be social by design. This goes beyond just using a social log-in for your game. In Jets you can challenge your friends through social media and post a message to your wall if you win. If you use social media in all its facets, your game will be much more visible!
4. Monetisation Is Not a Dirty Word
We are not in gaming for the money. But we do believe it should be possible to earn our investments back and discover a common ground for future investments. Some games out there only focus on earning money, not to the benefit of the players. You need to make sure you have a good balance in your game. You can play Jets for free, but you can unlock certain missions and features quicker if you make in-app purchases. It's up to the player.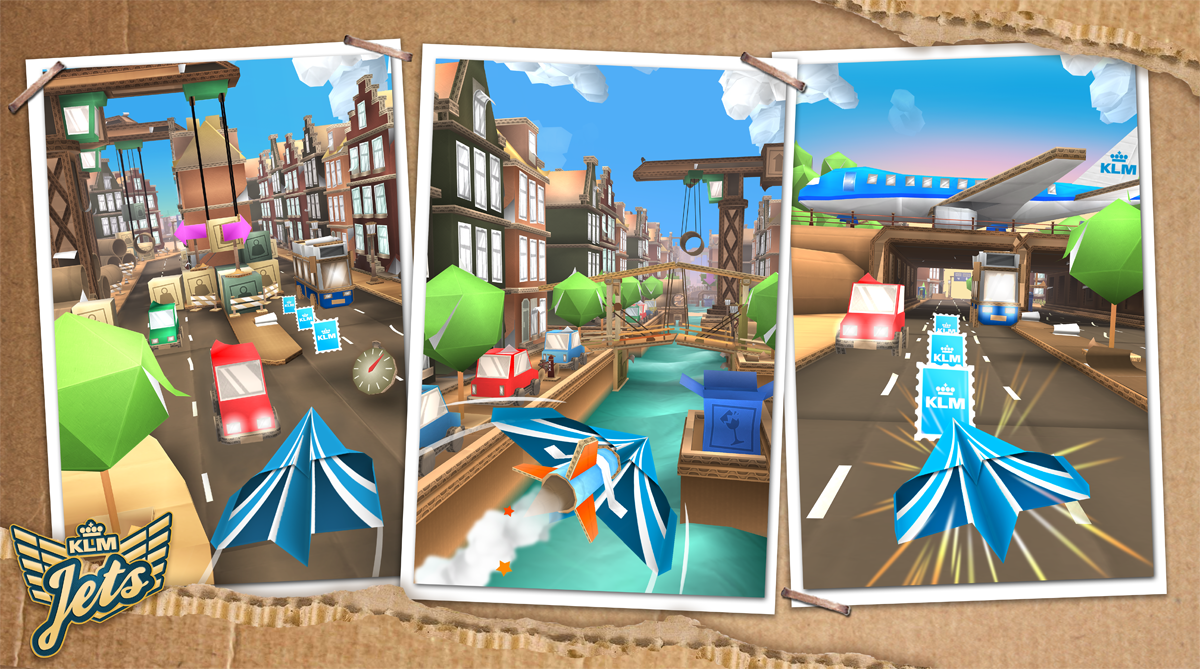 5. Make It Fun!
This is probably the most basic aspect, but it's just as important as any other. Keep an eye out for this. When developing a game it's easy to get lost. The subject of your game needs to fit your brand. Don't try to be something you're not! Jets is about flying with paper planes in KLM network cities. We start in Amsterdam, our home base. We think Jets is really fun to play, but see for yourself. You can download Jets today from the Apple Store or Google Play Store!